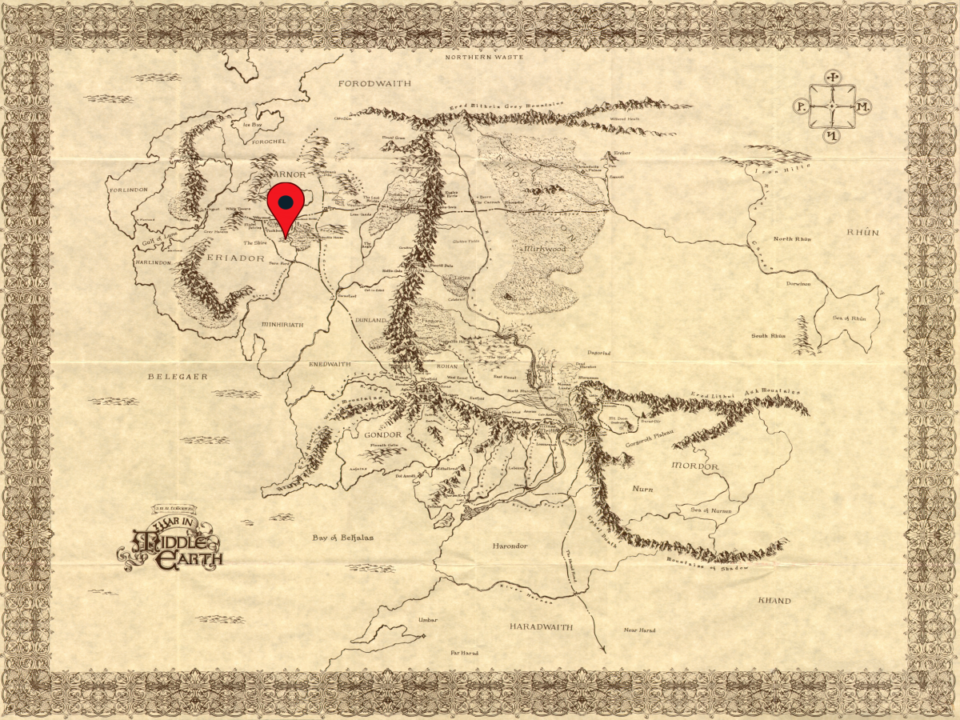 Welcome back to everyone's favorite www.isleyunruh.com Monday feature! Middle-earth being the place of enchantment and wonder that it is, each month I will use my love of fictional cartography to transport you to another time and place. So why not take a moment to fill your head full of knowledge that will have no bearing at all on the real world?
This month I'll take a look at the boggy marshes south of Buckland.
Red flowed the Brandywine; with flame the river kindled
As sun sank beyond the Shire, and then to grey it dwindled.
Mithe Steps empty stood. None was there to greet him.
Silent the Causeway lay. Said Tom: 'A merry meeting!'
Though the Shire was a haven of sorts from the dark places of Middle-earth, it was not without its own pockets of danger.  Just a stone's throw from the High Hay that stretched around the southern tip of the Old Forest, the River Withywindle met the great Brandywine river just a few miles north of the point the Shirebourne river entered the Brandywine from the west.  The influx of water created the largest bog land in the Shire, an land some 200 square miles in area known as the Overbourne Marshes.
Though its dangers paled in comparison to the more fell marshlands that lay scattered throughout the forsaken places in Middle-earth, many a farmer lost a day's labor pulling a pack mule free from the treacherous marsh muck while on an ill fated quest for mushrooms.  There were even rumors of strange creatures that walked the swamp at night, perhaps dark things from the Old Forest and the lands beyond.  Of course, most Hobbits thought such stories to be merely the tales of ale-addled gaffers.
The only other feature of note was the small stone dock upon the Western shore of the Brandywine between the two inflowing rivers.  Known as the Mithe, it lay at the bottom of a stone stairwell that led up to the village of Deephollow and the rest of the Shire.  Perhaps, had the black riders completely blocked them from the Brandy Hall Ferry, the hobbits may have been forced South to attempt a crossing at the Mithe.  As this would have taken them away from Crickhollow all together, such a route would have also taken them away from a powerfull ally they might have found within the old forest.  To say nothing of causing them to lose the services of Meriadoc Brandybuck, a situation that would have boded well for the Witch King of Angmar.