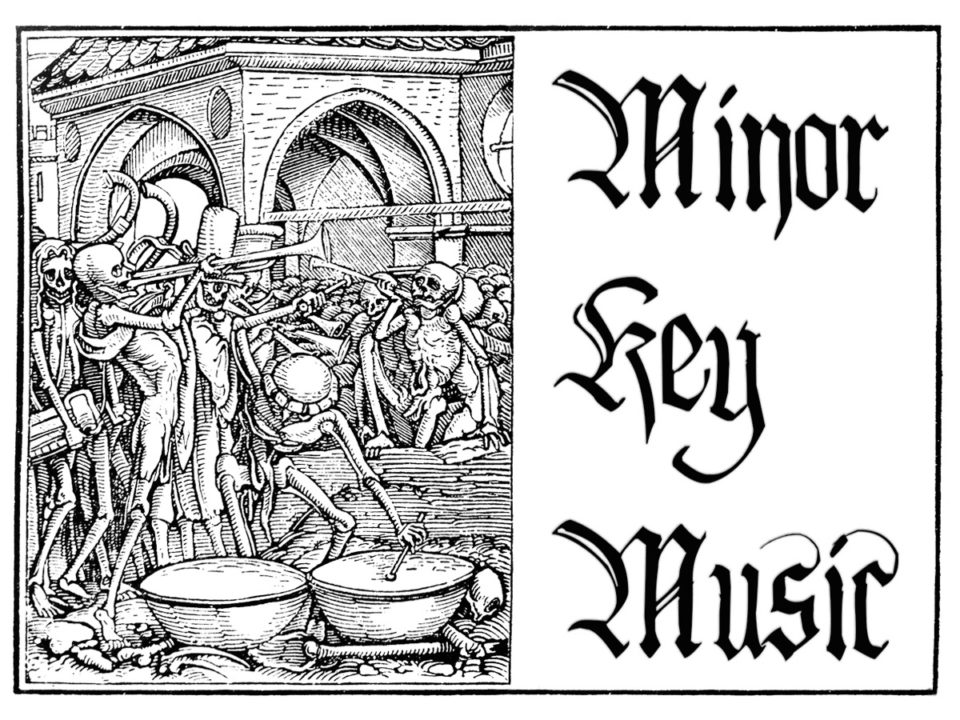 I always have to stop myself when I say I like "all kinds of music."  Because, honestly, that just isn't true, there is really only one kind of music I like.  No, not [just] black metal, I'm talking about music in a minor key.  I mean, I'm a pretty happy guy, but there is something about sad, sad songs that just does it for me.  I don't dislike Vivaldi's "Spring" and "Fall", but I far prefer "Summer" and "Winter" (guess which seasons he writes in a minor key).  "Satisfaction" is a fine song, but I'd rather listen to "Paint it Black" any day…you get the idea.  Basically, it don't mean a thing if it ain't got that sting [of soul crushing sorrow and sadness]
This month on Minor Key Monday I act like a dick who thinks he's too good for Beethoven:
I'm always quick to point out that I don't like "Classical" music, I like "Baroque" music (and, of course, any pre-Baroque era stuff that sounds like it could be on the soundtrack for Monty Python and the Holy Grail).  What is the difference?  Well, to overly simplify things, Classical music (from mid 1700s to early 1800s) came directly after Baroque music. It can primarily be distinguished from Baroque music (which came directly before Classical music) by its favoring of a melody + accompaniment compositional model (a main theme would play that was supported by "accompaniment").  Baroque music, on the other hand, much more heavily used counterpoint (multiple melody lines playing at the same time, each unique and capable of sustaining interest by themselves, but when put together they created a complex whole). This isn't to say Baroque music is more complex and thus better, I mean you are all aware of the kind of black metal I listen to, I don't have a complexity fetish when it comes to music.
I can't quite put my finger on it, but there is something about that "accompaniment" stuff that has always rubbed me the wrong way and I tend to quickly tire of most of the classical period music that I've checked out.  Still, I have to give credit where credit is due, there are sometimes some pretty epic melodies in classical music, and the main theme to the 2nd movement of Beethoven's 7th Symphony is the stuff sorrowful dreams are made of!  And I know I just said that Baroque music was the one that used counterpoint, so try not to let the excellent use of counterpoint in today's "classical" song confuse you.
The symphony itself is in the key of A major, so you can safely disregard everything except for the second movement that switches to A minor.  If the theme from the 2nd movement sounds familiar it is because films from Zardoz to The Fall (along with Knowing and Irreversible so I'm told) have been using its tragically powerful melody to drive home the point of their slow motion scenes for years now.  In fact, as my friend Zach pointed out, the only reason the final speech in The King's Speech worked was because of the presence of the first 3 minutes of the 2nd movement of Beethoven's 7th symphony.
Speaking of only using the first 3 minutes, why am I continuing the trend of self censorship (started with cutting out the major key parts of Quizas Quizas Quizas) with Beethoven's song?  Well, mostly because the rest of the second movement is fucking boring major key wankery that instantly ruins the song for me.  There's a reason every movie ever has cut the song off right where I did.  And that's because the first three minutes is the only good part.