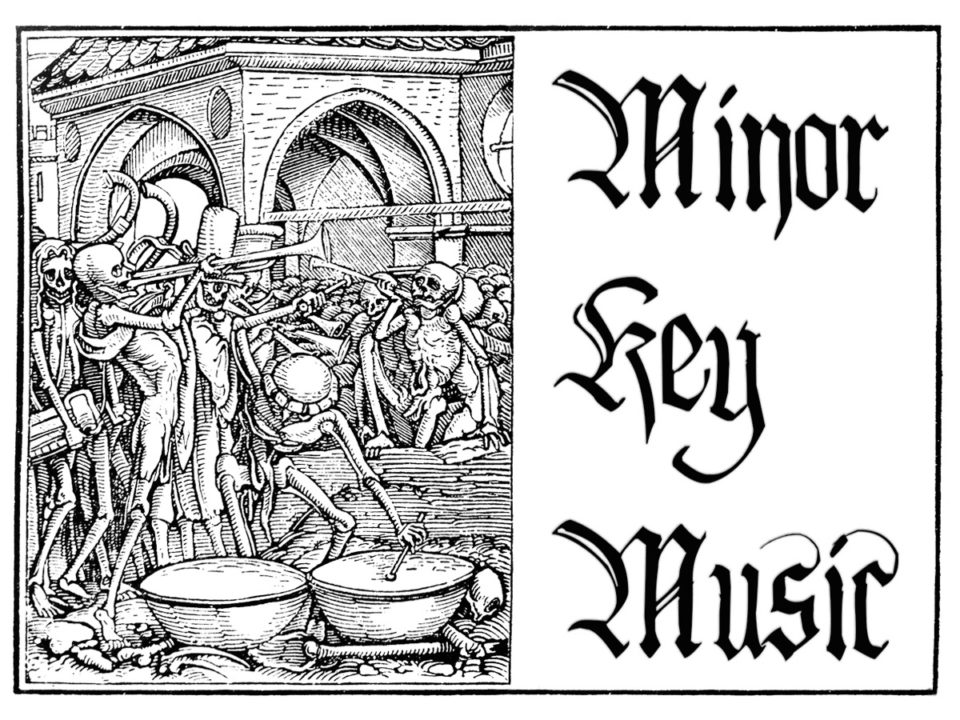 I always have to stop myself when I say I like "all kinds of music".  Because, honestly, that just isn't true, there is really only one kind of music I like.  No, not [just] Black Metal, I'm talking about music in a minor key.  I mean, I'm a pretty happy guy, but there is something about sad, sad songs that just does it for me.  I don't dislike Vivaldi's "Spring" and "Fall", but I far prefer "Summer" and "Winter" (guess which seasons he writes in a minor key).  "Satisfaction" is a fine song, but I'd rather listen to "Paint it Black" any day…you get the idea.  Basically, it don't mean a thing if it ain't got that sting [of soul crushing sorrow and sadness]
This month on Minor Key Monday I talk about a one of the many ambiguously fascist bands that I routinely listen to:
Folk music, I suspect, is kind of like black metal.  It's super simplistic, but its adherents swear that the best artists are geniuses nonetheless.  Or maybe I'm just drawing the comparison, because today's genre, "neofolk," is pretty much universally loved by black metal fans.  As you can hear from today's song, "neofolk" is pretty much just a more downbeat version of regular folk music, with the possible addition of a few extra samples and sound effects to compliment the requisite 3 chord acoustic guitar playing.
Death in June (along with Sol Invictus and Current 93) were responsible for dragging the genre of neofolk out from the post-punk and industrial waters from which it spawned.  Also, along with pretty much every other neofolk band that has ever existed, Death in June loves to flirt with fascist imagery.  However, unlike the host of possibly like-minded NSBM black metal bands out there, most neofolk bands seem far more canny in their appropriation of ideologically reprehensible imagery.  It's not just the greater degree of intelligence in the lyrics, but the way in which they use the imagery.  For instance, one would think that when a band uses a totenkopf (skull and crossbones symbol used by the SS in WWII) or "black sun" (pagan symbol that we all know looks suspiciously like another symbol in use during WWII) in their album artwork, the meaning is usually pretty clear.  However, Death in June's frontman Douglas Pearce, an out of the closet gay man, recently put out a set of Death in June patches featuring these symbols over a rainbow background:
Obviously Douglas Pearce is aware of the Nazi party's treatment of homosexuals during WWII, and thus his use of the symbols becomes a lot more nuanced due to the juxtaposition of these bits of seemingly opposed cultural symbolism.  So maybe he really is re-appropriating these symbols for his own intellectually complex and fruitful purposes.  Or maybe he's just taking the modern European youth's infatuation with fascism and laughing all the way to the bank:
Either way, Death in June's music is unambiguosly brilliant despite the simple elements from which it is constructed.  Today's song, the title track from their classic album But What Ends When the Symbols Shatter, is quintessential Death in June.  Their sound has been all over the place from post-punk to experimental to a more martial industrial sound, but throughout it all they are most well known for using just a few acoustic guitar chords to back up Douglas P.' s magnificently mellifluous voice.
So what makes this song so great?  Who can say, perhaps it is a combination of things.  Douglas P.'s almost spoken word delivery really does sound like a british angel, while there are just the right amount of whip snaps and synths in the background to flesh out the atmosphere.  The structure builds to a suitably epic climax while the lyrics are surprisingly poignant (and, most likely, not even racist!):
When life is but disappointment
And nothing is amusing
The one wild hunt
For loneliness
Is a life without god
Is an end without love
Soulless today
And soulless tomorrow
We struggle for the joy
Oh, we struggle for the joy
That life is haunted by
Its memories – it's meaninglessness
Yearn to be gathered, cracked and saved
A thought for a life time
A thought for a night time
But, what ends when the symbols shatter?
And, who knows what happens to hearts?
But, what ends when the symbols shatter?
And, who knows what happens to hearts?
Who can say what it is about Death in June's music that makes them one of the most important bands of the last few decades.  But I'm happy to report that after seeing them live in Chicago for their "Death of the West" tour last month, they were able to take 3 chords and a couple of maracas and play an absolutely brilliant 2 hour set.  Any other band and I figure I'd be bored after about 5 minutes of something like that (you know, unless they turned their distortion up and called it black metal).  Of course, they did have an adorable stage presence, so maybe that's all it was):