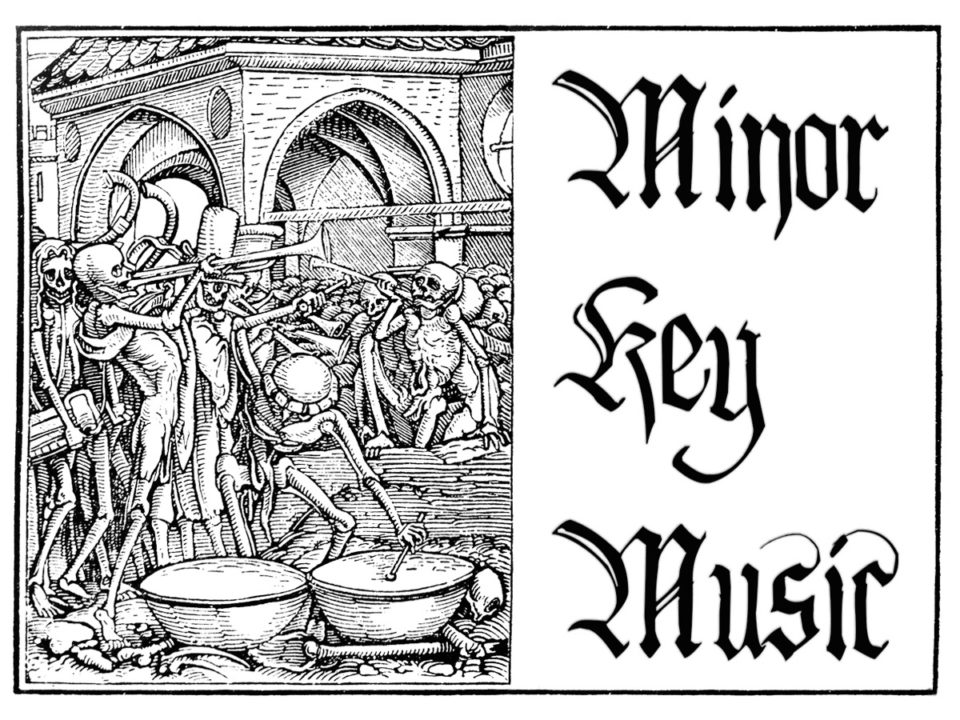 I always have to stop myself when I say I like "all kinds of music".  Because, honestly, that just isn't true, there is really only one kind of music I like.  No, not [just] Black Metal, I'm talking about music in a minor key.  I mean, I'm a pretty happy guy, but there is something about sad, sad songs that just does it for me.  I don't dislike Vivaldi's "Spring" and "Fall", but I far prefer "Summer" and "Winter" (guess which seasons he writes in a minor key).  "Satisfaction" is a fine song, but I'd rather listen to "Paint it Black" any day…you get the idea.  Basically, it don't mean a thing if it ain't got that sting [of soul crushing sorrow and sadness].
This month on Minor Key Monday I fess up to my secret love of goth music.  Why you ask?  Maybe I just felt the need to share…or maybe there is another reason coming at the end of this month…:
Now, today's song, Faith and the Muse's "Scars Flown Proud", is part of the "second wave" goth movement from the 90s.  This is because, technically, when you discuss "goth" you are talking about a genre that ended with the 80s. Goth in the 1980s was essentially rock music, only with a far more melancholy vibe and with a dark romantic streak.  All the black clothes/daystar hating/Rimbaud quoting/vampire worshiping goth tropes you know and love came from these so called "first wave" bands like Sisters of Mercy and Fields of Nephilim (who were in turn influenced by the dark sounds of Bauhaus and Joy Division).  From there, the genre splintered into everything from darkwave to gothic metal, but, as is so often the case with people trying to pigeonhole bands into specific subgenres, most of it was still basically "gothic rock".
Faith and the Muse (apparently the male guitar player's last name is Faith, which I guess makes the female vocalist "the Muse") formed in the early 90s (though the two members had been in the "goth" scene for quite some time before that) and released a string of pretty great albums full of dark, melancholic, almost medieval sounding goth music.  "Scars Flown Proud" is one of my favorites mostly because it is so infectious.  The almost alien wails of Monica Richards over the driving rock beat and drone of the guitars is about as foot tapping catchy as goth music gets.  It might not be the best song to ever grace the pages of Minor Key Monday (though the reception to that Kraftwerk song from a while back wasn't great), but you really can't deny that it has a beat and you can dance to it!
Or…as Faith and the Muse put it:
And if all paths lead but to the grave,
Then let us dance along our way.
It doesn't get much more goth than that!