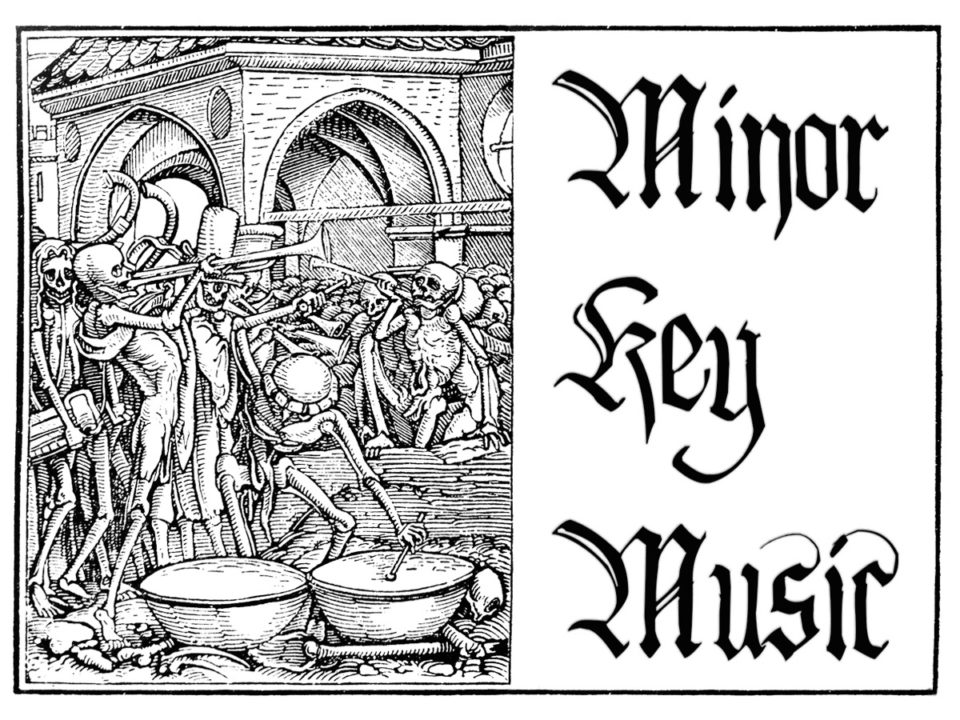 I always have to stop myself when I say I like "all kinds of music".  Because, honestly, that just isn't true, there is really only one kind of music I like.  No, not [just] Black Metal, I'm talking about music in a minor key.  I mean, I'm a pretty happy guy, but there is something about sad, sad songs that just does it for me.  I don't dislike Vivaldi's "Spring" and "Fall", but I far prefer "Summer" and "Winter" (guess which seasons he writes in a minor key).  "Satisfaction" is a fine song, but I'd rather listen to "Paint it Black" any day…you get the idea.  Basically, it don't mean a thing if it ain't got that sting [of soul crushing sorrow and sadness]
This month on Minor Key Monday I dig up a blast from my childhood past:
I never really listened to the radio as a kid (or teenager…or, well, ever really), so a lot of my favorite music as a child was discovered through my dad's record collection.  Granted, I still haven't developed a real appreciation for AMM (beyond milking it for a cheap Eminem joke in Snob Blog 2) but there were a few albums that my 6 year old self could agree on with him.  First, obviously, his Astor Piazzolla collection (someone who is long overdue to be featured on MKM).  Second was his copy of The Big Gundown (already featured on MKM).  But a close third was the first song on a "Ralph Records" (I guess they are primarily known for The Residents) compilation album he had picked up back before he switched to solely listening  to music without a rhythm or melody.
The band was called Tuxedomoon, and the song was called "Dark Companion."  Structurally it follows a similar model as this month's MMMM band Paysage D'Hiver: a single, almost ambient riff, plays on with a few supplemental lines occasionally joining the mix.  It's not the most soul crushingly sorrowful thing I've ever heard but it is an undeniably sinister song nonetheless.  And I'm not just talking about the lyrics, though they are pretty goddamn badass:
Another round for my dark companion
The view from here is crowded now
I raise my glass
My doppelganger smiles at me
From across the room
The great social issues mean less than nothing;
two-dimensional pests
On my T.V. screen
I will wear only black and white
and hide in the alleys
On saturday nights
The endless prattle of politicians
Rings in my ears
The rain makes my mascara run
Another round for my dark companion
The view from here is crowded now
I raise my glass
My doppelganger smiles at me
From across the room
Another round for my dark companion
Another round for my dark companion
I know I'm always talking about how little I care about lyrics, but that's really only because most black metal fails horribly to write lyrics half as interesting as the lyrics to this song.  Though I appreciate the  fact that the lyrics mirror my own nihilistic political outlook, that's nothing when compared to the image of your doppleganger smiling at you from across the room.
I'm not even sure what style of music this is…I'd guess some kind of experimental new wave hybrid?  Not that it matters, since I heard this in early elementary school (or earlier?) all I cared about was how awesomely sinister that one song about raising one's glass to one's dark companion was.  That is, when I wasn't in the mood to hear the astoundingly epic sorrow for that which once was but is now gone that is the music of Astor Piazzolla.  But that's a story for next month.