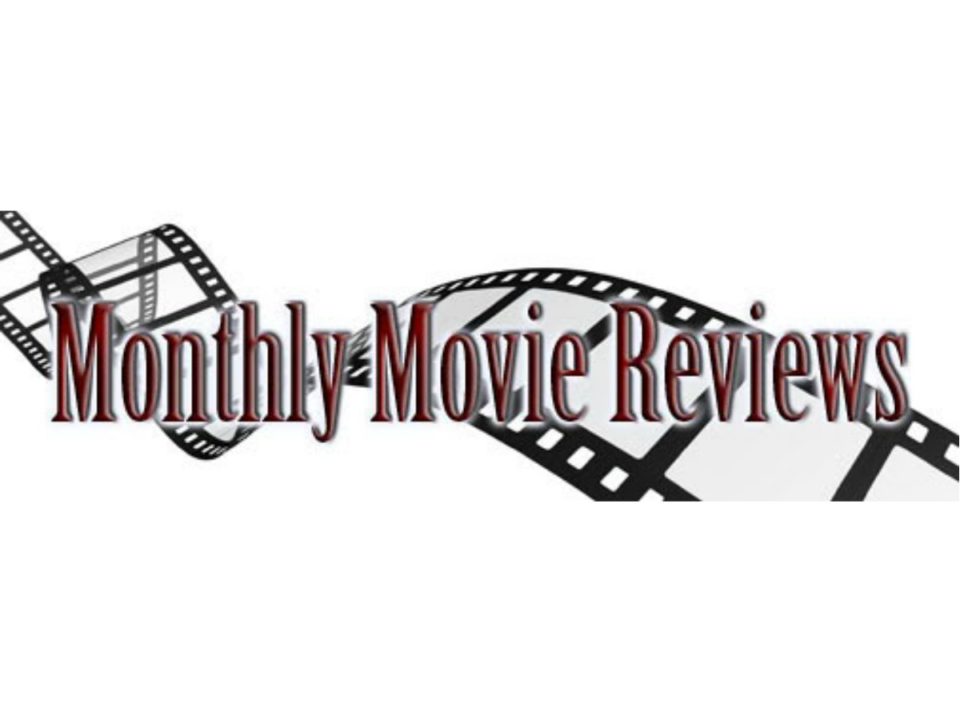 Here are some two sentence reviews of the movies I watched in April.
Stats
April 30
Ace in the Hole

(1951) – As sour and cynical a movie as the work of Clouzot, this film holds its own with the rest Wilder's fine films.  I'm not entirely sure about the ending, but most of the film is so pessimistic as to the true nature of humans that you will find yourself chortling in disbelief that this film even got made in Hollywood.
April 29
Nosferatu, Phantom of the Night

(1979) – Herzog puts his command of landscape to good use in this remake of the foundational silent film.  Kinksi is amazing as usual and brings an element of pathos to the role of Dracula while the overall feel of the film (much like the first) is one of helplessness (and hopelessness) before the Count's evil.
April 28
Nosferatu, A Symphony of Horror

(1922) – One of the all time great silent films, masterfully shot and constructed.  Schreck as the vampire elevates the role to something that is both beyond human and beyond evil, and infuses the movie with an overwhelming sense of dread.
April 26
Full Frontal

(2002) – I'm not entirely sure everything Soderbergh is going for here (whatever that might be) is successful.  There are scattered intriguing scenes, and I think I had an idea how it was all fitting together, but it still failed to really draw me in.
April 25
Mutiny on the bounty

(1935) – You have to suffer through Laughton (magnificently) portraying an evil douche the whole movie and then what happens when they finally get to the titular mutiny?  …they don't even fuck him up!  Despite that, and a far too simple message at the end, this is a fine film helped immensely by the performances and obvious big budget.
April 24
A Place in the Sun

(1951) – Clift is great as usual, Elizabeth Taylor is looking good as usual, and the film is well made…but this still fails to really hold my interest.  Mostly I guess this is because this kind of story just isn't my thing, so I really can't hold it against the film I suppose.
April 23
Kansas City Confidential

(1952) – A step below the all time classic Noirs, but far better than most, I enjoyed this quite a lot.  The opening heist is over in the first 10 minutes or so, and the rest is all watching things unravel with the usual twists and turns.

Tape

(2001) – Spectacular piece of "guerrilla" film making set entirely in one motel room with three actors.  This is one of those rare scripts that is actually far deeper and has far more to say than is immediately apparent.

An Affair to Remember

(1957) – I like a good romantic comedy as much as (probably more than) the next guy, but I cann't get into this one.  The drama is too much, I don't buy the central obstacle to them getting together after the halfway point, and every time those kids start singing it makes me want to retch.
April 22
The Godfather II

(1974) – As good as everyone says (which is saying something) this really is fine filmmaking.  I don't know that the inclusion of the flashback story is really necessary (as I found the modern story more compelling) but this is as fine (and dark) of a mafia film as one is likely to see.

Warlock

(1959) – Nice version of the OK Corral story with a focus on the psychological aspects of the old west.  At times condensed from

the excellent book

almost too much to retain the same power, it is still quite well done with Fonda and Quinn (Wyatt and Doc) immensely watchable every time they come on screen.
April 21
From Here to Eternity

(1953) – Fine performances (from Clift especially) help elevate what would have otherwise merely been a nicely crafted but over-long and over-melodramatic film.  Entertaining and with a dark edge, but it seems to pull the wrong punches and play melodrama for the sake of melodrama at times.

The Big Country

(1958) – Wyler continues to prove his brilliance, here by making one of the great Westerns.  The scenery could not have been used better, the performances are top notch and it is full of all the interesting (though conflicted-in the end as they always quit being a pussy) insight into what it takes to make a man that all Westerns with a "pacifist" protagonist have.
April 20
Wuthering Heights

(1939) – Though Wyler is a bit out of fashion these days, this was filmed with style to spare (though Toland's cinematography is probably partly to blame).  Very dark, which is nice, but I found I didn't care much for the characters (which, not having read the book, was probably part of the point).
April 19
Bill and Ted's Excellent Adventure

(1989) – For as dumb as it is this holds up very well due mostly to the good-natured performances, snappy direction, and a script that is wittier than it seems.  Also, according to imdb, one of only 3 films that feature both Abraham Lincoln and Ghengis Khan as characters, so it has that going for it…which is nice.
April 17
Yankee Doodle Dandee

(1942) – A very well done film that totally surprised me to find out Cagney could dance like that!  The ra ra patriotism gets tiresome pretty fast, but luckily Curtiz's fine direction and Cagney's incomparably intense acting more than make up for it (though I still doubt I'll be rewatching it any time soon).
April 16
Incident at Loch Ness

(2004) – The bald guy isn't the best actor, but it hardly matters as this one is all about Herzog.  The "screenplay" is actually pretty good and only occasionally veered into anything that seemed too silly.

Musketeers of Pig Alley

(1912) – One of the all time great Griffith shorts that was light years ahead of its contemporaries.  It's always amazing to watch the birth of narrative cinema take place before your very eyes.

Vicky Cristina Barcelona

(2008) – Woody's newer films (of the last twenty years) are pretty hit or miss for me, but, hell, I'd say this is his best film since Deconstructing Harry (not that that is saying that much).  I sometimes think the insights found in his movies are not quite as deep as they first appear, but this is great fun anyway.
April 12
Hollywood Rhythm Vol. 01

(1929)– 11 musical short films (some with narrative segments, some with just music) produced in the early sound years to play before features in theaters.  The early jazz performances are pretty great (with Cab Calloway really impressing me with his frontman antics) with a lot of fancy dancing too.

Adventureland

(2009) – Turned out to have more romantic drama than comedy, but this is still a nice portrait of nostalgia for both the good and bad parts of our youth.  The plot points are routine, but the acting and direction are well done and the characters and motivations feel pretty real.

Beerfest

(2006) – Nowhere near as funny as Supertroopers, with only a few scattered moments of humor to be found.  I had to take off before I was able to finish watching the movie and I don't really think I'll be missing out on too much if I never see that last half hour.
April 11
Observe and Report

(2009) – Definitely a strange movie, but also one that, despite the sloppy direction and writing, is much less thematically confused that Hill's previous film, The Foot Fist Way.  It turns out director Hill really does want to portray the idea of a complete mentally deranged sociopath as the hero–which I can't say makes for a pleasant movie experience, but is at least an interesting concept.

American Pie 2

(2001) – Honestly, the American Pie films are enjoyable teen comedy fare (aside from the retch inducing soundtracks) that are really a cut above most of what passes for teen comedy fare.  Part of this is due to competent writing and filmmaking, but most of it is probably just because the character of Stiffler is pure genius.

American Wedding

(2003) – Stiffler overplays it a bit in this final American Pie movie, but still remains one of the main reasons to watch these films.  Otherwise this is more of the same and really about as good as the first two (which is to say: actually not too bad!)
April 9
Dark Passage

(1947) – Stylishly made noir that actually makes decent use of the subjective camera.  The main flaw is the fairly ludicrous plot full of too many coincidental meetings necessary to the framework of the story to support suspension of disbelief.

Zeitgeist

(2007) – One of the most infuriating things I have ever seen, with so many twisted truths, distorted truths, decontextualized truths and just plain un-truths hidden among the easily verifiable information to make the whole thing about as full of bullshit as a fundamentalist explaining how Adam and Even used to ride Raptors.  Because of this I was only able to make it about ten minutes in to the religious segment (the good points of which were nullified by the deceitful filmmaking) before I turned it off: I was no expert but if it was already so obviously bullshit, then there was no way I was going to make it through two more hours of the director insulting my intelligence.
April 7
Suzanne's Career

(1963) – It always amazes me how much Rohmer's films have to say on the subject of human interaction.  This film about a user, a follower, and the "victim" provokes far more thought than is first apparent and sticks with you long after it is over.
April 6
The Best Years of our Lives

(1946) – Fine movie about the trials three soldiers experience upon returning from WWII to a life that doesn't seem to have a place for them.  The three hours never seem to drag, but still, this kind of weepy drama stuff isn't really my thing unless it's leavened by a dose of cynicism, which this one, for the most part, wasn't.

Encounters at the End of the World

(2008) – Herzog interviews the strange people he meets at the bottom of the world in Antarctica.  Along the way he (probably?) fakes the most soul crushing penguin scene I have ever seen and captures tons of beautiful footage of a place I knew very little about.
April 5
The Ladykillers

(2004) – Funnier than I expected it to be, I'd say the Coen Brothers overall do a fine job putting their own spin on this story.  And, for connoisseurs of renaissance music and bathroom humor (like myself), this also has the best Sacbut joke I've ever heard!

Stormy Weather

(1943) – This one has a lot of great musical numbers that are unfortunately sandwiched between a pretty bland story.  Also, Bill Robinson's acting was pretty weak to me–and he was a bit too old to really impress with his dancing).
April 4
April 3
Cabin in the Sky

(1943) – Basically spectacular all black musical variation on the Faust legend.  Minelli makes his mark in the all time great directing debuts list, and, for the most part (with a few exceptions), there is a refreshing absence of the usual Hollywood Step'n Fetchit caricatures.

Grosse Point Blank

(1997) – Though there's not much to really write home about here, I can't deny this one is quite a lot of fun.  Nothing wrong with a movie just being cute and amusing every now and then I guess.
April 1
The Steel Helmet

(1951) – Early Fuller war film full of the usual ballsy direction that is better than The Iron Cross but not as good as The Big Red One.  The racial elements, while intriguing and not too overbearing, end up feeling a little tacked on.