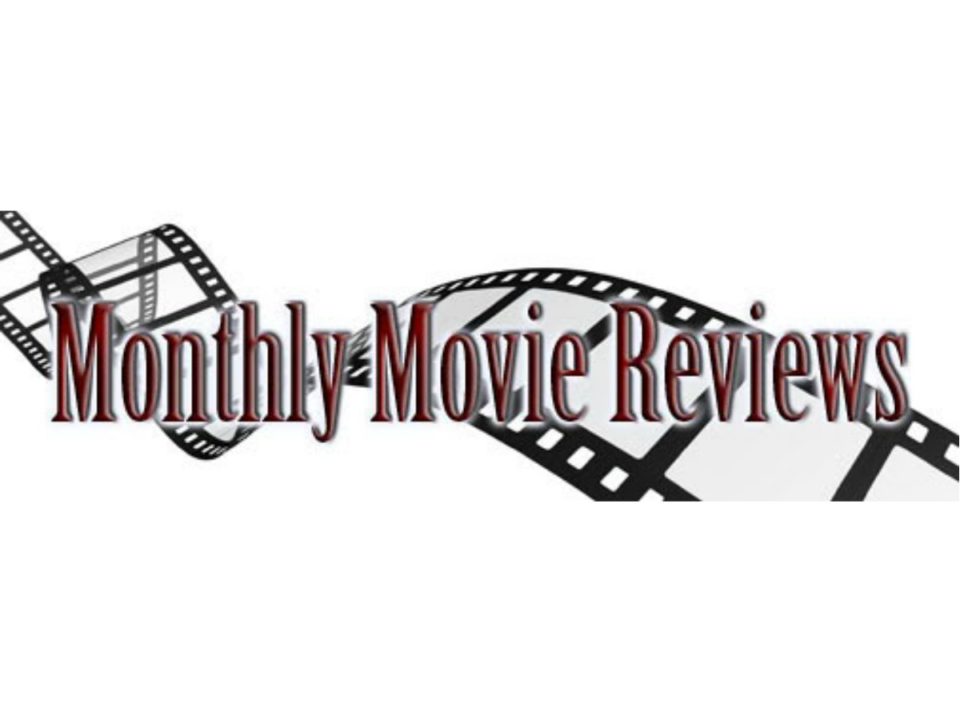 Here are some two sentence reviews of the movies I watched in August.
Stats
August 31
A Trip to the Moon (1902) – A simple succession of scenes, and yet the story they tell is as fantastic and creative as any movie could hope to be.  There is a real dreamlike quality to the images that is beyond mere documentation of actors on a set that ensures this film's place as one of the earliest artistic triumphs of narrative film.
Life of an American Fireman (1903) – Supposedly the first American narrative film, this is a fascinating document of the time before crosscutting (or at least before it was a commonly used film tool).  A scene of a fire is shown from inside a house and then the same scene is shown from outside the house–you can almost feel the idea of cutting between the two scenes flitting just beyond the edge of Porter's consciousness as he experiments with a new art form.
August 30
The Shanghai Gesture

(1941) – There was no other Hollywood director like Sternberg whether we are talking about his mastery of Mise-en-scene or his ability to transform the "battle of the sexes" into something far more insidious.  There are head scratching areas of the plot, but that hardly matters since the power games the characters play with each other in the surreal gambling den are so fascinating.
August 29
The Unknown

(1927) – The plot had plenty of implausibilities, but the film manages to easily shrug them off with its deliciously twisted entertainment.  Also, I take back everything I said about Joan Crawford looking scary…she is looking good here!
August 28
The Children of Paradise

(1945) – Completely fantastic film that is genuinely heartwrenching without once descending into melodrama–and never once makes you feel like you are watching a 3+ hour period piece about a French mime.  To watch this is to be reminded of what a real movie is capable.
August 27
Sabotage

(1936) – Not as much non-stop excitement as The 39 Steps, but still a fine movie with great set pieces and some genuine surprises in the narrative.  I just wish those early British movies had better sound tracks–the dialog was pretty muddy.

Chess Fever

(1925) – This Russian silent comedy has some decent gags and is pretty well done but isn't even close to Keaton or Chaplin on their worst days.  Part of it is probably the superlative quality of American silent comedy, part of it is that Russia is right up there with Germany and Scandinavia on the list of countries that shouldn't make comedies.
August 26
Mildred Pierce

(1945) – Curtiz really knows how to move his camera and Joan Crawford is pretty great in this strange tale that veers in tone from noir to melodrama (and back).  I want to say it is all a bit overblown that that wouldn't do justice to how bizarrely entertaining everything is.
August 25
Dodsworth

(1936) – If there are two things I know, they are that Walter Huston has never turned in a bad performance, and that William Wyler is a fine director.  Because of these two things this is a pretty enjoyable film–even though it hasn't aged quite as gracefully as some of my favorites from the 30's.
August 23
The Lost Weekend

(1945) – Wilder doesn't make bad movies and while this was no exception, the "social conscience" elements and implausible ending are enough to turn me off of it.  I mostly have issues with the general heavy-handedness of its depiction of alcoholism–which I realize isn't entirely fair as there really weren't any portraits of alcoholism before this so it probably had to be "laid on a bit thick" to get the message across (which is part of my problem with "social conscience films" in the first place).
August 22
Inland Empire

(2006) – A three hour nightmare, Lynch's dream logic has never been more clear while his narrative has never been more incomprehensible.  Trying to figure out the plot isn't the point though, and the fact that the film has stayed with me so strongly since watching it has led me to suspect that there actually is something to it after all.
August 21
The Visitor

(2007) – Though there is a bit more drama and the slight reek of a "social conscience film" in Thomas McCarthy's follow up to The Station Agent, it shares many of the previous movie's strengths (specifically, the understated commentary on human interaction) as well.  Not many directors can make a film like this (alternately heart-warming and heart wrenching) that holds my interest, so McCarthy must be doing something right.

Inglourious Basterds

(2009) – Though it feels a 2 hour movie in a 3 hour body, the interminable scenes of setup before each violent denouement are at least quite well done.  Even if it wasn't the tightest film it was at least thankfully less self-indulgent than Kill Bill (despite having its fair share of film geek "homages"/references) and the dialog was a bit less gratingly self-aware this time as well.
August 20
Love Me Tonight

(1932) – As fine of an early Hollywood sound film as I have ever seen, this is an unparalleled display of cinematic creativity.  Add in the impossibly adorable Chevalier and a great supporting cast and you have an all time classic on your hands.

Moonstruck

(1987) – Cher's performance and a script populated with unique characters elevate this above your usual romantic comedy fare.  I'm not entirely sure that Cage hamming it up is entirely successful, but I suppose it does add to the general environment of "unusual" characters.
August 19
Funny People

(2009) – Overlong, but I suppose I don't go see a Judd Apatow movie for tightly constructed filmmaking but rather for all the amusing jokes.  And there are enough funny bits in this one to keep things enjoyable–even though (and I realize this is part of the point) Sandler's character isn't super likeable.
August 18
Earth

(1930) – Some undeniably striking images, but I wish a bit more care had been taken with providing a compelling narrative since this is a narrative film at heart.  Not that there are not plenty of powerful scenes, most noteably the final sequence at the funeral.
August 17
The End of St. Petersburg

(1927) – Possessing ample amounts of the two opposing hallmarks of Russian silent film (heavy-handedness and pure visual poetry) this deserves its place up there with the best work from the 20's.  It's a shame that this style of montage editing fell out of fashion so quickly, it was often used to genuinely stirring effect, and this movie is no exception on that count either.
August 16
Gold Diggers of 1933

(1933) – Not quite as snappy as Footlight Parade, but definitely still one of the great musicals (the naughty pre-code outfits don't hurt either).  Odd to see the girls turn into actual gold diggers after being offended at being called "gold diggers"; but I'm going to assume it was played for irony.
August 14
Detour

(1945) – This low budget film was supposedly shot in 6 days, but you sure can't tell as this holds its own with the noir heavyweights.  The bleak storyline is one long downward spiral into despair and features one of the greatest unhinged femme fatale performances ever from Ann Savage.
August 13
She Done Him Wrong

(1933) – I'd never seen anything with Mae West and I'm still reeling from the sheer audacity of this brilliant pre-code film.  Not that the quality of the filmmaking really matters since West packs it with enough razor sharp one-liners to put a Groucho/Woody love child to shame.

I Know Where I'm Going

(1945) – Unassuming and assured love story that is quite finely done.  It's also quite British which I don't mean as an insult–but I don't mean it as a compliment either.

À nous la liberté

(1931) – Probably the best union of silent and sound film (even though it is not really a silent film) I have ever seen thanks to Clair's creative and daring direction.  I also kept thinking I'd seen it all before in Modern Times, and kept having to remind myself that this was 5 years earlier.
August 12
The Jazz Singer

(1927) – The storyline is pretty slight, but to hear Jolson say "you ain't heard nothin yet" is as breathtaking as the Lumiere films.  It's not often you have a document of history being made like this, and the thrill of watching it makes it clear why silent films didn't have a chance after its release.
August 11
Queen Christina

(1933) – Creative direction and nice performances from the leads elevate this above your typical "costume melodrama".  The only thing that doesn't work for me is how in the hell Gilbert's character thought Garbo was a man for so long at that hotel!
August 10
Dr. Mabuse, der Spieler

(1922) – Rather than the usual sporadically entertaining Fritz Lang silent-era messes, this is actually quite entertaining and manages to sustain interest for almost the entire 4 and a half hours. Mabuse is great, the quality of the print is phenomenal, all in all it is a like a shorter more polished Les Vampires with most of the boring parts taken out.
August 9
Footlight Parade

(1933) – The three concluding Busby Berkeley musical numbers are as jaw dropping as you have always heard, but there also happens to be a fine, frenetically paced film leading up to it.  Cagney is more than a match for the breakneck pacing and proves that he is as capable of a song and dance guy as he is a tough guy–which is no mean feat.

I am a Fugitive from a Chain Gang

(1932) – A well directed and thoroughly unpleasant experience.  Movies designed solely to evoke pathos through a depiction of humanity's all too obvious capacity for savagery are my least favorite kind of movies and I won't be sitting through this one again any time soon.

The Phantom Carriage

(1921) – Wonderfully shot and put together, this film really produces an amazing atmosphere.  It's even enough to tolerate the insufferable Christian and drunken asshole main characters.
August 8
The 39 Steps

(1935) – Impossible to state the sheer entertainment of this early North by Northwestish Hitchcock film.  Not only is it a damn good story that moves like a freight train, but the entire thing is constructed with enough creativity to rival Orson Welles on his best day.
August 7
The Importance of Being Earnest

(1952) – Despite (somewhat founded) accusations of stodgy direction from Asquith, this is actually quite good and has a rather unique style to it (though the impressive feat of the actors pulling off that dialog helped in no small measure).  The most annoying part to me is that for all of Oscar Wilde's vaunted wit, it really seems like he is just filling in variations on the following Mad Lib: "To (love/hate) _____ is (never/always) exceedingly not un _____ for those who (hate/love) (always/never) being _____."
August 6
August 5
Monsieur Verdoux

(1947) – I am assuming Chaplin made this black comedy in a fit of post-war cynicism, because his celebrated pathos is mercifully minimized–which is only one of many reasons I find this to be quite a fine film.  It is also interesting to compare this to American Psycho as I felt this has much more to say with its "plastic ladykiller" premise.
August 3
American Psycho

(2000) – The film only really has one one idea and one thing to say, and thus, probably never needed a full length film with which to say it.  Which is not to say it is a bad movie; it's finely constructed and Bale does a great job pulling off the strange tone of the main character–all of which helps keep it quite watchable.
August 1
Among Those Present

(1921) – Cute Harold Lloyd 3 reeler is a cut above the usual stuff of the day but not one of the greats.  There are plenty of decent gags though (especially after he loses his pants) so I'd say it's worth checking out.