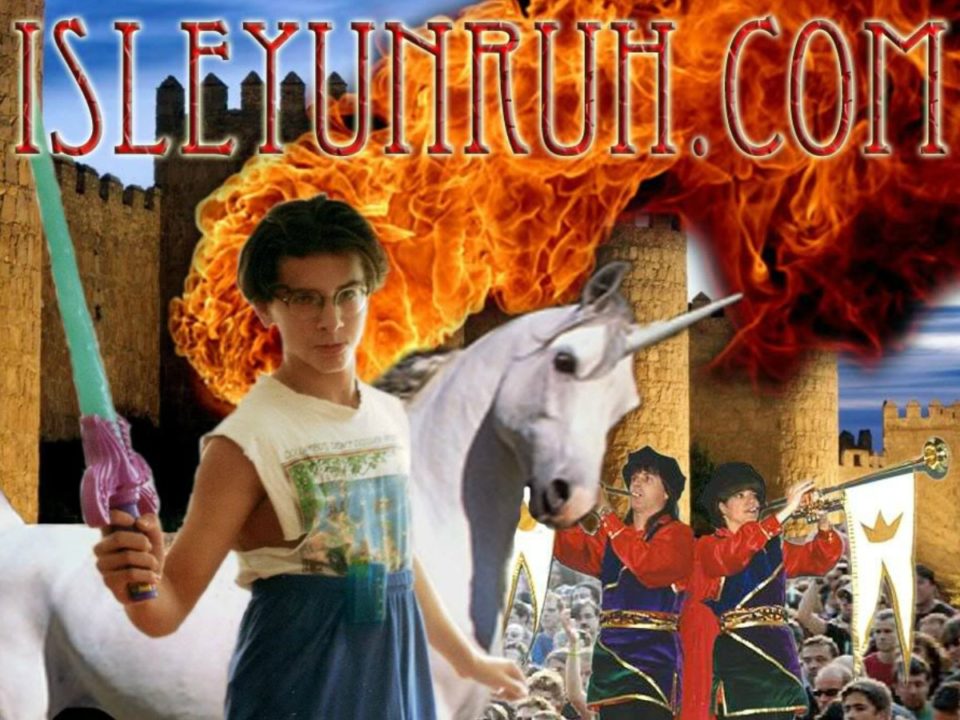 Welcome!
In the words of Goth Blog, I now have my very own "spot in a forest glade to post my thoughts".  I feel it is appropriate to begin this inagural post with a quote from the book of creation:
There was Eru, the One, who in Arda is called Ilúvatar; and he made first the Ainur, the Holy Ones, that were the offspring of his thought, and they were with him before aught else was made. And he spoke to them, propounding to them themes of music; and they sang before him, and he was glad…
Actually, I suppose that doesn't really fit–but damn that Tolkien wrote some good stuff, am I right?
Speaking of Tolkien, I would just like to confirm that this blog will continue to be a series of roughly bi-monthly essays on "all my favorite things".  So, for those of you who have stuck it out this long, it's business as usual.  Just hang in there through the over-long essays on very narrow subjects and I'll eventually post some kind of silly list full of fart jokes!  (Because, let's be honest everyone, you are all here for the fart jokes right?)
To start I'd like to thank everyone who helped me get this site up, especially David for hosting it for me!  Also, Chris and Ian were very patient while I bombarded them with html questions.  It turns out transferring my posts from word to Myspace and then to wordpress made a perfect storm of messed up code and I actually ended up having to go back and individually format each post to fix a bunch of minor errors.  Of course I also alphabetize my Middle Earth CCG cards (wow…I'm regretting using my real name already!), so I guess nobody should really be surprised I had an anal retentive freak-out over formatting.
Contest!
So, let's see, I feel like there should be something special for a brand new website–how about a contest!!  Jessica, whose blog I link to occasionally (like NOW) does them and I think they are great (mostly since I seem to always win).  The way it works is that whoever wins (again, normally me, but I'll abstain for this contest) gets a SUPER SURPRISE PRIZE in the mail!  Now, there are still some nasty rumors floating around, so once again, no, the SUPER SURPRISE PRIZE is not a Jock Blog style shit box (or indeed in any way fecally related).
The winner will be the first person to tell me what made me giggle about the main picture for this post.  There is one answer I'm looking for, but if no one guesses it, the winner will be whoever comes up with the best zinger about how ridiculous I look in the picture (my sister has always said that she always assumed if that picture ever hit the internet it would be her doing).
My Top Ten Favorite Posts!
Finally, in lieu of an actual new post, I'll finish up here with a top ten list of all my favorite "What is Best in Life" blog posts.  So sit back, relax and prepare to experience the joy of all my finest posts (or at least the joy of me explaining why they are so great) collected in one convenient place:
10 – Mantras in the catchphrases: Words to live by.
So this was a very early post, but I've always wished more of my posts could be like it.  It was fairly short, had something to say and was a way to try something a little different and still write about stuff that I was really into.
Fun Fact – I totally made up that Sun Tzu quote!
9 – Bad Boys 2 – The Lost Scripts – Bergman, Rohmer and Herzog.
Again, I like coming up with ways to write about "my favorite things" that I haven't tried before.  Somehow, the marriage of artsy fartsy film directors and Bad Boys 2 ended up to be just the kind of fresh idea I had been looking for.  Of course you kind of have to be pretty intimately familiar with those directors to get all the jokes, but when have my posts ever been accessible?
Fun Fact – I kind of really really want to see all those pretend movies.  Seriously.
8 – Rousing tales from Isley's spirited past – Part 2 (The Art Papers).
Not much of a "new" blog post here, but damn if young Isley didn't write one for me.  I was always kind of proud of those papers, though a little sad to realize that my comedy writing hasn't progressed a lot in the past 15 years.
Fun Fact – I called myself the "Wet Bandit" for those toilet floodings back in the day…which is less hardcore when you realize I stole it from Home Alone 2.
7 – GOTH Blog 1 – The Battle Has Only Just Begun!
This was the very first blog post I ever wrote a few years back (originally for a short lived "bad poetry blog").  And while it doesn't have the epic scope of Goth Blog 2 and a severe lack of bathroom humor, it is still some of my best writing and the jokes feel less forced than a lot of my later posts.
Fun Fact – I actually kind of like my "That Which Once Was" poem.  Again, already regretting using my real name here.
6 – "The Western": An American Mythology.
I seem to write a lot about Westerns, and this post managed to sum up a lot of the things that I think make the American Western (and America) so special.  It still rambles, but for a jumble of abstract thoughts about the subject in my head I got at least part of what I wanted to say out without too many contradictions.
Fun Fact – That John Wayne with a Sword picture might be my favorite photoshop I've done for this blog.
5 – My Favorite Movies 7 – Five Easy Pieces (Bob Rafelson, 1970).
While this movie is great, it isn't one of my all time favorites, but this review was one of my best I think.  I think my film writing is some of the weakest stuff I do for this blog (which is too bad since almost half the posts are about film) but here I feel like I managed to say what I wanted to say and even dug a bit beneath the surface of the film.
Fun fact – Any relationship I am in that can survive me watching this movie without immediately ending things is probably something special.
4 – Archetypical – Part I – The Guardian and the Bridge.
I really love myths, fairy tales, folklore and all that stuff.  This post was the inspiration to start writing more fairy tales (though I've only written a few so far).  Anyway, I like the format, a short "boring bit" followed by a quick fairy tale.  Look for more of these in the future, because I really like writing them.
Fun fact – The little boy in the story was originally a girl, but then I decided that people might interpret the barrier of the bridge as representing her crossing the threshold to woman hood and the battle with the sturgeon representing her overcoming her fear of the phallus (not to mention the sturgeon "spitting" her off the bridge) and that just all seemed a little creepy.
3 – Lord of the Rings, the lost chapters 1: A Wind from the West.
It was such a simple idea, but sometimes talking about farts brings out the best in me.  The Lost Chapters 2 was kind of a failure I thought, 3 was better, but this first one, I still giggle at the thought of Aragorn letting one rip.  I guess they say write what you know.
Fun Fact – That really is the elvish for "He who denied it, supplied it".
2 – My favorite movie in the whole world: The Mirror.
Oh fine, I'll throw another serious one in here.  This really is my all time favorite movie, so the fact that I was able to write a post about it and feel I satisfactorily explained why it was so important to me counts as a win in my book.
Fun Fact – I've seen The Mirror more than all of Tarkovsky's other movies combined.
1 – Jock Blog 2 – A Tale of Poo.
Roll your eyes if you want, but (as I told Shena–who still rolled her eyes) in the words of Barton Fink: "It's my finest work".  Drama, betrayal, crossovers with Goth Blog, a mystery and even a bit of introspection all combine to create a shit splattered ode to all that is awful and wonderful about our small town public school system.  I still giggle thinking about their high speed shitfight.
Fun Fact – I've contributed to at least 3 shitboxes in my time…and they were all hilarious (at least at the time).
Thanks for stopping by!
Ok, that's it for now everyone!  Not sure what the next post will be, but I hope to see you there.  Also, stop in and say hi in the comment section here, I'd like to hear from you whether you are an old reader, lurker, or just stumbled across it on the internets (ah, the secret blogger dream–that a random internet surfer will find your writings and realize them for the genius they are…or at least giggle at the poo jokes!)