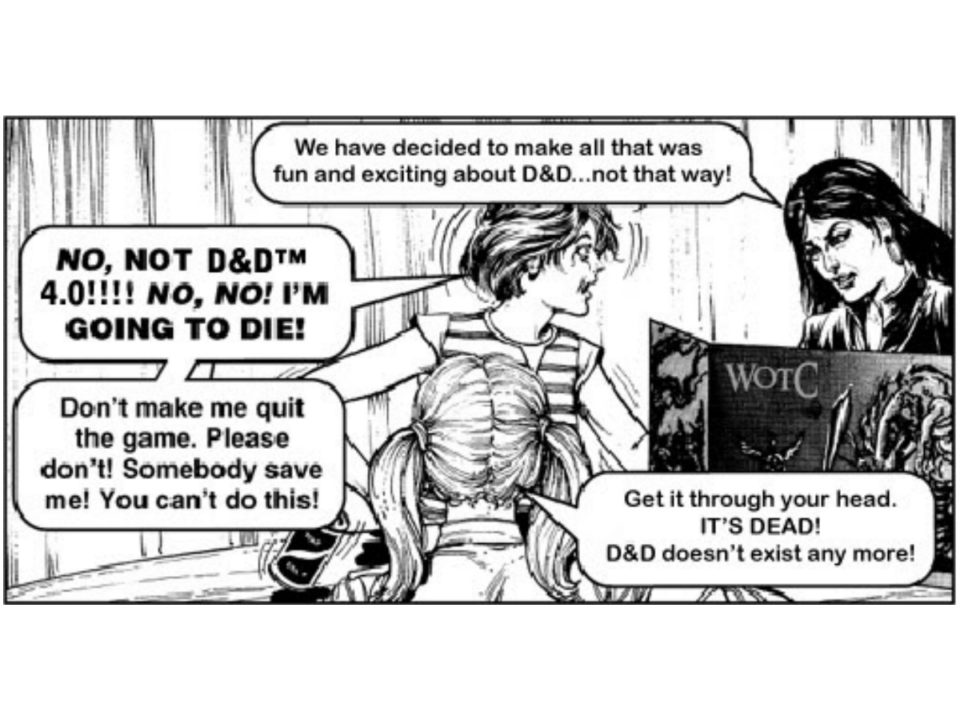 I shall dispense with the pleasantries today except for a quick introduction.  So, hello Wizards of the Coast, I'm your worst nightmare–you might remember me from such rants as "An open letter to Wizards of the Coast RE: Magic 2010 rules changes" and the unpublished "An open letter to Wizards of the Coast RE: My final request for an RMA# with regards to the broken port side laser cannon on my AT-AT Imperial Walker Colossal Pack" .  Even though (as of this writing) you have failed to redress the wrongs you have inflicted upon the Magic the Gathering rule set (though I did at least finally get my RMA#, thus saving you from the publication of the latter open letter), I am forced to once again take keyboard to sausage fingers in an attempt to get you to redress the even greater tentacle violation you have inflicted upon the Dungeons & Dragons rule set.
I will start with a story.   It is a story of such heart crushing disappointment to make even the the most frigid Dementor fog seem as sunny as Arrakis at noon.  My story begins on a sweltering May afternoon in 2001 as I entered the VulKON Atlanta convention hall, still in high spirits despite my homemade Lirpa having been confiscated by the post 9-11 airport security stormtroopers (might I just add that when innocent trekkies are unable to bring their home made Pon Farr weapons onto an airline then the terrorists have truly won!)
However, nothing was to dampen my spirits (aside from my normal perspiration issues of course) that day, for my large frame was literally jiggling with glee at the prospect of finally meeting Lt. J.G. Saavik, the subject of over 50% of my soon to be published collection of Star Trek fan-fiction erotica.  So imagine, just imagine, what I felt when I finally reached the end of the 2 hour line to find, not Kristie Alley, goddess among women, but rather the mannish perm experiment gone awry, Robin Curtis, sitting before me with a permanent marker in her claw-like hand.  I am not ashamed to admit that a tear came to my eye at that moment, just as many tears came to my eyes when I opened my D&D 4.0 rulebook to find that you at Wizards of the Coast had pulled a far more upsetting "switcheroo" with my beloved roleplaying game Dungeons & Dragons.
Now, I freely admit that D&D has always been a combat focused game.  But like the Valar said to Feanor upon hearing his oath, this time you at Wizards of the Coast have gone too far.  D&D is now a combat ONLY game!  How I long for the olden days, when, for instance, I remember a 2 year campaign during which our adventuring group was solely occupied with overseeing the day to day upkeep of a small castle.  I was Galthrax the Barbarian, head baker in the castle kitchens.  I can remember to this day the time I failed my craft (soufflé) check and it collapsed like Obi Wan's corporeal body, right as the visiting lord began the final course of my carefully prepared dinner!  It was only through skillful use of my diplomacy (grovel) skill that I avoided having the reputation of our kitchen tainted for years thereafter!
Sadly, my group eventually abandonded that campaign after grave accusations of "playing house" were leveled my way.  There are still members of my play group that I have, to this day, refused to speak to (unless we were in character of course).  But even in our recent D&D 3.5 campaign, one of the most memorable sessions involved, not combat, but a boat race and dance competition at the local town fair.  Of course seducing the dance contest judges was the first time we were able to use our new rules supplement The Book of Erotic Fantasy ("orgasmic vibrations, mass" was quite useful), so that could have had some impact on how memorable the session was.
Now, I'll admit, combat can be fun at times. After all, I loved playing my multiclassed sniper thief with +9d6 ranged sneak attack, Quick Draw, Two Handed Fighting, Rapid Reload and Sniping Mastery who dual wielded hand crossbows and could roll nearly 40 six sided dice in sneak attack damage every turn.  Or even something as simple as a Spiked Chain combined with Whirlwind Attack, Cleave, Power Attack and Enlarge could make for a good time in battle.  Yet, when I look over the 4.0 rules, ALL I see are combat powers, which will obviously lead to a game of munchkiny combat min/maxing which is as personally abhorrent to me as shooting second is to Hans Solo.
My recent attempt at playing with the 4.0 rules has shown my fears to be founded.  It was my first experience with an rpg where the combat dice rolling, square counting and min maxing discussions actually took up more time than the far preferable activities of Monty Python quoting, gay jokes and discussions about what to order for dinner.  And the combat powers didn't even make flavor sense; for instance, our level one Paladin's Enfeebling Strike was indistinguishable from our level one Bard's Vicious Mockery (apparently the true riddle of steel is that it is not flesh but mocking WORDS that are truly strong).  All I'll say, is that when you cast something like Bigby's Clenched Fist in previous editions, you knew damn well what you were getting (though the time we fought the stone giant and I struck out with BCF from my hiding place betwixt his legs was the only time in the history of our game group that the idea of adopting the F.A.T.A.L. role playing system's anal circumference rules was seriously discussed…so I suppose that was a strike against it).
Combat in D&D 4.0 boils down to miniature wargaming.  If I wanted to play a miniatures board game I would finally finish painting all my primed warhammer figurines.  But I don't have time to do that in the near future, so I'd rather play a ROLE PLAYING game.  I honestly don't see how I can do that since you have taken even my favorite class of spells (illusion spells) out of the game.  As a wizard in previous versions I used to love to cast fireball, magic missile, magic missile, and then create the Silent Image of the wall of the dungeon extending in front of me to hide behind while our "tanks" finished the combat.  Apparently those salad days are gone as Magic Missile even requires an attack roll in 4.0!
I realize that these complaints may once again fall up on deaf ears, but I hope that by yet again making public my internet rage you will eventually relent your "Bigby's Clenched Fisting" of my precious Dungeons & Dragons role playing game!  At the very least please bring back my favorite magical item, The Decanter of Endless water!  Its uses are legion, but with create stone (another absent spell!) it can even be made into a fine water pick (it is a little known fact that tooth decay was a primary cause of shortened life expectancy in medieval times)!  Of course, you at Wizards of the coast in your infinite wisdom have apparently decided that proper dental hygiene has no place in a game that is now only tactical miniature based combat.  I will leave you with these words of wisdom if you should choose to continue to ignore my pleas to abandon your foolhardy rules butchery: When playing games with a Wookie's (though I can't boast that I have Chewbacca's physique, our back pelts are not dissimilar) heart, I suggest a new strategy: let the Wookie win.