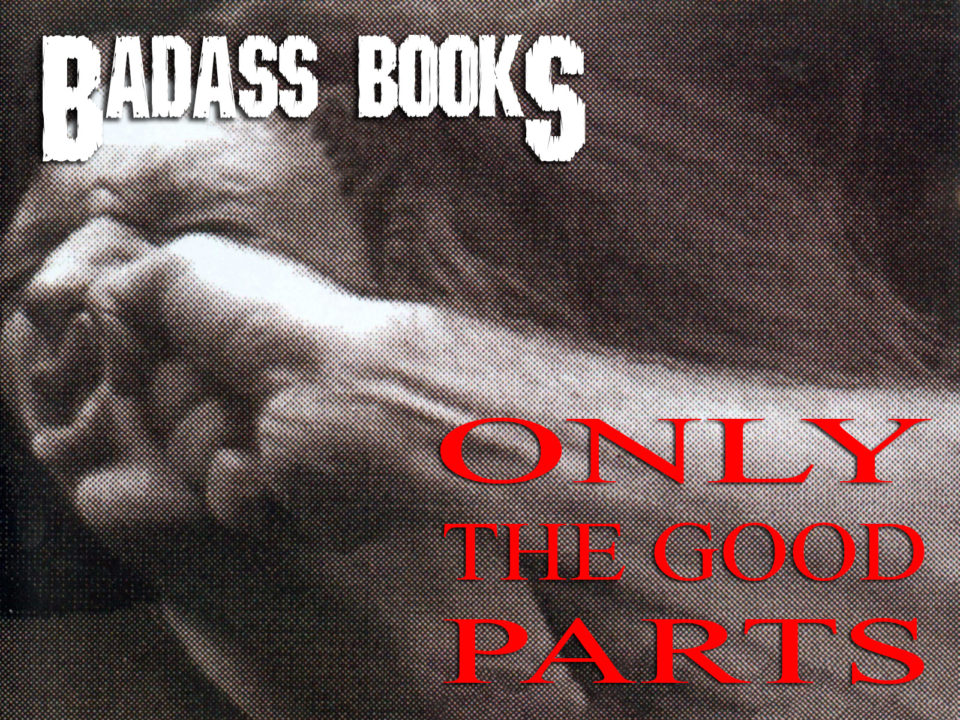 I read many different types of books, but what I love to read the most is a truly badass book.  From the day I first opened up an Edgar Rice Burroughs novel as a child, I was hooked on the simple literary delights of a well-placed punch to the face.   However, it is an unfortunate truth that it is a rare badass book in which ALL the parts are "good" parts.  Often, the good parts are tempered with a large amount of boring parts.  In this feature, I will select, from among all the parts of each featured book, only the good parts.
Joel Abercrombies First Law series is kind of like Game of Thrones, except it is a lot more violent, the characters are more dislikable, and he actually knows how to finish a story arc.  And really, occasional sick feeling in your stomach from all the ultraviolence aside, The First Law trilogy (and the three stand alone books set in the same world) is pretty damn great.  There are dozens of great characters to be found in the First Law world, but my easy favorite is Logan "The Bloody-Nine" Ninefingers.  Not only is he possibly the most decent guy in the whole world (I mean, as far as murderous friend-killers go), he is also most definitely the most badass guy in the whole world.  When he's not philosophically musing on his past mistakes, he's flying into a berserker rage and FUCKING WRECKING EVERYONE.  Unfortunately, he leapt to a certain death at the bottom of a rocky gorge at the end of Last Argument of Kings, and was not seen in any of the books after that.
But come on, this is the Bloody-fucking-Nine we are talking about here, I just KNEW he had to have survived.  And every new book that came out I was disappointed anew to find out he still wasn't back.  Thus, in the opening pages, when a character named Lamb was introduced, I was fucking on to Abercrombie halfway through the first exchange:
By then, Lamb was fording the people-flooded street, shag of grey hair showing above the heads around him for all his stoop, an even sorrier set to his heavy shoulders than usual.

'What did you get?' she asked, hopping down from the wagon.

Lamb winced, like he knew what was coming. 'Twenty-seven?' His rumble of a voice tweaked high at the end to make a question of it, but what he was really asking was, How bad did I fuck up?

Shy shook her head, tongue wedged in her cheek, letting him know he'd fucked up middling to bad. 'You're some kind of a bloody coward, Lamb.' She thumped at the sacks and sent up a puff of grain dust. 'I didn't spend two days dragging this up here to give it away.'

He winced a bit more, grey-bearded face creasing around the old scars and laughter lines, all weather-worn and dirt-grained. 'I'm no good with the bartering, Shy, you know that.'

'Remind me what it is y'are good with?' she tossed over her shoulder as she strode for Clay's Exchange, letting a set of piebald goats bleat past then slipping through the traffic sideways-on. 'Except hauling the sacks?'

'That's something, ain't it?' he muttered.
"Oh SHIT!" I yelled, jumping up and punching the air, "Abercrombie is pulling an Unforgiven with the Bloody-Nine!"  It wasn't long before my Unforgiven suspicion (if not yet the suspected identity of this "Lamb" fellow) was proven true.  Red Country, like the other stand-alone First Law books, is a straight up genre work, in this case a straight up western full of civil war, Indians (ghosts), and sword duels on main street (as this is a pre-gunpowder…mostly…world).  And, like all Westerns about a bad man, turned good, only to be pulled back to being bad, Lamb and his adopted daughter Shy return to their farm to find it burnt to the ground and his two young children Ro and Pit kidnapped.
Even that isn't enough to get Lamb to pop the claws though, first he tries to stick to his pacifist ways:
'Might be we can talk this out. Buy 'em back.'

'Buy 'em? They burn your farm, and they hang your friend, and they steal your children and you want to pay 'em for the privilege? You're such a fucking coward!'

Still he didn't look at her. 'Sometimes a coward's what you need.'
Still, after they pick up the trail of 3 riders who had burned the farm, Shy's (an my own) suspicions are aroused by how quickly Lamb begins to think that maybe a bit of the old ultraviolence might be necessary on this quest:
'What do we do if we catch these three? Chances are they're going to be armed and willing, too. Better armed than us, that's sure.'

'Reckon we'll have to be more willing, then.'

Her brows went up at that. This big, gentle Northman who used to run laughing through the wheat with Pit on one shoulder and Ro on the other, used to sit out at sunset with Gully, passing a bottle between them in silence for hours at a time, who'd never once laid a hand on her growing up in spite of some sore provocations, talking about getting red to the elbows like it was nothing.
"Getting red to the elbows" indeed!  Abercrombie digs into all the tropes of a good old fashioned western with all the gusto of a starving man in a chuck wagon, and this book is FULL of badass lines like "Reckon we'll have to be more willing."  Case in point, just listen to what Lamb, now fully transformed into a man who is anything but a coward, has to say to the three men once they catch up to them at a nearby town's bar:
'Where'd the trail lead?' asked Tall Hat, voice cracking at the end and tailing off.

Lamb's smile spread wider. The smile of a man got exactly what he wanted on his birthday. 'The ends o' your fucking legs.'

Tall Hat twitched his coat back, cloth flapping as he went for his sword. Lamb flung the big mug at him underhand. It bounced off his head and sent him tumbling in a shower of beer.
Ok, badass line aside, this is still just a cup throwing birthday boy here, nothing all THAT badass yet…
Someone shouted. Lamb crossed the room in one spring. He caught Handsome's wrist just as he pulled his axe free, wrenched it up and with the other hand snatched the knife from his fancy belt and rammed it in his groin, dragging up the blade, ripping him wide open, blood spraying the pair of them. He gave a gurgling scream appalling loud in that narrow space and dropped to his knees, eyes goggling as he tried to hold his guts in. Lamb smashed him across the back of the head with the pommel of the knife, cut his scream off and laid him out flat.
Now we're talking, that is full on Abercrombie gruesome…but…is it technically Bloody-Nine gruesome?  Oh wait, there's more…
Tall Hat floundered up, hat forgotten, blood streaming from the gash the mug had made across his forehead. Lamb caught him around the neck, lifting him easily as if he was made of rags, and smashed his face into the counter, again with a crunch like a breaking pot, again head flopping like a doll's, and blood spotted the Keep's apron, and the wall behind him, and the ceiling, too. Lamb lifted the knife high, flash of his face still stretched wide in that crazy grin, then the blade was a metal blur, through the man's back and with an almighty crack left a split down the length of the bar, splinters flying. Lamb left him nailed there, knees just clear of the floor and his boots scraping at the boards, blood tip-tapping around them like a spilled drink.
Say what you want about the excessive gore, but stabbing a man into a bar so hard that it splits the wood all the way down the bar is just about the most badass thing I've ever read in a long career of reading badass things.  Any doubt now that this is indeed Logan Ninefingers himself is pretty much buried in that ruined bar-top.  Then, after Lamb almost kills Shy in his haste to hang the third man with his bare hands, they make a quick escape, and finally lay any lingering doubts as to Lamb's real name to rest:
When Averstock was just a few lights behind she reined her horse back to a walk and dropped in beside the closest thing she'd ever had to a father. 'Your name hasn't always been Lamb, has it?'

He looked at her, and then away. Hunching down further. Pulling his coat tighter. Thumb slipping out between his fingers over and over, rubbing at the stump of the middle one. The missing one. 'We all got a past,' he said. Too true, that.
Genre and main character now firmly established as two of my most favorite things ever, the book sets out to run the universal western playbook step by step as Shy and Lamb meet up with a wagon train heading, you guessed it, West.  Along the way they encounter dust storms, open range fences, prairie storms, stampedes, hell, they even "caulk their wagons and float them across" at one point! Shy isn't sure what she thinks of these simple wagon folk (aside from a grudging respect for Davy Crocke…I mean, Dab Sweet and a shady rebel leader called Savian), and she's less sure what she thinks about the new, less cowardly, Lamb:
'They seem all right, though, mostly.' Gabbing just to fill the hole, and feeling annoyed that she had to. 'Don't know how they'll fare if the Ghosts come and things get ugly, but they're all right.'

'Guess you never know how folk'll fare if things get ugly.'

She looked across at him. 'You're damn right there.'
Eventually, as in every western, the Indians attack while the settlers circle the wagons.  Abercrombie handles the attack with his usual understated nuance:
She caught the Ghost around the throat and clutched him close and pushed the sword into his back, dragged at it and shoved at it, scraping on bone until she had it all the way into him, hand slippery hot. Arrows fluttered down, gentle as butterflies, and fell among the cattle and they snorted their upset, some feathered and bloodied. They jostled unhappily at each other and one of Gentili's old cousins knelt on the ground with two arrows in his side, one dangling broken.

'There! There!' And she saw something slithering in under a wagon, a clawing hand, and she stomped on it with her boot and nearly fell, and one of the miners was beside her hacking with a shovel and some of the whores stabbing at something with spears, screaming and stabbing like they were chasing a rat.

Shy caught sight of a gap between the wagons and beyond the Ghosts flooding up on foot in a gibbering crowd, and she heard Temple breathe something in some tongue of his own and a woman near her moan – or was it her voice? The heart went out of her and she took a cringing step back, as though an extra stride of mud would be a shield, all thoughts of standing far in a vanished past as the first Ghost loomed up, an antique greatsword brown with rust clutched in painted fists and a man's skull worn over its face as a mask.

Then with a roar that was half a laugh Lamb was in their midst, twisted face a grinning mockery of the man she knew, more horrible to her than any mask a Ghost might wear. His swung sword was a blur and the skull-face burst in a spray of black, body sagging like an empty sack. Savian was stabbing from a wagon with a spear, stabbing into the shrieking mass and Crying Rock beating with her club and others cutting at them and mouthing curses in every language in the Circle of the World, driving them back, driving them out. Lamb swung again and folded a ragged shape in half, kicked the corpse away, opened a great wound in a back, white splinters in red, hacking and chopping and he lifted a wriggling Ghost and dashed its head against the rim of a barrel. Shy knew she should help but instead she sat down on a wagon-wheel and was sick while Temple watched her, lying on his side, clutching at his rump where she'd stabbed him.
It kind of goes on for pages like that, but you get the idea.
The Indians decide they've had enough of the increasingly poorly named Lamb and retreat.  Later they offer a parley to see if they can all agree on some kind of price to be paid to get them to stop attacking the wagons and thus save both sides further bloodshed.  Though, just as Shy has finally negotiated them down to an acceptable amount of gold, Lamb decides he has a better idea and proceeds to most emphatically break the sacred rules of parley:
'What you doing?' called Sweet, but there wasn't much doubt by then. Lamb was holding up the last of the Ghosts with one fist and punching him with the other, knocking out the last couple of teeth, punching him so fast Shy could hardly tell how many times, whipping sound of his arm inside his sleeve and his big fist crunching, crunching and the black outline of the Ghost's face losing all shape, and Lamb tossed his body fizzling in the fire…

…Sangeed tottered up, one hand clutching at his chopped-open throat, clawing fingers shining with blood. He had a knife but Lamb stood waiting for it, and caught his wrist as though it was a thing ordained, and twisted it, and forced Sangeed down on his knees, drooling blood into the grass. Lamb planted one boot in the old Ghost's armpit and drew his sword with a faint ringing of steel, paused a moment to stretch his neck one way and the other, then lifted the blade and brought it down with a thud. Then another. Then another, and Lamb let go of Sangeed's limp arm, reached down and took his head by the hair, a misshapen thing now, split open down one cheek where one of Lamb's blows had gone wide of the mark. 'This is for you,' he said, and tossed it in the young Ghost's lap…

…Lamb smiled, his teeth and his eyes and the blood streaked down his face all shining with the firelight. 'Before dawn . . .' He squatted in front of Locway, still held helpless. 'In the darkness . . .' He gently stroked the Ghost's face, the three fingers of his left hand leaving three black smears down pale cheek. 'I'll be coming for you.'
That wasn't the plan the wagon train had agreed on, but they (and the Indians) all agreed it was quite effective anyway, and thus the wagons passed unmolested the rest of their way to the mining town of Crease ("hell on the cheap with more whores"), last known destination of the men who took Lamb's children.  Crease, like all bad mining towns, is run by two competing kingpins, who have decided to bet their entire stake of control over the town on a bare-knuckle brawl to the death, with each of them picking a champion.  The fat, more evil one, Papa Ring, has Glama Golden, greatest warrior of the North as his champion, even if Golden is about getting tired of putting people down in bare-knuckle brawls.  Lamb decides he might want to fight Golden as the champion for the sexy, less evil Mayor of the town (who has promised information on who took his kids if he wins):
'[I'm] taking the Mayor up on her offer.'

'Just 'cause that fat fool rubbed you the wrong way?'

Lamb came close and suddenly it seemed that he was looming over her from quite the height. 'That and 'cause his man stole your brother and sister.'

'You think I'm happy about that?' she hissed at him, getting angry now. 'But we don't know the ins and outs of it! He seemed reasonable enough, considering'

Lamb frowned back towards Camling's. 'Some men only listen to violence.'

'Some men only talk it. Never took you for one of 'em. Did we come for Pit and Ro or for blood?' She'd meant to make a point not ask a question but for a moment it looked like he had to consider the answer.

'I'm thinking I might get all three.'

She stared at him for a moment. 'Who the fuck are you? There was a time men could rub your face in the dung and you'd just thank 'em and ask for more.'

'And you know what?' He peeled her fingers from his arm with a grip that was almost painful. 'I've remembered I didn't like it much.' And he stomped muddy footprints up the steps of the Mayor's place, leaving Shy behind in the street.
Unfortunately, Papa Ring ends up kidnapping Shy in order to get Lamb to take a dive, and Lamb has to stall until his people can rescue her.  Luckily, Lamb can take a bit of punishment, so stalling isn't a problem:
He squeezed his teeth together and rushed across the Circle. The old man dodged well but Golden still caught him by the ear and followed with a heavy left in the ribs, felt the thud right up his arm, warming every joint…

He could take a punch, this old man, still moving calm and steady, showing no pain. Golden might have to break him down piece by piece, use his reach, but that was well enough. He was warming to the task…

Golden slapped his palms together hard, feinted right then hissed as he darted in, faster and sharper than before, catching the old man with two more long punches, bloodying his bent nose, staggering him and dancing away before he could think of throwing back, the stone bowl ringing with encouragements and insults and fresh odds in a dozen languages.

Golden settled to the work. He had the reach and the weight and the youth but he took nothing for granted. He would be cautious. He would make sure.
Though, after Lamb rips half his goddamn mustache off, Golden's "slow and steady wins the race" plan ramps up a bit:
…Golden charged in shrieking, no thoughts except the need to smash Lamb apart with his fists. He caught the old man square in the face and sent him staggering right out of the Circle, folk on the front row of stone benches scattering like starlings. Golden came after him, spewing curses, raining blows, fists knocking Lamb left and right like he was made of rags. The old man's hands dropped, face slack, eyes glassy, and Golden knew the moment was come. He stepped in, swinging with all his strength, and landed the father of all punches right on the point of Lamb's jaw.

He watched the old man stumble, fists dangling, waiting for Lamb's knees to buckle so he could spring on top of him and put an end to it.

But Lamb didn't fall. He tottered back a pace or two into the Circle and stood, swaying, blood drooling from his open mouth and his face tipped into shadow. Then Golden caught something over the thunder of the crowd, soft and low but there was no mistaking it.

The old man was laughing.
Now, Lamb doesn't actually have a plan for how he will KNOW Shy is safe, so maybe he just figured getting the shit kicked out of him and then laughing it off would make him look even more badass.  Which, as a scare tactic, it definitely got to Golden:
Golden stood, chest heaving, legs weak, arms heavy from his efforts, and he felt a chill doubt wash over him because he wasn't sure he could hit a man any harder than that.

'Who are you?' he roared, fists aching like he'd been beating a tree. Lamb gave a smile like an open grave, and stuck out his red tongue, and smeared blood from it across his cheek in long streaks. He held up his left fist and gently uncurled it so he looked at Golden, eyes wide and weeping wet like two black tar-pits, through the gap where his middle finger used to be.

The crowd had fallen eerily quiet, and Golden's doubt turned to a sucking dread because he finally knew the old man's name.

'By the dead,' he whispered, 'it can't be.'
It most surely can!  You see, I wasn't kidding about The Bloody-nine being the most badass man on the planet, and Glama most certainly knew what those nine fingers signified–that this was his last fight.  Because, spoiler alert, Logan is a berserker, and when he gets REALLY pissed/cornered/hurt…that's when shit really goes down.  So, Logan flicks the on-switch, and proceeds to dismantle Golden:
With each exchange Golden grew weaker. His face, as far as could be told through the blood and swelling, was a mask of fear. Lamb's smile, by terrible contrast, split wider with every blow given or received. It had become the demented leer of a drunkard, of a lunatic, of a demon, no trace remaining of the man Majud had laughed with on the plains, an expression so monstrous that observers in the front row scrambled back onto the benches behind whenever Lamb lurched close…

Lamb sent Golden reeling with a heavy right hand, caught him before he fell, hooked a finger in his mouth and ripped his cheek wide open, blood spotting the nearest onlookers.

'Oh my,' said Curnsbick, watching the fight through his spread fingers.

'We should go.' But Majud saw no easy way to manage it. Lamb had hold of Golden's arm, was wrapping his own around it, forcing him onto his knees, the pinned hand flopping uselessly. Majud heard Golden's bubbling scream, then the sharp pop as his elbow snapped back the wrong way, skin horribly distended around the joint.

Lamb was on him like a wolf on the kill, giggling as he seized Golden around the throat, arching back and smashing his forehead into his face, and again, and again, the crowd whooping their joy or dismay at the outcome.
And then when a riot breaks out due to everyone having lost their money betting against Lamb, Lamb proceeds to slaughter half the audience, starting with the ill-fated fight referee:
Between the heaving bodies he could see Lamb's hacked-out smile lit by one guttering torch, beating someone's head against one of the pillars with a regular crunch, crunch, the stone smeared black. Majud had a suspicion the victim was Camling. The time for referees was plainly long past.
Crease is a bit of a mess after that, but Lamb and Shy get the information they need: the children have been sold to a tribe of Indians called the Dragon People.  So they head on out with a company of passing mercenaries that has heard the dragon people are gold-rich.
After they find their mountain stronghold, Lamb goes full berserker and fights his way down to the leader of the Dragon People, a man who has brainwashed his children into becoming Dragon People themselves.  Due to this, Lamb moves on from Unforgiven to full on Searchers mode and tries to beserker crush his little girl too…until the leader of the Dragon People, Shy (and 6 other of the strongest dudes in the room) snap him out of it:
Not the man who'd sat beside her on that wagon so many swaying miles, or patiently ploughed the field or sang to the children or warned her to be realistic. Another man, if he was a man at all. The one who'd murdered those two bandits in Averstock, who'd hacked Sangeed's head off on the plains, who'd killed Glama Golden with his hands in the Circle. Death's best friend indeed. He arched back with that length of metal in his fists, cuts and notches from the Maker's sword all angrily glinting, and Shy screamed out but it was wasted breath. He'd no more mercy in him now than the winter. All those miles she'd come, all that ground struggled over, and just those few paces left were too many as he brought the bar hissing down. Waerdinur flung himself on top of Ro and the metal caught his big forearm and snapped it like a twig, crashed on into his shoulder, opened a great gash down his head, knocked him senseless. Lamb raised the bar again, screaming froth on his twisted lips, and Shy caught hold of the other end of it as she hurtled off the bridge, whooped as she was jerked into the air. Wind rushed, the glowing cavern flipped over, and she crashed upside down into stone. Then all quiet.
Once they finally get Lamb calmed down, the mercenaries  turn out to be a bunch of right bastards and they capture Lamb and Shy's travel companion (and rebel leader) Savian.  Lamb, deciding he might try doing a decent thing after nearly beating his daughter to death with an iron bar, goes back to rescue Savian–by holing up with him in a building in a siege right out of Rio Bravo:
'Always thought I'd die fighting for the cause.'

'You will,' said Lamb, still busy scattering weapons around the room. 'The cause of saving my fat old arse.'

'It's a noble calling.' Savian slipped a bolt into place. 'Reckon I'll get upstairs.'

'Reckon you'd better.' Lamb drew the sword he'd taken from Waerdinur, long and dull with that silver letter glinting. 'We ain't got all night.'

'You'll be all right down here?'

'Might be best if you just stay up there. That mad fucker from thirty years ago – sometimes he comes visiting.'

'Then I'll leave the two of you to it. You shouldn't have come back.' Savian held out his hand. 'But I'm glad you did.'

'Wouldn't have missed it.' Lamb took a grip on Savian's hand and gave it a squeeze, and they looked each other in the eye. Seemed in that moment they had as good an understanding between them as if they had met thirty years ago.
With the bro bonding and squeezing out of the way, they proceed to slaughter half the mercenaries, all while shouting words of macho encouragment at each other:
A bubbling scream had started downstairs, and Savian heard someone squealing, 'No! No! No!' slobbering, desperate, and he heard Lamb growl, 'Yes, you fucker!' Two heavy thuds, then a long silence.

Lamb gave a kind of groan downstairs, another crash like he was kicking something over.

'You all right?' he called, his own voice sounding tight and strange.

'Still breathing!' came Lamb's, even stranger. 'You?'

'Picked up a scratch.' Savian peeled his palm away from his tattooed stomach, blood there gleaming black. Lot of blood.
This goes on for a while until the mercenaries use some of that extra rare gunpoweder and blow up half the building, killing Savian in the process.  Did they finally get the Bloody-Nine?  They wish…one of the last remaining mercenaries goes in to confirm Logan is dead, only to be met with a rather over-dramatic scene of horror:
His boot caught something on the bottom step and he looked down. A severed arm. Frowning, he followed its glistening trail to a black slick, flesh humped and mounded and inhumanly abused, hacked apart and tangled together in unholy configurations, innards dragged out and rearranged and unwound in glistening coils.

In the midst stood a table and upon the table a pile of heads, and as the light shifted from the flames outside they looked upon Jubair with expressions awfully vacant, madly leering, oddly questioning, angrily accusatory.

'God . . .' he said. Jubair had done butchery in the name of the Almighty and yet he had seen nothing like this. This was written in no scripture, except perhaps in the forbidden seventh of the seven books, sealed within the tabernacle of the Great Temple in Shaffa, in which were recorded those things that Glustrod brought from hell.

'God . . .' he muttered. And jagged laughter bubbled from the shadows, and the skins flapped, and rattled the rings they hung upon. Jubair darted forward, stabbed, cut, slashed at darkness, caught nothing but dangling skin, blade tangled with leather and he slipped in gore, and fell, and rose, turning, turning, the laughter all around him.

'God?' mumbled Jubair, and he could hardly speak the holy word for a strange feeling, beginning in his guts and creeping up and down his spine to set his scalp to tingle and his knees to shake. All the more terrible for being only dimly remembered. A childish recollection, lost in darkness. For as the Prophet said, the man who knows fear every day becomes easy in its company. The man who knows not fear, how shall he face this awful stranger?

'God . . .' whimpered Jubair, stumbling back towards the steps, and suddenly there were arms around him.

'Gone,' came a whisper. 'But I am here.'
While the Bloody-Nine finishes up getting red well past his elbows, Shy steals a wagon with all the gold on it and proceeds to high speed escape from the mercenaries like a scene right out of The War Wagon.
Eventually they all end up back home, the kids slowly getting deprogrammed, Shy still not quite able to look at Lamb the same way.  Things are a little awkward until Caul Shivers, ill-fated co-star of Abercrombie's heist revenge-tale Best Served Cold, shows up, having heard Logan Ninefingers had retired out west, looking to settle the score for one of Logans MANY incidents of friendly fire from back in the day.
'Lamb, eh?' said Shivers.

'One name's good as another.'

'Oh, not so, not so. Threetrees, and Bethod, and Whirrun of Bligh, and all them others forgotten. But men still sing your songs. Why's that, d'you reckon?'

'Cause men are fools,' said Lamb. The wind caught a loose board somewhere and made it rattle. The two Northmen faced each other, Lamb's hand dangling loose at his side, stump of the missing finger brushing the grip of his sword, and Shivers gently swept his coat clear of his own hilt and held it back out of the way.

'That my old sword you got there?' asked Lamb.

Shivers shrugged. 'Took it off Black Dow. Guess it all comes around, eh?' 'Always.' Lamb stretched his neck out one way, then the other. 'It always comes around.'
But then, after an appropriately tense sword fight stare-down in the middle of a street, perhaps Abercrombie took Robert Howard's warning "I'm not sure how much violence and butchery the readers will stand" to heart for once in his career, and had Shivers decide to just walk away and let this score go.  Which leaves only one thing for Lamb to do.  Ride off into the motherfucking sunset:
'The dead know I've made mistakes,' said Lamb. 'Reckon a man could steer a perfect course through life by taking all the choices I didn't. But I never regretted helping raise you three. And I don't regret that I brought you back. Whatever it cost.'

'We need you,' said Shy.

Lamb shook his head. 'No you don't. I ain't proud o' much but I'm proud o' you. For what that's worth.' And he turned away, and wiped his face, and hauled himself up onto his horse.

'I always said you were some kind of coward,' said Shy.

He sat looking at them for a moment, and nodded. 'I never denied it.'

Then he took a breath, and headed off at a trot towards the sunset. Ro stood there on the porch, Pit's hand in her hand, and Shy's on her shoulder, and they watched him.

Until he was gone.