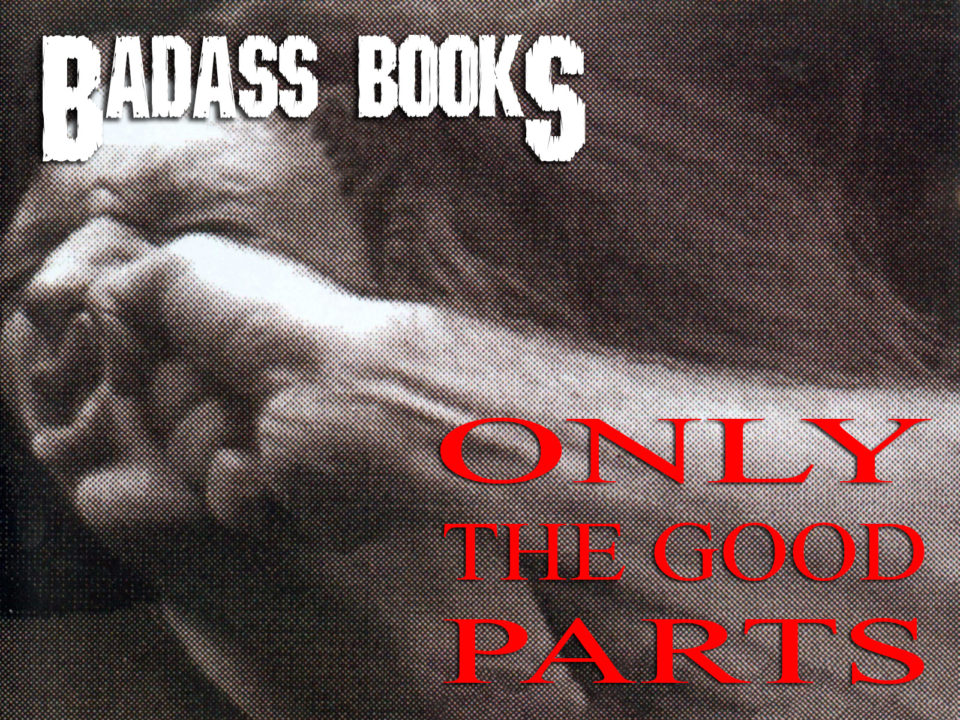 I read many different types of books, but what I love to read the most is a truly badass book. From the day I first opened up an Edgar Rice Burroughs novel as a child, I was hooked on the simple literary delights of a well-placed punch to the face. However, it is an unfortunate truth that it is a rare badass book in which ALL the parts are "good" parts. Often, the good parts are tempered with a large amount of boring parts. In this feature, I will select, from among all the parts of each featured book, only the good parts.
A large portion of my badass book consumption is made up of assassin books. Assassins are so badass the word itself has TWO asses! Assassins not only live outside society's norms and laws, but, adorably, nearly always have a heart of gold. I mean, yes, each assassin might be a soulless sociopath at their core, but every assassin book/movie/tv series devotes a large part of the narrative to explaining how their assassin isn't as bad as the others because of their CODE–and also because they like to feed stray cats and stuff.
Trevanian, author of the similarly "can't tell if joking or deadass" The Eiger Sanction (now a major motion picture!) takes the "assassin is a decent person with a code" so far he circles all the way around again and ends up with probably the most dislikeable badass I've ever encountered–and I've even read one of those Vince Flynn books.
Shibumi starts with a Mr. Diamond, who works for the "Mother Company" overseeing a CIA fuck up. You see, in this world, big oil interests from both the West and the Middle-east have all banded together to basically "run" the CIA, America, and the world in order to protect their money. It's honestly not all that different from how our actual world works give or take an overarching secret organization or two.
Diamond watches the tape of the failed CIA operation with complete disgust, a tape that is described with no shortage of enthusiasm for carnage. Diamond realizes that, despite the CIA killing 9 men, women, and children to make it look like a terrorist attack to get their two targets, a third target, unknown to the CIA, has escaped.
Then, through the use of the Mother Company's super computer, Fat Boy, Diamond learns that she is most likely headed to the house of Nicholai Hel, holder of a dreaded MAUVE card in their system:
Mauve punch cards indicated the most elusive and dangerous of all men, from the Mother Company's point of view: Those who operated without reference to nationalistic or ideological prejudices, free-lance agents and assassins who could not be controlled through pressure upon governments; those who killed for either side.
As it turns out, the woman, Hannah, daughter of a Jewish counterterrorist who made it his life's work to avenge the Black September killings, was indeed headed to Nicholai Hel's house, only to find him not home. Every single woman in the book has their breasts described in detail, and the woman living in Hel's house is no exception:
…her skin tone was cafe au lait and the body within its high-collared Chinese dress of green silk had a distinctly African development of breast and buttocks. Her mouth and nose, however, were Caucasion."
Hannah assumes the woman with the white nose and black ass to be Hel's wife, but is quickly corrected:
I am not Nicholai's wife. I am his concubine.
She is also, confusingly, named Hana (no H).
From here the book goes into a long backstory of Hel's life. It is largely filled with lengthy and rather suspect passages about Hel's breeding and stock, his mother:
a Russian noblewoman without a drop of Slavic blood in her all-too-visible (and possibly available) body.
and his unknown father undoubtedly picked for his eugenical contributions as well.
Hel grew up half on THE STREETS, until beginning a study of the game of Go, something his impeccably bred intelligence made him uniquely suited for. It was during this training that he learned of the concept of SHIBUMI (title of the book alert!):
Shibumi is understanding, rather than knowledge. Eloquent silence. In demeanor, it is modesty without prudency. In art, where the spirit of shibumi takes the form of sabi, it is elegant simplicity, articulate brevity. In philosophy, where shibumi emerges as wabi, it is spiritual tranquility that is not passive; it is being without the angst of becoming. And in the personality of a man, it is… how does one say it? Authority without domination?
Got it? Either way, Nicholai was IN:
From that moment, Nicholai's primary goal in life was to become a man of shibumi…
When I say this early stuff is rather extensive, it really does drag on and on, to the point that the CIA guys reading his file had even had enough:
Can that be? Throughout the entire Second World War, he spent his time studying a board game?
During this time, it is revealed that part of what makes Nicholai such a formidable opponent (aside from his BREEDING), is that he is also a mystic, capable of retreated to a mind clearing trance meadow from which he periodically returns with a fresh mind. No big deal:
Nicholai shrugged. It was too obvious to explain. "I am part of everything, Teacher. I share….no…I flow with everything. The Go ban, the stones. The board and I are amongst one another. How could I not know the patterns of play?
Eventually, his teacher died, his first love found herself at the wrong end of an atomic bomb, and Nicholai found himself wandering the streets of post-war Tokyo, starving and without work. Starving until a receptionist, Miss Goodbody (Shibumi was published in 1979, WELL after any of the Bond books), at an American intelligence headquarters took pity on him and took him in off the streets.
For this, Nicholai was appreciative…I guess?
At times her mindless babble was annoying; and her hovering attention could be burdensome; but she tried so hard, if clumsily, to be considerate, and she was so dewily grateful for her sexual experiences that he tolerated her with some real affection, affection of the kind one has for a maladroit pet.
Oh, and it is a recurring issue that due to her diet of western fats and dairy, Miss Goodbody smelled too bad for Nicholai to achieve orgasm most nights.
Eventually Nicholai got hired working for American intelligence breaking codes (on account of him being such a genius), and he was able to move out and get a place of his own. He also ended up taking in an old man and woman from the streets to like cook and clean for him, along with two sisters that he saved from their first attempt at turning to prostitution. And yes, you guessed it:
In the natural course of things, the Tanaka sisters came to share Nicholai's bed, where their natural rural vigor was expressed in playful explorations of uncommon and often ballistically improbably combinations.
It was also during this time that Nicholai randomly started learning the Naked/Kill style of combat…a style where "the average Western room contains just under 200 lethal weapons" for Nicholai. Which led to this hilarious footnote:
In the course of this book, Nicholai Hel will avail himself of the tactics of Naked/Kill, but these will never be described in detail. In an early book, the author portrayed a dangerous ascent of a mountain. In the process of converting this novel into a vapid film, a fine young climber was killed. In a later book, the author detailed a method of stealing paintings from any well-guarded museum. Shortly after the Italian version of this book appeared, three paintings were stolen in Milan by the exact method described , and two of these were irreparably mutilated.

Simple social responsibility now dictates that he avoid exact descriptions of tactics and events which, although they might be of interest to a handful of readers, might contribute tot he ham done to (and by) the uninitiated.

In a similar vein, the author shall keep certain advanced sexual techniques in partial shadow, as they might be dangerous, and would certainly be painful, to the neophyte.
In case you didn't get the full picture, this Trevanian guy FUCKS.
Unfortunately for Nicholai, his foster father ended up getting put on trial as a scapegoat for war crimes he didn't commit, and was under such close watch, he wasn't even afforded the opportunity for an honorable suicide. Thankfully, Nicholai stepped in an used his NAKED/KILL training to mercy kill his foster father with a pencil during an interview, which promptly got him imprisoned.
This led to a lengthy section of torture where they absolutely wrecked his beautifully bred face, and then used all manner of mind altering drugs to see if they could break him in captivity. And this was what really bothered Nicholai:
They were attacking, probably damaging, his mind; and Nicholai's genetic superiority was as much intellectual as sensual. He dreaded that they might crush his mind, and hundreds of years of selective breeding would be reduced to their level of humanoid rubble.
Did I say the eugenics stuff was rather suspect? We can probably lose the qualifier at this point.
The only other thing to note about Nicholai's time in prison (aside from teaching himself Basque from a single book and doing a ton of pushups) was that he developed his "proximity sense." Basically a supernatural Daredevil power where he can sense anyone focusing on him along with where they are and how many there are. To the point that anytime the CIA or mother company tries to take a picture of him, he shakes his face really fast so it gets all blurry.
Anyway, eventually he gets hired out for an impossible job from his prison cell, and embarks on his career of assassination, bringing us back to present day.
Back at Nicholai's chateau, Hannah (the busty counterterrorist) has finally fallen asleep as Hel returns from a caving expedition (he has become the world's foremost caver due to his proximity sense), ready for some Stage Four™ four lovemaking with Hana (the busty concubine). What is Stage Four™ lovemaking you ask? Well, Trevanian is happy to lay it out for you:
Stage 1 – "That healthy and simplistic stage of sexual curiosity during which strong young animals brimming with the impulse to continue their species exercise themselves on one another's bodies.
Stage 2: "The use of sex as psychological aspirin, as social narcosis, a kind of bloodletting to reduce fevers and pressures."
Stage 3: "Sexual gourmandizing…the highest stage ever reached by Westerners and, indeed, by most Orientals."
Stage 4: "The final 'game phase,' in which excitation and climax are relatively trivial terminal gestures in an activity that demands all the mental vigor and reserve of championship Go, the training of a Ceylonese whore, and the endurance and agility of a gifted grade VI rock climber."
One thing a lot of people don't know about assassin books is that they rival even romance novels for the level of detail they go into in describing the sex scenes. Shibumi isn't quite as detailed as most (due, of course, to Trevanian's fear of copycat sexual injuries), but it tries:
Hana's eyes were squeezed shut with effort, and her lips were stretched over her teeth. She tried to escape from the involute position in which he held her, but he would not release her.

"I thought we agreed that you weren't permitted to do that!" she pled.

"I didn't agree to anything."

"oh, Nikko…I can't!…I can't hold on! Damn you!"

She arched her back and emitted a squeak of final effort to avoid climaxing.

Her delight infected Hel, who relinquished his control to allow himself to climax just after she did. Then suddenly his proximity sense sounded the alarm. She was faking! Her aura was not dancing, as it would at climax. He tried to void his mind and arrest his climax, but it was too late. He had broken over the rim of control.

"You devil!" he shouted as he came.

She was laughing as she climaxed a few seconds later.
Level four lovemaking mostly just seems to involve faking orgasms so you can win the "who came first" game in order to get the REAL prize (and one weird trick to a better love life)…sliding a razor blade around your partner's genitals…which they do a lot in this book.
Thus refreshed, Hel finally meets Hannah:
As hors d'oeuvres go, she was a promising morsel: long strong legs, slim waist, aggressive bosom, reddish hair, fluffy from recent washing…she was in that brief desirable moment between coltishness and zaftig.
In case you were wondering if Hel was letting someone not yet fully zaftig break through his Stage 4 sensibilities, he was not, and takes the first opportunity he can to dress her down:
"By the way, can you stand a bit of avuncular advice?"

"What would that be?"

"It is a sartorial indiscretion of a young lady so lavishly endowed with pubic hair as you to wear shorts that brief, and to sit in so revealing a posture. Unless, of course, it is your intention to prove that your red hair is natural. Shall we take lunch?"
Say what you want about Trevanian, but I think he was a real trailblazer as far as negging goes. The negging continues at lunch with one of Hel's many anti-American diatribes:
It's not Americans I find annoying; it's Americanism: a social disease of the postindustrial world that must inevitably infect each of the mercantile nations in turn, and is called 'American' only because your nation is the most advanced case of the malady, much as one speaks of Spanish flu, or Japanese Type-B encephalitis. Its symptoms are a loss of work ethic, a shrinking of inner resources, and a constant need for external stimulation, followed by spiritual decay and moral narcosis. You can recognize the victim by his constant efforts to getting touch with himself, to believe his spiritual feebleness is an interesting psychological warp, to construe his fleeing from responsibility as evidence that he and his life are uniquely open to new experience. In the latter stages, the sufferer is reduced to seeking that most trivial of human activities: fun.
In case you were wondering, the question was "What American food do you like?"
Hannah fights through her growing need to get Hel to fuck her long enough to convince him to finish her mission and kill the Black Septemberists. Hel wasn't going to, but eventually the mother company gets involved and forces Hel's hand.
Before leaving to finish Hannah's botched job, he takes Hannah to a safehouse in the Basque mountains. On the way out the door, Hana reminds Hel not to punish Hannah for her silly Americanism:
Hel knew what Hana meant by punishing the girl. He had occasionally avenged himself on young women who had annoyed him by making love to them, using his tactical skills and exotic training to create an experience that the woman could never approach again and would seek in vain through affairs and marriages for the rest of her life.
Apparently living a life of shibumi means being a petty sociopath when people annoy you. Grudgingly, Hel agrees not to punish her, and merely fucks her within an inch of punishment instead:
She was exceptionally ripe and easy, all of her nerves close to the surface and desperately sensitive. Because she was still young, there was a bit of difficulty keeping her lubricated, but beyond that mechanical nuisance, he could hold her in climax without much effort.

Her eyes rolled back again and she pleaded, "No…please…I can't again! I'll die if I do again!" But her involuntary contractions rushed closer and closer together, and she was gasping in her fourth orgasm, which he prolonged until her fingernails were clawing frantically at the nap of the rug.

He recalled Hana's injunction against dimming Hannah's future experience by comparison, and he had no particular impulse to climax himself, so he brought her back down slowly, stroking and cooling her as the muscles of her buttocks, stomach, and thighs quivered with the fatigue of repeated orgasm, and she lay still on the pile of pillows, half-unconscious and feeling that her flesh was melting.
After leaving Hannah in her pile of melted zaftig flesh, Hel runs home, busts a quick nut with an actual worthy Stage Four™ lover and then heads out to take care of the silly American's terrorists.
On the way he stops at his dying "tech guy's" house in France to get the necessary blackmail material that will allow him to operate with impunity in England. He also does his buddy a favor and gives his ugly (or, as Hel says "if there had been more character in her face she would have been ugly") wife a Stage Four™ fucking:
I want to do something special for her–a kind of going-away present. Would you drop by her room? Second at the head of the stairs. And afterward, tell her it was a gift from me."

Hel nodded. "It will be my pleasure, Maurice."
Hel makes it to London where he blackmails his way into a government "safehouse" run by a farmer's wife and daughter who are (I kid you not) too dumb to know that it is a government safe house.
"I think you'll find it amusing here, Nicholai," Sir Wilfred said. "Our host is an ass, but he won't be about. The wife is a bit dotty, but the daughters are uniquely obliging. Indeed, they have gained something of a reputation for that."
After fucking his way across Europe, Hel finally (2/3rds through the book) is ready to do a bit of good old fashioned assassination.
The assassination itself is utterly ludicrous. Apparently Hel's best plan to do the operation while at the same time not letting the Mother Company (who controls all) know the British Government helped him was to hire 150 government workers to pretend to be airline passengers so he could Naked/Kill the 5 terrorists one at a time with impunity during the flight and then fake a plane crash. Afterwards, the British government assures Hel the secret of how he did it will never get out:
"I regret your problem of having a hundred-fifty people in on the secret. It was the only way I could do it and still keep your government to the lee of the Mother Company's revenge. And, after all, they are all your own people."

"True enough. But that is no assurance of long-term reliability. But I've arranged to manage the problem."

"Oh? How so?"

"Where do you imagine those buses are going?"

Hel adjusted his tie and zipped up his duffle. "All hundred-fifty of them?"

"No other airtight way, old boy. And within two days, we'll have to attend to the extermination crew as well. But there's a bright side to everything, if you look hard enough. We're having a bit of an unemployment problem in the country just now, and this will produce scads of openings for bright young men and women in the secret service."
I really do have to admire the cynicism that positively drips out of this book at every page.
Anyway, his job done, and everyone who helped him either fucked into a melted pile of unconscious flesh or piled up in a mass grave, Hel returns to Basque country to do a bit of caving with a buddy. Unfortunately, he underestimated the reach of the Mother Company and they proceed to murder his buddy, and then dynamite the cave entrance leaving Hel inside to a certain death.
Of course, we are talking about the world's greatest caver, so Hel isn't about to go down without a fight, and heads into the unexplored cave looking for an outlet. Now, Trevanian must have been an avid caver/mountain climber himself, because this cave scene–like the mountain climbing scenes in his previous The Eiger Sanction (now a major vapid motion picture!)–was pretty fucking realistic sounding and cool. There is something buried deep in the unevolved parts of every man's brain that finds the perseverance through ridiculous abuse and torture–whether it is Die Hard, The Hangover, or this book–to be the ultimate sign of badass machismo.
First Hel almost loses his one air tank:
All the strength of his legs pressed into the stance, the cords of his crotch stood out , stretched and vulnerable. The line ran rapidly through his hands. He cliched his jaw and squeezed his fists closed over the rope. The pain seared as his palms took the friction of hte wet line that cut into them. Water ran behind his fists, blood before. To handle the pain, he roared, his scream echoing unheard through the narrow diaclose.
Hours and pages later, he risks a quick nap:
The thin sleep had not rested him; fatigue wastes in his body were thickening up; his hands were a pair of stiff paddles; his shoulders were knotted; the nausea of repeated adrenaline shock was clogging his throat.
Pages later, abuse after abuse on his body (including constantly breaking all the scabs off his paddle hands to move his fingers), he falls through a waterfall to land in a broken pile in a lower cavern. But he still doesn't give up…because he finds a swiftly flowing underground river that just might outlet to the outside world:
The slightest movement of his jaw shocked him with agony; his shoulder was stiff and it ground painfully in its socket; his palms were flayed; even the goddamned faceplate of his mask was unlikely to withstand the currents of that underground pipe. This thing wasn't even a gamble. It was like flipping coins against Fate, with Fate having both heads and tails. Hel won only if the coin landed on the edge.
With no other option, he jumps in:
The current gripped him and he shot into the pipe. HIs foot hit something; the leg crumpled, the knee striking his chest; he was spinning; the flashlight was gone; he took a blow to the spine, another on the hip.
And then he gets stuck, something wedged in a hidden crack:
The mask twisted, and the faceplate blew out, the broken pieces cutting his leg as they flashed past. He had been holding his breath from fear for several seconds, and the need for air was pounding in his temples. Water rushed over his face and eddied up his nostrils. It was the goddamned tank! He was wedged in there because the space was too narrow for both his body and the tank! He gripped his knife with all the force of his bod focused on his right hand, as the water sought to twist the knife from his grasp. Had to cut away the tank! The weight of the current against the cylinder pressed the straps against his shoulders. No way to slip the knife under. He was saw through the webbing directly against his chest.

White pain.

His pulse throbbed, expanding in his head. His throat confused for air. Cut harder! Cut, damn it!

The tank went, smashing his foot as it rushed out under him. He was moving again, twisting. The knife was gone. With a terrible crunching sound, something hit the back of his head. His diaphragm heaved within him, sucking for breath. His heartbeat hammered in his head as he tumbled and twisted in the chaos of foam and bubbles.

Bubbles…Foam! He could see! Swim up! Swim!
Say what you will about the horrific race and gender politics in this book, that's just good shit right there. I mean if masochistic descriptions of someone's body getting fucking WRECKED is your definition of "good shit."
Afterwards, Hel takes a few days to heal up and then heads out for revenge. First he skewers the dirty priest that ratted him out in the cave, in the only way badass books can ever murder priests…in their own confessional booth.
Then he uses his last bit of leverage, a big one that supposedly would bring the entire United States government crashing down, to blackmail the mother company itself into letting him kill the men who trapped him in the cave, killed Hannah, and blew up his Chateau (a lot happened while he was trapped in the cave).
Hel wants a challenge though, so he makes sure the mother company arms the three men who ruined his life to the teeth and then sends them into a Basque country whiteout to get Hel. Not that is is much of a challenge, Hel makes short work of them in full whiteout conditions with his proximity sense and his "shotgun pistol":
Hel cocked back the double hammers of each of the shotgun pistols the Dutch industrialist had given him years before. Starr's projecting aura was closing in from the left. Hel gripped the handle as tightly as he could, aimed for the center of the Texan's aura, and squeezed the trigger.

The roar of two shotgun shells firing at once was deafening. The blast pattern of 18 ball bearings blew a puffing hole through the mist, and for instant Hel saw Starr flying backward, his arms wide, his feet off the ground, his chest and face splattered. Immediately, the whiteout closed in and healed the hole in the mist.
One disgusting American down! The cowardly Palestinian got scared and ran off a cliff, leaving only the leader. But Hel is disgusted with how easily they went down:
This unexpected whiteout had converted the catharsis of revenge he had planned into a mechanical slaughter of stymied beasts. There was no satisfaction in this, no measurement in terms of skill and courage. Knowing they would be three and well armed, Hel had brought only the two pistols with him, limiting himself to only two shots. He had hoped this would make a contest of it.

But this? And that emotionally shattered merchant out there in the fog? He was too loathsome even for punishment.
Then, with one last internal monolog about how American's were, in fact, so bad that they DID deserve to be erased from existence, no matter how distasteful, Hel turns back around:
He recalled the adage: Who must do the hard things? He who can. With a deep sigh, and with disgust souring the back of his throat, he turned and raised his arm.

Diamond's maniac scream was sandwiched between the gun's roar and its echo. Through a billowing hole in the fog, Hel glimpsed the spattered body twisting in the air as it was blown back into the wall of vapor.
Finally, all the bad guys properly punished, Hel returns to his ruined chateau and the blasted remains of his zen garden he'd spent the last 20 years perfecting. Hana, unfortunately, had been inside when the helicopters destroyed his house, and while she had survived, her face had been horribly scarred by the exploding glass, blinding her in the process. Not to worry though, she could still fuck:
Hana's posture was maximally submissive; her only weapons in the game were volutuous sounds and hte rippling vaginal contractions at which she w o expert. Hel haad the advantage of distraction, his endurance aided by the task of controlling movement very strictly, as their position was complicated and arcane, and a slight error could do them phyical hurt.
Their Stage Four™ lovemaking finished, Hel reflects on his victory. He knows that it would only last as long as his blackmail material kept the mother company at bay. And, when fighting multinational cabals of oil interests that control the world, you will always eventually lose. So he realizes that the only way to win, to win with SHIBUMI is to kill himself before they can.
And, for his last good deed, he decides to mercy kill his now ruined concubine on the way out in the book's final sentences:
He hugged her from behind, cupping her breasts in his hands.

"The one good thing about all of this is your garden, Nikko. I am glad they spared it. After the years of love and work you invested, it would have broken my heart if they had harmed your garden.

"I know."

There was no point in telling her the garden was gone.

It was time now to take the tea he had prepared for them.
So who had murder suicide as the ultimate expression of a life lived with Shibumi?