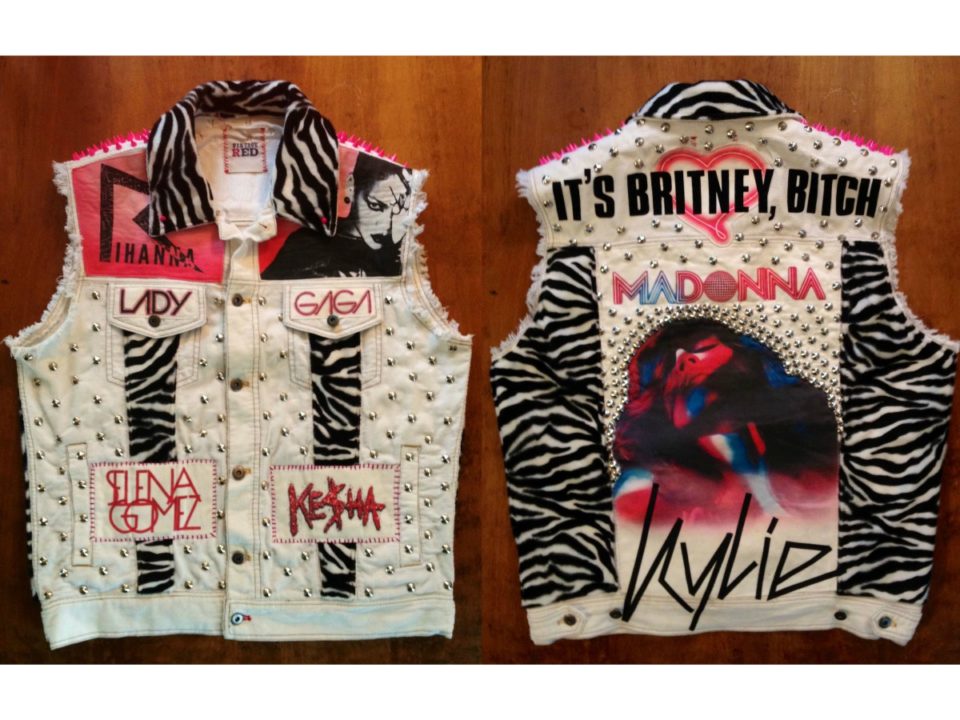 Are you looking for a custom designed battle vest, but don't have access to a high quality print shop?  Contact me HERE, and we can discuss possibly working on a unique, custom designed vest, featuring only the bands and patches you choose!  Check out my other posts in this series for more examples of my work HERE.
Welcome back to Battle Vests of the KVLT and TR00!  Today, in addition to losing my metal card, I will also lose my right to use the words KVLT and TR00 by constructing one of the most unholy abominations of a patch vest the world has ever seen! Or, maybe this vest is so abhorrent to all things KVLT and TR00, that it comes full circle and becomes the most KVLT and TR00 vest of all!  Either way, I made a vest featuring all my favorite female pop artists, and I figured I may as well just go ahead and own that shit by writing today's post about it.
The inspiration for this vest came when I made plans with my friend Shena to see Britney Spears in Vegas.  See, this whole pop thing is fairly new for me.  When I first heard that Madonna song I heard back in 2008? Shena was the one who burned me a copy of Hard Candy (that I later got caught listening to at a high volume in my car).  When I mentioned I was Brit-curious, Shena was the one burned me a copy of Blackout.  And when Britney took up a residency in Vegas, Shena was the one who convinced me that, no, it would not be ridiculous to fly across the country to see Britney Spears.  And that was when I knew I needed a vest to wear to the show.  Or maybe it was when I found the white corduroy vest at a local used clothing store.  Either way, it ended up being battle vest time!
At this point, I'm no stranger to making battle jackets.  I've got my sewing machine skillz down pat, I know the guys down at the Tshirt printing place where I make all my custom patches well enough that they have been coming over to play the Middle-earth Collectible Card Game with me, and I've got more vests, unfinished vests, and vest ideas than I know what to do with.  So, for this vest, I thought I'd push my sewing skills a bit more than usual by accenting the vest with strategically placed bits of zebra fur trim.  Punk vests have been experimenting with various animal fur trims for a while now, so I decided I'd continue the punk direction and stud out the vest as well.  I also figured I'd add in some hot pink spikes for the shoulders but I stopped there–I didn't want it to get tacky after all.
As for the patches, I decided to keep it simple and only go with my 7 or 8 favorites.  It was a tough call, but I decided Madonna was going to have to be the centerpiece patch.  In addition to being the reason I got into pop music (when I mistook one of her singles from Hard Candy that was playing on public radio for "underground pop"), she's also responsible for some of the best dance music out there, especially (at least in epic eurotrash terms) towards the second half of her career.  However, the first concert I would wear this vest to would be Britney Spears in Las Vegas, a singer that I like almost as much as Madonna.  No, really, Brit-brit is AWESOME, and it was kind of annoying that everyone thought I was going to go see her live ironically.  Anyway, I put the immortal Blackout's immortal introduction, "It's Britney, BITCH" in big iron-on letters across the upper shoulders.  Rihanna, Lady Gaga, Kylie [Minogue] (I constructed her logo out of iron on hem tape that I cut into letters), Ke$ha, and Selena Gomez (the last two in decorative pink embroidery thread stitching) rounded out my favorite artists for this vest.
I left off the following artists for the following reasons:
Katy Perry – She's growing on me more and more, but really only has 2 songs I like ("E.T." and "Dark Horse"–three if I grudgingly admit I listened to "I Kissed a Girl and I Liked It" and I liked it), and otherwise her stuff really betrays her Christian songwriting roots.  Also, she wrote the second worst song on Britney's new CD, which isn't even faint praise considering how awful the worst song on Britney's new CD is.
Christina Aguilera – Admittedly, "Genie in a Bottle" is aaaaaaamazing, but aside from a few other minor key gems, her catalog tends towards stuff like the wretched "Come on Over (Baby)."
Jennifer Lopez – Though I love her rom com work, the majority of her songs leave me a little cold.  Still, I thought about including her anyway just because "On the Floor" is so goddamn good!
Shakira – Sure, she's got some gems like "Whenever, Wherever," but aside from Shewolf, most of her albums are not electropop, and only minimally dance, and thus, not really my thing.  That new Rihanna track is pretty sweet, but that's probably just because of Ri-ri.
P!nk – I always almost like her songs, but they always seem to come down on the wrong side of inspiring and uplifting.  They are epic in the wrong sense of the word.
Robyn – Robyn is frickin awesome, but, something about her didn't seem to quite fit with the rest of my vest.  She's just a little more Euro, a little classier, a bit more synthpop, a bit more underground, a bit more respectable.  Still, that said, I'll have to at least get a Robyn shirt to wear with this vest, because Robyn is the best.
Finally, apparently there are contraptions like the BEDAZZLER ™ that will automatically stud out your KVLT and TR00 vests.  However, I didn't  know this at the time, so I just pushed the spikes of the stud through the fabric and into a couple stacked sheets of cardboard, flipped it over and used the dimple on the end of a permanent marker to bend each of the four spikes over (and then the marker itself was just the right size to finish pushing all the spikes into the hollow of the stud). I believe this is what punks refer to as DIY.
With the technical stuff out of the way…how did the vest fare at the Britney Spears show?  I don't know, YOU TELL ME:
THE "BANDS"
Ok, enough of me talking about what a chick magnet a vest like this will make you.  I know why everyone is here–it's to listen to some of the all-time best electropop dance songs by female vocalists that you will ever hear!

Britney Spears – "Gimme More"
(Blackout, 2007)
A lot of people seem to think that Britney had one big song with "…Baby One More Time" and has been riding on the sexualized school girl success of that song ever since (though sometimes "Toxic" will get grudgingly acknowledged as "pretty good" too).  And while In the Zone (and, to a lesser extent, Britney) was undoubtedly an important transitional album for Britney, Blackout was Britney's first full-on electropop album and signaled a major turning point for her career.
"Gimme More," while perhaps not her greatest song, is noteworthy as the song that opened her most important album with the immortal phrase "It's Britney, bitch." It's a catchy, dark, minor key dance song that was just one part of what would be a string of very consistently brilliant pop albums from Britney.  The releases from the second half of Britney's career proved that she was far more than the bubblegum pop princess of her early work.
Not to take anything away from "…Baby One More Time," that song is great too (even if most of the rest of that album blows).

Ke$ha – "Blow"
(Cannibal, 2010)
A lot of poeple seem to make Ke$ha the poster child for everything that is wrong with pop music these days.  However, you can hate on her "trashy" looks and her "brush my teeth with a bottle of jack" lyrics from the ubiquitous "Tik Tok" all you want, but you would be wrong.  While I (obviously) don't love her occasional forays into rock and country influences, Ke$ha really is quite a brilliant songwriter (yes, she actually does write her own songs) and her cannily cultivated image that the masses either love to hate, or hate to love doesn't seem to have hurt her career at all either.
This song is Ke$ha at her electro best.  Loud and in your face, it might be simple song, but that chorus (and the finale) is positively EPIC in the best sense of the word.

Kylie Minogue – "Like a Drug"
(X, 2007)
Kylie's career goes way back to that "Do the locomotion with me" song.  Of course, because I've become increasingly aware that my love of dance music is more directed towards the current (last 5-10 years) state of pop music than a more overarching embrace of stuff like Kylie's disco-y roots, it is the latter years of Kylie's career I most identify with.  She might not have completely shed her disco roots, but she has proven herself as a bonafide electropop master in my eyes anyway.
X was the first Kylie CD I'd heard (thanks, once again, to a burned disc from Shena), and it's still one of my favorites (as long as you skip a few of the major key songs towards the end).  This song started a two album pattern of the best Kylie songs somehow not being released as singles.  Also, it's about a dance floor, so, of course I love it.

Lady Gaga – "Just Dance"
(The Fame, 2008)
Sure, she can't write a ballad to save her life, and sure, her last album blew even worse than her second to last middling album.  However, Lady Gaga at her peak was responsible for one of the most remarkable strings of brilliant singles in the last decade.  I like her good stuff so much that I gave her both the pocket flaps on the front of the vest.
This song is the first Gaga song I ever heard, and is still one of my favorites.  Also, once again, it's about a dance floor.

Madonna – "Give it 2 Me"
(Hard Candy, 2008)
With some exceptions (I challenge anyone to say they don't like "Like a Prayer," especially if they've seen Madonna bring down the house by playing it live), most of my love for Madonna is for the second half of her career.
Starting with Ray of Light (at least the second half of Ray of Light), she started using more and more electronic influences in her songs, to the point where I ended up mistaking this song for some kind of cool underground europop the first time I heard it.  It wasn't, it was Madonna, and it was the first song (aside from those Ace of Base songs they used to play on the school bus radio) that made me truly realize I might be a fan of pop music.
Anyway, "Give it 2 Me" is a great song, but really her last 3 albums have all been electropop masterpieces, especially Confessions on a Dance Floor, which contains a few of my favorite pop songs of all time!

Rihanna – "S&M"
(Loud, 2010)
If I had to admit it, Rihanna's albums seem to have a bit more filler than most of the artists from this list, but maybe that's just because she is a bit more prolific than most of the artists on this list.  Still, her good songs (of which there are many!) are really really good–good enough to give her not one but TWO upper shoulder panels on the front of the vest.
This song, featuring none other than the Legendary Ms. Britney Spears, is quintessential Rihanna.  Dirty, loud, twinged with darkness, and she really Rihannas the chorus. Classic.

Selena Gomez – "A Year Without Rain"
(A Year Without Rain, 2010)
I was pleasantly surprised to find out that Selena's music for the most part had nothing to do with her early Disney princess image. In fact, her stuff was so good that she made it into the KVLT and TR00 collection of patches honored on my vest. She's got a few songs I'm not down with, but, really, who doesn't?  It's not like Britney and Ke$ha haven't put out a "Chillin With You," and "Dinosaur" or two in their times.
While I love Selena's more uptempo stuff like "Slow Down," this older ballad might even be my favorite from her despite it seeming like something I'd hate at first.  Just a ballad on the surface, but it's backed up by a skeleton of total minor key eurotrash awesomeness.  As soon as I heard that synth in the background I knew I was going to be down with Selena.
As always, you can listen to this patch vest in convenient playlist form here:
Finally, because she got me into this music, here are Shena's picks for representative/favorite/whatever songs for each singer:
Good choices even if I don't love the Rihanna and Selena picks for the obvious reason. She did correctly identify what is probably the best song on Blackout at least.