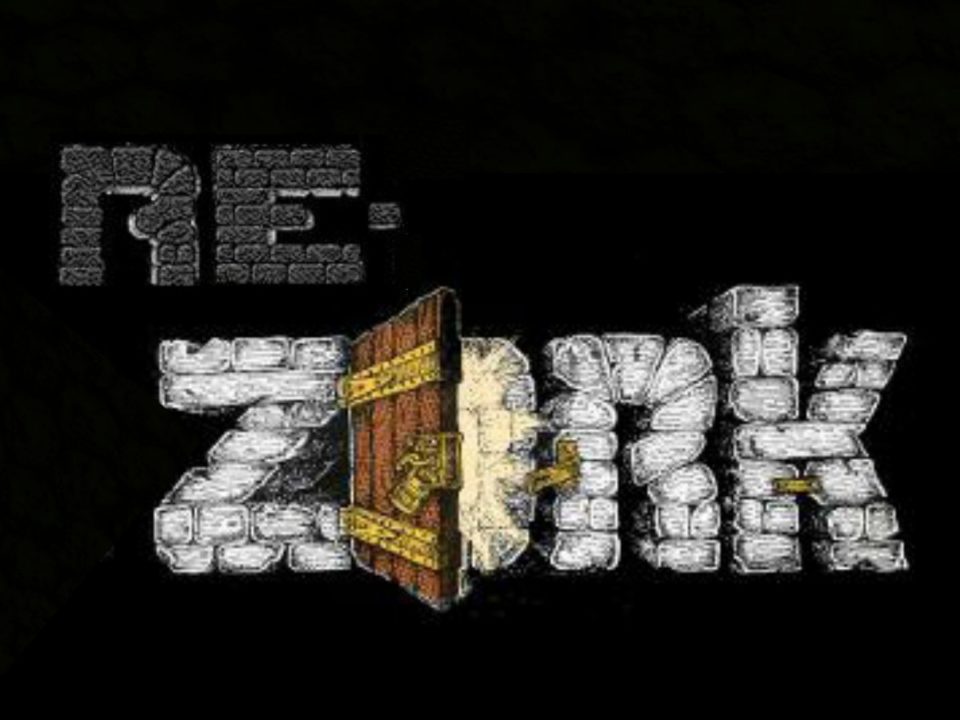 In the early days of computing, before Graphical User Interfaces were commonplace, nerds still needed games to play on their primitive computers.  Thus the text based interactive fiction game was born.  While the Zork series wasn't the very first instance of such a game, it was unquestionably the first success in interactive fiction, and phrases like "It is pitch black. You are likely to be eaten by a grue." remain popular throughout the internet to this day.  If you are curious, you can play the original game here:
PLAY ZORK I: The Great Underground Empire
Anyway, in the nostalgic spirit of such games, I've started a brand new www.isleyunruh.com feature: RE-ZORK!  In this series I will pit my friends, via G-chat, against an interactive fiction AI played by, none other than, myself.
For our fourth installment, we have my high school English teacher Ms. O'Shea.  Now, I should mention, in an attempt to not be THIS GUY, I didn't actually get Ms. Oshea to play RE-ZORKED with me. There is, after all, no love lost between us considering she was my least favorite teacher of all time, though, I'm 90% certain that her being awful was what led to me pulling all those pranks on her rather than the other way around.  Anyway, she was an awful lady, full of hate, and I still claim that she really deserved every one of these pranks being pulled on her.  THIS is a cartoon I drew of her back in high school if you want to see what she looked like.
So, here today I've decided to play both sides of the RE-ZORKED game since I'm no stranger to trolling myself.  All events were taken from actual pranks, though, I must admit, half of these were kind of mean spirited (not the stealing doorstops and erasers, those pranks were brilliant), and done to other teachers, so, for that I apologize. Ms. Hall and Ms. Salmeron, you guys were actually kind of nice, I'm sorry I was such a little asshole.  Still, in the spirit of April Fool's Day, I figured this little collection of pranks that I've pulled on my high school teachers, some deserving, some less so would be a nice change from yet another post about how I don't like Lord of the Rings anymore or something.
How long will Ms. O'Shea survive before being devoured by a Grue?  Read on to find out!
RE-ZORK IV: Ms. O'Shea and the April Fool's Day
Copyright (c) 1981 WiBiL, Inc. All rights reserved.
Re-Zork is a registered trademark of WiBiL, Inc.
Revision 884 / Serial number 840726
High School Classroom
You raise your head from where it was resting between your hands as you sit at your desk.  In front of you is your attendance chart, a banana for an afternoon snack and a desk calendar that says "April 2."  It would have said "April 1" had someone not torn off a bunch of random pages from every month.  In front of you is Valley Center High School's 4th hour sophomore English class.  They are very noisy.
There is an exit to the east, though the door is currently closed.
You hear a group of people pounding on the door as the passing period bell rings.  This is going to be a long day, and you haven't even had a chance to eat breakfast yet.
>EAT BANANA
You ignore both the pounding on your classroom's door and the increasingly UNRULY atmosphere of your classroom itself in favor of eating that banana that has been sitting on your desk all day.  However, as you begin to unpeel it, banana pulp oozes out everywhere.  Apparently one of those little assholes in your class thought it would be funny to smash the shit out of your banana while you weren't looking.
>SHAKE IT OFF
Really, it probably was your fault for leaving your desk unattended anyway.  I guess you'll just have to do without any food for now.  Besides, the pounding on your door has grown to a level that is only making your headache worse.
>OPEN DOOR
You open the door to your classroom to find that someone has activated the automatic lock with a shoelace.  A hoard of tardy students shove past you and take their seats, only adding to the cacophony behind you.
If you let the door shut it will lock again.
>PUT DOORSTOP IN DOOR
You would love to, but your doorstop appears to have disappeared.  This is doorstop disappearance #37 if you were keeping track for your upcoming memoir "The Case of the Missing Doorstops."
>MAKE NOTE TO REQUEST NEW PERMISSION TO SEARCH ISLEY UNRUH'S LOCKER FOR MISSING DOORSTOPS
An excellent idea, after all, that was where all those missing copies of Jonathan Livingston Seagull ended up.  The roar of poorly behaved students continues to rage behind you.
>ATTEMPT TO QUIET CLASS
You turn around, letting the door shut behind you as you blow the whistle around your neck until your weak lungs give out.  The class eventually quiets, though whether out of respect for your whistle, or embarrassment for your choice to use a whistle on a high school classroom, you are not sure.
>WRITE TODAY'S LESSON ON BOARD
Your chalkboard is currently completely covered with yesterday's detentions and other bits of high school chalk dust ephemera.
>ERASE CHALKBOARD
You would love too but you don't seem to have any chalkboard erasers left. You briefly wonder if this recurring "Case of the Missing Chalkboard Erasers" could be related to "The Case of the Missing Doorstops."  Still, maybe this is for the best, whenever an eraser does turn up, it is usually stuffed full of pieces of chalk that make it useless anyway.
>USE OVERHEAD INSTEAD, BECAUSE, GODDAMNIT, THESE KIDS ARE GETTING THEIR HOMEWORK AND/OR DETENTIONS TODAY, USABLE CHALkBOARD OR NO
Smiling smugly to yourself, you roll out your trusty overhead projector and flip on the power.
However, barely any light comes through for some reason.  Could it be a bad bulb?
Outside your door knocking has begun again.  Maybe you should have deactivated the automatic lock considering you still haven't found a doorstop?
>YELL TO TARDY STUDENTS OUTSIDE DOOR THAT THEY MADE THEIR TARDY BED, AND NOW THEY CAN SLEEP IN IT
As you prepare to tell the students outside the door exactly what you think of their lackadaisical attitude towards attendance, you hear a wet splat over your head to the West.  Looking up you see a drippingling fresh addition to the spitball covered fluorescent light cover above Isley's desk.
>NOT TODAY, GIVE HIM DETENTION
That's the spirit!  Though, in response to your punishment of one hour of detention, he asks if maybe 2 hours would not be more fitting as long as you are giving him detentions for things he "didn't do."
>TELL HIM IF HE DOESN'T MIND 2 HOURS, THEN WHY NOT MAKE IT 3
He responds with a request for 4 hours.
>TELL HIM IF HE DOESN'T WATCH IT, I'LL DOUBLE IT
He suggests that tripling it would perhaps be a more fitting punishment.
>SEND HIM TO THE OFFICE
Isley jumps up and leaves the classroom.  You can't tell if he's just a breakfast club fan, or if he was just trying to get out of the original detention by escalating it to an office visit.  Probably a little of column A and a little of column B.  Though, your ruminations are cut short as a great gout of flame erupts from your overhead projector.  Apparently at some point before you turned it on someone had filled the entire projector with wadded up toilet paper from the bathroom, toilet paper which is now burning merrily away.
Pandemonium breaks out as the students rush towards the door, which, has now apparently been wedged shut from the outside by a solid row of your missing door stops.  At this point that search of Isley's locker may prove to be less fruitful than you thought.
>PUT OUT FIRE
You grab the fire extinguisher, but it appears to be empty.  Maybe that wasn't just chalk dust that the bathroom was covered in last week after you gave Isley the bathroom pass.
A voice over the intercom comes in "Ms. O'Shea, the pizzas you ordered are here."  You distinctly remember not ordering pizzas.  In fact, you remember telling the class that under no circumstances would they be allowed a pizza party due to Isley's behavior during the Ms. Kansas visit last week.  You also distinctly remember Isley saying that he had a feeling you might end up having a pizza party anyway.
>SCREW THIS, HIDE IN CLOSET
What about the pizzas?  I thought you were hungry?
>FORGET THE PIZZAS, THIS GAME IS DUMB, HIDE IN CLOSET UNTIL I CAN STOP PLAYING
You open up your classroom closet and look inside.  It is pitch black.  You are likely to be eaten by a Grue.
>I DON'T CARE, HIDE IN CLOSET ANYWAY
You hide in the closet.  There doesn't appear to be a Grue in there.  Outside the students seem to have gotten the fire out and are eating the newly delivered pizza.  It smells delicious.
>LEAVE CLOSET, TAKE PIZZA AWAY FROM STUDENTS, EAT IT, QUIT JOB, SPEND REST OF LIFE GETTING EVEN WITH ISLEY
You would love to, but it turns out there was a Grue in the closet after all.  I told you it was pitch black.  You have been devoured by a Grue.
****You have died.****