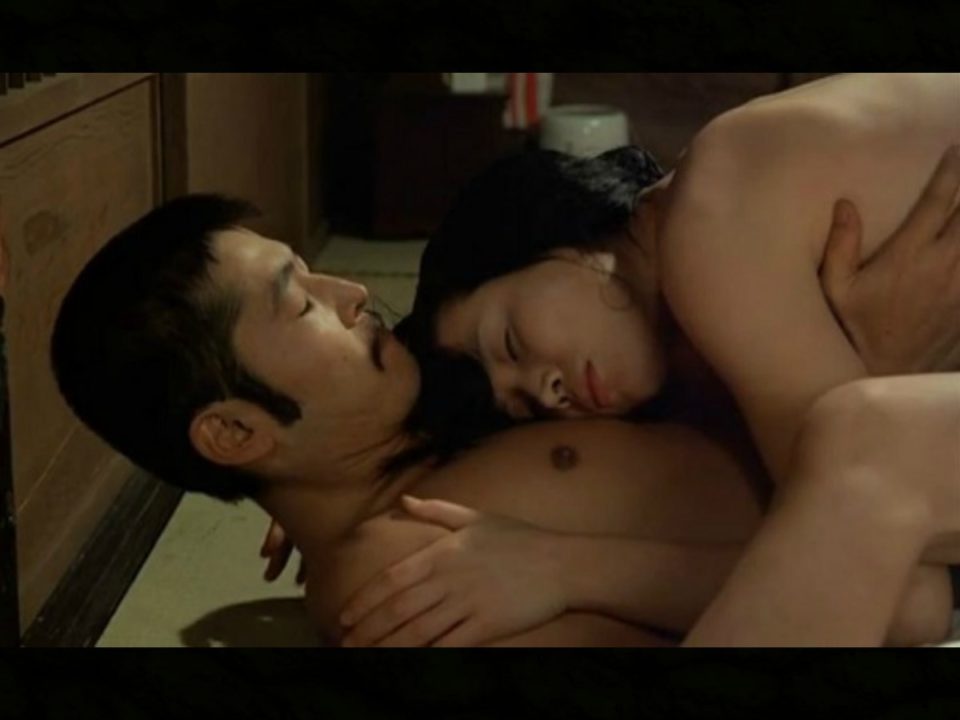 It's hard to watch the 50 Shades of Grey movie without thinking "wait, that's it?"  Aside from one scene where Mr. Grey actually tries to sort of hurt his partner, about all the movie's constant talk of TEARING DOWN THE WALLS OF DECENCY AND OPENING THE DOORS OF OBSCENITY AND DEGRADATION boiled down to was
a bit of light spanking and the main dude acting like an asshole.  As a work of cinema it was no more erotic, taboo breaking, or boundary pushing than a James Bond double entendre.  
In the Realm of the Senses
, on the other hand, plumbs the depths of human sexuality in ways that few other films have done before or after—whether they were pornography or not.
Most people, when discussing In the Realm of the Senses, will quickly sum it up as "an art film porno."  And, while In the Realm of the Senses happens to be a well-made movie with real scenes of sexual intercourse—this does not necessarily make it a "porno."  While there is a lot of cock-grabbing that is pretty integral to the plot, the actual scenes of penetration could all be hidden by a few slightly altered camera angles without harming the film one bit.
I will admit, that at times, some of the sex in this film seems to be mostly pruriently motivated.  There is a sense that the director Nagisa Oshima got a little carried away with his newfound "so in this film we can show it going in!" freedom, and occasionally dipped his toes into gratuitous waters.  However, by and large, the sex, in a movie that is composed of almost nothing but, is really quite tasteful.  It is kinky and extreme in ways that Fifty Shades of Grey only wishes it could be, but it is also very tastefully done.
So, if this isn't a porno, what IS the point of this film?  While I'm tempted, I think it might be tricky to suggest some kind of feminist message here, especially when the film exists in that complicated land of Japanese sexuality.  Still, it definitely possesses an intellectual appeal beyond mere voyeurism.  This is Fassbinderian level power games stuff.  There is nothing more cynically and despicably human than trying to exert physical and emotional control over others via sex.  The heady depths of obsession and lust on display here are powerful themes, and, impressively, the imagery is more than up to the task.
This primal, Dionysian imagery is captured with all the visceral ferocity of which the film medium is capable to create a powerful portrayal of obsession and lust-driven insanity. And, the actors are actually talented enough to pull off something that porn actors are almost never able to do–i.e. they actually make you believe they are enjoying it.  So, while In the Realm of the Senses is undoubtedly entirely successful as an erotic film, let's not dismiss it as mere porn.