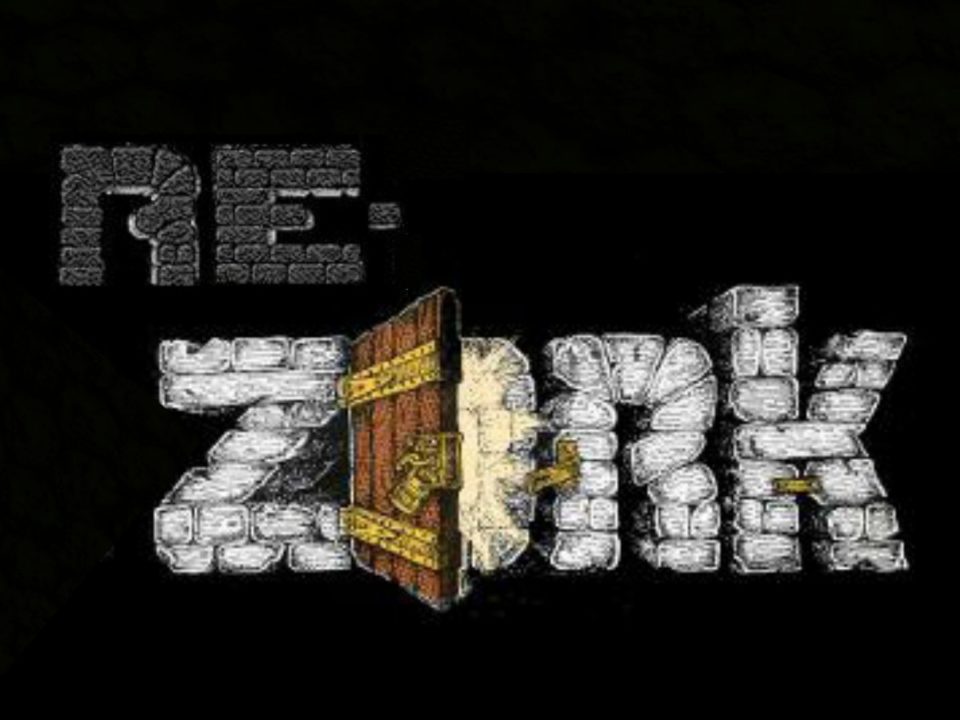 In the early days of computing, before Graphical User Interfaces were commonplace, nerds still needed games to play on their primitive computers.  Thus the text based interactive fiction game was born.  While the Zork series wasn't the very first instance of such a game, it was unquestionably the first success in interactive fiction, and phrases like "It is pitch black. You are likely to be eaten by a grue." remain popular throughout the internet to this day.  If you are curious, you can play the original game here:
PLAY ZORK I: The Great Underground Empire
Anyway, in the nostalgic spirit of such games, I've started a brand new www.isleyunruh.com feature: RE-ZORKed!  In this series I will pit my friends, via G-chat, against an interactive fiction AI played by, none other than, myself.
For our very first installment, we have Danny (sometimes known as "Jock Danny") trying his luck.  He works out with me at my weightlifting gym, has an engineering master's, is a marine, and might even love single malt Scotch more than I do.  How long will he survive before being devoured by a Grue?  Read on to find out!
RE-ZORK I: Danny's Quest to Wizard Mountain
Copyright (c) 1981 WiBiL, Inc. All rights reserved.
Re-Zork is a registered trademark of WiBiL, Inc.
Revision 88 / Serial number 840726
Fetid Outhouse
You are squatting inside an outhouse over a dank and foul smelling pit of indeterminate depth. The heat is stifling within this small structure.
There is a door to the east in front of you and a pile of leaves next to the pit.
>WIPE BUTT WITH LEAVES
You reach for the pile of leaves and begin to clean your backside. Unfortunately the leaves have been in the outhouse so long that they are completely dry.
You now find yourself in the unfortunate position of having crumbled dry leaves stuck all over your ass.
It's going to be one of those days.
>RIP OFF SLEEVE OF SHIRT AND WIPE BUTT TWICE
You manage to clean most of the mixture of shit and crumbled leaves off of your ass, but with only two wipes the job seems far from done.
>PUT PANTS ON
You take your pants from the hook on the wall and put them back on.
You wonder to yourself why you can't just drop your pants to your ankles like everyone else when you have to take a shit.
>INVENTORY
You check the pockets of your pants. In them you find:
A penny.
Your trusty swiss army knife.
A piece of paper with something scribbled on it.
A half finished lollypop that is stuck to the bottom of your pocket.
>READ PAPER
You seem to have written an address that is scribbled on the wall of the outhouse onto the paper.
>EAT LOLLYPOP
Are you sure? It looks pretty old.
>EAT LOLLYPOP
You eat the lollypop. It turns out it wasn't a lollypop, it was a mass of hair and pocket lint that was stuck to an old tooth pick. Still, it wasn't bad for what it was.
>SEARCH 50 FT RADIUS
The outhouse only has a 2.5 foot radius. You bang your head pretty good as you run into the wall. Still, you manage to do a pretty thorough search of the premises.
You realize that the pit is almost full now that your eyes have adjusted to the dank light that filters through the cracks in the boards. Your morning constitutional seems to have filled the pit to within a few inches from the top.
The door in front of you has no latch but you have locked it from the inside.
One wall has "For a good time, visit 666 Wizard Mountain, apt. 3A" Someone has crossed out "good" and replaced it with "alright."
There is a pile of crumpled leaves and fecal matter next to the pit.
>BREAK DOOR
You back up to the far wall, take a running leap over the pit and slam your shoulder into the door. The door doesn't budge.
The outhouse does.
The whole thing tips over and you land in a pile of soggy wooden splinters.
>SUMMARY DIAGNOSTIC
I don't know the words summary diagnostic. You are not a learning computer with a neuronet processor.
>HEALTH
You seem healthy. Your butt is kind of itchy though.
>LOOK IN IMMEDIATE AREA
Forest Clearing
You are standing in the middle of a forest clearing in a pile of outhouse timbers. There is a pit full of feces next to you. To the east you see a farmhouse at the edge of the forest. Far to the north you see what appears to be a mountain poking up above the trees. It seems like the kind of place where a wizard would live and a guy could have an alright time.
>WALK TO FARMHOUSE DOOR
West of Farmhouse
You walk east and arrive at the farmhouse door. It is unlocked.
>KNOCK ON DOOR
You knock on the door.
There is no answer.
There is, however, a note pinned to the door that says "takin' a dump…back in 30."
>WALK IN HOUSE,
Hallway
You walk into your house, briefly wondering why you felt the need to knock at your own door. There is another door to the east. There are also doors to the north and south.
>SEARCH FOR FOOD
You are in a hallway. It doesn't seem to contain any food.
>LOCATE TRAVEL BAG
Your travel bag is in the bedroom closet where you always keep it.
>LOCATE SCOTCH
Your scotch is in the kitchen in your locked scotch cabinet.
>LOCATE FLAMETHROWER
Your flamethrower is under your bed with your collection of geriatric erotica.
>LOCATE COMPASS AND WATER BLADDER
Your compass and water bladder are in your travel bag, where else would they be?
>PACK ALL ITEMS INTO BAG SMARTLY
You are unable to reach either the items or the bag from where you are standing in the hallway.
>WALK TO SCOTCH CABINET
Kitchen
You enter the door to the south, you are standing in front of the scotch cabinet in your kitchen. There is a large chain wrapped around it many times secured with a massive lock.
>LOCATE AXE
There is an axe in the corner of the kitchen from where you butchered the baby lamb for yesterday's supper.
>BRING AXE TO SCOTCH CABINET
You pick up the axe, still covered in adorable lamb's blood.
>DESTROY CHAINS AND CABINET TO RECOVER 2 BOTTLES OF SCOTCH
You set to work. After an hour of frantic axe wielding you manage to reduce the scotch cabinet to splinters. Unfortunately, in the process you ended up destroying all but one bottle. You wonder why you didn't just use the key that was hanging next to the cabinet. You shrug, and grab the bottle of Speyburn 10 year old.
>RETURN TO HALLWAY
Hallway
You exit the kitchen to the north, entering the hallway.
>GO TO TRAVEL BAG
Bedroom
You enter the bedroom through the north hallway door.  You make your way to the closet where you keep your travel bag.
>TIE AXE TO SIDE OF TRAVEL BAG
You fasten the axe to the side of your well stocked travel bag.
>PLACE SCOTCH IN TRAVEL BAG
You place the scotch into the travel bag. It nestles up snugly against your trusty travel axe.
>INVENTORY TRAVEL BAG
Inside the travel bag you find:
A lighter (out of fluid).
A blanket.
A compass.
A water bladder.
A bottle of travel scotch.
A travel axe.
A bottle of speyburn 10 from the kitchen.
Attached to the side of your bag is the kitchen axe.
Stuck to the bottom of the bag is what appears to be another old lollypop.
>LOCATE HOUSE WEAPON(S)
The only other weapon in the house aside from your travel axe and your kitchen axe would be the flamethrower under the bed behind you.
>EXAMINE FLAMETHROWER FLUID CONTENT
The flamethrower's fluid tank is empty. It appears to be able to hold about 750 ml of fluid.
>SHOUT
Raising your hands in the air, you scream "FUUUUUUUUU!!!!!!"
>EXAMINE MAGICAL POWER(S)
You suppose that any sufficiently advanced technology is indistinguishable from magic, but currently your "magical" fire stick is suffering from a distinct lack of mana. 750 ml of it to be exact.
>FILL FLAMETHROWER TANK WITH SPEYBURN 10
You fill the flamethrower tank with the Speyburn 10, deciding to save your bottle of Ardbeg Corryvreckan travel scotch for drinking.
>ATTACH FLAMETHROWER TO TRAVEL BAG
You attach the flamethrower to the travel bag.
>FASTEN TRAVEL BAG TO BACK COMFORTABLY
With two axes and a flamethrower, there is nothing comfortable about the massive bag on your back, but you make the best of things and are ready to go.
>MOVE NORTH TO KITCHEN
You do not have enough rations to walk around the world. You wonder if moving south would be a better option.
>LAUGH OUT LOUD
You throw back your head and give a hearty LOL, the trials of acquiring flamethrower fuel briefly forgotten.
>HEAD SOUTH TO KITCHEN
Hallway
You head south, you are in the hallway.
>EXAMINE REMAINING LAMB CONTENT
The lamb is in the kitchen to the south. You never did end up getting that hallway refrigerator that you always wanted.
>ENTER KITCHEN
Kitchen
You head south and enter the kitchen.
>EXAMINE REMAINING LAMB CONTENT
Sadly you seem to have eaten the remaining Lamb in a fit of blood-crazed post-slaughter hunger the previous night. It looks like you'll have to get by on scotch until you find more food.
>EXIT KITCHEN DOOR
Hallway
You head north. You are in the hallway.
>EXIT NORTH DOOR
Bedroom
You head north. You are in the bedroom.
>LOCATE NEAREST DOOR
There is a door to the south. You remember it is to the south because you just used it to enter the bedroom.
> QUOTE: "There are also doors to the north and south."
I don't know the word QUOTE.
>EXIT BEDROOM WINDOW
North of House
You open the bedroom window to the north. It's a small opening, but you figure you can fit through. Unfortunately, the extra axe on your travel backpack proves to be a bit too much and you end up getting stuck fast halfway through the window.
>REMOVE PACK
You would love to, but unfortunately you can't reach back and take it off while you are stuck halfway through the bedroom window. In the distance to the north you see a large shape approaching your house. It appears to be a Grue.
>FORCE BODY THROUGH WINDOW
Frantically, you strain with all your might to exit the window before the Grue is upon you. Pushing as hard as you can against the window frame you suddenly hear something shatter in your backback, which then causes you to tumble out of the window and land in a heap just to the north of your house. So much for that bottle of Ardbeg.
The Grue is approximately one location away if locations were actual measurements of distance.
>GRASP AXE
/END CMD
>UNFASTEN AXE
You drop your pack at your feet, brush the flamethrower aside and first unfasten, and then grasp your axe. The Grue is running towards you, massive hairy arms raised. You estimate you have about 30 seconds before it reaches you.
>EXAMINE GRUE SIZE
The Grue, like all Grues is roughly Grue sized. Which is to say, you would probably have already shat your pants had you not already voided your bowels in the now destroyed outhouse.
>ARM FLAMETHROWER
You drop the Axe and pick up the flamethrower. "Now THIS is more like it!" you think. The Grue covers the last few yards with a roar.
>FIRE WARNING BLAST
It is a little late for a warning blast. Would you like to fire a burning blast instead?
>YES, TARGET HEAD
You stare into the Grue-like eyes of the Grue and smugly say, in your best Austrian accent: "You're fired."
Aiming at the head, you pull the trigger and brace yourself for a blast of heat.
Instead of a gout of Grue-ending flames, a weak stream of cheap scotch sprays out of the muzzle, extinguishing the small flame at the tip and gently misting the Grue's Grue-like face.
You briefly wonder if filling the flamethrower with the 57% abv Ardbeg Corryvreckan instead of the 40% abv Speyburn wouldn't have been a better idea. But the thought is cut short when you are devoured by a Grue.
****You have died.****