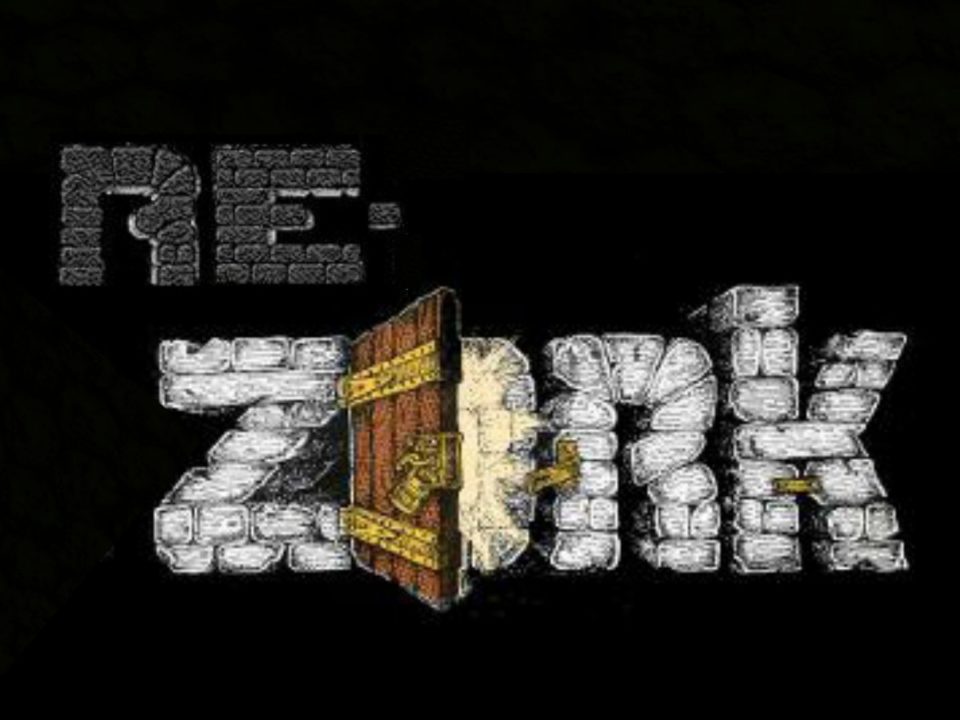 In the early days of computing, before Graphical User Interfaces were commonplace, nerds still needed games to play on their primitive computers.  Thus the text based interactive fiction game was born.  While the Zork series wasn't the very first instance of such a game, it was unquestionably the first success in interactive fiction, and phrases like "It is pitch black. You are likely to be eaten by a grue." remain popular throughout the internet to this day.  If you are curious, you can play the original game here:
PLAY ZORK I: The Great Underground Empire
Anyway, in the nostalgic spirit of such games, I've started a brand new www.isleyunruh.com feature: RE-ZORKed!  In this series I will pit my friends, via G-chat, against an interactive fiction AI played by, none other than, myself.
For our second installment, we have Jessica trying her luck.  I've known her from way back in the very early days of college.  She's currently living the dream in New York City.  She loves books, horror films, picking up gross things she finds outside, being fancy, and the oxford comma.  She also has a really awesome blog at www.ablogisatreat.com!  She's also super good at crafts.  How long will she survive before being devoured by a Grue?  Read on to find out!
RE-ZORK II: Jessica's Escape from Princess Tower
Copyright (c) 1981 WiBiL, Inc. All rights reserved.
Re-Zork is a registered trademark of WiBiL, Inc.
Revision 882 / Serial number 840726
Surreal Aerie
The wolf is almost upon you, snapping teeth covered in a lather of foaming saliva. You climb higher and higher up the stone pinnacle, scrambling up the crumbling rock wall as the pursuing wolf gets closer and closer. The top is just a few yards away but one of your arms doesn't seem to work any more and you find that you can't climb another inch.
With a mighty howl the wolf prepares to sink its fangs into your dangling leg.
Bedroom
You wake up in a cold sweat, relieved that it was only a dream. Your left arm is numb from the way you were sleeping on it. The room is completely dark. In fact, it is so pitch black that you worriedly wonder if you are not likely to be eaten by a Grue.
>TURN ON LIGHT
You fumble with the lamp on the nightstand next to your bed. As your numb hand begins to regain its feeling in a blinding series of pins and needles that shoot up your arm, you finally manage to click the lamp on. For some reason it remains pitch black. You hear the heavy breathing of some manner of strange animal next to you. Could it be a Grue?
>PET CAT WITH RIGHT HAND
You laugh to yourself at the thought of your lovable pet cat Sylvia being a Grue as you reach out to pet her. You have a fleeting thought that if this were a game of interactive fiction, the command "PET CAT WITH RIGHT HAND" could be interpreted in a much more scandalous manner. It is still pitch black.
>REMOVE SLEEPING MASK FROM FACE
You reach up and remove your sleeping mask, thinking how implausible it would be for someone to not realize they still had their sleeping mask on.
You appear to be sitting up on a bed in the middle of a room filled with pink haze. There is a glowing orb of light on the desk, with a strange black blob underneath it. Your cat Ms. Plath seems to have melted into the bed. What is this strange place?
>BRIEFLY MOURN CAT; EXAMINE GLOWING ORB
You sigh with resignation at the thought of removing melted cat from your 2000 thread count sheets. But you are quickly distracted by the shiny orb of light above your bed stand. It appears to be where your lamp would have been but it's hard to make anything out in this strange room. Ms. Plathypants continues to purr contentedly from her spot between the fibers of your sheets.
>EXAMINE ROOM
You can't see anything but an indistinct pink haze beyond a radius of about 2 feet. Otherwise you can only see a pile of purring, melted cat, the glowing orb and the strange black blob underneath the glowing orb.
>EXAMINE BLACK BLOB
You move closer to the black blob on your nightstand. Its shape seems to coalesce into the vague outline of a pair of glasses. The lenses look pretty thick.
>PUT ON GLASSES
You put on the glasses and blink your eyes a few times.
Princess Bedroom
Somewhere in between the blinks the pink fog lifted, the Sylvenator managed to escape from where she had melted into the sheets, and your familiar bedroom reappeared.
There is a pink nightstand next to your uncommonly ruffly bed. There is a barred window to the north, and doors to the south and west. On the east wall is a dresser and a large box labeled "tiaras." There appears to be an envelope sticking out from under the door to the south.
>PUT ON A TIARA
You jump off the bed and walk over to the box labeled "tiaras." Inside, you find a large collection of tiaras. You pick out the prettiest one, remove your current tiara and put it on. Pretty! Also fancy!
>YAYYYY
You shout out "Yayyyy!" in a decidedly unprincesslike display of glee at the simple act of putting on a new tiara.
>OPEN ENVELOPE UNDER SOUTH DOOR
You make your way to the south door in your fanciest manner and pick up the envelope. Inside is a note that reads: "Your wedding WILL be at noon. You WILL marry prince Dingleburt. You WILL NOT cause a scene. You WILL NOT attempt to escape. -The Patriarchy"
>MENSTRUATE ALL OVER EVERYTHING FROM PURE RAGE
You manage to cover most of the door and a good portion of the walls and floor to both sides in menses. You are getting REALLY tired of your father signing all of his letters "the patriarchy."
>LOOK OUT OF WINDOW TO NORTH
You button the butt flap of your pink footie pajamas back up and pad your way towards the window to the north in a series of soft squelching footsteps. Sylvia McPlathenstien jumps off the bed and begins licking at something next to the door.
Looking out the window, you can see all the lands of your father's Kingdom of Misogynia. You can see all of the lands of your father's Kingdom of Misognyia both because your princess tower is up so high and because your father's Kingdom of Misogynia is kind of a crappy, tiny kingdom. Especially when you compare it to the glorious lands of your potential future husband prince Dingleburt's realm.
>EXAMINE PSYCHE AND SELF AND ALL ATTENDANT FEMININE INTUITIONS AND FEELINGS TO DETERMINE WHETHER OR NOT I TRULY LOVE PRINCE DINGLEBURT OR AT LEAST WANT TO MARRY HIM FOR VARIOUS OTHER REASONS RELATED TO SIZE OF KINGDOM OR DONG
Nope, this guy is just kind of a douche who isn't even packing heat. Your strong feelings against marrying him are probably the reason your father locked you in the tower until the wedding in the first place. Out of the corner of your eye you notice that the clock tower in the courtyard below says 11:45.
>ATTEMPT ESCAPE THROUGH SOUTH DOOR
You run towards the south door, cursing your lack of confidence in the potential success of your escape. The Plathster jumps up from the puddle she was rolling around in and hides on your bed as you slide through a slick of menstrual fluid into the door. You try the handle–it appears to be locked fast, though it's hard to tell on account of because the doorknob is so slippery.
>CHANGE MIND; GRAB MS PLATHYPANTS ON STEADFAST WAY TO WEST DOOR, BECAUSE YOU CAN RESCUE YOURSELF AND SOMEONE ELSE AT THE SAME TIME, SINCE YOU'RE SO GOOD AT IT
That's the spirit! You boldly fling open the west door and escape into your large walk-in closet. This would be a serious setback to most normal people's faith in their escaping abilities, but not you, because you are so good at it.
>EXAMINE CLOSET FOR WEAPONS, SECRET ESCAPE HATCHES, OR PRETTIER TIARAS
You search the closet. You find:
A half empty bottle of boone's farm
A large pile of glitter (pink)
A larger pile of gross things that you found on your various walks around the palace grounds
You also see an entire wall of tiaras on display in front of you. You reach for the prettiest one and hear a click as a gear slides into place. Slowly, with a rumbling vibration, the wall shifts to the left revealing a secret escape hatch. You fucking KNEW you were so good at escaping!
>DRINK OTHER HALF OF BOONE'S FARM IN CELEBRATION
You grab the bottle of Boone's farm from the pile of gross things, brush off the half decayed animal bones and dirty bits of broken glass of dubious origin, throw your head back and chug that motherfucker!
Whatever that was, that was NOT the delicious nectar known as Boone's farm. You are almost certain that this bottle was full of someone's butt-chugging backwash. That's what you get for drinking the contents of a strange bottle you found washed ashore at Misogynia's infamous "smelly beach."
>THROW BOTTLE DOWN IN DISGUST!
You throw the bottle down in disgust, smashing it into tiny, feces covered shards of glass.
>BE SUPER HAPPY THAT YOU ARE TOTALLY WEARING PROTECTIVE SHOES THAT ARE ALSO CUTE, SO IT'S FINE
You smile to yourself, thinking that you've finally ended this current string of bad luck.
>PUT HANDFUL OF GLITTER IN ONE POCKET, HANDFUL OF GROSS THINGS IN OTHER POCKET, GRASP SYLVIETTA TIGHTLY, AND EXIT THROUGH SECRET ESCAPE HATCH
You grab a handful of glitter, along with a sodden handful of gross things, grasp the S-Cat with your glitter hand and walk towards the Secret Escape Hatch.
At your first step you realize, with a searing pain, that pink footie pajamas really don't count as protective shoes, at least not when it comes to shards of fecally smeared glass. Also they really aren't that cute anymore ever since they got all covered in menstrual blood.
Also, also, something is not setting right in your stomach. Perhaps something you drank?
>STICK FINGERS DOWN THROAT TO INDUCE VOMITING, THUS BOTH SAVING SELF FROM FAUX-BOONE'S FARM AND ALSO CREATING SOFT, PROTECTIVE LAYER ATOP BROKEN GLASS; FEEL SENSE OF SMUG SATISFACTION; ALSO, REALIZE THAT YOU WILL LOOK EVEN BETTER IN YOUR ESCAPE PAJAMAS DUE TO NEWFOUND THINNESS
Secret Escape Hatch Entrance
You stick your fingers down your throat, coughing up a great gorge of vomit. Like, really, a whole hell of a lot of vomit, way more than half a bottle of someone's buttjuice. You remember the chicken wings, but it appears you must have finished a whole jar of mayonnaise last night too.
You dive forward and ride the wave of bile over the glass and into the Secret Escape Hatch. You are looking damn fine too! You know, except for all the blood, vomit and shitwater all over you.
There is a slide that goes steeply down to the west. A steady stream of your effluvia is trickling down the slide.
>REALIZE THAT HUMANS DO WHAT THEY MUST TO SURVIVE, AND THAT FREEDOM AND SELF-DETERMINATION ARE MORE IMPORTANT THAN WHETHER OR NOT YOUR FOOTIE PAJAMAS ARE CAKED IN BODILY EXCRETIONS. EXAMINE SURROUNDINGS AT BOTTOM OF SLIDE.
You peer into the darkness. You can't see much past the first 10 feet. Still, you are right, this has to be better than being the subject of Prince Dingleburt's inept and probably clammy fondlings.
>I MEAN, RIGHT?! THAT GUY'S A DOUCHEBAG.
Oh yeah, he's totally a douche. Like you are pretty sure he's worn a visor unironically before, which is totally not the same thing as your love of tiaras.
>REMEMBER THAT CATS CAN SEE IN THE DARK; ASK HER PATHINESS WHICH WAY IS BEST TO GO
Sylvia Von Plathow seems too busy trying to get the glitter out of her blood encrusted fur to answer your. Also, cats don't talk.
>CALL OUT FOR ANY NEARBY SERVANTS
If only your trusty handmaidens had been there when you woke up they could have dressed you in pretty, sturdy shoes before you entered this closet of hell. You call out "OLGAL! HELGA!" You hear a key turning in the lock. You also hear the distant clocktower begin to chime.
>WALK WEST, WITH SASSY SYLVIE HELD OUT IN FRONT OF YOU SO YOU DON'T BUMP YOUR NOSE IF YOU HIT A WALL OR, YOU KNOW, A FUCKING LIGHT SWITCH
Vomit Slide
You walk west, or at least you do for a few steps until the puke slick slide drops out from underneath you. You and Sylverella (who is making it increasingly clear that she does not want to be held anymore) begin hurtling down the slide and into the darkness at a breakneck speed.
>SQUEEZE EYES SHUT, WISH SOMEHOW ALL INTERACTIONS WITH ISLEY DID NOT DEVOLVE INTO CONVERSATIONS ABOUT EFFLUVIUM. TRUST IN GOD.
Sorry, I don't understand the concept of a magical supreme overlord with power over all of your actions. I do understand the concept of God however, but sadly he is probably off raping a young maiden in the guise of a swan. Thus no one is there to stop you from shooting out the end of the slide into the waiting mouth of a Grue.
The last thing you remember feeling (aside from the teeth of the Grue severing your spinal cord) is the soft, rough tongue of your beloved cat Silly Sylvia Plathitude the Third, Esquire, licking a slowly congealing mixture of effluvia and glitter off of the lacerations on your big toe where it protrudes from your footie pajamas.
Still, totally better than marrying Prince Dingleburt.
****You have died.****