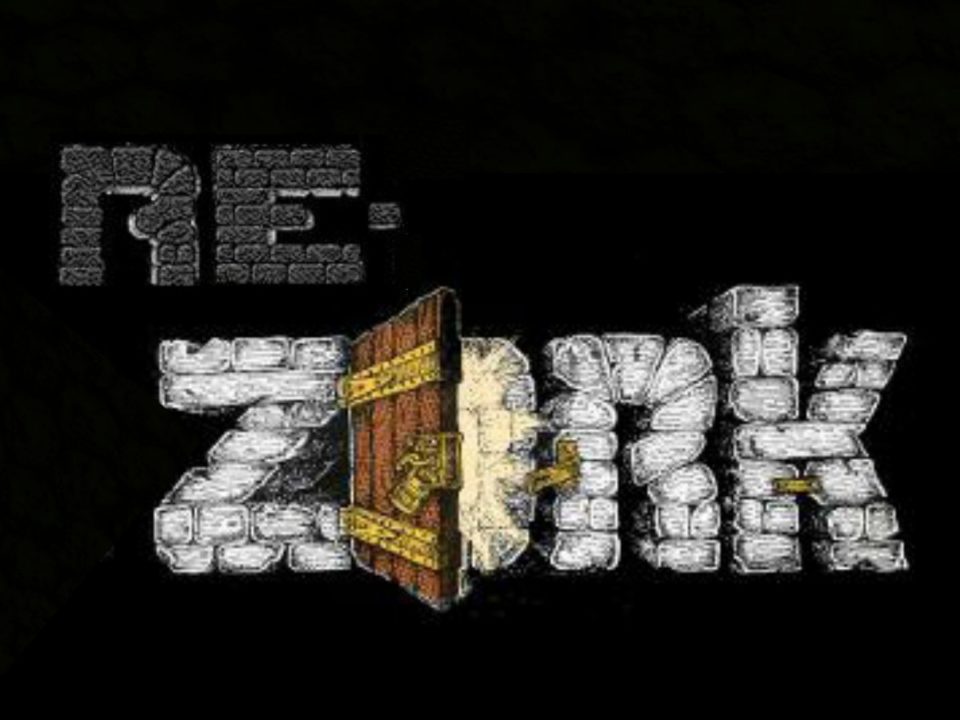 In the early days of computing, before Graphical User Interfaces were commonplace, nerds still needed games to play on their primitive computers.  Thus the text based interactive fiction game was born.  While the Zork series wasn't the very first instance of such a game, it was unquestionably the first success in interactive fiction, and phrases like "It is pitch black. You are likely to be eaten by a grue." remain popular throughout the internet to this day.  If you are curious, you can play the original game here:
PLAY ZORK I: The Great Underground Empire
Anyway, in the nostalgic spirit of such games, I've started a brand new www.isleyunruh.com feature: RE-ZORK!  In this series I will pit my friends, via G-chat, against an interactive fiction AI played by, none other than, myself.
For our third installment, we have Katie trying her luck.  Katie, aka "Little Buddy," was part of the 1717 crew that I would routinely go "nocturnal" with during summers back in college.  She's currently working at one of those dream jobs that they tell you PhD's in the humanities can't really get.  She loves analytic logic, being unsafe with fireworks, XTina's song "Come on Over," choking people out, and using "gay" as a pejorative. Once we took an epic road trip to Milwaukee Metalfest where we slept in the trunk, survived on one Chinese buffet a day, witnessed a shooting, saw Gorgoroth, and somehow made it all the way back home without getting in a single fight or running out of gas. How long will she survive before being devoured by a Grue?  Read on to find out!
RE-ZORK III: Katie's Metalfest-Quest
Copyright (c) 1981 WiBiL, Inc. All rights reserved.
Re-Zork is a registered trademark of WiBiL, Inc.
Revision 883 / Serial number 840726
Dark compartment
You awaken in a small cramped compartment. It is very stuffy, quite uncomfortable, and smells strongly of cigarette smoke and motor oil. There is a hard shaft sticking into your back in a less than pleasant manner.
Also, it is pitch black. You are likely to be eaten by a grue.
>LAUGH
Your attempt at levity is swallowed up by the inky black darkness of this cramped chamber. You quickly return to more serious matters, like avoiding death by Grue and figuring out what the hell this thing is that is sticking into your back.
>ASK ISLEY TO TURN OVER PLEASE
Due to his well known penchant for frotteurism, having Isley in the vicinity would indeed explain the current rod that is attempting to violate your lower back. But, considering the absence of the heavy breathing that would be sure to accompany such an act, you are pretty sure you are alone in this compartment. Well, you would be alone were it not for the increasingly likely possibility that you are sharing the pitch black chamber with a Grue.
>EXAMINE ROD
It is quite hard and very long. At this point you are almost certain this is not Isley.
>OPEN TRUNK
You use the crowbar to push open the trunk of your car. Daylight streams in, piercing your malt liquor addled head with an intensity that you are not used to having to deal with before 4 PM.
>EXIT TRUNK
Deserted highway
Your Oldsmobile Achieva is pulled off to the side of a highway that disappears into the distance on either side of you to the north and to the south. Desolate corn fields spread out on both sides of the highway. To the far south you can barely make out a tiny black dot on the horizon.
>EXAMINE TRUNK
You examine your Achieva's trunk. It's pretty filthy, you can't believe you actually decided to sleep there last night. It's also full of cigarette butts. In the trunk you find:
1 spare tire (flat)
1 crow bar (cock shaped)
1 puddle of drool (large)
Your jack and tire iron appear to have long since disappeared, but considering the state of your spare tire, it's probably not anything that you really need to worry about.
>INV
You search your pant pockets and find:
1 Ticket to Milwaukee Metalfest
10 quarters you mined from your roommates' change jar
1 pack of smokes (empty)
A cellphone (battery reads 2%. …actually, after powering it up to check the battery, the battery reads 1%)
A crumpled up fortune that you got from yesterday's Chinese buffet "Br-unch-inner."
>EXAMINE DRIVER'S SIDE FRONT SEAT
It's pretty much the way you left it. Which is to say it is a filthy filthy mess. You know, most people would at least throw a fillet of fish sandwich out the window after accidentally dropping it on the floor. It seems your cleanliness habits, if nothing else, managed to keep anyone from stealing your car overnight despite the fact that you left the keys in the ignition. Underneath a pile of McDonald's wrappers and other debris of even more unsavory origin you see a CDr labled "Roadtrip Summer JAMZ"
>READ FORTUNE
It says: "You will be eaten by a Grue tomorrow. Sorry."
Your lucky numbers are 6,6,6,6, and 9, so you've got that going for you. Which is nice.
Also, you now know how to say "turnip cake" in Mandarin.
>LOOK SOUTH TO CHECK ON BLACK DOT WITH PARTICULAR ATTENTION PAID TO WHETHER IT IS GROWING LARGER AS TIME PASSES
If you consider an enormous charging daytime Grue that is now less than a mile away to be larger than an unidentifiable black dot on the horizon, then yes, it has grown larger as you stood around reading old Chinese fortune cookie fortunes.
>START ACHIEVA
No Grue is going to keep you from Milwaukee Metalfest no matter what the Chinese, as a people, say about your chances for survival today.
You jump into the front seat in a shower of fast food wrappers and turn your key.
It's touch and go for a while, but the Achieva finally roars to life!
Even better, the gas gage isn't completely on empty (or at least it isn't when you look at the needle from all the way on the left side).
>MAX OUT ACHIEVA'S CONSIDERABLE ACCELERATION TOWARD ONCOMING GRUE
You slam the Achieva into gear and pull one hell of a badass U-Turn on the deserted highway.
The daylight Grue is probably half a mile away, close enough to see it briefly pause its charge in bewilderment as your floor the Achieva all the way up to a fearsome 66 miles an hour.
>FASTEN SEAT BELT WHILE INSERTING CDR INTO PLAYER
"Not today Grue, not today!" you mutter as you pull the bungee cord you use as a makeshift seat belt across your lap.
You throw in your "Roadtrip summer JAMZ" mix and let the dulcet tones of "Come on Over Baby (All I Want is You)" carry you into the arms of a Grue that is clearly having second thoughts about facing down an XTina Aguilera blaring Achieva.
With the Grue only a couple hundred yards away, you wonder if this mix cd had anything to do with Isley choosing to throw himself out of your moving car 5 minutes into the two of you's road trip.
>DIAL 666, 69 INTO CELL PHONE BECAUSE FUCK IT IF THE CHINESE CAN MAKE SUCH GOOD USE OF THE KNOWLEDGE THAT FOOD "COOKS DOWN", MAYBE THEY KNOW A THING OR TWO ABOUT NUMBERS
As you dial, the Grue, apparently having thought better of facing down a max speed Achieva, turns and begins to run away from you down the highway to the south.
You input the last number while giggling at how, as numbers go, "69" is pretty much comic gold.
It's ringing! You recognize the voice of Isley, a known Grue expert, on the other end as he says "Hello? Katie?"
Unfortunately, upon hearing the following from your car's stereo:
"All I want is you
Come over here baby
All I want is you
Oh, you make me go crazy
All I want is you" 
Isley hangs up with disgusted "Goddamnit Katie, "Genie in a Bottle" is SO MUCH BETTER!"
Your phone is now dead.
>PULL ANOTHER SWEET U-TURN JUST AS THE BRIEF BUT AMAZING XTINA GUITAR SOLO HITS, HEADING N FOR METALFEST
In the rear-view mirror, you see the Grue that you had been seconds from running down with your max speed Achieva pull out a cell phone before it once again fades to a dot on the horizon.
Track two starts on your Roadtrip Summer JAMZ mix. It's "Come on Over Baby" again. As the brief but amazing guitar solo hits for the second time you notice a sign up ahead that reads "Milwaukee: 10 Miles."
In your rear view mirror you see a tiny black dot with two larger black dots next to it on the horizon.
>LOOK GLOVEBOX
You look at the glovebox.  It looks like a glovebox. A really dirty glovebox held shut with a bungee cord, but otherwise just a glove box.
>OPEN GLOVEBOX
A shower of fast food wrappers cascades out of the glovebox as you unfasten the bungee cord. Inside you find:
2 fillet of fish (half eaten)
Proof of insurance for the past 12 years (but not the current year because you haven't gotten around to printing it off yet)
Pack of cigarettes (empty)
Oldsmobile Achieva maintenance manual (unused)
1 really really big firecracker
>THROW ALL FOOD INTO PATH OF GRUES
You throw the four fillet of fish sandwiches (2 from the glove compartment, 1 from the floor, and 1 that you just found stuck to the front of your shirt) out the window and into the road.  You also throw out that giant cooler of food that you spent the last of your money on yesterday after getting tired of Chinese buffets. You also throw out the last of your beer.  Isley kept going on about how all that Guinness he brought was basically food after all, so it probably had to go too.
It's going to be a long drive back.
Up ahead you see the Milwaukee skyline and a sign that reads "Pay toll 1 mile – Cars $2.75."  Contrary to your roommate's claim, perhaps your only fuck-up in mining all the quarters out of the communal change jar was not mining enough quarters.
>PRESS CAR CIGARETTE LIGHTER
As you push the cigarette lighter into its receptacle, a sludge of half evaporated Mountain Dew oozes out the sides. If you had only spilled one it probably would have been fine, but accidentally upending a whole tray of Route 44 Big Drink Mountain Dews in your front seat last week was bound to come back to haunt you.  Sparks fly out of the cigarette lighter as the dashboard catches on fire.
You see a long line of cars waiting to pay at the toll booths ahead as you rapidly approach at your Achieva's current "pedal to the floor" speed of 66 mph.
>CHECK REARVIEW MIRROR FOR GRUE
The three dots on the horizon have turned into three massive grue that are attempting to catch your Achieva, but you seem to have managed to stay ahead of them for now. Unfortunately, aside from grabbing a couple of beers as they barreled past, your bountiful offering of old fillet of fish sandwiches doesn't seem to have slowed them down much. Oddly enough, being chased by three enormous Grue is the least of your worries right now. The bottleneck of cars waiting to pay their toll up ahead is a more pressing issue. Actually, the merrily roaring fire that was once your dashboard is perhaps the most pressing issue of all.
Up ahead to the northeast (separated from the highway by a series of landscaped medians) you can make out the Milwaukee Auditorium where a huge gathering of black T-shirted dregs of society are waiting in line to be let in.
>PULL TO A HALT IN LINE OF CARS
You let off the gas, but, alarmingly, your car does not slow down.  It appears that the sludge of the four 44 oz Mountain Dews that you spilled on your floor has firmly glued your gas pedal "to the metal." Which is somehow fitting, what with you going to "metalfest" and all.
>LIGHT FIRECRACKER
You reach into the glove box to grab the giant firecracker and light it.  Unfortunately it seems as though the dashboard fire has done the job for you already.  You now find yourself in the unfortunate position of holding a lit firecracker with what appears to be about 1 second of fuse left.
>INSERT FIRECRACKER INTO GAS TANK WHILE DIVE/EXITING CAR
That's a tricky maneuver, but luckily you've trained for this plenty of times.  With the bellowing gaggle of Grue hot on your tail (and the stationary line of cars seconds in front of you), you throw open your door and dive for your gas tank, firecracker in hand (good thing you lost that gas cap years ago!)
As you spike the enormous firecracker into the gas tank you feel the unmistakable pull of a bungee cord around your waist.  You forgot to remove your seat belt!  As you are jerked back into the flaming hell of fast food wrappers and blaring Xtina Aguilera music ("Come on Over" is now on its 13th play through), the quarter stick of dynamite that you thought was a firecracker goes off in your gas tank.
The blast blows most of the back end of your car off, destroying the three grue in a brutal conflagration of flame and Achieva shrapnel, while the shockwave carries the front end of your car, with you in it, up and over the toll booths, over the median, over the crowd of "oohing" and "aahing" metalheads, and directly into the front doors of the Milwaukee Auditorium!  The cushion of fast food wrappers absorbed the blast and you roll out of the Achieva shaken up, but none the worse for wear!  You dust yourself off and realize you arrived just in time to see your favorite band!
Unfortunately, your favorite band is the infamous Devoured by Grues, an all Grue band. As you walk into the concert hall, the band full of Grues devours both you and the rest of the audience.
****You have died.****