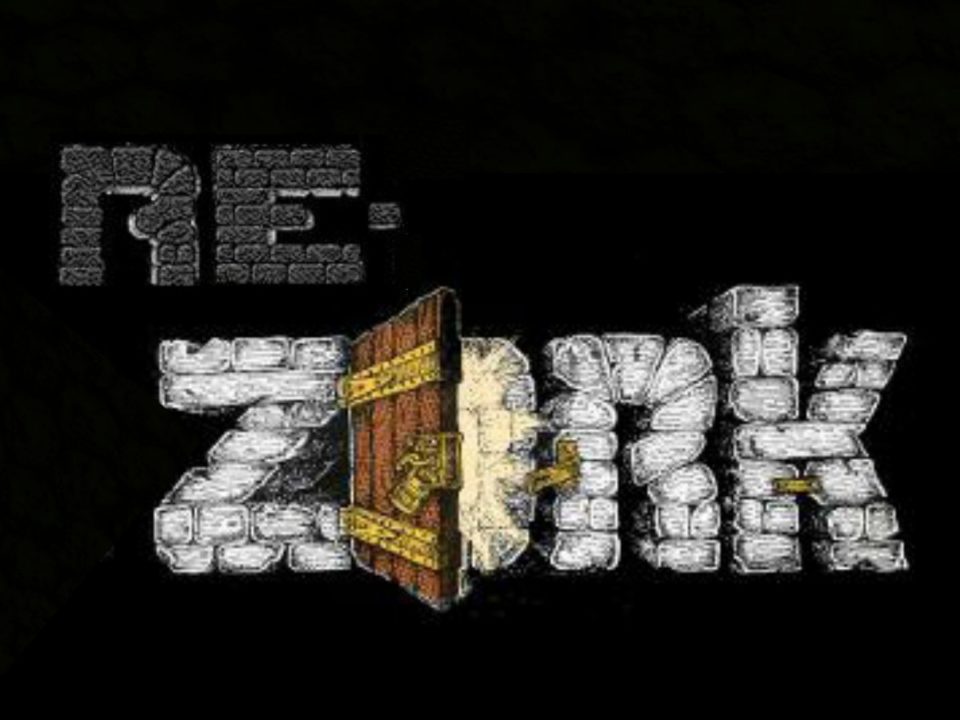 In the early days of computing, before Graphical User Interfaces were commonplace, nerds still needed games to play on their primitive computers.  Thus the text based interactive fiction game was born.  While the Zork series wasn't the very first instance of such a game, it was unquestionably the first success in interactive fiction, and phrases like "It is pitch black. You are likely to be eaten by a grue." remain popular throughout the internet to this day.  If you are curious, you can play the original game here:
PLAY ZORK I: The Great Underground Empire
Anyway, in the nostalgic spirit of such games, I now pit my friends, via G-chat, against an interactive fiction AI played by, none other than, myself. For our seventh installment, we have Rachel trying her luck.  Rachel is a coworker at my new job.  In addition to being one of the (not even exaggerating) world's foremost experts on Doctor Who, she also loves the Beatles and tolerates a mostly insane cat on the homefront.  More importantly, Rachel is one of the few people who can routinely (and effortlessly) destroy me during our lunchtime playings of my Lord of the Rings trivia game.  I suppose, in some small way, this RE-ZORK is my revenge for all of the (continued) ass-stompings. How long will she survive before being devoured by a Grue?  Considering my wounded pride, probably not long, but read on to find out anyway!
RE-ZORK VII: Rachel's Middle-earth Quest
Copyright (c) 1981 WiBiL, Inc. All rights reserved.
Re-Zork is a registered trademark of WiBiL, Inc.
Revision 887 / Serial number 840726
Hobbiton
You stand upon the bridge in front of Sandyman's Mill, with the merry Water bubbling happily away beneath planks worn smooth by hairy little hobbit feet.  In fact, the stream over which you stand is far from the only merry thing about this cute little village in a cute little land full of cute little people.  However, though Hobbiton is a merry, cute, little place to be sure, the one thing it distinctly lacks is ADVENTURE.
Thus, your cute little hobbit heart swells with excitement at the thought of the mist-cloaked land of adventure and lure you are about to explore on your coming quest.  This excitement is dampened a bit by the fact that you seem to have momentarily forgotten exactly what your quest is.  Perhaps the wizard Gandalf, Stormcrow, wielder of the Flame of Anor, possessor of a bitchin' set of eyebrows, would know.  Unfortunately, as is his wont, he seems to have buggered off immediately after bestowing his geas-gift upon you in the first place.
There are exits to the north and south.
>LOOK NORTH
You pivot in the center of the bridge and look towards the north exit.  The road winds gently uphill, past the Grange, through many a shrubbery and well tended garden, past the round door of bag end, and off into lands unknown. A gentle wind sweeps out of the haze in the distance, bringing the scent of snow and winter to the unusually brisk Halimath air.
>LOOK SOUTH
You twirl around, cape fluttering with your spirits at the prospect of so many adventure possibilities! Well, technically, from where you stand on the bridge, there are just two immediately apparent adventure possibilities (one to the north, one to the south). Still that is two more than you had this morning when you woke up! Peering into the distance, past the roofs of Hobbiton, over the Green Hills and far away, you see a great bank of clouds beyond which the sky seems to have taken on a darker tone–a hue bred of fell magic, black sorrow and coming war. The more you think about your adventure possibilities, the more you wonder if staying in your spot on this bridge might not be preferable to both.
Still, there something tugging at the back of your mind, something about a quest. Something important that you just can't quite remember!
>GO SOUTH
Far Harad – Sand Dune
You decide that the best course of action would be to head out posthaste, without checking your inventory, asking directions, or even tracking down Gandalf to find out exactly what your quest IS. Such preparations are for less adventurous questers than yourself!
The road leading south from the bridge ends after about a quarter of a furlong, right in the middle of Hobbiton proper. Such a thing might prematurely end many a less dedicated quester's attempt to go south, but not you! Jumping the fence next to the alewife Goodie Bumtoes's shop, you deftly avoid the neighboring thacker's dogs and leave Hobbiton for what will surely be a great and epic journey to come!
Because it was about an hour before noontide when you set out, your second breakfast gets you through well into the afternoon and the Green Hill country about Tuckland. You push on, well into the night, stopping only to sleep when your legs can no longer carry you. As the hunger gnaws at you over the next few days, you subsist on berries and grubs that you scavange from the land along your way.
Weeks pass and you press on, forsaking all other needs for your obsessive desire to "GO SOUTH." You come to an ancient ruined city at the mouth of the Greyflood, but you have pressing business to the south and can not stay to explore its wonders. Thus, you continue on, following the shoreline of the Belegaer, always seeming to be just days ahead of the cold winter winds that propel you on your way.
Months pass, and your countenance takes on a sunken, haunted look that causes all travelers you meet upon your way to give you a wide berth. In an attempt to keep your strength up, you collect a large number of crawdads around the Ethir Anduin before leaving the shoreline and heading south into the lands of Harad, where the stars are strange.
Grimly you put one calloused foot in front of the other, straight into that harsh, unforgiving land of sand and misery. When your water runs out you drink from the desert cacti, and when your Crawdads run out, you eat sand. Eventually, with endless dunes all around you, you fall to your knees, unable to go a step further. It must be close to Yule, though you'd never know it based on the sweltering heat around you.
You figure, based on your current food stores and level of exhaustion, that this will probably have to be SOUTH enough.
>WHAT DO I HAVE IN MY POCKETS?
Panting in the hot desert sun, sand stinging your spindly legs through your tattered pants, you decide that maybe now, after all these months of journeying south, it would be a good time to finally check your inventory. Reaching into your pockets you find, not nothing, but rather:
Handses (2)
A pile of fish-bones from that fish you were finally able to catch with your handses in the River Angren
A bit of bat wing you found in that cave where you hid from the Púkel-men in Ras Morthil
Goblins'-teeth you found washed ashore in the mouths of the Anduin (5)
A damp crawdad shell from which you've been trying to suck the last few bits of meat
A sharp stone you've been using to sharpen your teeth after wearing them down eating sand
And, at the very bottom, under a pile of other assorted nasty things, a sealed envelope
That seems to be everything you think, as you cough with a wretched golumning sound.
> OPEN ENVELOPE AND READ LETTER…
You gingerly take out the envelope with shaking hands, hands that at this point more closely resemble talons than they do your soft white tea sippers of old.  The envelope is crumpled and stained with blood, sweat, and other more foul body issuances–it looks to be at least 3 months old.  It was a bit presumptuous to assume that there was a letter inside, but, in this case, your hobbit hastiness is rewarded by indeed finding a letter inside!
Dropping the small golden ring that was also inside the envelope into the sun-scorched sand at your feet, you read the faded writing upon the letter:
My dear Frodo Baggins, it seems, that in your haste to depart for Rivendell, you have forgotten to bring what may be, nay, what IS the most important item, namely, your uncle's ring!  Thus, I have entrusted this mailhobbit with the great quest of delivering this ring to you in Rivendell.  Now, as is my wont, I must bugger off!
TTYS!
Gandalf.
As you read, the note jogs some distant memory, a memory of a previous life where you were content and happy and sand was a minimal part of your diet.  Of course! This letter was your quest!  Gandalf had handed it to you yourself as you made your last delivery of the day at Bag End.  And then, in your excitement at getting the most adventurous mail-delivery of your postal career, you decided to calm your nerves by finishing off that bottle of Orcish Offal-wine you found in Gandalf's haversack before setting out on the morrow. Maybe if you'd just practiced a bit more moderation, you might have remembered exactly what your quest was the next morning!  As it stands now, by your reckoning, you have gone a little off track and may need to report this mail delivery as "delayed."
> PICK UP PRECIOUS RING
You frantically dig through the scalding sand at your feet until you find the golden ring. Though your fingers are blistered in the process from the hot sands, the ring itself remains perfectly cool. There now appears to be something written on the inside of the ring in glowing letters.
> LOOK NORTH
You peer into the shimmering heat ahead of you, the mysterious fire writing inside the ring momentarily forgotten by your sun-addled mind. The dunes stretch on endlessly, but, like some kind of hazy dream of barely remembered green lands, you think you can make out the tops of a small clump of palm trees in the distance to the north.
And, because you figure you were going to go ahead an ask about them anyway, you decide to go ahead and look at the sand dunes to the east, south and west too.
To the east, at the limits of your vision, you see a thin plume of smoke, climbing into the sky.
To the south is a massive wall of sand, rising up to meet black storm clouds overhead. It's pretty far away, but a sand storm of that size doesn't look like the kind of thing you'd want to stick around for.
To the west the dunes sink into a great valley of sand with a curious mound at the bottom.
> GO NORTH TOWARDS TREES
Far Harad – Sand Dune
You mailhobbits have a saying: "Neither snow nor rain nor heat nor gloom of night stays these couriers from the swift completion of their appointed rounds." You don't remember anything about giant sandstorms, but, figuring it probably falls under some combination or heat and rain, you decide to head in a northerly direction–only with a bit more specificity this time! Besides, your delayed letter, that you have been absent-mindedly caressing as though it were precious to you this whole time, needs to be delivered somewhere to the north anyway.
You manage to make it a few inches before collapsing again in exhaustion. You are beginning to think that living an adventuring life is not nearly as fun as advertised.
> RECHECK POCKETS FOR USEFUL ITEMS. PRAY TO ELBERETH FOR GUIDANCE
You check your inventory again. Aside from all that junk you found on your long journey south, the only other item in your pockets is that ring with its fading fire letters–which, from the looks of things, is most likely a ring of supreme ultimate corrupting power. Depending on one's definition of useful, such a ring might just fit the bill. You get the distinct impression that Elbereth would not approve, but the Queen of Stars probably has less influence down here where the stars are strange. As they say up north…what happens in Far Harad, stays in Far Harad.
> PUT ON RING
With your last remaining strength, you lift the precious ring to your twisted, claw-like finger and slip it on. Suddenly, you feel a surge of power from the tip of your nose down to your wee little toe hairs. With power like this you feel as though you could walk all the way back to the Shire in a fortnight on only a single day's ration of sand! But the Shire is not your destination, you are headed NORTH TOWARDS TREES.
Far Harad – Oasis
In what seems like no time at all you come to your destination. In front of you, like a solitary raw and wiggling fish on an endless bed of nasty taters, is a glistening water hole shaded by lush palm trees. Standing in the thick grass at its bank is a huge "swerting" (as your grandmother has been known to problematically call the Southrons–though she does at least claim that a lot of her best friends are "swertings"). Next to the Southron Arda-ican, drinking its fill from the watering hole, is an animal about which you have only heard stories–a great Oliphant! It towers above you, covered in spiked battle armor and cruel chains. Neither the oliphant nor the swer—Southron Arda-ican seems to see you.
> KILL THE SOUTHRON ARDA-ICAN
Abandoning all possible civilized options, you decide to take your story to a dark place. Of course, now that you have been reduced to eating sand and wearing evil rings, you suppose that this story has already turned well away from the light.
Searching your pockets for a suitable weapon, you decide your best option, as far as cold blooded murder goes, would be to cut the unsuspecting Southron Arda-ican's throat with your tooth sharpening rock. Moments before you realize that, at your height, you can't actually reach your victim's throat, you also realize that, even at your height, you are suddenly visible again, and the Southron Arda-ican is staring at you with a mixture of surprise, rage, and horrified pity. Either through some trick of fate, or because the ring is just a dick like that, your precious ring seems to have fallen off your finger during your search for your increasingly inadequate pocket weapon.
> FIND RING, LOOK EVERYWHERE
Looking EVERYWHERE is a tall order, but you get to work!  You manage to comb through 5, maybe 6 grains of sand before the increasingly perplexed Southron Ardaican, suddenly drops to his knees before you and begins frantically digging in the sand himself.  Apparently, he has decided that whatever you are looking for must be pretty darn important if you are just going to ignore him like that–and he'll be damned if you are going to find it, whatever it is, before him.
> KEEP LOOKING FOR THE RING
Damnit, this ring was…precious…to you, there is now way you are going to let some godsdamned swerting sully it with his filthy swerting hands. Without even pausing wonder from what dark racist depths of your soul that little rant bubbled up, you dig through the sand with renewed fury! Suddenly, the swerting jumps up triumphantly holding YOUR FUCKING RING OF POWER in his hands. Teetering on the edge of the oasis waters in front of you, his red tongue moves lasciviously across his lips as his wide white eyes look upon the ring as though it were somehow…precious…to HIM. And then, like a fart in the meadow (as the old poem goes), he disappears from your view.
> PULL A GOLLUM. THIS MEANS: JUMP ON INVISIBLE SWERTING AND BITE HIS FINGER OFF
Rather too shrilly for your liking, you scream "THAT. IS. OFFICIAL. SHIRE. MAIL." And then, in a flurry of handses, teethses, and raw hobbit fury, you are upon the swerthing, taking his great finger deep into your throat and grinding down with your tiny sharpened teeth like so many white horses champing and stamping their way through an abattoir. And then, in a gout of finger viscera and poor life choices, you are suddenly falling free, down into the dark waters of the Oasis, precious ring and one hell of a giant chewed up finger clasped tightly to your chest.
Oasis – Underwater
Unfortunately, you don't seem to be particularly buoyant right now for some reason, and begin to sink at an alarming rate.
> IF I AM A BRANDYBUCK, I MAY KNOW HOW TO SWIM, SO I ATTEMPT TO SWIM
True, there was that bit of funny business way back in the day with your great grandma Twinkletoes and that rounder from across the river, but your possible Brandybuck heritage was never definitively verified. Either way, you quickly realize that no amount of swimming is going to help you now unless you can first figure out what exactly it is that is causing you to sink into the dark depths of this oasis so quickly! The waters are so dark right now, that, if GRUEs were a member of this world's bestiary, you would be in danger of being eaten by one.
> SO IT'S DROP THE RING AND POSSIBLY LIVE. OR, KEEP THE RING AND DROWN. OR, I COULD CLAIM THE RING AS MINE (EVEN IN DEEP WATER) AND HAVE THE NAZGUL COME AND GET ME. OH SURE, I FIND THE ONE OASIS IN MIDDLE-EARTH THAT ISN'T ONLY 2 FEET DEEP. WHICHEVER WAY…GANDALF IS GOING TO BE VERY CROSS WITH ME. IF I SINK TO THE BOTTOM, CAN I WALK TO SHORE? 😀
The Isley AI does not understand your command. Perhaps the Isley AI is still miffed that you assumed it didn't know what "pull a Gollum" meant.
> WAIT UNTIL I STOP SINKING. NOT DROPPING THE RING YET.
You continue to sink, your tiny Hobbit lungs beginning to feel the strain from the effort of attempting to both hold your breath and cackle with glee at having your precious back. Oddly, you don't even seem to be close to the bottom.  It is almost as if this oasis was not made by natural means. It is almost as if whatever made this bottomless water pit delved too greedily and too deep. The water begins to noticeably warm.
> LET GO OF THE RING
Perhaps due to the lack of oxygen to your brain, you decide that, it must be the tiny golden ring in your hands that is pulling you underwater, and not the 3 months worth of junk and gross things that are still in your pockets. So, with a great effort of willpower, you let go of the ring and watch it float up to the overjoyed waiting hands of Swerting the Nine-fingered at the top (perhaps via the same trick of magic infused metallic density that somehow let a golden ring drift around in the waters of the Anduin for a few thousand years without ever sinking into the mud).
You continue to sink just long enough to realize your error before you are discharged into a great black underground sea and are eaten by a fearsome underwater Balrog. Which, all things being equal, is kind of like being eaten by a GRUE.
***YOU HAVE DIED***