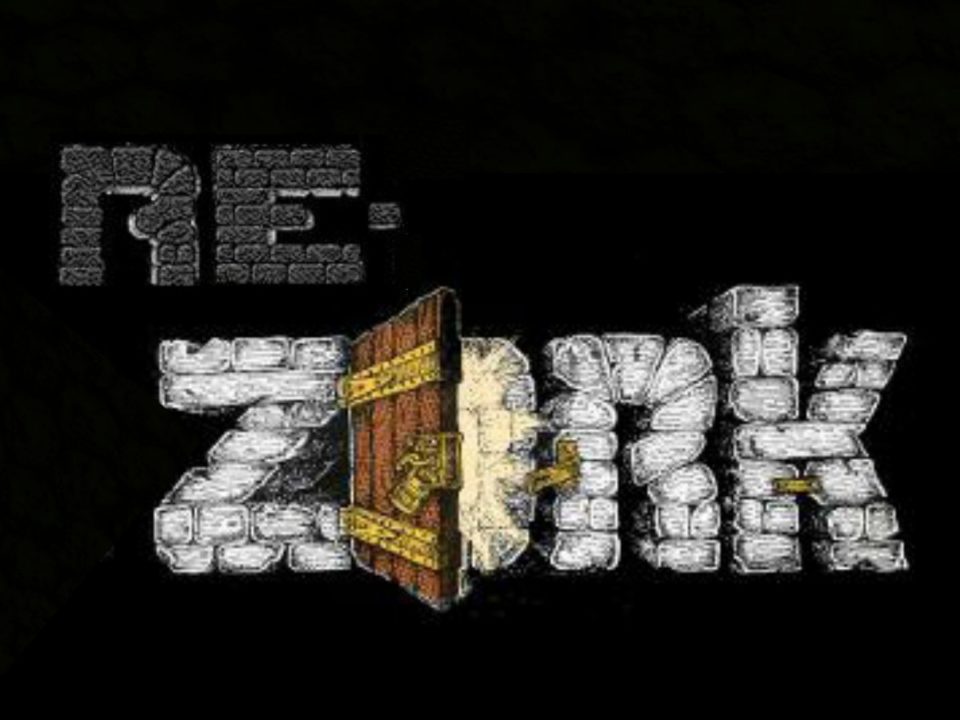 In the early days of computing, before Graphical User Interfaces were commonplace, nerds still needed games to play on their primitive computers.  Thus the text based interactive fiction game was born.  While the Zork series wasn't the very first instance of such a game, it was unquestionably the first success in interactive fiction, and phrases like "It is pitch black. You are likely to be eaten by a grue." remain popular throughout the internet to this day.  If you are curious, you can play the original game here:
PLAY ZORK I: The Great Underground Empire
Anyway, in the nostalgic spirit of such games, I now pit my friends, via G-chat, against an interactive fiction AI played by, none other than, myself. For our eighth installment, we have Scott stepping up to the plate.  Scott is a fan of boardgames, bad jokes, worse puns, and general trolling.  While Scott and I have been gaming together for over a decade, he has continued to steadfastly refuse to play an online "Checkers with Special Powers" game called Quadradius with me to this day.  I did, however, once talk him into a game of Advanced Squad Leader with the blatant lie that it would play in "about an hour."   Three hours later and he had vowed never to play that again either.
How long will Scott survive before being devoured by a Grue?  Will Scott end up playing Quadradius or ASL?  Read on to find out!
RE-ZORK VIII: Scott's GENCON Journey
Copyright (c) 1981 WiBiL, Inc. All rights reserved.
Re-Zork is a registered trademark of WiBiL, Inc.
Revision 888 / Serial number 840726
GENCON – Central Nexus
You stand amidst a swirling mass of humanity, assaulted from every side by the sights, the sounds, and the smells of GENCON at its peak. It's a heady mixture of eye scarring cosplay, flatulence, and grubby crotch-musk. Still, that leaflet you found in your mailbox claimed this was the "four best days in gaming," and you have journeyed far to ascertain the veracity of that bold claim.
You are facing north in what appears to be the Central Nexus for the entire convention. In front of you the room funnels into a great hallway over which a sign reads: "Open Gaming and The Gamer Oasis." To your right, beyond a massive arch, is another hallway over which a sign reads: "Digital Gaming." Behind you, is a third great hallway over which a sign reads: "Exhibitor Hall." And to your left beneath the sharpened tines of a great portcullis lies the entrance to a fourth and final hallway, over which a sign reads: "Role-playing and the True Dungeon."
You stand in the center of the noisome (and also noisy) crowd, trying to decide which poorly ventilated passageway seems the least daunting to begin what you increasingly doubt will be the first day of the four best days in gaming of your life.
There are exits to the north, east, south, and west.
>INVENTORY
Your Slave Leia costume doesn't leave a lot by way of pockets, but, shoved between your chest and the layers of padding in your bikini top is your wallet.  Inside you find:
1 condom (Though the expiration date is 3 years expired)
$300 (all in dollar bills)
1 folded up flyer some mysterious old dude gave you a few minutes earlier
1 Alpha Chaos Orb Magic the Gathering card (mint and unripped)
3 dozen business cards for yourself (still sealed)
1 stick beef jerky (half eaten)
1 round trip bus ticket to Indianapolis
1 mini Elvish dictionary (which actually fits in your wallet due to not including all that non-canon stuff from the movies)
Your ID
Tightly (and moistly) grasped in your right hand is your lucky d20, while about your neck is your GENCON badge and your trusty hemp necklace with its battle axe flash drive nestled snugly between your overstuffed tissue paper breasts.
>WAIT
It is about 10am and you decide to wait around and just take everything in. After a few seconds your body and your nostrils are reeling, but you power through it. After about an hour the Central Nexus has become so crowded that you are finding it difficult to remain in your spot in the center of the room. The writhing mass of humanity stands tightly pressed together, codpiece to codpiece. The general tendency of the crowd seems to be to funnel over towards the RPG area in the True Dungeon. This is GENCON after all.
You find yourself slowly and inexorably drawn towards the left-hand path.
> LOOK COSPLAYERS
Though you are hemmed in on all sides by the stinking crush of humanity, your neck, for the moment, is still mobile. You look around, taking in the creativity, the artistry, and the sheer tastelessness of the cosplayers that are slowly funneling their way towards the RPG hallway like floaters circling a drain.
To your severe disappointment, "ironic slave dude-Leia," rather than being your shining moment of inventive cosplay glory, appears to have been, by far, the most common costume idea among your fellow attendees. After that, the rest of the costumes are mostly a sea of "the three Ds": Deadpools, Daeneryses, and Darryl Dixons.
However, in addition to a couple of "over-the-hill Rikers," you do spot a few one-ofs worthy of mention:
 Sexy G.R.R. Martin
 Unsexy Laura Croft
 Conan the Vegetarian
 Gandalf the Bae
 "I thought they smelled bad on the outside" morning-after walk of shame.
 Mr. Hankey the Christmas Poo
 Jabba the Hut
Though, you realize, with horror, that it is possible that none of those were actual costumes. Either way, you don't like how the possible Jabba is eyeing your Leia costume.
> LOOK FEMALE COSPLAYERS
After getting an unusually high number of false positives, you realize that, aside from a possible traditionally bearded dwarven woman and a few disinterested booth babes along the walls, there don't actually appear to be any women here, cosplayers or not. Fucking GENCON. Best four days in gaming? More like best sausage fest in gaming, amirite?
> OBTAIN HOT DOG FROM VENDOR WITH CURRENCY
Shaking yourself out of your cosplay induced reverie, you shove, elbow and karate-chop your way out of the whirlpool of people being slowly sucked into the RPG room. You position yourself at the end of the surprisingly short line to get a hot dog, only to realize it is, in fact, only the line to get a ticket to stand in the actual line to get a hot dog, a line whose end disappears into the chaos of the Central Nexus where it most likely terminates in some kind of nebulous realm between Narnia and whatever that bullshit was with the black hole at the end of Interstellar.
> READ FLYER
If you are going to be here a while, may as well read that flyer you were given earlier. Written on yellowed, coffee (hopefully) stained paper, it reads:
ASL The premier game system of tactical-level WWII combat uniquely combines soundness of design with attention to detail and ease of play. Come experience the consim that everyone has been talking about! Open gaming today at the card table in the back of room G88 at 11:00. A typical ASL game plays in about an hour, so there should be plenty of time for a lunchtime after action report following the game!
Hmm…you don't normally play war games, but… "ease of play?" "Plays in about an hour?" This sounds pretty good! You still have a few minutes to get to room G88 by 11:00, and it sounds like there would still be time to grab a lunch hot dog around noon when you have finished your game too!
> EQUIP CONDOM
To be fair, the guy that handed you this flyer could have, of course, been a bit more clear as to the fact that ASL stands for "Advanced Squad Leader," not "Age, Sex, Location." And his use of "consim" was deliberately vague. So all things being equal, you are not entirely out of line for jumping at this chance to finally use that wallet condom you've been carrying around for so long.
Never having done it before, it takes you a few tries to roll it down that boner you've been nursing ever since you saw that Sexy GRR Martin costume.  You finally get it to the bottom of your shaft, and then, after a few more minutes of struggling, you manage to squeeze your balls into it too.  You aren't entirely sure how these things work, but it's better safe than sorry!
The hot dog ticket line seems to have, for some unexplained reason, cleared out in front of you during your struggles.
> OBTAIN HOT DOG FROM VENDOR WITH CURRENCY WHILE REQUESTING ADDITONAL RELISH AND ALSO ASK VENDOR IF HE OR SHE KNOWS WHERE THE BATHROOM IS AS THAT COFFEE I HAD AT BREAKFAST IS REALLY STARTING TO PUT PRESSURE ON MY BLADDER AND IT WOULD BE EMBARASSING TO WET MYSELF IN THE MAIN HALL AT GENCON AND THEY MIGHT THROW ME OUT LIKE THEY DID THE LAST TIME WHEN I WAS INEFFECTIVE AT MASKING MY WETNESS WITH A CRUMPLED FINN HAT
The vendor appears unfazed to be standing in front of you staring into the business end of your cock and balls stuffed into a condom…apparently this is hardly the worst thing he's come across in his years manning the booth that sells tickets to stand in the line for the booth that sells hot dogs.
He disdainfully explains to you that his line does not have hot dogs, his is only the line for tickets to stand in the hotdog line. Tickets to stand in the relish line can then be obtained from the hot dog line. He also notes that your cock and ball stuffed condom will probably prevent any wetness issues should an emergency arise while waiting in the hot dog line.
> VOID IN CONDOM
You stare directly into the vendor's eyes and then purposefully relax your bladder. The condom slowly fills, warmth emanating out from the reservoir tip, surrounding your genitals like some kind of really gross sensory deprivation tank. Unfortunately, that was an extra grande 4XL coffee you had for breakfast, and this condom is 3 years expired. With a great rumbling explosion, the condom ruptures, showering the hapless ticket vendor, and everyone in the vicinity in a steaming spray of coffee pee. The vendor slowly wipes the stinging urine from his eyes, and, without breaking eye contact, repeats that he has no hot dogs in this line.
His be-thonged booth babe assistant has quit her texting and is calling for security.
> EAT BEEF JERKY
The joke is on this guy, you don't even need a hotdog, you brought your own food. You have mostly finished off the beef jerky before you realize that it was actually just the leather inner divider of your wallet, and not beef jerky. Either way, you feel less hungry.
Behind you, you hear cries of "there he is, get him!" from security.
Suddenly, the guy who gave you the confusingly worded ASL flier steps out of the crowd to the side of you, reaches out his hand, and says "come with me if you want to play the premier system of tactical World War II combat!"
> ENTER EXHIBITOR HALL
Without your trusty condom, you see no point in participating in any kind of a "consim," and thus leave the sad little old man as you turn and race away from the security guards towards the Exhibitor Hall to the south.
GENCON – Exhibitor Hall
The largest room you have ever seen opens before you. Vendors, game companies, video game startups, Kickstarter hopefuls, and other tables of more dubious purpose spread out in front of you like that place they are keeping the Ark.
There is an exit to the north.
> PURCHASE WAIFU WITH CURRENCY
You wade into the mass of tables and booths with a singular purpose in mind: to find and wed the most realistic inanimate representation of Naruto's Sakura Haruno that you can find. After about an hour you come across a guy at a rickety folding table in a back corner of the room. He is wearing a very realistic deer costume and he pulls out a filthy full-sized body pillow with a life-sized Sakura printed on the front. Though used, he claims it is in VG++ condition and that at least 2 of the three love holes are still functional. He quickly accepts your offer of $300 without objection.
You realize too late that spending all your money may frustrate your plans to buy a new condom should you decide to consummate your marriage while at the convention.
> ROLL FOR INITIATIVE
Sitting down right there in the aisle, you carefully set Sakura across from you and take out your lucky d20. It's actually not so much "lucky" as it is kind of deformed on one side where you've filed all the edges smooth. Either way, it rolls far more than you standard distribution of crits, so you feel pretty good about your chances in a roll off with Sakura.
Unfortunately, attempting to roll a 20 sided die in the crowded vendor room was pretty ill-advised! One of the passing oafs inadvertently kicks your die before it has fully settled and you (and Sakura) can only watch in horror as it skitters across the floor and between the tables in front of you.
> SIGH
You put your head into your hands and sigh…that die was…precious to you. Sakura just stares at you, scornfully.
> FIND DIE UNDER TABLES AND SHOVE IT INTO SAKURA'S BACK LOVE HOLE
Throwing Sakura under one arm, you dash after your d20. Considering that guy that sold her to you had told you that the back hole was the one that was crusted shut, you'll just have to cross the bridge of how to actually get your lucky d20 in there when you come to it. But first you have to find your lucky d20, so you scamper under the tables after it, always one step behind as the die is kicked back and forth across the convention floor.
After caroming off a booth full of what appears to be Bugbear erotica, your die lands right in the middle of the Wizards of the Coast booth. A small, balding, well-dressed man in a bow-tie picks it up. Your lucky d20 seems to crackle with power in his hand.
> TALK MAGICAL DICE WIZARD MAN
You boldly stride up to the Wizards of the coast table and introduce yourself and your Waifu before demanding your die back. The man introduces himself as Richard Garfield. Yes, THAT Richard Garfield, creator of the smash hit collectable card game Magic the Gathering. He tells you that your die is obviously an artifact of great power and he will not give it up without a, shall he say, "duel," with your die as, shall he say, "ante." Provided, of course, that you have an object of equal value to ante–he says while looking lasciviously at Sakura.
> RICHARD GARFIELD WOULD NOT WEAR A BOWTIE, YOU ARE THINKING OF REINER KNIZIA. RICHARD GARFIELD WEARS CASUAL TO SHABBY CLOTHES
The ISLEY AI is an advanced Interactively Sneaky Living Electronic Yottabyte-matrix. It scoured the internet for literally 10s of pictures of Richard Garfield and in at LEAST 2 he is wearing a bow-tie. The ISLEY AI does not make mistakes. The ISLEY AI was not thinking of Reiner fucking Knizia.
> THROW CHAOS ORB AT IMPOSTER RICHARD GARFIELD AND COLLECT DIE WHEN HE IS DESTROYED
@theTRUERichardGarfield raises his hand and your Chaos Orb stops in mid-air, spinning slowly inches from his fingers. "Yes," he says, "I had thought these all destroyed in the eldar days. This will indeed make a suitable ante."
> OFFER TO DISPENSE WITH A GAME OF MAGIC AND DISTILL IT DOWN TO A ROLL-OFF WITH THE DIE
"Magic?" he says. "Oh sweet Ice Ages child, we shall not duel with a game of Magic: The Gathering…I have progressed far beyond Magic."
With that, he pulls out two laptops from under the booth table.
"Have you ever heard of a game called Quadradius?" he says, ominously. You feel Sakura give a demure whimper from under your arm.
> INQUIRE "IS THAT LIKE CHECKERS WITH SPECIAL POWERS? DOES SUCH A GAME EXIST?"
Richard Garfield's face takes on a grave tone. "Ah, so you have heard tale of this game. Yes, one could describe it as such, however, its preferred tagline is now "3D SPACE CHECKERS ON CRACK." The concept is the same, we will play a game of Checkers with no jumping and only single adjacent moves allowed. Power orbs will randomly appear to alter the rules and terrain. Now, as is my wont, I shall go first."
With that, you power on your laptops and begin to play Quadradius online. Richard Garfield moves a piece forward onto a special power orb in front of his front line. This piece now has a SECRET POWER known only to Richard Garfield! It is now your turn. You have 8 pieces in your front row, and there is a special power orb in front of your piece in the 6th column.
> CRY OUT "THIS IS BULLSHIT. ISLEY, I AM NOT PLAYING QUADRADIUS WITH YOU VIA A TEXT ADVENTURE. I AM NOT PLAYING ASL WITH YOU VIA A TEXT ADVENTURE." PUNCH THE PUTATIVE RICHARD GARFIELD IN THE FACE AND TAKE THE DIE AND EXIT THE EXHIBITOR HALL WITH WAIFU.
You draw back your fist, preparing to punch that stupid bow tie, for which Richard Garfield is known, right off his stupid neck. Meanwhile, Richard Garfield draws back your floating Chaos Orb, preparing to throw it in defense of his trademark bowtie.
Suddenly, you hear a spectral voice intoning the unmistakable verbal component of the 9th level wizard spell "Time Stop." As time slows and comes to a standstill the all powerful Lich of Gary Gygax descends from the fluorescent haze of the ceiling.
"ROLL FOR INITIATIVE" it commands with the voice of a nasally god.
Richard reaches for your lucky d20 but the Gygax Lich slaps his hand away. "NO LOADED DICE" it says as two brand new d20s appear in each of your hands. You find your hand moving of its own accord as your die tumbles down onto the table at the same time as Richard Garfield's.
> 11
7…fuck.
You have won initiative! Time resumes and you manage to punch Richard Garfield right in the face. Though you don't knock his signature bowtie off, you do at least knock him on his fucking ass. Grabbing your lucky d20, you race out of the exhibitor hall as Lich Gygax rises back into the ceiling.
GENCON – Central Nexus
You burst back into the Central Nexus, both you and Waifu gasping for air. The pee soaked hotdog ticket vendor shouts out "there he is, he's back!" A great host of Security guards begin to again converge upon your location in the center of the room…from their numbers it seems they must have called for reinforcements.
There are exits to the North, East, South, and West.
> FINGER MY WAY INTO DIGITAL GAMING AREA
You put your two forefingers together, just like that Japanese exchange student taught you, and with repeated cries of "Kan-CHO!" you finger your way east to the Digital Gaming room one butthole at a time. It doesn't take much of this for the security guards to beat a hasty retreat as they run off seeking an even more powerful backup for this elevated threat.
GENCON – Digital Gaming Room
The Digital Gaming room is a cacophony of flashing lights, MIDI beeping, and carpal tunnel syndrome. There appears to be a large gathering in the center of the room, while smaller gaming stations spread out on all sides before you. You crack your fingers and smile contentedly. Now THIS, is more like it!
There is an exit to the West.
> SEIZURE
Though this is a room for which you have been training your entire life, your decades of preparation have still left you overwhelmed by the glut of sensory input from the flashing screens before you. A tremor begins in your thumbs and then spreads up your arm until your entire body is thrashing in a full body seizure. Gamers all around you begin to scramble to find save points in their games so that they might eventually help keep you from swallowing your tongue. However, for the moment, your only immediate source of succor is a disconcertingly disinterested Sakura.
> BANG SAKURA WHILE SEIZING
Are you sure? You don't have any protection…
> SINCE WHEN DOES THE AI START QUESTIONING THE PLAYER?
The ISLEY AI is an advanced Interactively Sneaky Living Electronic Yottabyte-matrix. As such, it is able to, on occasion, provide advice to players who act in a manner contrary to their best interests. The ISLEY AI believes the users in the physical world call these types of players "n00bs."
> FIND QUADRADIUS BOOTH
You are too busy seizing and rethinking your life choices regarding safe sex with Japanese Love Pillows to find a booth for the greatest video game of this, or any century. You feel your tongue begin to creep down the back of your throat. The gamers around you appear to be in the "classic games" area of the Digital Gaming hall, which, or course, means that it will probably be a while before they get to their save points.
> INVENTORY
Because you are too lazy to scroll back in your mind and remember what your inventory was from the last time you checked, you do a quick spot check on your remaining items. You have::
1 Condom (broken, still encircling your exposed cock and balls)
1 folded up flyer for an intriguing game called ASL that you are giving serious consideration towards checking out, especially considering its ease of play and short playing time.
3 dozen business cards for yourself (still sealed)
1 round trip bus ticket to Indianapolis
1 mini Elvish dictionary (which fits in your wallet due to not including all that non-canon stuff from the movies)
Your ID
Still moistly grasped in your right hand is your hard won loaded d20, while about your neck your GENCON badge and your trusty hemp necklace with its battle axe flash drive thrash about in a grotesque dance with your seizing body.
You have also acquired one "gently used" in VG++ condition Japanese Love Pillow Waifu by the name of Sakura.
> DIAGNOSTIC
Your appear to be at around a quarter of your starting hit points. Most of this hit point loss seems to have come from the toll this seizure is taking on your body. As far as the rest of your general health is concerned, you are going on hour 3 of your erection from this morning, one more and you may want to seek medical help. Also, that extra Grande 4XL coffee you had this morning is working its way through your bowels with increasing urgency.
> PRINTSCR
You retreat into your Mind Palace and capture the events of the last few minutes on a sheet of paper. Reading it over, you realize that this seizure seems to have been self-induced, and thus, is most likely psychosomatic. Which, makes sense as photosensitive epilepsy actually only affects a very small percentage of epileptics. Either way, you cough your tongue out of your throat, and sit up, shaken, but alive.
> DIR /W
C:\Users\iunruh>dir /w
Volume in drive C is OS
Volume Serial Number is 34ED-O49S
Directory of C:\Users\iunruh
[.]                       [..]                        [Contacts]
[Desktop]          [Documents]        [Downloads]
[Manifesto]        [Music]                  [Pr0n]
[Searches]         [TRASH]              [Videos]
0 File(s)            0 bytes
12 Dir(s)           143,235,234 bytes free
A hollow voice says "Foo…
Wait. What was that? What have you done?
> LOOK CENTER GATHERING
Apologies, the ISLEY AI had a momentary glitch. Things seem to be back to normal now.
Because of the crowd, it is tough to see the booth from where you are sitting on the floor, but you can make out a giant banner over the top of the stage around which they are gathered that proclaims "3D SPACE CHECKERS ON CRACK!"
> AWAKE FROM TORPOR
You pinch yourself as hard as you can, but, unfortunately, you do not wake up, and this does not seem to be a dream. Or, if it is a dream, it's looking like the only escape could be Quadradius related unless you can figure out a way to avoid that fate.
> USE ELVISH DICTIONARY TO TRANSLATE AND YELL LOUDLY IN ELVISH "QUADRADIUS IS BULLSHIT AND CAN SUCK MY BALLS"
Cursing the professor for his impressively detailed and yet still grammatically incomplete language, you cobble together your best Sindarin approximation from your dictionary. Standing, you shout (with the appropriate husky inflection):
Rindcanad namaudûl ahtur laudh nín coeryn!
An ominous quiet falls over the room as the last of the ancient words tumbles breathily from your lips. There is an angry murmer rising up all around you as the GENCON attendees brandish foam weapons and multisided dice. If you had a character sheet, one would probably estimate your wisdom as being in the 3-4 range for failing to read a room this disastrously.
The angry mob inches forward, hemming you in on all sides. Sakura appears to be trying to pretend she doesn't know you.
> SINDARIN? MORE LIKE SINDARIN-AND-OUT! AMIRITE? EXIT TO CENTRAL COMMONS. OR MORE LIKE SEXXIT TO CENTRAL COMMONS, AMIRITE?
Sakura just shakes her head and refuses to "up top" your crude innuendos. Either way, you have no time for her attitude considering the mob of angry Quadradius players with a unusually thorough grasp of the Elvish language that seems intent on your destruction.
You race West, with the angry mob on your heels.
GENCON – Central Nexus
You barely have time to kick yourself for missing the obvious "Central Sexus" joke when you (and the mob of enraged fictional philologists behind you) are brought up short. You find yourself staring down the business end of the ridiculous 380mm main armament of an authentic German Sturmtiger Assault Gun. The hatch pops open and the small old man who handed you that flyer earlier sticks his head out. The army of security guards on both sides of the armored fighting vehicle shout up to the man "That's him! Eliminate the target!"
Shrugging wistfully at what could have been, the small old man says, "You should have just come to room G88 in the open gaming area."
> SHIT PANTS.
With a pronounced Pppbbbbttthhhhhh, you fill your trousers. The room clears out behind you. Whether from the pants shitting, or the mother of all assault guns that stands before you, it's hard to tell, but, as they say, why can't it be both?
Had you taken the man up on his offer for an ASL game, you would have known that the MA (Main Armament) of a Sturmtiger (aka the Tiger-Mörser, of which only 10 were completed before the end of the war where they were used in Panzer Sturmmörser Kompanien 1000, 1001, and 1002) is unable to fire while CE (Crew Exposed, but you would have learned that acronym too had you taken the man up on his game). Thus, you lost precious time bricking in your pants–time which the man used to go BU (Buttoned Up) in order to fire his MA. You now have just seconds before a bowel loosening 726 lbs of HE (High Explosive) rams itself up your ASS (ass).
> DASH INTO TRUE DUNGEON
Though you could not know that the MA of a Sturmtiger suffers an exta +1 TH DRM to all fire at Dashing Infantry, you luckily decide to use dash movement anyway as you make a run for the RPG area. However, you were also unaware that any Sturmtiger MA final TH DR against a building location which exceeds its Modifired TH# by ≤ the number of vertical levels (excluding cellars and locations out of LOS) in that Building Hex will hit a randomly selected in LOS Location of that building hex with the only possible effect of this hit being possible rubble creation after an Original IFT DR causitng a KIA (B24.11). And, because the MA is resolved on the 36+ FP column of the IFT with a -3 bonus DRM…needless to say, things aren't looking good for you whether it hits you or not. Of course, because you skipped the ASL meetup at 11, you know none of this. Though, one could claim that all of that was just a needlessly complicated way to say that a 726 pound mortar shell set off from within a building is going to bring that sucker down faster than secret government thermite charges from within the World Trade Center.
All of which is to say, you barely make it to the entrance of the True Dungeon before being buried in rubble along with the rest of the GENCON attendees.
GENCON – Rubbled Convention Hall – former site of the True Dungeon entrance
It is pitch black. You are likely to be eaten by a Grue.
> EMBRACE WAIFU. JET FUEL CAN'T MELT STEEL BEAMS.
You hold Sakura close, the movement causing your broken body to spasm with pain from under the mountain of rubble in which it is buried.
"It was…an…inside job…" you gasp with great effort.
"I know," replies Sakura. "The Zionist Occupation Government planned the whole thing."
You weep warm tears of joy that, even in this blackest of hours, you could have been so lucky to have found a Waifu that understands the secret of the Protocols of the Elders of Zion.
Your joy, however, is cut short when you realize that it was not Sakura that was speaking, but rather a really racist Grue that had burrowed out of the True Dungeon to your spot in the rubble at its former entrance. Moments later, as it devours both you and your cum soaked love pillow, you reflect that, all things being equal, GENCON was NOT what you would consider the best four days in gaming.
***YOU HAVE DIED***