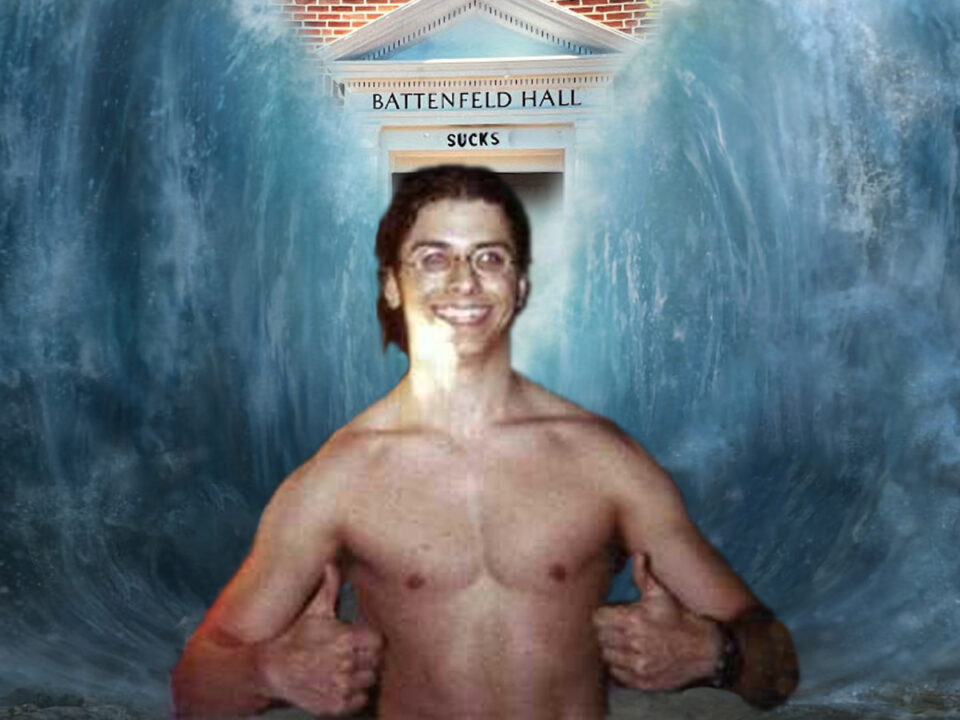 All great pranks need a few key factors to achieve legendary status. Ridiculous Nathan Fielder levels of over-planning. Genuinely mystified reactions from your target as to just exactly how you managed to pull it off. And most importantly: getting away with it. Today's prank has NONE of these qualities, but it does have the next best thing: I fucking NAILED the name.
Operation Moses had its origins in two places. First, our weekly "Loopy Day" midnight waterfight where a bunch of nerds with overpowered waterguns ran around the Scholarship Hall area testing the limits of human skin under the application of extremely pressurized (and, occasionally, chemically super-cooled) water. In addition to our standard arsenal of water guns of unusual size, water balloons of normal size, and water buckets of small size (on account of weak schol-hall arms), Stephenson Hall started filling a 50 gallon trash barrel full of water at the top of our fire escape–to protect the hall from a fire escape invasion. Of course, no one was trying to invade our hall, even at Loopy Day's most heated, so the barrel inevitably got dumped on our own guys coming back home in the aftermath–because, why not.
The other origin of Operation Moses was in the rash of cup-based door pranks that started innocently enough with a small glass of water tipped up against the outside of a door: knock and watch the hilarity ensue. Water turned into milk…tuna juice…urine…and worse, but the principle was sound.
Thus, while sitting around bored one night, a tiny light bulb went off in my head and I had my plan! If we could get a giant trash barrel full of water, lug it across the street to our rival hall Battenfeld (on the front door of which we had already spray-painted "SUCKS" with a hand made stencil), tip it against the door and knock…it would be about the most epic water-based prank since God rekt the earth with that flood.
Easy enough! I grabbed a couple of the guys and we struggled across the street with the barrel (water, it turns out, is heavy!) We made a lot of noise getting it into position, so everyone had bugged out and already started running back to our hall after a few seconds. However, I wanted to make sure the job got done–someone coming back home and seeing the barrel would ruin the prank after all! Reaching forward, I went to do a couple quick knocks–only to have the Scholarship Hall director of Battenfeld open the door mid-knock.
The good news is the barrel falling into their front hall was pretty goddamn epic and I had a front row seat to the deluge. The bad news is, I was DEFINITELY seen, despite trying to cover my face and run back to Stephenson Hall across the street in a serpentine pattern that would have made John Belushi proud.
A few minutes after I breathlessly tore into our main living room Battenfeld's SHD stormed in, soaked and looking for Isley. I tried my best to say I'd been in the living room studying the whole time and didn't know what he was talking about, at which point our long-beleaguered Proctor Nick came in, heard what was going on, and for some reason…decided to take our side!
"Hey, if Isley says he didn't do it, he didn't do it!"
"Isley's pants are still wet, and he hasn't even put a shirt on!"
"Isley never wears a shirt!"
Nick was fighting the good fight…until a few more Battenfeld guys came over with the barrel…written on the side of which was "Property of Stephenson Hall." And that was when we all learned a valuable lesson. No matter how ill-conceived and stupid a prank might be, giving it a badass name like Operation Moses (even retroactively due to their director looking like Moses parting the Red Sea when the water hit) would ensure it was talked about long after. Also Nick learned the valuable lesson that trying to stick up for me when it came to prank-deniability was a battle that no one was going to win.