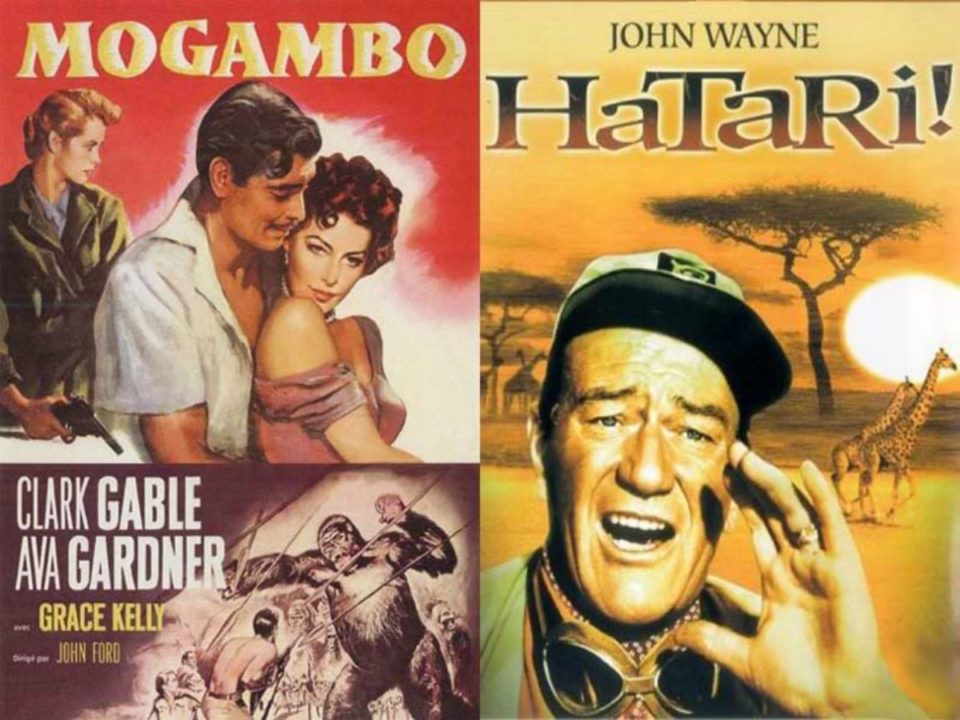 John Ford and Howard Hawks are very tempting to lump together when talking about great American directors. And indeed, their careers roughly parallel each other in length and time period, they are without question two of the greatest directors of Westerns (and if you catch me early enough in the morning I might even admit they have just as much to do with my idolization of John Wayne as he does), and they could easily share a page in the dictionary next to the entry for "Hollywood Auteur". Yet, anything past a cursory examination reveals that the similarities are only superficial. So, I thought I would take a look at a "Safari" film (Ford's Mogambo and Hawk's Hatari!) by each director and see just what they show about their director's respective styles. That or I just wanted an excuse to post the totally awesome covers to these two movies in my blog.
First, the similarities are undeniable. Upon first watching Mogambo I even remember thinking "wow, this is a lot like Hatari!" They are both movies about manly men who trap animals in Africa to sell to zoos. The lead roles are played not just by actors but by American institutions Clark Gable (in Mogambo) and John Wayne (in Hatari!). They both feature the afore mentioned institutions in their mid fifties being pursued by women half their age who have stumbled into their worlds. And of course they both have adventurous African sounding titles (though Hatari! gets extra points for having an exclamation mark in the title). But as will soon become clear, these are only surface similarities.
In many ways, Mogambo is not a typical Ford film. It doesn't have the brief sections of broad humor that so often peppered his movies from the Fifties onward, nor does it have the sentimentality that was just as often evident in his earlier work. Mogambo is a straight up steamy Hollywood melodrama. One good girl and one bad (the uniformly excellent Grace Kelly and Eva Gardner respectively) both want the same "tough guy" and the hilarity ensues. It is a remake of 1932's Red Dust, starring the 21 year younger Clark Gable with Mary Astor and Jean Harlow as the good and bad girls. It would also be interesting to examine how much naughtier the pre-code 30's version is to this one (Harlow was a prostitute, Gardner is a "show girl"), but one essay on Mogambo is probably enough. And while Ford sticks (especially in the pivotal scenes) almost exactly to the story of Red Dust, his style is most definitely present. The camera work is thoroughly excellent; somehow he even makes Africa look like Monument valley. Ford had a knack for finding amazing cloud formations so that even the skies added to his brilliant compositions, and Mogambo is no exception. But perhaps the most "Fordian" element of Mogambo is the way it evokes a certain poetry in the lifestyles of its characters. When the torrid plotline is stripped away, you have a movie full of nostalgic sentimentality for the Safari lifestyle. You catch yourself thinking "wow, sleeping under the stars, capturing lions, working for yourself, that's the life for me!" before you realize that "pappy" Ford has done it again; he has made the lifestyle he portrays take on a mythic grandeur.
Of course, this same feeling is just as easily found in Hawk's Hatari! It is the story of a group of animal trappers in Africa who get stuck with a young hot female photographer (and the hilarity ensues). The romantic allure of the adventurous life is the same, but the important distinction here is that Hawks focuses much more on the dynamic of the "group" than Ford did. In Mogambo, there was Clark Gable, the other two white guys who he has probably two scenes with, and then the legion of black tribesmen who silently fill the background. In Hatari!, Wayne blends into the background, he is the leader and guiding force of his ragtag band of animal trappers, but he is also very much part of a group as opposed to Gable in Mogambo. This is quintessential Hawks. He loved to show the group as a living breathing entity that was full of individuals and easily effected by outside influences. Men, young and old, from every corner of the world depend on each other for their lifestyles to continue. Throw in a couple of young, strong-minded women for conflict and you have a Hawks film. Mogambo was a movie first and foremost about Gable and the two women. Hatari! uses its male/female conflict as a way to get the story going, but it is most definitely not the focus of the film.
One thing that is interesting about Hatari! is its structure. It is very much in the laid back style of Hawk's later work, so much so that it is more a series of episodes than a "real movie". The guys go out to catch a zebra, there are some nice action shots and authentic wildlife footage and they finally get it. Then you go back and check out how the group dynamic is changing due to internal and external forces. Next up they decide to chase down and capture a herd of giraffes. And so on as it makes its leisurely way to the conclusion which does nothing more than show how the sources of conflict within the "group" that start the movie are resolved.
Overall both films are immensely enjoyable, though neither are among Hawk's or Ford's best work. Watch Mogambo for the great leads, photography and over the top sexual tension. Watch Hatari! for the amazing wildlife scenes (the actors really captured rhinos etc using only ropes and trucks), the interesting ideas on group dynamics and leisurely but assured pacing. In the end I'd have to give the nod to Hatari! as the better film, but that is mostly because it is such a unique movie that it stands out over the more "by the book" Mogambo. But either way, if you're in the mood for an African safari film, you should have a pretty good time with either of them.