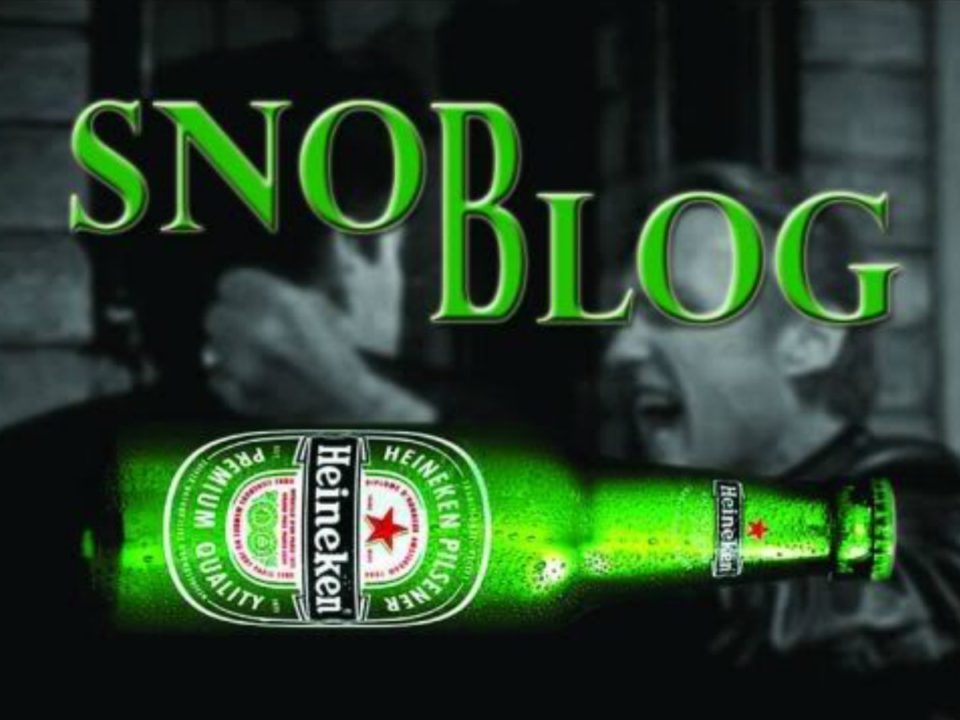 Once again, from the pages of Goth Blog comes the spinoff everyone has been clamoring for: SNOB Blog! This time it is the wacky antics of the high school english teacher! He just wants the finer things in life…and for people to know he wants the finer things in life! But enough of my yappin, let's get on with the Snob Blog!
(Disclaimer: this is a work of fiction; any resemblance to real persons is purely coincidental)
October 15th, 2006
As my coworkers have banned me from discussing film, poetry, "the great masters", the French language, quinoa, single malt Islay whiskey and basically anything awesome in the teacher's lounge, I have found myself seeking other outlets for my thoughts.
After a bit of research I've decided that an online journal is probably the best place for me to post my day to day musings.
So what is there to say? I am an english teacher at the local high school (though this position is only temporary until I can put my PhD in film to better use). I am a man of discerning tastes and rarely brook those who exist only to make the world a less cultured place. People are usually at a loss for words as to how to describe me, but I'd guess they probably end up saying I just have a certain je ne se quois.
As my drummer refuses to play in 4/4, I often march alone, but it seems a small price to pay in order to eschew the mundanities that so many people surround themselves with on a day to day basis.
Anyway, I'll probably pop in here from time to time as things of note happen in my life. So until next time, may you partake of only the finer things in life!
10:45 PM
October 17th, 2006
I had quite a day at the video store today! I was in line with my selection, Eric Rohmer's nearly three hour abstract medieval stage-play Perceval (sung by the title character in the third person), when a voice from the action section brayed out: "Do you guys have Lethal Weapon?" I glanced at the girl next to me, rolling my eyes only to find her delicate sensibilities were also offended! Like two ships passing in the night we might have missed each other completely had we not been alerted by such a beacon of poor taste.
Outside, she introduced herself as Iris and we had a quick film chat. She had rented Kurosawa's Dreams, and after making sure she understood I was an Ozu man myself I explained to her what a subpar film it was and how Kurosawa should have stopped with Ran. She hadn't seen Dreams but seemed impressed that I liked Ran. (I should point out, that yes, I do like the odd Kurosawa film, but the fact remains that Kurosawa is merely white wonderbread when compared to the filling and nutritious sprouted-grain Ezekiel bread that is Ozu).
Anyway, she must have been impressed with my film knowledge because before I knew it she had asked if I would like to come to a small movie watching get together with her and a few friends at the end of the week!
I asked what movie they would be watching and she said it was some French DVD "Femme" something by this guy Bresson. Well that sealed it right there (the only Bresson film I have yet to see is Une Femme Douce and it is only available on VHS (a format I have refused to watch since the vastly superior DVD came out). Expressing my astonishment that it was now available on DVD I agreed to come to her party. She jotted down the address and left with a cheerful "see you Friday!"
Yes diary, she is a Bresson fan. I may be in love.
5:17 PM
October 18th, 2006
Friday's party is still two days away, but I had a great idea. I'll bring along my copy of Bresson's L'Argent!  I'm sure she won't mind making it a double feature, and provided everyone has read their Dostoevsky it should provide for some great conversation after the films.
It isn't every day you meet someone who appreciates Bresson, so I need to make sure I make a good impression!
9:33 PM
October 20th, 2006
I arrived promptly at 7:00 with L'Argent in hand. As Iris took my coat I explained my reasoning as to why it would make a perfect double feature with Une Femme Douce. She seemed a little confused, which at the time I attributed to the party she had been planning. She introduced me to her guests and then went to get me a beer.
Her guests I was less impressed with. One was actually wearing a Pulp Fiction shirt, and upon questioning it turned out not to be ironic. There were J-horror and Bollywood posters adorning the walls which I hoped belonged to Iris' roommate. But none of this prepared me for what I saw sitting atop the DVD player. Case opened and ready to be watched was not a copy of the sacred French director Robert Bresson's Une Femme Douce, but rather that hack among hacks Luc Besson's assuredly awful film La Femme Nikita.
Then, Iris arrived with an opened bottle of Bud Light for me and I could only stare in horror. I knew that only a miracle would save this night. The beer had been opened already, so there was no going back; I'd have to choke it down. But I had never and will never drink a beer from the bottle and can't understand those who do. With no nose, not only is the palate and finish greatly diminished, but the drink has no room to breath and relax its flavors. So I asked for a glass.
I thought I detected a suppressed snigger from one of the barbarians guzzling his drink straight from the bottle, but I've learned to ignore such intolerance. Iris came back with a plastic cup. Yes diary, I too shook my head in disappointment. I was forced to accompany her to the kitchen to search for an actual glass drinking vessel while explaining to her that plastic will often absorb the caustic fumes of dishwashing liquid and have a slightly chemical smell that will work against the nose of your drink.
Sadly she had no actual glass glasses so I was forced to drink my Bud Light out of a shot glass, the closest substitute I could find (though even this seemed to work against me as it only served to prolong the consumption of that wretched bottle of swill).
I was still not prepared to give up on the night and decided to pull what I like to call "the old switcheroo". Standing, I gave a lengthy speech about the history of French cinema and using the phrase "upon the shoulders of giants" I attempted to convince the group that La Femme Nikita could only be understood in context by first watching Bresson's L'Argent. My lecture was interrupted with a grunt of "fine let's watch your movie" from the Pulp Fiction guy, so I popped it in and sat back confident that my superior film would win them over. I couldn't have been more wrong.
Not only did everyone but me sleep through most of the movie, but as it was finished their comments could not have been more caustic. "Worst…axe murderer…movie…ever," "they all talk like they've had lobotomies," and "he kept moving the camera away for every good part!" is just a sampling of the level of ignorance displayed by the group. I started to give a speech about Bresson's "sacred cinema of minimalism" but at this point many in the group noticed that they had prior commitments and the party broke up.
I thought it best to leave as well as Iris seemed quite upset that her friends had shown themselves to have such poor taste. I thanked her (with a roll of my eyes and a gesture towards her departing friends to show that I understood) and made sure she had my phone number as I left.
I expect next time it will just be the two of us as I would hope she has learned her lesson about who to invite to her film parties!
9:52 PM
That's it for now, but the Snob Saga continues with Snob Blog 2 – A Musical Interlude.