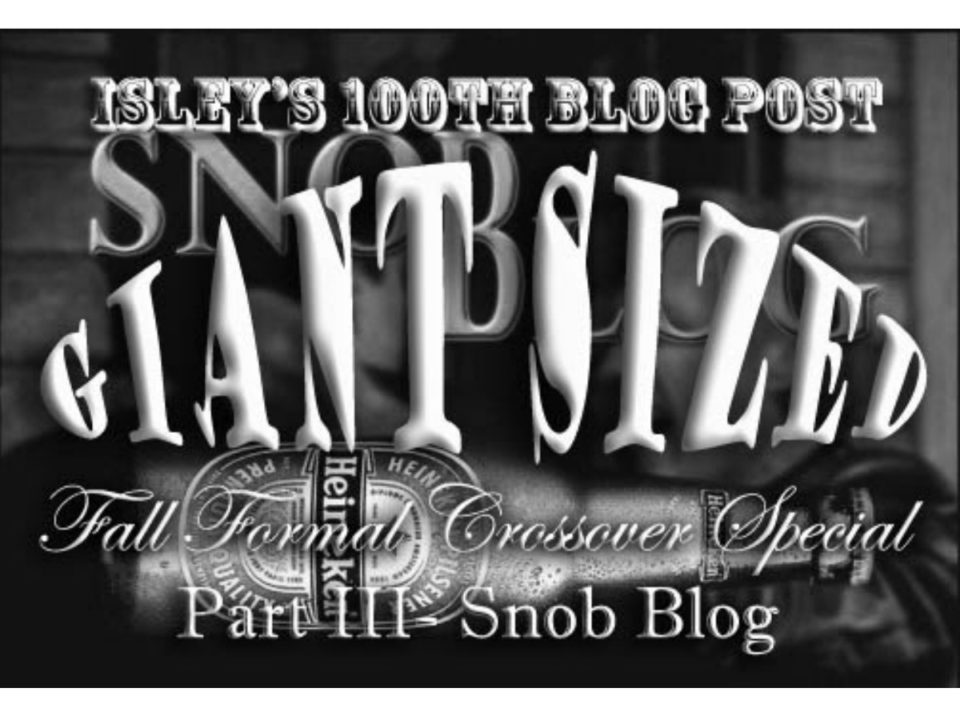 Here we are at the final post of my GIANT-SIZED Fall Formal Crossover Special!  I'm pretty sure everyone has guessed who our two streakers are, though if you missed the Jock Blog segment yesterday be sure to check it out if finding out way more than you ever wanted to know about the state of our Snobby English teacher Mr. Brinkley's foreskin sounds like fun!
Otherwise, all mysteries should be revealed (including perhaps some first names?) in this, the final post in what has hopefully been an epic "exciting conclusion week" for everyone!
Sunday, November 12
While last night was a disaster on par with Charlton Heston's casting in A Touch of Evil, I must admit that there were some small moments of triumph to leaven the soul crushing embarrassment that pretty much summed up my Fall Formal experience.
I suppose all stories must have a beginning so I will just start there.  Ms. Kockenlocker and I arrived at the staff parking lot behind the gymnasium around 4:30 and began hauling in the candles and lanterns that were to give our Formal the proper Argentinean whorehouse ambiance.  I worried quite a bit about the acoustics in the gymnasium but I hoped the all different regional basketball tournament flags hanging from the ceiling would dampen any excessive echoes that might ruin the delicate production values of my tango cd collection.
There was a definite flirtation between Ms. Kockenlocker and myself as we set up the gym, I was even so bold as to tell her she looked lovely in her turtleneck and slacks.  Her demure giggle was all the sign I needed that things might go very well for us if I were able to remember to behave according to my guiding principle with the fairer sex: WWB(ogart)D.
However, it was the looks on the faces of the arriving students that were my first indication that perhaps things would not go as smoothly as I had hoped.  It was as if they had entered a theater expecting to see the delightful Capra screwball comedy romp Mr. Deeds Goes to Town and found that someone had cruelly switched it with the unforgivable Adam Sandler remake.
Bravely carrying on despite their obvious displeasure, I did my best to explain the history of Tango music to the arriving guests.  Sadly, aside from some random giggles at the mention of whorehouses their faces told me everything: they hated it.
Still, I was not about to give up without a fight, and stubbornly continued as more people began to arrive.  Ms. Kockenlocker was a game partner and even seemed to have read some of that comprehensive history of tango book I had lent her earlier in the week as she seemed to be the only one to answer any of my tango trivia questions correctly.  Eventually though, as the gym was almost full, I realized I was running out of ways to stall until Rico (who still had not arrived) brought both the refreshments and the refreshing sensual dance lessons.
Ms. Kockenlocker, with a meaningful touch on my arm, suggested we show the students how to dance a Tango ourselves.  I admired her boldness, but when I asked, none of the students seemed to want to come up and help demonstrate a tango with me.  Ms. Kockenlocker seemed as disappointed at this as I did.
Things were beginning to get dire as the crowd grew ever more restless and no amount of further lecturing on the history of tango seemed to quell their mutinous murmuring.  After another 15 minutes had passed and there was still no sign of Rico or his thermoses of bitter Mate tea, that ungainly neanderthal Coach Robinson who had volunteered to work that night came up to us and growled "play some music already before I play it for you!"
I explained to him that we couldn't play any Tango music until everyone could dance a passable Tango at which point Ms. Kockenlocker suggested we go see if perhaps Rico was lost on the school grounds.  Leaving Mr. Robinson temporarily in charge, Ms. Kockenlocker and myself grabbed a candle and made our way to the backstage door to have a look around.
Looking outside, ours were still the only two cars in the back staff parking lot that we had directed Rico to park in and aside from there seeming to be far fewer white buckets outside the stage door than had been there when we arrived, nothing seemed amiss.  This was when, even from backstage, I heard the sound system kick on in the gym with some horrid song where the band members explained all the ways in which they would take care of business.
Well there was no way I was letting Coach Robinson pick the music for my dance and was set to run back into the gymnasium to put a stop to that horrible music when I felt Ms. Kockenlocker's strong hand upon my arm.  With the fateful words "Coach has it under control for now, there's no rush", she took me in her arms, bent me back and planted a passionate kiss full upon my unsuspecting lips.
Well I must confess I had not known the touch of a woman for some time and was unable to resist someone as alluring as Ms. Kockenlocker despite coach Robinson ruining my Formal with his jockish music.  Of course, at the time I was not thinking clearly about anything as Ms. Kockenlocker and myself groped our way out of our clothes and through the candlelit darkness without breaking our embrace until we reached the back of the stage, fully naked and oblivious to everything but each other.
What we were also apparently oblivious to was tripping the stage curtain opening button as we moved across the stage and to our absolute horror the curtain was already halfway open before we had realized our folly!  All of my brazen ardor wilted like a flower in a furnace upon this realization and Ms. Kockenlocker and myself quickly threw our candle into the wall and hit the floor.
I had scarcely whispered to her that it was too dark in the lanternlit gym for the students to see us when I realized that my bad luck had only just begun.
First, and most urgently, there was the overwhelming smell that was far worse than the time that crazy cat lady died next door to my old apartment and no one realized it for a month.  And while I initially attributed the horrible smell to the removal of Ms. Kockenlocker's clothes, I soon discovered (much to my relief for her Hygiene) that it was in fact emanating from the slimy puddle of waste that we were huddled over at the back of the stage.
However, terror saved me from retching right there when I realized that the wall behind us had caught on fire from Ms. Kockenlocker's candle!  I was panic stricken, knowing that the light would soon reveal us to the entire student body, but Ms. Kockenlocker showed remarkably clear headed thinking and grabbing two empty buckets next to us shouted "there's no time to find our clothes, put this over your head, run for the door, and hopefully no one will realize it is us!  …My name is Anita by the way!"
Before I could even stammer that my name was Branford but I prefered my friends to call me Ford for the unfortunate Marselis connection (and because of the fortunate director connection) and that I considered her not just my friend, but hopefully more than that after our brief dalliance and that I hoped our current situation would not hamper any future romantic endeavors between the two of us, Anita had sprung up, wearing her bucket as well as Brian Carroll ever did and ran for the exit.
I pulled the other bucket over my head and lept off the stage right behind her, hoping I was heading in the right direction as my field of vision was now limited to the 3 feet directly in front of me.  It soon became apparent that the limited vision that wearing a bucket upon your head offered was not my real issue, the more pressing issue was that the bucket I had chosen had apparently been used to hold the rotten sewage that had so assaulted my senses upon the stage.
Desperately trying to hold the rising tide of bile back, I ran through what appeared to be a large mud puddle, close on the heels of Anita and into the parking lot.  Ignoring the shouts and sirens I ran until Anita pushed me into a row of evergreen bushes to the road.  It was a miserable 3 hours in the brisk fall air while we burrowed under the pine needles and huddled next to each other for warmth until the police and fire trucks had left and we were able to sneak back to our car and return home.
Thus I am here after that ordeal to report everything to you my readers.  Assuming no one recognized us in our bucket disguises I'd say that Anita and I will still have our jobs on Monday (though I suspect we may be removed from the fall formal planning committee).  I did notice that I had one phone call from Rico on my answering machine from around 7:00 last night, but I don't know that I'll listen to it just yet as I as still quite annoyed with him for standing us up.
Besides, after my experience last night, I have more important things on my mind, namely the singularly attractive Ms. Kockenlocker.  Those three hours huddled under the pine needles brought us closer than any first date ever could have.  Though I will admit that we have yet to return to any wild displays of passion like we did upon the stage last night, for those three hours also taught me an important lesson.  And that lesson is that when a woman is covered in raw sewage, and laying cold and naked under a blanket of dried pine needles she is not in the mood for romance…trust me on this one.
And with that the great Fall Formal saga of Center Valley High school comes to a close!  For those who made it all the way through…I hope it wasn't too silly!  Next week is back to business as usual when I post some boring film essay!