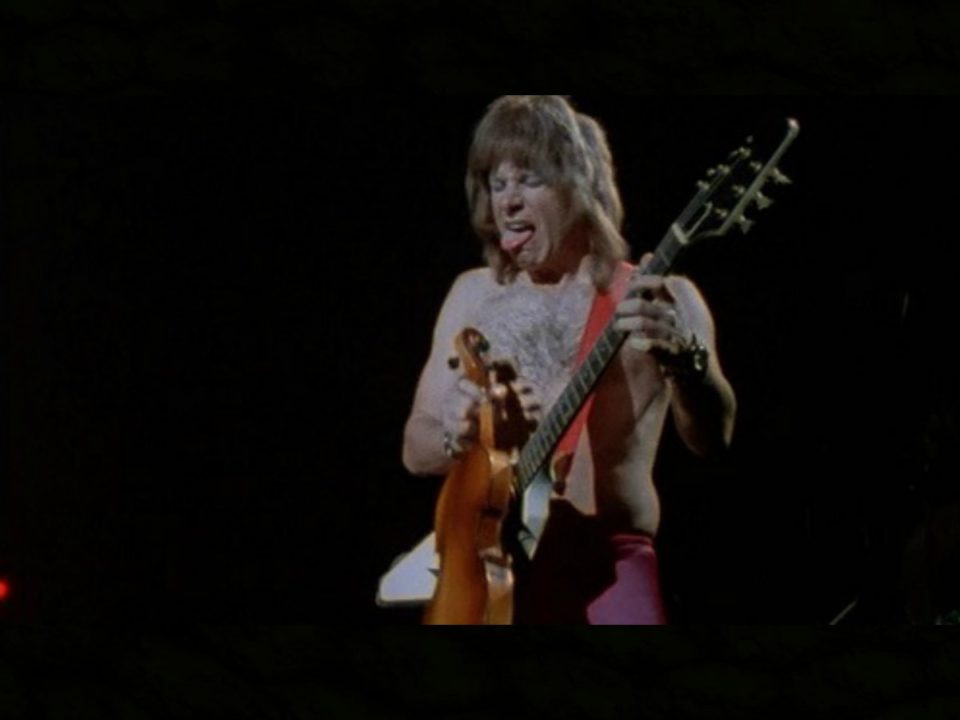 This is Spinal Tap is not the first "mockumentary," but it is probably the most famous one.  And, in a time when the genre can be seen all over film (Borat, Bruno, and the slew of mockumentaries made by the Spinal Tap team) and  TV (The Office, Parks and Rec, and Modern Family), I'm pleased to report that This is Spinal Tap still holds up as the funniest offering the genre has yet produced.
I can think of few movies (mocumentary or otherwise) that have such a high density of genuinely clever (and hilarious) jokes.  I think part of the reason for this success is that much of the film was improvised on the spot by the main actors (who also played all the instruments and wrote the surprisingly competent songs).  Improvisation was the key to the brilliance of silent comedians like Keaton, Lloyd, and Chaplin, and I believe it is the key to this film as well.  Of course, not just anyone can improvise a brilliant comedy, you also have to have some pretty gifted comedians to ad lib lines exchanges like the following discussion of the gruesome fate of one of Spinal Tap's many ill-fated drummers:
Marty: What happened to Stumpy Joe?
Derek: Well, uh, it's not a very pleasant story…but, uh, he died…uh…he choked on…the ac- the official explanation was he choked on vomit.
David: He passed away.
Nigel: It was actually, was actually someone else's vomit. It's not….
David: It's ugly.
Nigel: You know. There's no real….
Derek: You know they can't prove whose vomit it was…they don't have the facilities at Scotland Yard….
David: You can't print, there's no way to print a spectra-photograph…
Nigel: You can't really dust for vomit.
I loved that sequence so much I even ripped it off/paid homage to it in Jock Blog 3's "you can't dust for jizz" sequence. A lot of the humor has a nice Monty Python feel to it, the same kind of subtle stuff I loved so much in my review of Monty Python and the Holy Grail. They might be talking about licking love pumps, but the writing in This is Spinal Tap is really quite complexly layered.
Sure, being a metalhead, I might be a bit biased (especially being a black metal fan–that stuff is even more deserving of a mockumentary than the traditional heavy metal on display in This is Spinal Tap). But you don't have to be a metal fan to know that the posturing and machismo that so infuses traditional heavy metal is a ripe subject for humor.  Hell, ripe subject nothing, the way metalheads tread water in a sea of retarded sexuality and bad poetry is a comedy goldmine.  Though I guess that's just nitpicking isn't it.