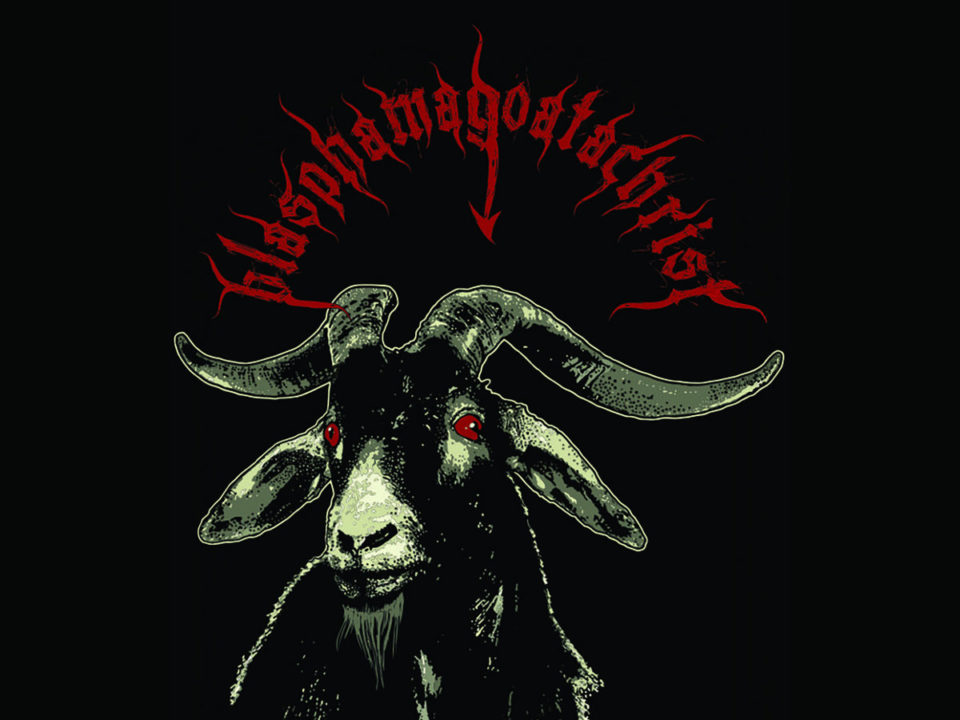 There are a lot of things black metal bands love: monochromatic color schemes, renaissance fair cosplay, problematic immigration views…and an almost fanatical devotion to J. R. R. Tolkien. However, one thing all black metal fans (and all metal fans in general) can agree on is that goats are fucking sweet.
I mean, sure, goats are ADORABLE, but their horns and ears also happen to make a perfect pentagram:
Adorable or not, goats just scream METAL. So, today, I thought I'd take a look the best of the best of the 369 bands from www.metal-archives.com that have a "goat" in their name. I'll present a song from the band's goatiest release (for these purposes, the one with the goatiest cover art) to see who the greatest goat-themed metal band of them all really is!
5. Goatsemen
Goatsemen is not exactly one of the all time greats, but their first demo fucking slays!
So how goaty is their goatiest album cover (from which this sample song comes?) Well…let's just say it is a doozy:
Rooted in the skittering, frenetic South American stylings of Holocausto and the like, Goatsemen rips through songs like "Warfare Noise" with the ferocity of a goat-delivered Jes-Ass ramming:
Awesome stuff, the follow up full-length years later was fine, but just seemed to miss some of the energy on this excellent demo.
4. Goatlord
Goatlord is probably the very first American black metal band (indeed, one of the first black metal bands ever with black fucking recordings going back to 1987).
Their goatiest album has got to be their aptly titled Sodomize the Goat demo–reversing the usual goat on non-consensual human sex with a rare human on non-consenual goat variation:
Unlike some of the other bands on this list, this demo might just be Goatlord's best work. Sure, they recorded "better" versions of a lot of these songs, but, for my money, this recording of Blood Monk is about the filthiest, most vicious thing Goatlord has ever released:
It's just too bad they won't fucking play faster (this is actually one of their faster songs…I just can't do the slow doomy shit).
3. Archgoat
Archgoat should probably not be ranked over Goatlord on any list, but they do one thing that elevates them to my ears…they fucking play faster! Brutal black-death that goes WAY back to the early 90s, Archgoat play caveman metal that chugs ahead with all the grace of a horny goat in a tin can shop.
They've got plenty of goat imagery (right down to their logo), but this cover to their 1993 Angelcunt EP is just the right level of ridiculous:
The music matches the imagery–brutal, raw, and fucking stupid in the best way:
This is metal made for boneheaded idiots, but, that's not always a bad thing when it fucking crushes this hard.
2. Goatmoon
Goatmoon's brand of folk-heavy black metal veers perilously close to the worst kind of folk-metal cheese, but somehow they always land firmly on the catchy side of the fence. Most importantly, with the exception of my number one pick, you'll have more fun with Goatmoon than you will any other band on this list.
Goatmoon doesn't really lean into the goat imagery on their albums, though they do have a sigil thing they use that is actually kind of cool (and, atypically for the genre, entirely non sexual–depending on how you view that white leg shadow):
Here is "Son of the Northwind" from the album (actually, single) that uses this sigil as the cover:
Fairly straight ahead for Goatmoon, but (like pretty much their entire catalog), it's raw, energetic, and, above all, catchy.
1. Goatpenis
If you know me at all, you would know that Goatpenis would come in at #1 on any goat-related list. They have consistently released some of the best black/death metal of the last decade, and are one of the only "war metal" bands I bother to listen to.
Goatpenis doesn't really do much goat imagery, but their first demo leans into the titular caprine phallus "big" time:
The music on this album? Well, check out "Sucrop Cinatas" and see what you think:
Yeah, that first demo is basically unlistenable.
Still, Goatpenis is one of my all time favorite bands, so I'll break the "use a song from their goatiest album" rule here and just add the song "Pleasant Atrocities" off their latest release Anesthetic Vapor to show that they did, in fact, get better.
First of all, by the standards of most other bands that call themselves "war metal," that is basically dungeon synth. Melodic, energetic, but still undeniably intense, Goatpenis isn't just the all-time best goat-named band, they are one of the all-time best metal bands around period!
BONUS QUIZ!
Finally, to finish things up with a few more goat tidbits, here's a little "name the genre" quiz featuring some random goat themed bands. Can you figure out the genre based purely on the name? Take the quiz to find out!
#4.

Necrolytic Goat Converter
#5.

Finally, which of the following bands is NOT Black/Death Metal