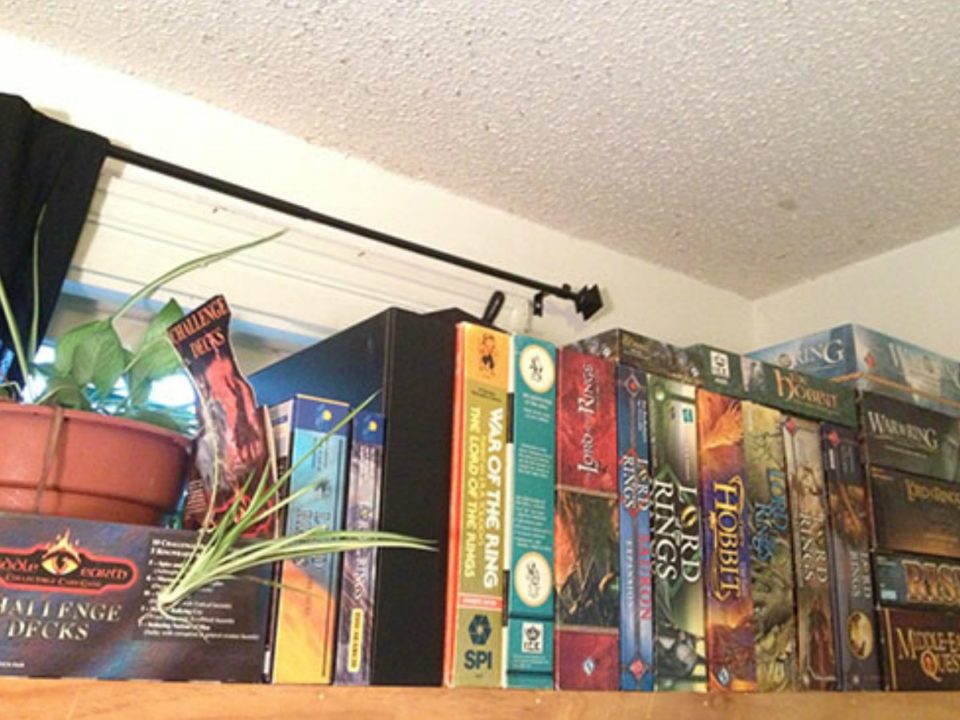 Welcome back to my most infrequently occurring Monday feature!  I'm speaking, of course, of Infrequently Occurring Fifth Monday (IO5M), where I come up with a new "top 5″ list on a quad-yearly basis.
Today I'll be looking at some of my all time favorite board games that take place in that wondrous land of mystery and lure: Middle-earth.
As is quite clear to any reader of this blog (or anyone who has entered my house), I'm a big fan of board games.  And, as is also clear to any reader of this blog (or anyone who has entered my house), I'm a big fan of Tolkien.  Thus, it makes sense that I would own 18 board games (not counting expansions) set in Middle-earth.  Some are great, most are good, a few are not so great, and one abysmally bad, but over-all it's a rich subject for a board game, and I'm always happy to add another game with the theme to my collection.
I try not to buy too indiscriminately (despite what the header picture might look like).  One category I hate are those games based on the movies rather than the books.  Thematically, there really isn't much difference (aside from blurbs in the rulebook talking about how "this game follows the events in the first two movies" (my emphasis) raising my heckles), but what I really hate is the way they all use still from the movies as the "artwork." That's about as lazy and unthematic as you can get and I'll have no truck with it.  And sure, I understand that companies like WizKids (makers of Heroclix) hold the rights to the movies only, so they can't actually legally use stuff like Tom Bombadil in their games, but that doesn't make me want to buy their games.  And sure, the only game I've tried from them, "The Nazgul," wasn't bad, but it wasn't all that great either.
Anyway, let's move on to the games I own that have actual artwork and how I would rank them in order from 5 to 1:
Essentially this is a game like Magic the Gathering, where you construct a deck from a large assortment of cards, and then use that deck to wander around Middle-earth in an attempt to do more cool stuff than your opponent.  I must admit that this one is a bit of a cheat since I've only actually ever played it once, and it was a bit of a slog rules wise.  But, damn, there is a lot of impressive stuff going on here.
First, it really nails the theme.  The lands of Middle-earth are yours to explore at will, essentially creating your own unique adventure each time you play. It basically just gives you a big giant map of Middle-earth and you can just wander around looking for lost treasures and ancient evils.  Actually, it doesn't give you a map, which is a real shame, since this is really a board game at heart.  Of course, I've got big plans of drawing up a massive hand drawn map with all the locations (of which there are an impressive number) labelled on the map in order to do away with the annoying site cards.
The mechanics are brilliant and also nail the theme, especially the ingenious way that the deck of cards you construct contains both the treasures you hope to find as well as the monster you hope to thwart your opponents.
Unfortunately, the game is quite a beast rules wise (I've already forgotten most of what I learned the last time I tried to wade through the rulebook to learn the game), and can take a couple hours.  Thus, one of the best games about Middle-earth in my collection has languished in an unplayed corner of my game shelf while other less worthy games (like Fantasy Flights Lord of the Rings LCG, which is fine mechanic wise, but strangely punishing and unfun to actually play, or Middle-earth Quest, which is actually really fun, but with a seriously broken endgame) have been played in its stead.
Yes, yes, I know what you are thinking, my friends must knock down the doors to play this game with me right?  Well, I'll have you know I've gotten this bad boy played FOUR times in the seven years I've owned it.  And, I'm happy to report, it's actually a pretty good game in its own right.  The questions are very hard, but there are ways to handicap things to compensate when playing against people who haven't written Middle-earth history blog posts for the last 43 months in a row.  Also, the game itself uses a nice resource management mechanic that makes it a lot more interesting than your usual trivia pursuit filler.
This game really helped start the "cooperative" gaming trend that has been all the rage the last decade or so.  Using some ingenious mechanics, the players all work together to beat the game itself as their resources, cards and options rapidly dwindle as they make their way through four boards that represent middle earth.
The expansion Friends and Foes adds 2 more boards (with the option to skip boards) and monsters to fight and is probably the best version of the game (the next expansion, Sauron, adds another non-cooperative player and a bit too much difficulty).  As with all cooperative games, this can be a bit less fun if one experienced player is an asshole and tries to tell all the n00bs how best to play their turns, ahem <shifty eyes>, but overall this is still a shining example of what the cooperative genre can be about and I should really have gotten it to the table more than the 16 times that I've played it so far.
Not to be confused with the 1977 game that is a bit too old fashioned and dense to really see much play time, this is really an excellent simulation of what happened in the books.  The Fellowship player must rush the ring to Mordor while attempting to hold off the Shadow player's military forces, forces which massively outnumber their own armies.  The Shadow player on the other hand must crush the free people's cities before the Ring Bearer makes it to Mount Doom.
There's a lot to like in this one, from the mountain of sculpted plastic, to the really well done cards that are bursting with flavor (yep, there is even a Tom Bombadil card…he keeps the shadow armies out of the Northwest).  It has some good expansions too, including the stand-alone Battles of the Third Age that has separate boards for Helm's Deep and the Battle of the Pelennor Fields (though, unfortunately, the balance seems a bit off in those games). One of the best things I can say about it is that it's a 4+ hour game usually, and yet I've still managed to play it 19 times.
43 plays in, and I have to say that this is easily my favorite Lord of the Rings Board game, if not one of my favorite games of all time. Basically, you have nine characters with special abilities whose identities are hidden from your opponent.  Each turn you have to move one forward, and if two characters share the same space, you fight (by using a blind bidding mechanic to add variable numbers and powers to each character's strength–thus adding a second layer of bluffing to the game).  Sure, it just sounds like Stratego, and Stratego kind of blows, but this is so much better!
First, by limiting each side to only 9 characters, the game is much more focused, with each character having a purpose.
Second, by shrinking the board (which brilliantly recreates an abstract map of Middle-earth that is, impressively, still geographically and thematically accurate) you get right to the action without having to mess around with endless positioning moves.
Finally, by giving each character a special ability, the game becomes a master class of bluffing. Did Pippin's scout ability find the Witch King? Better send Merry in, whose special ability, of course, instantly kills the Witch King.  Again, with only 9 characters, the simple ablities are quickly learned, and the game becomes a very deep brain burner of bluff, double bluff, and the ever popular "triple bluff" gambit.
You can play this one over and over and it never gets old, in fact, it's been too long and writing this has made me want to play it again right now.  Good thing I have a second copy in the glove compartment of my car (always nice to have an emergency game on hand).  The only thing keeping me from busting this out right now is the fact that writing up #5 has got me wanting to relearn the Middle-earth CCG rules again, and that is going to take a while.