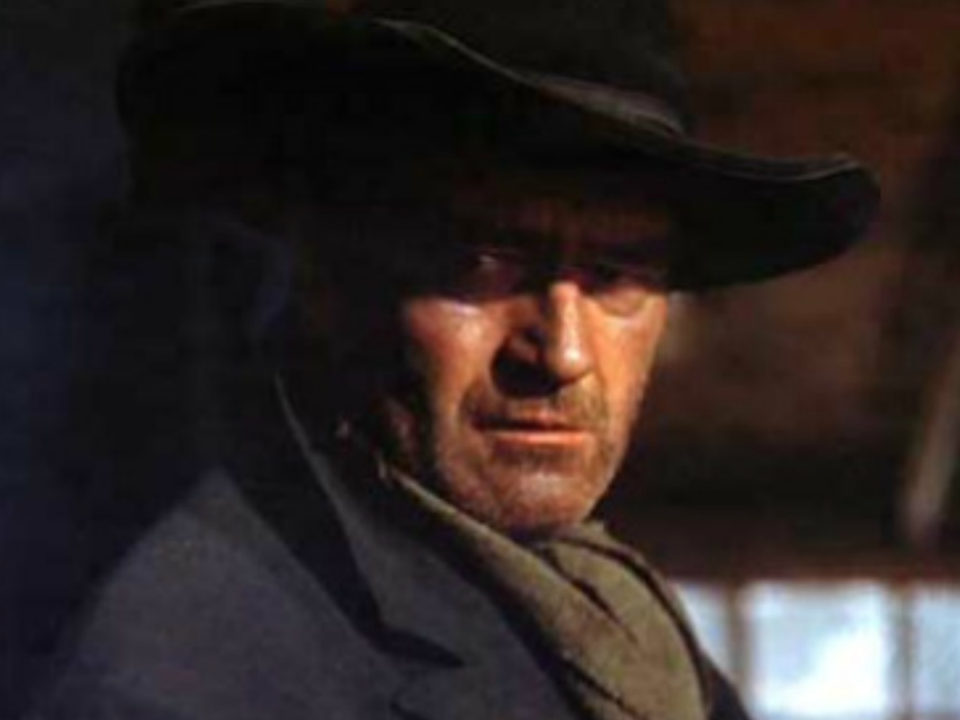 I've been a little unsure about what to do with the Infrequently Occurring 5th Monday (aka "you are lucky I don't just make it a double Middle Earth Monday") whenever it crops up.  Things started off well enough with Diminished Fifth Monday, but by the time I started writing stuff like Fifth Alpini Regiment Monday I realized I could probably do better theme-wise.
So today I'm starting a brand new feature for "Infrequently Occuring 5th Monday": the top five list.  It's no secret I love lists, so I should be able to sustain a "Top Five Monday" list for quite a while.  It's also no secret I love John Wayne, so let's start things off right!
Charisma, screen presence, star power, whatever you want to call it, I doubt anyone would argue that John Wayne had it.  However, because (like Woody Allen) he essentially played the same guy in every movie, Wayne never got a lot of credit as the fine actor he actually was.  So today I'd like to take a look at some of my favorite performances from the Duke.
The Searchers is not my favorite movie/Western/John Wayne movie of all time (though it is certainly a fine film).  However, it does feature what is arguably John Wayne's finest performance.  Sure, he is the usual "man's man", but Ethan Edwards is probably the most complex character he has ever played.  The layers of racism, pride, unrequited love and honor are far more than skin deep and John Wayne really delivers in the performance of a lifetime.  No one else could play that role and make the monument valley locations seem small in comparison.
As you read through my picks it will become increasingly clear what this list really is: "My snobby snub of True Grit".  But honestly, as enjoyable as his performance can be in True Grit, let's call it what it really is: scenery chewing mugging.  The Shootist is a far more mature portrayal of a man at the end of his years.  Perhaps you could say that the cancer-ridden Wayne was once again playing himself, but there is no denying the subtlety of his performance.  He had quite a career, and saved one of his finest performances for his last film.
Wayne's long time director John Ford famously said after seeing Red River "I never knew that big sonofabitch could act!" And it was true, Wayne had come a long way from his "A man could live there…and a woman…" days.***  Red River, in addition to being of my all time favorite movies ever, also happens to have a real powerhouse of a performance from Wayne.  As near as I can tell, this was as close as he ever came to playing a villain and he did it with style.  And really, name one actor who could deliver that "good beef… for hungry people" speech and not make you laugh!
I've talked about Rio Bravo in depth before, so I'll try to be brief here.  Basically this movie stands in for the vast number of John Wayne films where he plays John Wayne.  Effortlessly holding your attention, he is the nucleus of this film and by the sheer force of his will he actually elevates the performances of the lesser actors around him (unlike Brando who was so good he made the other actors pale in comparison).  If Wayne believes Ricky Nelson's Colorado is a bad mofo, then damnit, so do I.  I'd say it helps that this happens to be one of the greatest films of all time, but that isn't entirely fair since Wayne's performance was a big part of that.  The best way to describe his acting in this film is the way his character describes Colorado: "…he's so good, he doesn't feel he has to prove it."
The fifth pick here was tough.  I wanted to go with a performance like in The Quiet Man or She Wore a Yellow Ribbon, but I'm not sure to what degree the overly sentimental nature of those films is his fault or the scripts (I'm guessing both).  But then I remembered Hondo.  Sure, it's another of the usual Wayne performances, but really this one stands out to me.  It seemed a lot more nuanced than usual and is another great example of Wayne doing what he did best.  And what higher praise could I give his Hondo performance other than to point to the quote from The Duke himself after screening the finished film: "I'll be damned if I'm not the stuff men are made of!"
***I would like to make it clear that I am by no means denegrating Stagecoach, or even his performance in Stagecoach.  It's just not one of his best performances, that's all.  But that's like saying A Tale of Springtime isn't one of Rohmer's best Four Seasons movies.  It's still better than every other movie ever.  And so, for that matter, is Stagecoach.