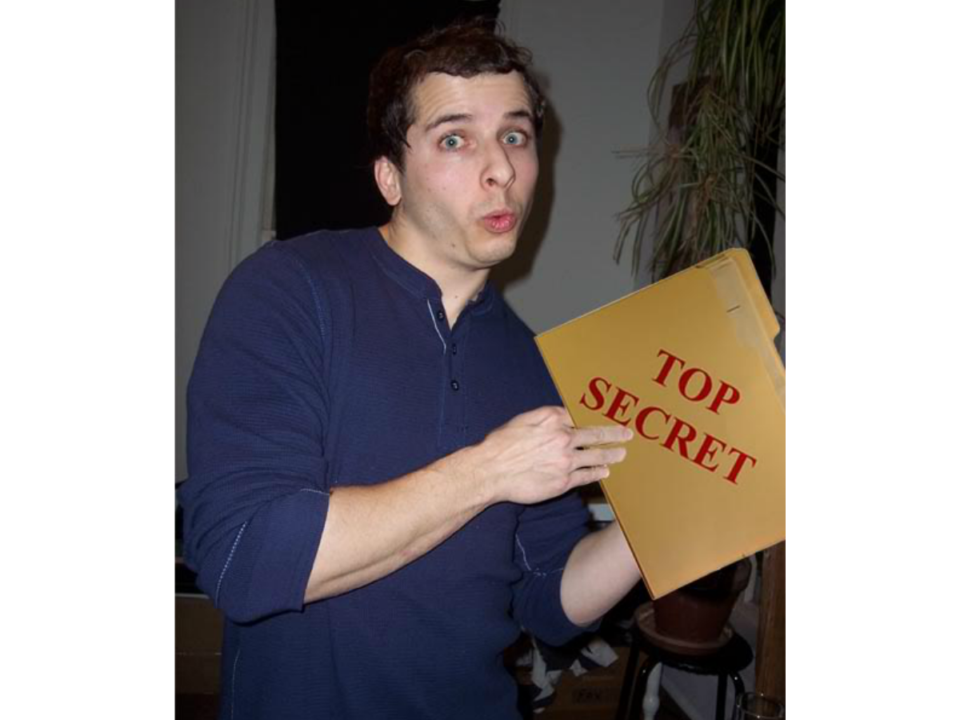 Welcome back to my most infrequently occurring Monday feature! I'm speaking, of course, of Infrequently Occurring Fifth Monday (IO5M), where I come up with a new "top 5″ list on a quad-yearly basis.
Though the widely publicized Sony hack has dominated the news lately, a far more serious bit of 1337 hacking has gone relatively unreported by the media. In fact, only two major websites have even acknowledged that the internet stalwart www.isleyunruh.com was recently hacked by none other than the infamous Cyb3r Sw0rd hacker collective! Though my site was only harmed (rather than defaced), the worst part of the whole "Isley Hack," in my opinion, has to have been the email leaks. Just like Sony, my most embarrassing email secrets were broadcast to the public like a really nerdy pile of dirty laundry. Here, today, in an attempt to just go ahead and own this shit, are my top 5 most embarrassing (REAL) email leaks from my actual gmail account's sent folder (a folder that has never had an email deleted from it since I signed up for gmail in 2008):
5. The time I was amazed by cheap pop culture references.
This first one come all the way back from the very first month of my Gmail account over 6 years ago:
9/12/08

to nanheier

Subject: Harry and the Potters (sewing related)

Actually this isn't about Harry and the Potters, and is more "comics" related than "sewing", but anyway:

So there is this series called "Runaways", about, well runaway teens with super powers, but one (Molly) is like 11 or 12 and says awesome things all the time (like "why aren't you awesomed by me??" and "Chase is kind of turning into a ho-bag lately"). Aanyway, in the current marvel universe, the world is getting invaded by these big green aliens and there is a runaways crossover book. This big alien dude jumps in front of the runaways and is all "now you die!" then he says something in weird alien speech to his radio. And Molly says "OH NO!!! He's a parseltongue!"

It was kind of awesome.
Apparently, 6 years ago was so long ago that I was still of an age where I could be moved to "email friends" levels of excitement about lazy pop culture references in comic books. I'm sure The Runaways would hold up even now, SIX YEARS later, but reading this email now reminds me of that time way back when I actually thought Metallica wrote some deep lyrics. Oof. Embarrassing. Though, I gotta give myself points for trolling Super Potter (and sewing) fan Nadine into reading this email with that subject line.
4. The bathroom trolling with the shitty grammar.
The following was another email to Nadine–passing along a sign I had recently printed up to troll the staff restroom at the library:
11/26/08

to Nadine

Subject: note

here you go <attachment>:
Now, this isn't all that embarrassing as a bit of bathroom trolling–I mean, really, let's be honest, this is FAR from the worst thing I've done to the library bathrooms. I'm more concerned with misspelling vandalism and the inconsistent comma, hyphen, semicolon and apostrophe use. I've always said: if you are going to troll, troll hard, but, for God's sake, don't forget your basic rules of grammar! I'll just have to assume I was purposely trying to copy the grammatical style of someone who would actually write a sign like this (the you're at the very least, I assume was an on-purpose [sic]).
3. The time things got hot and heavy with Sho.
I had a couple of the film students over for D&D a couple of years ago and this ended up happening:
8/14/11

to Shena

Subject: wrasslin

<attachment>:
I know submission wrestling has the potential to get a little homoerotic, but Sho's longing caress of my chest really does seem to have taken things to a new level in this picture. And, then, I guess, I decided to share this little boys gone wild picture with Shena. Still, it was just some innocent wrestling, I mean, really, in the words of Jock Blog:
"I told her it was just wresteling, [sic] and moves like checking the oil had been around since anceint [sic] Greece (you can learn some cool stuff on the internet). And I think we can all agree, [sic] after seeing 300 and Sparticus [sic] that there's nothing gay about the greeks." -Chet
2. My "things to remember" note from my first academic conference.
in 2011 I went to my first ever Academic conference. As one would expect, in such an environment of learning and shared ideas, one would come away with a lot of notes to remember. This is what I emailed myself after the conference (apparently these were the 4 most important things I wanted to remember after seeing the dozens of presentations I saw that week:
4/24/11

to Me

Subject: notes

Celtic great mothergoddess… Female goatse…

Monsters and the critics (Tolkien)

Www.umm.edu/~tolkien (grey book)

Casa rio Mexican food
That Monsters and Critics book is still out there, waiting for me to read it, the Grey Book Tolkien website is apparently down now, and the Casa Rio thing has been moot ever since I went back to get the credit card I left there at dinner. Not all is lost however–a quick google search has just now confirmed that the ancient Celtic "Great Mother Goddess" statue is indeed a female goatse (and is actually called Sheela na gig)…thanks for the reminder 2011 Isley!
1. My most shameful metal patch order.
We've all been in those tight spots–where we realize that we would be willing to debase both our morals and our sense of decency in order to make a quick buck to tide us over until the next paycheck. Well, I've been in the patch making business for a while, but this is about as low as I've ever sunk on anything in my life in order to make some fast cash:
2/2/14

to Lindsay

Subject: patches

Good news, the printing place got a new machine that can print color on black material too! I got the patches back and they look great, I'll send these out in the morning!
What can I say, everyone has their price, mine is apparently $70. At least, at that price, I can take comfort in the fact that I wildly overcharged this Lindsay chick for attempting to rock the hell out of her listeners.
There you have it! My top 5 most embarrassing emails! Apparently, the hackers that leaked these were not able to find a single embarrassing email to any of them women that I dated during the six years I had a gmail account! Amazing!