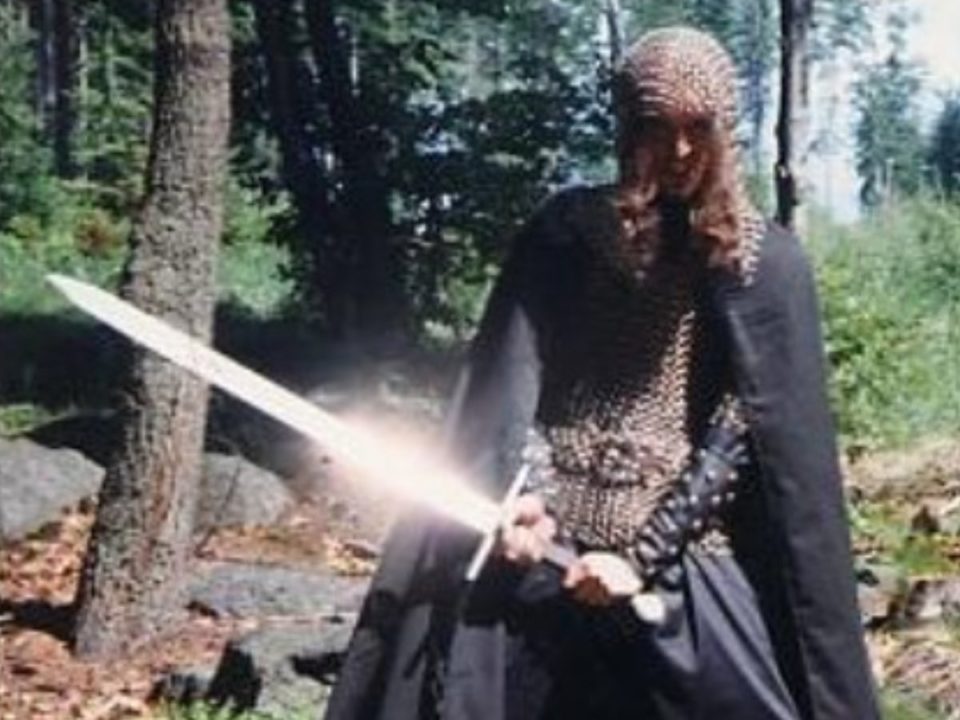 The genre of Heavy Metal is absolutely no stranger to homoerotic album covers. For every album cover featuring an un-erotically posed dragon or wizard, there are at least TWO covers featuring oiled-up, ridiculously over-muscled barbarian dudes, standing there, "sword" out, nuts tooched, and completely overshadowing any half-clothed women that might be wrapped around their legs like an out of place beard peeking through the layers of body oil and manly musk.
However, metal's penchant for "treading water in a sea of retarded sexuality" (to the point at which they sail their leather bondage gear wrapped chests right past straight to gay again) is not just limited to Manowar album covers. In fact, the biggest hawtbed of inadvertent homoerotic album art can actually to be found in the NSBM (National Socialist Black Metal) underground.
Obviously, this post is written with a tongue firmly placed between the cheeks, but, can National Socialist (aka NAZI) ANYTHING be funny? Is laughing uproariously at gay (by which I, of course, mean "actually homoerotic") album covers actually homophobic? Perhaps…but, importantly, I'm not over here making fun of Madonna's "Justify my Love" video, I'm over here making fun of insecure man-children inadvertently giving their fan base a lot of uncertain feelings RE: Arnold Schwarzenegger movies.
Also, with Rob Halford coming out of the closet, heavy metal fans collectively moved forward on LGBT issues at least 25 years as we, as one, said: "well, I guess I DO have a gay friend!" Things are by NO means ideal, but metal fans have come a long way, and, to be honest, making fun of Manowar album covers is kind of tired at this point. However, if the overwhelmingly pejorative use of "gay" (and other more robust slurs) from the "right wing" NWN Productions forum users is an indication, any potential enlightening of metal fans seems to have completely passed the NSBM community by. Which is to say, the ground upon which these covers could be made fun of is as fertile as a laundry basket full of a teenage metalhead's socks.
Honorable Mention 1: Totenkopf Kommando – Fight for the Sign of Swastika
This makes the Honorable Mention section for two reasons. One, the cover isn't thaaaaat homoerotic (thigh-high boots aside), and two, Totenkopf Kommando is most likely a joke band (at the very least–and I'm definitely calling foul on it coming out in 1996) that knew exactly what they were doing with this cover.
What DID they do with this cover? As it turns out, they used a drawing by the famous erotic artist Tom of Finland, colored one of the dudes black, and then added in some swastikas and xeroxed it about 50 times:
As troll jobs go, not bad. Unfortunately the "music" is mostly just 20 minutes of harsh noise wall over black metal tremolo riffs of dubious quality, so not much to get excited about on this one (aside from dem asses).
Honorable Mention 2:
Satanic Warmaster/Archgoat – Lux Satanae split album
This one gets an honorable mention due to Satanic Warmaster being super fucking popular–which makes them kind of fly under the radar as to their Nazi tendencies (which are many and varied). Anyway, they don't really fit with most of the other, more swazie-forward bands on this post. Still, this cover is just way too gay to pass up discussing.
Because this is the work of Christopher Moyen, famed metal artist who has drawn many goats and pentagrams in his time, most metalheads somehow completely overlooked just how homoerotic this cover actually is.
I mean, just look at it: that wolf and goat apparently drank a few too many chalices of Boon's Farm and ended up getting so trashed that they found themselves touching tips behind a table while double-stroking a totally phallic cross and making ridiculous O-faces. That altar isn't the only surface that's going to have passionate claw marks in it before the night is over.
5. Granatus – Magno Magistro Inferni
Nude classical art is by far the most common NSBM cover motif (followed by: WWII photos, pictures of wolves, and Blond White Women™). Which, muscly Greek dudes, in and of themselves, are, of course, pretty gay, but Granatus takes the whole Hot Black Metal Art (heretofore: Hot BM Art) concept to a whole new level with this one.
In their 138 official releases (yes, 138, underground NSBM is fucking ridiculous) Granatus returns to the Hot BM Art well repeatedly, but their 2015 Magno Magistro Inferni demo is definitely the frosting on the biscuit with its depiction of three hawt dudes all trying to grasp a giant central phallus at the same time.
I feel like the angles are wrong for any kind of real daisy-chain action under the bottom frame, but you know there is at least a bit of, to use GranatVs' [sic] preferred Latin, phallus bumpus onna rumpus going on.
4. Nécropole – Solarité
I suppose there was supposed to be some kind of "Overman™ defeats dark-skinned outsider" thing going on here, but all I can see is some Hotzi rubbing dicks with a demon while administering the sassiest choke hold of all time.
Extra points for fucking NAILING a booty tooch that would have made Tyra Banks proud:
Minus a few points because, on closer examination, that's probably a centaur, and, despite what Boris Vallejo thinks, that's not where centaur dicks are.
3. Balmung/Einsatzgruppen – Enter the Hyperborean Forest of Hatred split album
Now we're getting into the really silly shit. And sure, bros tenderly putting their arms around each other while never breaking meaningful eye contact isn't necessarily gay, your typical NSBM fan probably wouldn't even sit in a movie theater with at last two seats between them and the nearest man, so, all things being equal, these dudes are basically docking.
This is on the record label Winter Solace, the Alex Jones of NSBM record labels, so there is a chance that they were well aware how little this cover looks like entering a Hyperborean Forest of Hatred™, but, on the other hand, this is on Winter Solace, so they were probably not aware at all of how ridiculous this looks.
Also, unlike Totenkopf Kommando above, the unfortunately named "Ball"-Mung and the trying-way-too-hard named Einsatzgruppen both appear to be actual, serious, bands…you know, as far as underground NSBM goes.
2. Aryan Rogue – Reinrassig
Here we are with more Hot BM Art, except this time the band decided to go with a picture of three dudes about to mash their dickheads together (only, one of them appears to have jumped the gun, while the other seems to be having some performance issues). I'm not familiar with whatever Atlasean/Sisyphean task they were actually supposed to be doing with that giant rock, but, there's no doubt that that the brunette is at least getting a good old fashioned jab-domen to the abdomen.
And yes, that says "Demo 17." As I said, the NSBM underground is fucking ridiculous.
1. Totenburg/Menneskerhat – Waffenbrüder split album
Here it is, the most gloriously homoerotic of all underground NSBM album covers. This has it all, Hot BM Art, cuddling, naked Hotzis, and a dude DEFINITELY getting the back of his hand mushroom-stamped.
Best of all, Totenburg is a fairly "big" band in the NSBM scene (there are even 1,750 copies of this album out there, a frankly unheard of total for most of these bands), so I kind of doubt there is really any trolling here. Which conjures up all manner of images of confused Nazi-bros trying to rationalize this album cover to each other: "no no, they are WAFFENBRUDERs, that makes it totally not gay!"
Playlist
Finally, what would a post full of ridiculous metal shit be without a playlist to finish things off. So, read on to see what kind of music a gloriously nude Hotzi would listen to while standing hand to hand with a fellow Waffenbrüder.