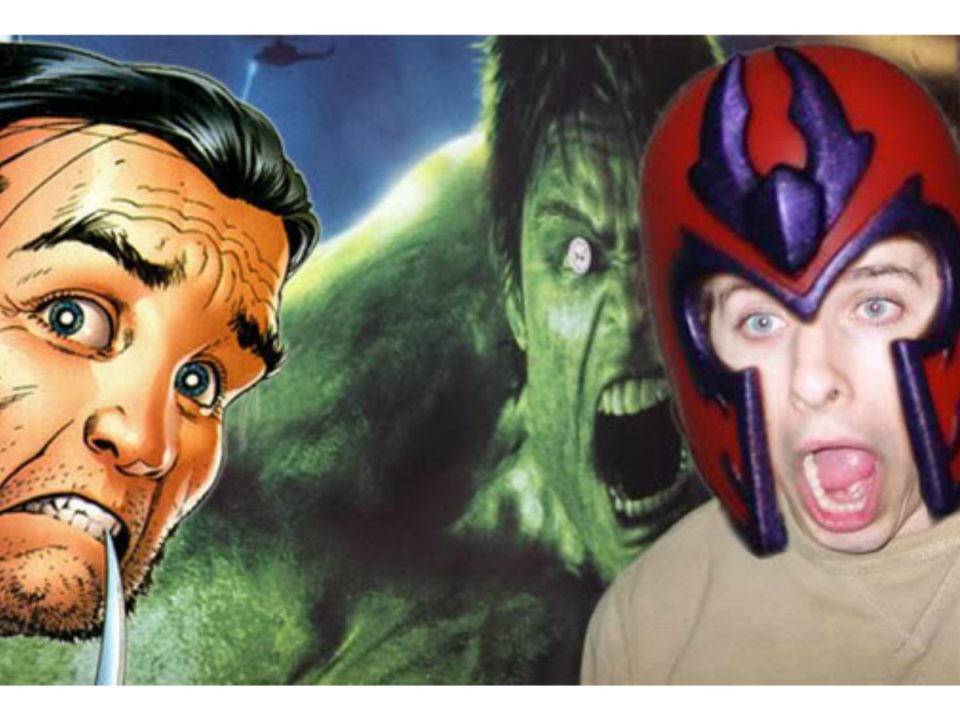 Wolverine really seems like a pretty simple character at first glance.  I mean, he can heal really fast and has extendable claws, how complicated can that be?  As it turns out, pretty complicated.  Like any film plot involving time travel, the more you think about this guy, the less sense he makes.
I know this post is treading dangerously close to the realm of "fan-science", but I've swam those dark waters before, so I guess I won't worry about it too much.  Because, really, I have too many nerd questions about Wolverine that desperately need to be answered to not write this post!
Claws
I'll start with the big one (and try not to get too bogged down in minutia here). There are lots of minor questions about Wolverine's claws for me, like how his muscles can push the claws out–and then keep them from being pushed back in, how they can get an indestructible metal razor sharp, or even how the blades navigate the tricky maze of wrist bones on the way out of his arm (at least they are forearm length instead of like that ridiculous 3 foot sword that Deadpool somehow had up his arm in the Wolverine movie).
The big question for me is how Wolverine keeps something like this (picture is from "Marvel Zombies" but the principle is similar) from happening everytime he tries to cut something tougher than a loaf of bread:
See, Wolverine is always doing stuff like cutting through steel plates or slicing pretendium alloy armored foes into ribbons and somehow his musculature is enough to keep his claws from tearing right out of his arms?  Some people have conjectured ridiculous "bone sheaths" for the claws to slide through, but over all I don't see how his claws could work like they are depicted (let alone the fact that no matter how sharp something is, its thickness is the real obstacle for being able to cut through something like plate steel).
But really there is a bigger issue at play here, which leads me to my next section.  But first, I feel the following video needs to be shared since it is as awesome as the star wars kid in its own way:
As cool as the claws that dude made are in theory…there is no way to look cool while wearing them…and brutalizing a cardboard box.  But enough of that, let's talk about the real place Wolverine could use some adamantium.
Joints
I'll grant that having an unbreakable skeleton can make you pretty resilient (especially when combined with a healing factor).  I mean, you could block swords with your arms, have a serious head-butt and never worry about broken bones.  But what with all times that Wolverine has taken a bomb to the chest or born the brunt of one of Cyclop's eye blasts it has really made me wonder what is keeping him together.  Doesn't matter how unbreakable your bones are…if you take a major explosive blast in the chest you are going to be blown to pieces just like a normal person (just slightly bigger pieces).
I'm sure there are random Wolverine stories involve him losing an arm and reattaching it or something, but you would think the in first major explosion he takes he would at least need someone to collect the body parts for reassembly afterwards.  Instead, even when he gets completely incinerated, somehow his joints are unaffected:
I'll go ahead and suspend disbelief that his healing factor is that ridiculously overpowered (though him surviving the Hiroshima bomb in a recent story is really pushing it)–but when it comes to believing that his skeleton somehow always stays together, then I have to say "too much!"
Nemeses (Nemesi?)
This issue with him lacking "adamantanium joints" would be less serious were his main nemeses not so overpowered.  I mean, Wolverine really is on the lower tier of Marvel heros as far as power levels go.  If you think about it, all the complaints about him being overpowered are centered around his healing factor, which technically is a defensive ability.  Otherwise he has sharp claws ( which is basically like bringing a knife to a super power fight in a superhero brawl!) and "above average" strength.
With that said, why does he always have to fight Magneto and Hulk?  I know they have their reasons for always showing up, what with Magneto being an X-Men (and thus Wolverine) villian and Hulk always showing up to fight Wolverine for the nostalgia factor just because that's who Wolverine fought in his first comics appearance, but still…they are way out of his league powerwise–not to mention being a terrible matchup for him anyway!
Magneto has complete control over metal, something that Wolverine's body is completely made up with (I'll overlook the fact that I doubt adamantanium is an iron based allow), while Hulk is the strongest one there is and would tear Wolverine in half faster than you could say "Ultimate Wolverine vs Hulk".
Technically though, I guess his real problem is that he is way overpowered defensively, but when you put him in the big leagues (where his popularity as a character seems to land him) he doesn't have the offense to be any kind of threat.  The fact that Magneto and Hulk are particularly bad matchups just makes it more obvious.
I mean, the guys he fights can be do this to him:
If I were Wolverine, I'd quickly learn to limit my rogues gallery to people like the oft maligned Stilt-Man or something.
Booze
It has been established that Wolverine's healing factor makes him extremely resistant to disease and poisons.  And yet how many times has Wolverine showed up drunk with a beer in his hand?  I mean, seriously, I don't see how he could drink beer fast enough to even get a buzz if you can shoot him full of strychnine and his body just nullifies it.
You think he'd at least be a hard liquor drinker, but no:
 Instead he can apparently get drunk off his ass on three beers.
Combat Tactics
Wolverine is supposedly a master of countless martial arts, a hand to hand fighter of unparalleled ability.  Yet I can't even count the number of times where Wolverine and whatever team he is currently with (I'll go ahead an skip discussing the overdiscussed Wolverine paradox of how he can be on so many teams at once) come up against some big bad guy and Wolverine uses his trusty combat tactic (that he must have picked up from that Ghostbuster's library scene) of "CHARGE!!!"  Then he gets knocked out.  Then the rest of his team takes care of the bad guy.
I can just imagine all the bad guys going over the game plan before a battle:
Toad: "What about Wolverine, he's going to go all crazy with pointy things."
Magneto: "Oh, he'll charge us by himself first, I'll just immobilize him."
Juggernaught: "Well, he can't really hurt me, I can just knock him out for you so you can focus on Xavier."
Magneto: "Ok, cool, got that everyone?  Let Wolverine do his usual stupid "RAAWR" charge, Juggernaught knocks him out, then we deal with the X-men."
etc…
I guess having a healing factor like Wolverine's will make you a bit lazy, so I'm glad Magneto called him out on this very issue by saying something like "Srsly Wolverine? [after being charged]  When has that EVER worked??"  If anyone knows where that is let me know…because I can't find the panel myself, but I'm pretty sure I'm remembering it correctly!