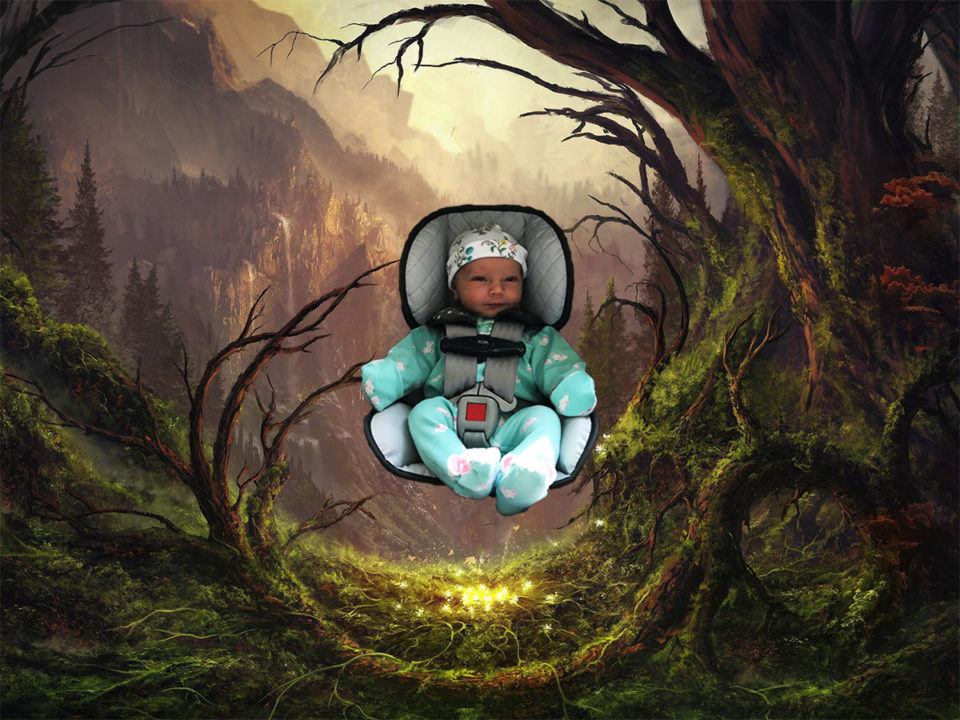 For those who haven't heard, Laura and I just had a baby girl.  Born December 10th, she's happy, healthy, and just about perfect in every way, perfect right down to (if I do say so myself) her name: Wren Avari Wolfe.
I mean, sure, she's going to have to go around her whole life saying "Wren with a W, Wolfe with an E," but that's not the worst thing in the world.  And, sure, old people are going to be rolling their eyes at Laura and I for not giving Wren her father's name, but, first, fuck the patriarchy, second, hyphenated names are unwieldy, and third, Wolfe is one of the few names out there that sounds even cooler than Unruh. Also, if I love anything, it's bucking tradition.
Her middle name though, that's the real appellative star.  I know you are all wondering, so yes, her middle name "Avari" IS indeed the Quenyan Eelvish word that has been variously translated as "rebel/refuser/stubborn S.O.B." (which, you might have noticed, is a definition that is intentionally quite similar to my own last name's translation: "unruly").  Also, "The Avari" (capital A) were the badass dark elves who refused Oromë's call to return to Valinor with the rest of the elves, preferring instead a wild, free existence on Middle-earth away from all gods and masters. But, I'll discuss them more on a future post, the point is, Laura and I obviously nailed the name.
However, arriving at Avari was no easy task.  I had a few close calls with complete disaster in my hours spent poring over my trusty Elvish dictionary over the last month, and today, I thought I'd share a few of the most ill-considered Elvish names that very nearly landed square on my child's doorstep like an unruly throng of unexpected dwarves:
5. Elendring
So, this name actually isn't that bad.  However, the more I thought about it, the more I realized I was basically just taking Ellen, and then adding a "dring" to it, which definitely landed on the wrong side of the line in the sand I had drawn for myself as to what an acceptable level of nerdiness for Wren's Elvish middle name would be.  It also didn't help that after a few moments of sober reflection I realized that the elvish translation, STAR HAMMER, was probably just kind of silly and nowhere near as badass as I initially thought it sounded.
4. Adariel
Laura and I did have the idea that having Wren's middle name reference me in some way might be cool since she'd have Laura's last name, but this one took that thought a step too far.  Adariel basically translates to "daughter of the father," which, when I thought about it a bit, I realized was a rather eye-rollingly obvious statement.  Then, when I thought about it a bit further, it dawned on me that I had inadvertently stumbled upon the elvish word for "daddy's girl," and thus realized it was time to scrap this one.
3. Aranya
Now, this was a pretty sounding name, and it translated to "free" (based on a rough translation found in an issue of a journal published by the highly respected Elvish Linguistic Fellowship),which was pretty cool.  However, it sounded really familiar, and I couldn't quite place it until I realized that it also meant "spider" in Spanish.  And, while naming your daughter "spider" is pretty badass, it's probably something that is even less socially acceptable than naming your daughter an Elvish word, so, I regretfully stepped away from this one.
2. Vanyariel
This one sounded kind of pretty, though I didn't love the translation, which was basically "daughter of the bible beating first elves who left Middle-earth with the gods like a bunch of fucking tools."  Thus, it didn't take much to knock this one off my list–and me realizing that it sounded just like "venereal" was more than enough of a push to dump it in the "bad elvish ideas" bin.
1. Tauriel
This one sounds lovely, and means "daughter of the woods" which is super cool.  I was totally hyped and thought I'd finally found the perfect name!  But something was nagging me, I'd heard this one before somewhere, but where??  Then, thankfully, my deeply repressed memories of the wretched Hobbit movies bubbled to the surface and saved poor Wren from one of the classic blunders: being named after an elf that WASN'T EVEN IN THE BOOK.