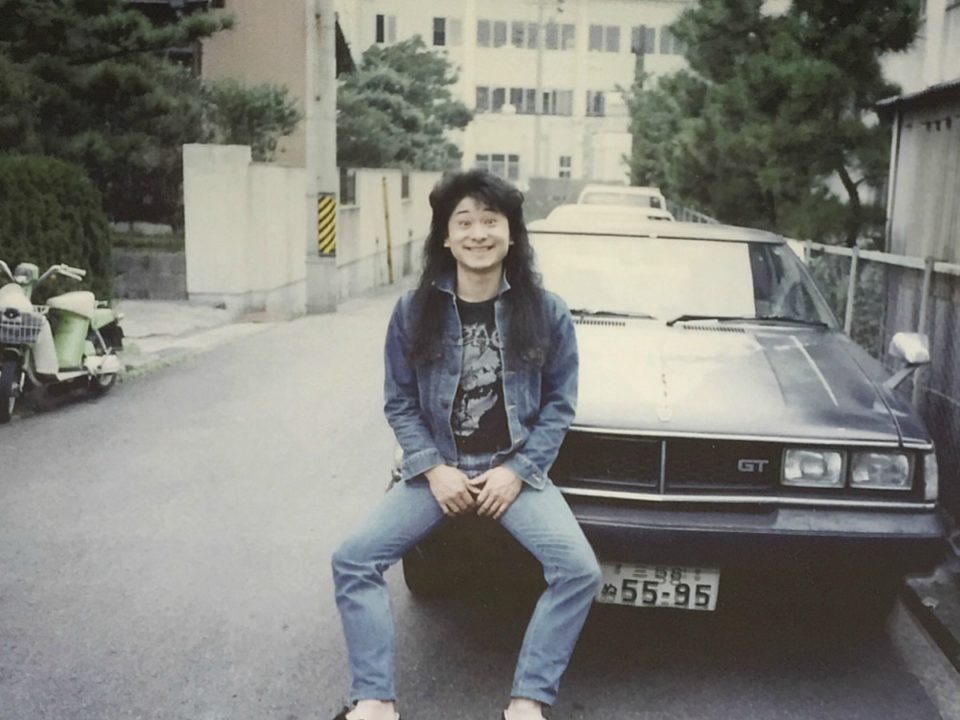 Sabbat is, quite simply, the greatest metal band of all time.  Formed in Japan in the early 1980s, Sabbat has played a fucking DELIGHTFUL mix of black metal and dirty-as-a-ballsack thrash for over thirty years, never once selling out or even turning out a lackluster album–an amazing feat for any genre, let alone one as artistically restrictive as metal.  And, throughout it all, there has been one, constant, driving force behind the band–frontman Gezol's gooch.
You see, Gezol has been rocking a thong and little else for almost as long as there has been a Sabbat–and more often than not he will adopt a pose in photographs that affords the viewer an unobstructed view of his entire perineal raphe.  So, to finally settle the question of "what are the greatest Gezol crotch-shots of all time??" I thought I'd take a look at some of Gezol's perennial perineum's finest moments.
Initially I was going to look at ALL of Sabbat's albums to find the best grundle-shot examples, but with a discography of 193 official releases, I realized that way madness lies, and decided I would stick to their main full lengths (and important EPs, of course) instead for today's post:
5. Evoke crotch-shot
Facial Expression rating: 9
Taint rating: 3
Bare ass-cheeks visible: 0
This classic spread (pardon the pun) from the classic Evoke album is a bit of a rarity as Gezol isn't actually wearing a thong, leading to a disappointing percentage of ass-cheek exposure.  It's still a taint, but, far too much of the taint itself is left to the viewer's imagination, which is NOT the Sabbat way.  However, the facial expression is a look of pure metal ecstasy/agony (the best metal screams perfectly embody both feelings), and easily propels this shot to the top five (along with the famous triple upside down cross and that ridiculous doll in the foreground)!  That said, minus one facial expression point for the slightly low-res quality, and for Temis Osmand's look of polite geniality as he swings that ax.
4. Karmagmassacre crotch-shot
Facial Expression rating: 10
Taint rating: 2
Bare ass-cheeks visible: 2
The quality is still a little grainy, but this has two things going for it that propel it ahead of the previous crotch shot.  One, Gezol is wearing a proper thong this time (or at least has given himself a proper wedgie), and his commitment to his metal face here goes so far as to maybe even surpass the Evoke scream.  Couple that face with the classic black metal hunker, and taking a constipated shit onto a skull has never looked so epic!
3. The Devil's Sperm is Cold crotch-shot
Facial Expression rating: 6
Taint rating: 10
Bare ass-cheeks visible: 1.5
Like the number one picture on this list, this is from the infamous Akabashi photoshoot in 1985.  And, like 65% of all the pictures from that session, Gezol's got a ball hanging out here, propelling this fantastic crotch shot straight into medal territory.  This is actually from a reissue of the 1989 EP, which did not originally have this picture, but…still counts.
2. Sabbaticarved Sacrifice crotch-shot
Facial Expression rating: 5
Taint rating: 11
Bare ass-cheeks visible: 0.5
The expression is just average, but holy shit, always the innovator, Gezol shows just how fucking potent the side shot can be.  The fact that his cod-piece is actually stretching his balls forward to get maximum taint exposure edges the previous crotch-shot, though his signature Nikes combined with the motherfucking Satanasword itself does nothing to hurt the legendary status of this picture.
1. Born by Evil Blood crotch-shot
Facial Expression rating: 9
Taint rating: 10
Bare ass-cheeks visible: 2
Though he is the primary creative force behind Sabbat for the last thirty years, let's not forget how important Gezol's bandmates have been to Sabbat's brilliance–an idea captured perfectly in this jaw-dropping crotch shot.  The facial expressions (ranging from metal sleaze to metal agony/ecstasy), the poses, the classic "ball-out" crotch shot, and then that perfect middle finger drawing your attention to the errant testicle like the whole thing was a fucking renaissance painting.  I've seen a lot of crotch shots in my day, and few are better than this one.
That's all for now, join us next time when I take a look at the top 50 best Gezol ass-shots!