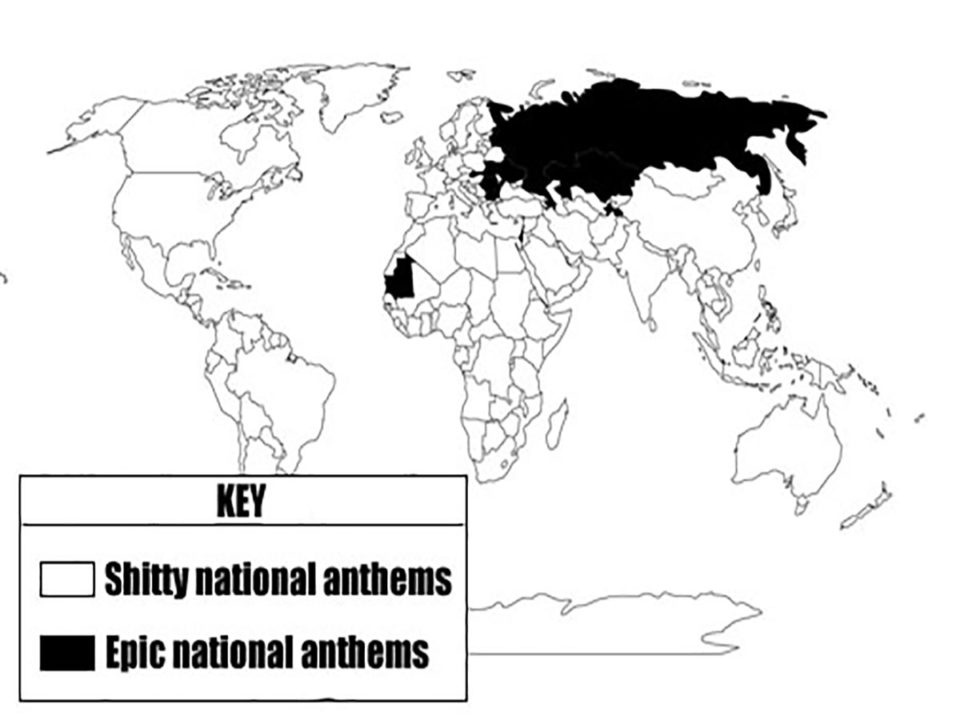 Welcome back to my most infrequently occurring Monday feature!  I'm speaking, of course, of Infrequently Occurring Fifth Monday (IO5M), where I come up with a new "top 5″ list on a quad-yearly basis.
So it was Christmas morning 2012 and I had decided to take a break from writing Grim Midwinter Necrohymns to play with the new "Intelliglobe" that my niece had gotten.  I've always loved globes and maps, so obviously I had been anxious to play with her present all morning.  It was pretty cool.  It had this pen that you could touch to countries and get all kinds of information about them through the pen's speaker.  You could even play their national anthems!
I was pretty stoked and immediately started touching the pen to various North African and Asian countries whose folk music I knew I liked.  I had no idea I would be in for one of the greatest disappointments of my life.  Every goddamn country I checked out seemed to have the exact same anthem.  A bit of internet research later and I discovered that the whole national anthem thing is really a fairly new thing and most countries tried to emulate Western brass (ugh!) heavy major key (double ugh!) marches in order to try to fit in and join the world stage.
And that's where I left it until last week when someone played the Russian National Anthem (which I'd heard before, but never really listened to that closely) in the underground metal room on turntable.fm and I realized there might be some good national anthems out there after all.  Read on to discover what the 5 most brutally epic and/or sorrowful national anthems of all time are!
5. Tajikistan
So, as I found out with the Intelliglobe, 99% of the world's national anthems suck.  Of the 1% that don't suck, 99% of them are former Soviet Socialist Republics.  So to write this post, all anyone would really have to do would be to listen to the anthems of the former Soviet Socialist Republics and pick their favorites.  Ok, that might be a bit of hyperbole, but trust me, from someone who went through the stomach churning process of listening to every goddamn national anthem in the world as research for this post, most of the good ones really do come from the Soviets.  I tried to diversify, and still ended up with 4 in my top 5 (though Ukraine easily could have edged out Israel to make it an all Soviet list).
Anyway, Tajikistan's anthem has a nice exotic middle-eastern flair to it that couples with the eastern bloc minor key antics quite well.  Strong stuff!
4. Israel
Though Israel's national anthem runs dangerously close to some kind of new wave muzac bullshit, I have to admit I still think it's pretty great.  Not quite as nationalistically stirring as the Soviet anthems on this list, but it definitely stands out from all the anthems of the rest of the world, both in style (thankfully–marches are kind of the worst) and pure sorrowful atmosphere.  My only real complaint is that it seems a bit heavy-handed.  I mean, I know the Jews have been shit on for, well, always…but damn does this one lay it on thick.  But what do I know about subtle?  I'm a black metal fan after all.
3. Kazakhstan
No, not THIS national anthem, this one:
This one is less exotic than Tajikistan's, it's got more of a "Grim Russian-winter Nationalistic-hymn" vibe, and goddamn if I don't catch myself wanting to stand up with hand over heart while listening to it!  The more I listen to it, the more I think it is probably even better than Russia's anthem.
2. Russia
This was actually the anthem that inspired this post.  As I said in the intro, I was hanging out in the Metal of Death room on www.turntable.fm a week ago and had just played Dub Buk's hymn to the Ukraine "Слава Україні!"  Then the next guy upped the Slavic nationalist stakes by playing U.D.O.'s classic "Trainride in Russia."  Well, obviously we were all good and pumped after we had just listened to an U.D.O. song, so whatever was played next needed to be damn good!  And while we were discussing doing a potential round of Soviet themed metal the next guy played the Russian national anthem.  Even though we all agreed that "Trainride in Russia" was a better song we were all super impressed with the Russian anthem.  Goddamn if those Ruskies didn't have EXACTLY the kind of anthem I figured they would have!  Epic, dark and sorrowful, just like a good long Russian winter!
It's not necessarily the darkest anthem on this list, but it's probably the most inspiring–despite being a bullshit western sounding song, I could actually see this one stirring up some nationalistic fervor for the motherland.  This is actually the version with the old Soviet lyrics (not that I can tell), but I'm using it since it was recorded in the 1940s and has that nice old tyme sound quality that I like so much.
1. Azerbaijan
Out of all the awesome Soviet anthems, this is the king of them all.  Totally badass, the Azerbaijan national anthem sounds like something they would play in some old Hollywood classic about exotic lands in the Middle East.  Every time I listen to this I get the urge to watch something like Gunga Din.  AAAAH-ZERRR-BAIIII-JAAAN…. Azerbaijan might be ranked 171st when it comes to media freedom, but when it comes to totally badass and/or sweet national anthems, they are ranked 1st.
Honorable Mention:
Mauritania (1960-2017 – Traditional instruments)
Now, first of all, Mauritania's basic anthem is actually pretty great, even good enough to make this list (though, sadly, it is no longer their official anthem as of 2017, replaced by THIS inferior version).  Check out their old anthem here:
HOWEVER, in my research I came across this version played on traditional instruments that fucking SLAYS:
Now this is exactly what I had been hoping to find national anthem wise when I first started checking out other national anthems.  Sadly, out of all of North Africa and the Middle East, Mauritania was the only country (based on a cursory youtube search) to have a version of their anthem using actual traditional folk music.  This might not be all that anthemic, but it's a great song.  Complex rhythmically, and with a perfect vocal accompaniment, all set to traditional instruments.  The rest of the world needs to sack up and cast off their [western] colonialist anthemic shackles like this take on their anthem does!
The only reason this version isn't my number one is because it's not the official version of their anthem, it's technically more of a cover (and, as of 2017, it's not even their anthem anymore).
Finally, there are a few other decent (if obviously western) national anthems out there (Ukraine, Romania, Bulgaria, Slovakia, Turkey), which I've added to the above anthems to make this handy playlist for those times you are just in the mood to listen to some national anthems: