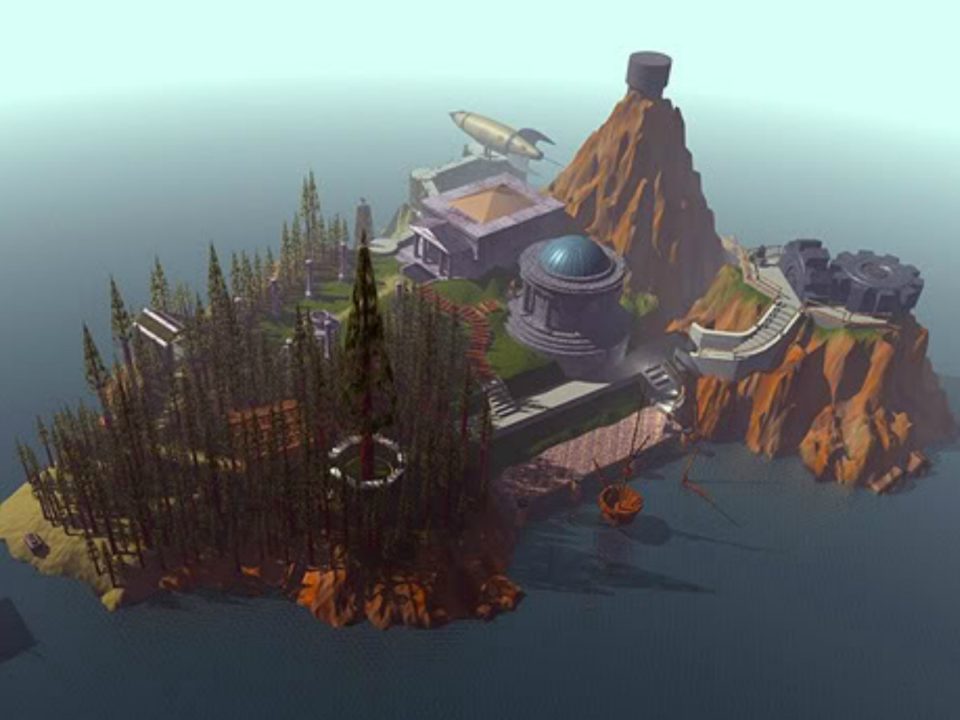 The internet is full of free flash based games that can be played entirely in your web browser without any kind of download or registration.  Unfortunately as is the case with anything, there are a lot of rubbish games out there.  The vast majority will usually solely involve a test of one's reaction time to visual cues or even simply seeing if you can push the space bar faster than the computer.  Luckily (for everyone who wants their productivity sucked away), I have taken it upon myself to do a massive amount of research in the area of online browser based free flash games and have come up with my personal favorite top ten so far!
Now, I personally love puzzle games (think Myst if you have ever played that) where you are presented with a bunch of items, rooms, clues, whatever and have to logically figure out how to put them together to finish the game.  So, if that isn't really your thing, you might be safe from getting sucked into most of the games in this post.  Also, an excellent website for finding quality online games is www.jayisgames.com which is a daily blog of game reviews.  I stole the pictures for this post from that site, and they cover a lot more than just puzzle games, so take a look around if you want to see just what kind of stuff the internet has to offer.  Also, head over there and search for the name of the game you are playing if you get stuck on any of the puzzle games I have listed below.  After the review of each game, jayisgames offers a handy spoiler tagged walkthrough.  Though in most cases you'll regret clicking on it as you will slap your head and say "oooh, I could have figured that out!!!"
Finally, if you think Myst-like puzzle games are at all down your alley and are short on free time I'd say stop reading right here!  If you choose to read on, don't say I didn't warn you: it's going to be about 100 hours of your life you'll never get back…
10. Flow
Now I know I said I tend to give the high hat to games that were simple tests of reflexes and reaction time, but this game really is worth checking out.  Using only your mouse you click on the screen to make some tiny organism swim around and eat spheres to grow larger.  Occasionally you will find other organisms that you will have to eat before you are eaten yourself.  When you clear a level you eat the red sphere to go down a level where more dangerous creatures lurk.
The key to any game like this is the sense of constantly improving your "character" and it is pretty cool to see how your organism evolves with each sphere you eat.  Very professionally done (in fact it just got released for the playstation 3 without significant changes) I'd say this one is worth checking out.
9. Codex of Alchemical Engineering

The designers of this game call it a "game for engineers" and it is definitely a bit more computationally intensive than the other games on this list.  In fact, half the game is just figuring out how to play the game in the first place.  Basically you get a picture of a compound to make and various atom spawners around a simple grid.  Then through the construction of programmable manipulator arms and positioning of various glyphs you set up a machine that can produce five copies of that element assembly line fashion.
It's pretty cool to set up a complex network of moving arms and glyphs and watch them grab, swivel and extend to create your chosen compound for the level.  Still, I never even finished the last two elements (though I so totally could… 😉 ), and the super hard "Magnum Opus Challenge" doesn't even look fun to me since the final compounds are so hard.  On the other hand, I've never really played anything like it, and it really was quite fun, I'd say check it out if "designing an assembly line" at all sounds fun.
8. Submachine
Submachine is a game where you are locked in an underground complex full of items and clues and you have to find your way out.  It is basically a "room escape" (more on those with #7) game, or more accurately a "building escape" game.  The puzzles aren't too hard (with some exceptions) so it's nice to be able to make reasonably consistent progress in a game like this without getting stuck in the first room.
There is a storyline to go with each submachine game, but it doesn't really make a lot of sense beyond "Welcome to submachine 5…you are still trapped in the submachine!" so you can play these in any order really.  The only one that I didn't like as much was Submachine 3, otherwise they were all high quality adventure/escape games with nice ambient music.
Play the entire Submachine series…
7. Vision
Vision is a real "room escape" game.  Apparently this genre is very common online and there are a huge amount of games where you start in a room with a locked door, and after finding the screwdriver and opening the panel to push the button to get the key to open the desk to get the glass to fill with water…to get the key to open the door you can escape.  The "Escaper" series (of which Vision is the most recent offering) reminds me the most of Myst than any other online game I've played (granted, I still haven't played that many).
The graphics are very nice, and the puzzles are mostly not too hard, though you will often find yourself stuck and saying "ok, I've clicked on everything in this room, what now?"  A common complaint about room escape games is the proliferation of "pixel hunting", ie the light grey on dark grey 2 pixel square section of the wall that is the secret button that gives you the final key.  The escaper series doesn't have anything lame like that, though you will occasionally realize that you can click on the side of the desk to see a different angle of the desk and be able to read a previously unseen message or something.  The basic rule is "click everywhere, but you will always logically be able to figure out any puzzle in the room".  The times I get stuck are usually because I either haven't realized I could click on an certain angle of the room, but whenever I finally figure it out I'm always like "argh…that was so obvious, why didn't I click there!"
So, I highly recommend this series for the overall experience, but there are definite chances for needless frustration along the way too.
Play the entire Neutral series…
6. Quadradius
This is the only "multiplayer" game on this list.  I usually stay away from these games as the anonymous medium of the internet doesn't provide a lot of incentive for good sportsmanship.  But if you are ok with the random opponent calling you a fag or quitting after you make one good move this game is ridiculously fun.  It's basically like checkers or chess, you have a bunch of the same pieces that can only move adjacently and if you land on an opponent's piece you destroy it.  That in itself would be a totally lame game, but random "power orbs" appear scattered throughout the board every few turns.  If you land on a power orb you get its power (from a huge list of different powers) which can be anything from "destroy all enemies in a column", "learn all powers of your pieces in the same row", "become 'jump-proof'", and tons of powers that raise or lower the tiles.  Before you know it the board is full of variously powered up pieces at different levels trying to maneuver into a position to most efficiently use their powers.
The brilliance of this game is in the powers.  They put the focus on the short term tactical positioning (which I prefer to the long term strategic planning that is almost the sole focus of games like chess) and there are all kinds of cool moves and combos you can pull off.  On the other hand it is pretty incredibly random with many effects being a crapshoot as to what will happen or with one side getting stuck with crappy powers at the beginning and losing quickly.  I'm still always happy to play, but I could see repeated playings bringing out these potential flaws.  Not to mention the virtual "flipping the table over" antics of the occasional opponent.
5. Fantastic Contraption
This is a "physics game" where the programming is meant to model the effects of gravity and friction on objects.  In Fantastic contraption you are given a pink ball and your goal is to move it into the pink target area.  You are given various powered wheels and connecting rods to do this, but the choice of how you design your "mover" is entirely up to you.  Simple designs are fine, but it is a lot of fun to try to figure out how to make catapults, cars, grappling hooks, arrow launchers and all manner of "fantastic contraptions" from the few simple tools you have to work with.
I had the most fun with this just trying to make the most ridiculously complex contraption to finish each level.  The physics modelling is surprisingly good for a browser based game, my only complaint is that the website is a little wonky and for those who don't pay for the full version of the game you can easily lose your saved designs.  Still, tons of fun to play around with.
4. Sprout and Anika's Odyssey
These two games are by the same designer and I couldn't decide which one I liked best.  They are both pretty short games with somewhat simple puzzles but great graphics and atmosphere.  Sprout you are a seed that learns to grow into the plants it is next to.  You have to decide which plants to use to progress through the landscape.  Anika's Odyssey you are a little girl wandering through magical woods to get her stuffed bunny back from a giant eagle.
There is something to be said for short easy games (not that each doesn't have its share of tough puzzles (the birds in sprout), but overall they are easier than most games on this list).  It's nice to make solid progress without getting frustratingly stumped, and the fact that these games have such great artwork and atmosphere is just icing on the cake.
3. Grow
Grow is a very unusual game from one of my favorite designers.  In every version you have some central object and then a series of buttons on the sides of the screen.  In the case of Grow Island (probably the most polished of the games) you have an Island with buttons for 8 different technologies along the bottom.  Your goal is to "level up" each technology to its "max" level.  Some only need to be leveled up a few times before they are maxed out, others many times (you will have to figure out this as well).  There is only one correct order to select your technologies because each technology you pick affects the ones before it.  It's all a bit hard to explain, and really just something you'd have to mess around with.  At first there doesn't appear to be a lot of logic to it, but eventually you will pick up subtle clues in the animations that will guide you toward the correct order.
The Grow games are bizarre and totally unique.  A lot of the fun is just watching the strange interactions depending on what order you pick your tabs, but the puzzles are interesting as well (and actually more logic driven than immediately apparent.  One of my favorite game series, it's not for everyone but should definitely be tried.
Play the entire Grow series of games (in order of release)…
2. Chasm
Chasm is a very professional looking puzzle game where you are a platypus running around a large area of walkways and ledges trying to divert water back to your city after a pipe breaks.  There are lot of puzzles seamlessly integrated into this fully animated flash game that shows you just how far the medium has come.
Once again the puzzles seem to be at just the right difficulty (don't forget, there is always a logical solution…don't let that bird laugh at you too much, go back and explore everywhere and you'll find a clue how to get up those pipes) making this very satisfying to finally finish.  Highly recommended if you want a professional puzzle game that plays in an afternoon.
1. Dwarf Complete
This is still the coolest game I've played online.  A puzzle game again but (like Chasm now that I think about it) much more in the vein of Zelda than Myst.  You wander around in a top down perspective collecting items (of which there are 40 to find) in rooms.  Every time you get an item it opens a new door.  Use the arrow keys to move and use the mouse to click on special items (keys etc) that show up on your main screen when you want to use them.
The puzzles are great, the graphics are great, and the game is very large.  All in all this is another impressive example of what the flash game is capable of.  *Important* – Everyone I have ever sent a link to this game to (including myself) has gotten stuck in the very first room.  There is a way out when the door closes on  you.  Look all along the wall.  Then slap yourself in the head for being blind…I did.  After that the puzzles are very imaginative and tons of fun, at least I thought so!