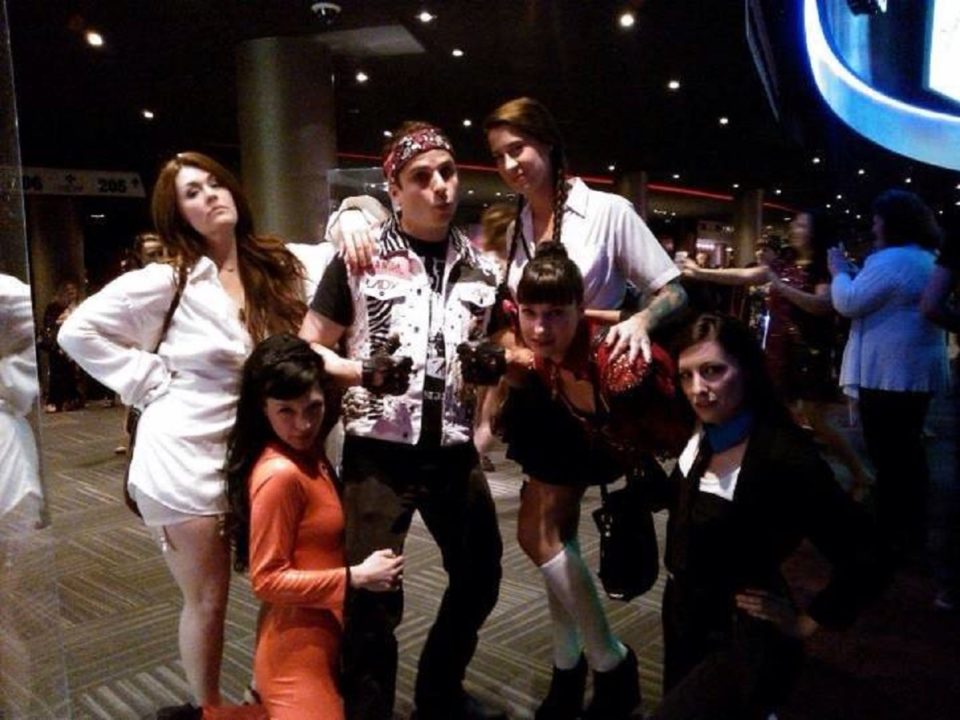 The question many of my readers, friends, family, casual acquaintances, and complete strangers might be asking during Britney week (or, more accurately, the past nine years) is "Why Britney?"  And, if I must be honest, the question is fair. Nobody could be faulted for claiming that Britney Spears is undeserving of even a single blog post, let alone a full week's worth of blog content. It would even be fair to say that Britney is exactly what her detractors claim: a puerile, manufactured shell that slick, soulless music producers use to foist slick soulless pop songs onto a brain-dead fan base. But, just because it is fair to claim something, it does not mean that something is the truth. And in this case, it is most definitely not the truth (#leavebritneyalone).
To start with, for the final time, yes, I actually think Britney's music is great! Like, I'm not even being ironic a little bit! I mean, yes, it IS ironic for an underground metalhead as fucking Tr00 and KVLT as myself to love Britney–but that is not my motivation, I just legitimately enjoy listening to her music. Let's break it down (break it down, break it down) a bit and find out why you too should stop worrying and learn to love the Brit Brit.
Britney's Music
For someone who isn't afraid to listen to Christian Metal (and worse), obviously musical quality is going to trump all other factors here, and, it is indeed Britney's music that is the most important element in my Britney fandom.  Like most pop musicians Britney does not actually write the majority of her music (she DOES write some songs, but none of her hits, aside from "Everytime," were written by her).  Technically, I guess I'm a Max Martin fan, the guy who wrote, among others, "…Baby One More Time," "(You Drive Me) Crazy," "Oops!… I Did It Again," "Lucky," "Stronger," "Overprotected," and the majority of Britney's second best album, Femme Fatale.  Still, pop is not like other genres, Britney makes her songs hers through pure force of will (more on that tomorrow), and Max Martin can just go right back to the shadows for all I care, thank you very much.
Britney's style has evolved over the years, from the pop beginnings to the dance middle years (that are my favorite…Blackout is easily the highlight of Britney's career) to the more experimental latest albums.  However, what remains constant is a dedication to dark (no, really, the minor key is strong with Britney) club bangers that are just plain better than the majority of her contemporaries.  Additionally, for depth of catalog, I can't think of many pop stars that have the sheer volume of hits (and songs that should have been hits) that Britney does.  Sure, it might be fair to claim that all those early Max Martin songs all sound exactly like "…Baby One More Time," but, frankly, I don't want to live in a world where I have to choose between having only "…Baby One More Time" or "Oops!… I Did It Again."
Britney's Singing Voice
I think most Britney fans (and Britney herself) would be the first to admit that Britney doesn't have the strongest voice.  Perhaps her greatest vocal achievement is her mastery of a kind of breathy whine that some have said sounds akin to a baby having sex.  However, she does not have a BAD voice by any means (no matter what haters might suggest–#leavebritneyalone).  No one ever claimed Madonna's vocal prowess is anything special, but you don't see the same level of dismissive bile about her voice as you see about Britney's.  Honestly, Britney has taken the tools she has and actually made a vocally influential mark on pop music with her signature delivery.  It is also a voice that is uniquely Britney, something that is appreciated in a genre as homogenized as pop music tends to be.
Britney's Persona
The Britney Persona, in some respects, has always been the most manufactured thing about her.  Britney has gone from the crass sexy-virgin school girl imagery of her early work to the "no, I'm sort of into sex now" attempt to transition from "not yet a woman" to "woman" of her middle period, to the "no seriously, I'm DTF" period that has lasted up to the present day. All of which feels a little soulless in a paint by numbers "sexy hair flip" persona kind of way.
On the other hand, her immortal post-meltdown declaration of "It's Britney, bitch" is actually rather brilliant.  The "shoot me from my good side…PICK ONE"/"You want a piece of me?" Britney persona, if also completely manufactured (and none too original), is at least a step up from most of the bland writhing found in her sexy videos.
And yet, surprisingly, even the manufactured generic blandness of the majority of Britney's stage persona ends up coming off as legitimately charming (and heartbreaking) when you compare it to the real Britney–because it reminds you how little control she has over her image.
The Real Britney
Britney became the biggest pop star in the entire world at the age of 17, and has remained a household name ever since.  And yet, unlike other pop stars with more agency, Britney has never been in control of her career.  Sad stories abound, like the time she broke from her handlers and crashed a radio station to try to demo a new song "Mona Lisa" for a new album Original Doll.  It was a desperate attempt to take control of a career that had never been hers, and it failed in tragic fashion.  Her label refused to release her Original Doll album, Britney had her infamous "breakdown" and ultimately ended up in a court-ordered conservatorship under her father's control. I mean, seriously, this is a grown-ass woman who isn't even LEGALLY allowed to control her own life…sound familiar?
She's so lucky, she's a star,
But she cry, cry, cries in her lonely heart, thinking,
If there's nothing missing in my life,
Then why do these tears come at night?
So sure, maybe she wasn't a great host for America's Got Talent (contrary to popular opinion, Britney has never been comfortable in the spotlight–just look how uncomfortable she was when her handlers made her do Carpool Karaoke), maybe she doesn't entirely understand her own lyrics, and maybe her paintings DO suck:
But, Britney might be the one celebrity that you can actually feel sorry for for becoming famous.  I mean, Jesus, just listen to this ridiculously patronizing pre-breakdown interview with Diane Sawyer:
Times are different now and this kind of shit wouldn't fly, but man is it infuriating to hear Sawyer's bullshit judgey tone while tearing into a 21-year old who is actually doing a great job trying to stand up to Sawyer's bullying.
All of which makes Britney's bland stage persona a real life tragic portrait of "a girl named Lucky."  It doesn't make her music any better, but it does complicate things by inflecting a dark undercurrent of despair and forlorn hopelessness on her entire oeuvre.
So with that, I'll leave you with the immortal words of Chris Crocker: