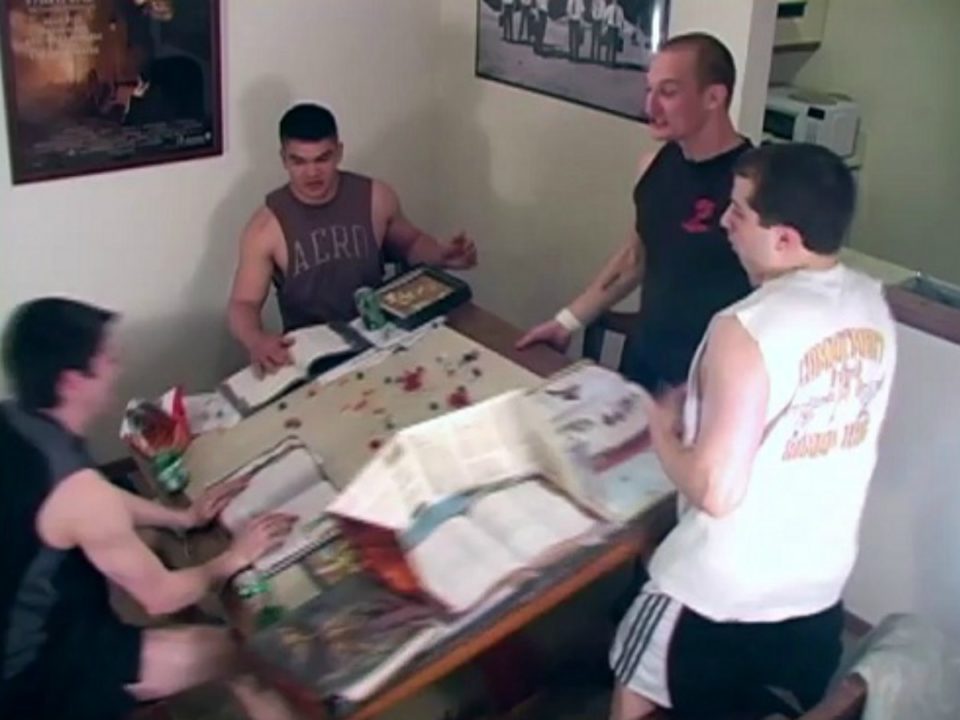 As many of you may have been aware (due to me spamming the internetz with the live blog, 24 hour live webcam feed, live tweets and facebook updates), a couple of months ago I was part of a 50 hour marathon Dungeons & Dragons game.  Starting at 5:00 PM on Thursday, I played until 5:00 PM on Sunday with the only break being the average 6 hours of sleep I got each night.  Unfortunately, four hours into the first day I realized something that has slowly been dawning on me over the past 4 years or so: It's not just D&D 4.0, I really don't like D&D period.
I suppose I should give a bit of background as to why it has taken me almost 20 years to realize I don't like D&D.  I got my first "Advanced Dungeons & Dragons" manual in junior high and had no idea how to play.  I remember making cardboard game pieces and attempting to play a couple of sessions with my sister that really didn't go anywhere since I had no idea how RPGs worked.
I never knew anyone who played in high school, but, like any budding nerd, I still had a good time reading the various rule books–the game just seemed so awesome.  Thus, when I went off to college to live in a scholarship hall (like a fraternity house, but for nerds), I knew it was my chance to finally actually play D&D.*
As I suspected, I was indeed able to actually play in quite a few D&D games in college.  And honestly?  D&D was great!  I'd never played any real board games before, but this was obviously something new.  You could make a character and then do WHATEVER you wanted within the game.  Unlike board games and video games, you were not constrained in any way (beyond the basic constraints of plausibility) from how you went about solving the various problems that you would come up against.  In a video game you would be forced to fight a long battle with the boss dragon.  In D&D you could just teleport a decanter of endless water into his stomach and bypass the battle all together.  Rather than using your lock pick skill to steal gemstones from a chest, in D&D you can simply break the chest.  You get the idea.
It didn't take long for the first signs of trouble to show up.  It probably started in my first game with a group of experienced "power gamers."  At its core, for all the talk of it being a "role playing game," D&D is essentially a combat simulation.  Most of the rulebook is devoted to how combat works, the weapons used in combat, the spells (of which the majority focus on combat) you can choose from, etc.  As such, my wonky Bard, even though he was the same high level as the other player's characters, was next to useless when compared to the min/maxed (a term that refers to the act of using the game rules to produce the most efficient and powerful character possible) Wizards and Clerics of the group who were cutting through Adamantite Golems as though they were Butter Golems.
This problem got worse as the years went on and I slowly began to realize that my heart would sink every time I heard the words "roll for initiative" (which signals the beginning of a combat round).  I've never played a "fighter" character in D&D for the simple reason that they had always seemed boring as shit.  At some point it always seemed to boil down to an endless repetition of "1.) Wait for your turn.  2.) Roll a 20 sided dice. 3.) Did you roll high?  If yes, proceed to 4, if no, return to 1.  4.) Roll your damage, return to 1."  That is not a role playing game, that is a board game, and if I want to play a board game, there are thousands out there that do a better job than D&D.
This is not to say that the combat system in D&D is bad.  It's really pretty good, but it's just not what I want to do when I play a "role playing game."  Which brings me to the real point of this post, the idea that a "role playing game" is, like a miniature combat system, not at all what I want out of my "Role Playing Games."
I remember somewhere around day 2 of the recent marathon D&D game intimations that it was getting boring were leveled at the DM (the referee who runs the game and decides the outcomes of the player's stated actions).  DM's are not known for their ability to take criticism and the complaint was turned back on the players with "well you guys never try to role play!"  We had just entered a new dungeon and the DM went on to say "well, you see a goblin with a crossbow, go ahead, role play!"  The player's response of "Um…hello?" was met by a crossbow to the face (after a derisive "you say you want to roleplay but you are terrible at it!" from the DM).  Then we spent the next 14 hours (literally) fighting 3 battles.
And here's the problem. I don't, just as I feel most people don't, play D&D to pretend to be my character.  There is a popular misconception, even among long term players, that the real joy of D&D is in the role playing.  Which usually boils down to "My dwarf is grumpy, therefore, he grumbles a lot when the innkeeper asks us to kill the rats in his basement."  In so many cases, it simply ends there.  After all, the DM took the time to make up a bunch of rats that need killing in the innkeeper's basement, any roleplaying beyond superficial grunting from the angry dwarf will ruin his pre-planned adventure.  Which is, of course, why our player got a crossbow to the face for trying to "role-play" with the goblin in the example above.  It is a law of D&D that if you enter a dungeon full of goblins,  you WILL have to fight them all at some point, no matter how skillfully you try to talk your way out of it.
However, it is my contention that most "role playing" games should really be "story telling" games.  If the DM sees that the players don't want to fight a 14 hour goblin battle, they should be open to letting the players take it a different route.  Of course, it will be hard, dungeons full of goblins get fought routinely in D&D because dungeons full of goblins be fighting too much.  Still, a good DM will realize that they are not the only controller of the narrative.  If the players tug the story one way, the DM should go with it, see what happens.  Together a much richer story emerges, a story that becomes something more than the DM leading the players through his story, but the two groups creating a story together.
As an experiment, I'm currently running the same "storyline" campaign as a DM with 3 separate groups of players.  In each, the players all start mysteriously chained to the walls in a mysterious dungeon after a night of drinking.  I've left bits of mystery to be solved, but also left the entire story almost completely open ended.  I react to the player's choices, just as they react to the outcomes that I give them to organically create the story.  One group managed to free the castle dungeons of all their prisoners throwing the city into chaos and making new friends and foes in the process as they try to find out who framed them.  One group is currently working their way through the sewers beneath the city to escape and leave the whole political intrigue/frame-up angle behind them.  And one group spent the last session hiding outside an inn with a pair of soiled underwear "shitfacing" random patrons as they exited the inn.
As you can see, each of these stories is going in wildly different directions.  Also, these stories are still managing to evolve quite organically without any "roleplaying" at all as most of the players are new, and none of them (myself included) spent much time making sure their characters have a fleshed out personality…they are all basically playing themselves.  And yet, every game session adds something new to the story.  Essentially, we end up with 6 people in each game group creating the story instead of just myself forcing everyone to run through the plot points of my own unchanging story.
This method is not without sacrifices.  It can at times feel like I'm just pulling stuff out of my ass instead of feeling like you are actually slowly progressing through an existing, already prepared, dungeon.  But, and this is the most important point of this post, no matter how skillful your DM is, the fundamental nature of D&D is such that you will always have the sneaking suspicion that your choices ultimately don't matter.  If you play with experience points and a lot of combat, all of that takes prep work.  If your DM spends the previous week drawing up sufficiently difficult monster encounters, trapped dungeon passageways, and appropriate amounts of treasure, you can't just skip the dungeon entirely.  That dungeon was all the DM had prepared for the night if you skip it, your DM will have nothing left.  That's just the way D&D works. Yes, you can chose the left or the right passage, but in the end, you are still going to fight those goblins (aka, experience points), because you know that is what you are supposed to do for the night.
Essentially, by abandoning this method, what I am really trying to do is play D&D like an indie "story" focused game like Mouseguard, Spirit of the Century or Gumshoe.  Which is kind of silly, since playing in this way will ignore the vast majority of the rulebook (considering how rare actual initiative rolls have been in the three games I'm running). Also, most people seem to like the D&D combat system.  It's a nice exercise in tactical problem solving (including the min maxing of your character to make them as powerful as the rules will allow) and the popularity of the system suggests that a lot of people like to play this way. But I am not one of those people. I've made a vow to never again sit through a 4 hour combat of endless 20 sided dice rolls. It's just too bad that it took me so long to realize this.
* Funny story:  Apparently the returning guys at the scholarship hall found all the applications from my group of incoming freshmen and were going over them together.  At one point I was informed that one of them said: "Oh my god, look at this one, under interests he lists black metal and D&D!"