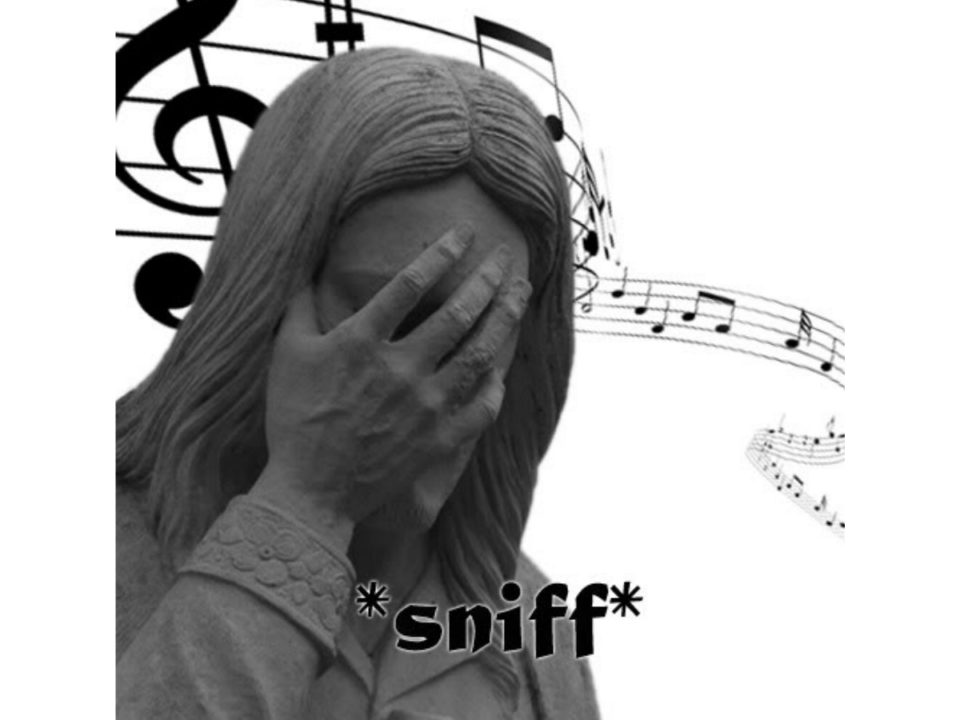 There has been a vicious rumor going around that I don't like Christian music, a rumor that is simply not true.  So today (in addition to capitalizing all non-secular words) I've decided to finally set the record straight!  Why today?  Well, first, it is Monday, and this is a little sneak peak at one of the new isleyunruh.com Monday features that I will break out next month: "Minor Key Monday" where (every third Monday of the month) I celebrate my unHoly love of anything in a minor key!  But, more importantly, it is almost Christmas, and what better way to not only talk about some of my favorite sad songs, but also some of my favorite Jesus songs too!  That's right, Santa Claus is for lame-o's, if you want a truly melancholicly mournful Christmas then only the Jesus-centric carols will do, and today I've hooked you up with ten of my favorites!
What Child is This

Our first song is really just Greensleeves given a hot Christ injection, but I don't care if it has been played to death and Back Three Days Later, Greensleeves is a great song.  Medieval, forlorn, somewhat epic: a recipe for a great song if I've ever heard one!  It is also the first of what will be a recurring theme today: my preference for medieval songs dressed up in Christian lyrics for the holiday season.
We Three Kings of Orient Are

I usually name this as my favorite Christmas carol just because it is the most recognizable (a lot of the medieval songs are kind of cheating since you don't exactly hear them all that much these days), but it really is pretty great.  Sure it kind of loses me when it switches to the relative major key for the "star of wonder/star of light" part, but it gets back on track soon enough.  It reminds me of something out of Ivan the Terrible and yet it has just enough eastern flavor to do justice to the "Orient Are" part of the title (no idea what that is, but I'm sure it is a land of sultans, endless dunes and loose morals).
Let All Mortal Flesh Keep Silence

I went to the KU Collegium Musicum this year (the annual renaissance, medieval and baroque Christmas concert…ie a whole shit-ton of recorders) and they opened the concert with this one.  I had never heard it before (it is another retooled medieval carol) but was blown away with the soul crushing sadness of it.  Unfortunately I was unable to find a version nearly as good as the one they played at the KU concert on youtube, but this version is at least passable.
Coventry Carol

Nothing says Christmas like child murder and this is one song with plenty of that in it!  Actually, most Christmas songs tend to eschew Herod's child slaughter for tales of Reverse Deflowering and your mother's infidelities with Santa Claus.  At least this song has a theme that justifies its sorrowfulness.
Carol of the Bells

You might know this song from such things as Home Alone and the embarrassingly catchy Trans Siberian Orchestra version.  Well, now matter which cheesy place this song turns up, I don't think any of us can deny it sounds pretty damn cool.  Know why? MINOR THIRD.
Personent Hodie

According to wikipedia this is a song that still gets contemporary play, but I'd sure never heard it before.  Also, my choice of a version with a strong medieval dance backbone doesn't help its Christmas-ness, but it is still a great song.  To listen to this is to be transported back to the time of Monty Python and the Holy Grail but without all the silly bits.
O Come O Come Emmanuel

Yet another song with roots all the way back to Gregorian Chant.  I can dig it.
Puer natos in Bethlehem

Really not sure that this counts as a Christmas song, but it's about Bethlehem and Praetorius is one of my favorite composers, so I'm including it anyway (and once the singing starts about a minute in it actually does sound like a real carol).  Sue me.  Also, wtf is that symbol in the video?
I Wonder as I Wander

A last minute addition, this is a very pretty almost Irish sounding song that you would never have thought had its roots with Appalachian Hillbillies!
God Rest Ye Merry Gentlemen

We'll end the list of ten here with another personal favorite popular carol.  Also, how can you have a Christmas song list without Bing?.
God Rest Ye Merry Gentlemen

Did I say we'd end the list?  Well not just yet…time for a special honorable mention!  Ronnie James "Holy Diver" Dio and the legendary Black Sabbath bring you a totally metal version of the previous song that is actually adorably respectful as well.  May you all have a very Metal Christmas!mp3
Finally, here they all are in playlist form so that you can let them all play in a row while you mournfully trim the tree!