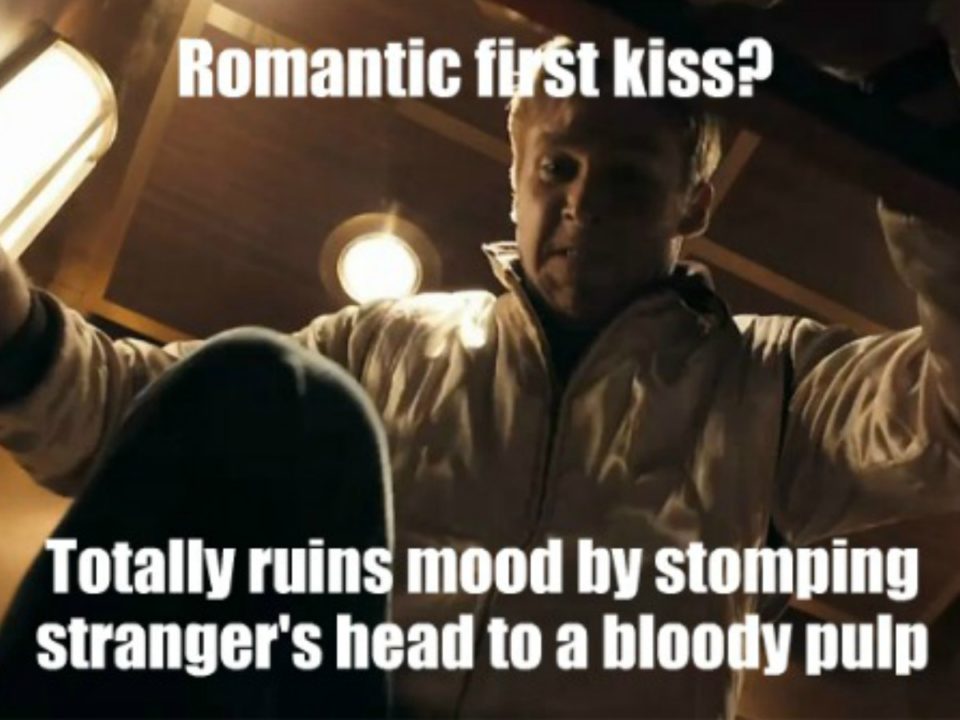 Here we are at Oscars time again, and here I am reviewing all the best picture nominees again.  Kind of reminds me of Valentine's Day, everyone knows it is a bullshit holiday and yet it still gets talked about far more than it should come February.  Still, for what it is worth, today I will talk about what the American public has been led to believe are the ten best films of 2011.
This year the nominees were a bit more painful to get through than last year (a year when I didn't really "hate" any of the movies despite all the things I said about Inception).  Sandra Bullock, despite being a fine actress who has starred in many of my favorite romantic comedies (for new readers of this site, no, I'm not being facetious there), once again graces the bottom of the list.  And this year only TWO of the Oscar nominees made it into my own personal top ten of 2011 list.  Which, even taking out my usual wacky picks like Fast Five, still amounts to a whole lot of snubs.
Still, if I don't watch all the Oscar nominations and put them into a completely biased and arbitrary order then the terrorists win.  And the terrorists winning means that more movies like Extremely Loud and Incredibly Close will get made, so let's get on with it shall we?
9 – Extremely Loud and Incredibly Close
Couple the second most annoying child in the history of cinema (after whoever dubbed that kid in Fistful of Dollars), with a "very important film about 9-11" and you've apparently got Oscar gold.  It's only been a week since I saw it and I've already managed to almost completely remove it from my memory.  At this point all I remember is Tom Hanks making his kid pick up random bits of trash around the city to fuck with him, John Goodman triggering some kind of proximity based Tourette's syndrome in the kid and a super long group hug at the end after it is made clear that Sandra Bullock is the best mother of all time.
8 – Warhorse
In Au Hasard Balthazar Robert Bresson made the central character of his film a donkey and managed to create a brilliant cinematic statement on the agony and ecstasy of being human.  In Warhorse Steven Spielberg made the central character of his film a horse and manged to create a mind-numbing cinematic statement on the agony and ecstasy of being a horse.    Unless you are one of those audience members who says "awwww" every time a baby animal shows up on screen and the idea of a movie about a horse and the slow witted man-child who loves him sounds great to you, stay far away from this piece of shit.  Of course, if you like  sentimental pathos-laden bullshit like that, you'll love Warhorse.
The cinematography was pretty I guess.
7 – The Help
I suppose this was a moderate success in that its plucky against the grain hero story drew me in and made me want to finish watching it despite it being past my bedtime.  However, when you look at the white savoir subtext, and the patronizing way this attempts to pander to white guilt, there is no way to walk away from the experience without feeling slimy.
6 – Hugo
It's no secret that I give children's films very little respect.  Exceptions like The Adventures of Robin Hood notwithstanding, too often the broad comedy and target aimed at the minds (or, more accurately, assumed minds) of children just makes the film fail as a serious movie in my eyes.  Which is not to say Ali G mucking about with an outrageous accent and a dog in Hugo was the (only) reason I didn't like it.
The script was far from airtight, the whole "no, this isn't a film history lesson, this is AN ADVENTURE" angle was played up so much that I have to wonder if even toddlers felt patronized, and, most importantly, 3D in film needs to die a quick and painful death.  The 3D elements in Hugo felt about as subtle as THIS.
Also, if I hear one more person describe Hugo as "a love letter to cinema," imma lose my goddamn mind.
5 – Moneyball
Considering I really have no emotional or intellectual attachment to baseball, Moneyball impressively drew me in nonetheless.  Brad Pitt kind of came off like a douche, and I could have used a few less scenes of exposition about what an important thing he was doing, but overall it was an interesting story and I really rather enjoyed this one.
4 – Midnight in Paris
Woody Allen's fantasy films have the tendency to get a bit "precious" (especially use caution when, like Hugo, the words "love letter to" are used in any of the reviews).  Thus, it was a pleasant surprise to find that Midnight in Paris was really quite good.  Still fairly fluffy, but by no means the most sentimental thing he's ever done (I'm looking at you Radio Days).
Also, Owen Wilson really made a surprisingly decent Woody Allen substitute.
3 – The Artist
I don't have a problem with people who want to claim this is the best film of the year.  I mean, sure, I rank it behind The Warrior and Fast Five on my personal list, but that was mostly for teh trullz.  But really, it was a fine film with a tight script and intelligent direction.  But sadly I didn't feel like the story was really all that compelling.  The Artist is a film about a man who feels he has no place in the world any more and the woman who saves him.  If a movie can't give me more than that I'm going to lose interest no matter how well made it is.  Still, out of the movies running, I won't mind if this ends up winning tonight like everyone says it will.
2 – The Descendants
Most directors working with the material in The Descendants would be hard pressed to keep the sentimentality at bay.  Which is why it is fortunate that Alexander Payne helmed the project.  And though his usual dark humor feels a bit muted, this still largely stays on the right side of the sentimentality line.
Not a masterpiece, but still a solid film with more insight into human interaction than you usually get in theaters these days.
1 – Tree of Life
I could get into complaints about how Malick's pretentious voiceovers (like what the fuck "the way of nature and the way of grace" means) but I'm willing to give him the benefit of the doubt on that one.  I'll even cut him some slack on the cosmos stuff, hell, I'll even let that dinosaur scene slide!  What I can't let go is the interminable scenes of Sean Penn looking sad and the bullshit afterlife finale.
Still, it says something about the power of the childhood scenes set in the past that the film still makes the top of this list (not that the competition was all that stiff I suppose).  There was real cinematic magic on display in this film of the kind that isn't found in the films of anyone but Malick.  A flawed masterpiece, but still a masterpiece of sorts.
Special Feature: Isley's best movies of 2011 list!
For those who are interested, here are the 57+ movies from 2011 I did see, ranked in order of preference.  There really isn't a way to make a list like this internally consistent.  Are these the most well made movies of 2011?  The ones I found most entertaining? Successful as films?  How do I begin to compare Fast Five to The Tree of Life?
You really can't logically do any of this.  And making a "well made" film isn't that impressive of a feat anyway.  Warhorse is, by all accounts, rather well made and it still ends up towards the bottom of my list.  Still, I tried to make it all work anyway.  What my Frankenstein's monster of a list ended up as is a handfull of "good" movies at the top, a whole bunch of movies I enjoyed after that (some "good," some more low-brow), and then a dozen or so movies I didn't enjoy at the bottom of the list.
In order to try to give it some kind of consistency I decided to bring back the "would I watch it again" system (that I was criticized for in the comments back in 2009) for this list.  Not in a "this was depressing/unpleasant" sense, but in a "this movie is successful enough in its own terms that it would not be a waste of your life to watch it a second time."
Would *I* personally watch The Girl with the Dragon Tattoo again?  Probably not, I try to steer clear of movies as obsessed with rape as the Millennium Trilogy is.  But for what it was (and as an example of rather impressive film-making), it worked, and thus I can see the value in "watching it again."
Would *I* personally watch Contagion again?  Probably not, I could give a shit about outbreak movies.  But "well made movie that is good if you like outbreak movie stuff" is not a good enough "watch again" reason for me.  It had no spark and deserves its inevitable fate in in the ranks of forgotten movies.
Would *I* personally watch Hangover II again? Probably…I could see it happening, it was a good enough time as that kind of thing goes.  But it was also completely redundant and really not even all that funny.  Just because I'm willing to waste my life doesn't mean it should be considered a movie that is worth watching again.
Which is to say my "watch again" criteria doesn't mean shit.  And neither does this list,  enjoy!
Drive
Melancholia
Shame
Take Shelter
The Tree of Life
The Girl with the Dragon Tattoo
Martha Marcy May Marlene
The Descendants
Cedar Rapids
Jane Eyre
Fast Five
Warrior
The Artist
Young Adult
Midnight in Paris
Tinker Tailor Soldier Spy
Bridesmaids
Harry Potter and the Deathly Hallows: Part 2
50/50
Goon
Moneyball
A Very Harold & Kumar 3D Christmas
X-Men: First Class
The Green Hornet
Super 8
Conan O'Brien Can't Stop
Crazy, Stupid Love
Paul
My Week With Marilyn
The Decoy Bride
Sherlock Holmes: A Game of Shadows
Mission: Impossible – Ghost Protocol
Rise of the Planet of the Apes
Contagion
Hugo
Our Idiot Brother
30 Minutes or Less
Bad Teacher
Battle Los Angeles
Captain America: The First Avenger
Justin Bieber: Never Say Never
Friends with Benefits
No Strings Attached
The Tower Heist
Thor
The Raid: Redemption
Killer Elite
Columbiana
The Hangover Part II
The Fall of Sam Axe
Conan: The Barbarian
What's Your Number
Damsels in Distress
Your Highness
Something Borrowed
The Help
Transformers 3: Dark of the Moon
Green Lantern
Take Me Home Tonight
Warhorse
Extremely Loud and Incredibly Close
Cowboys & Aliens
Farmageddon
Breadcrumbs
New Year's Eve