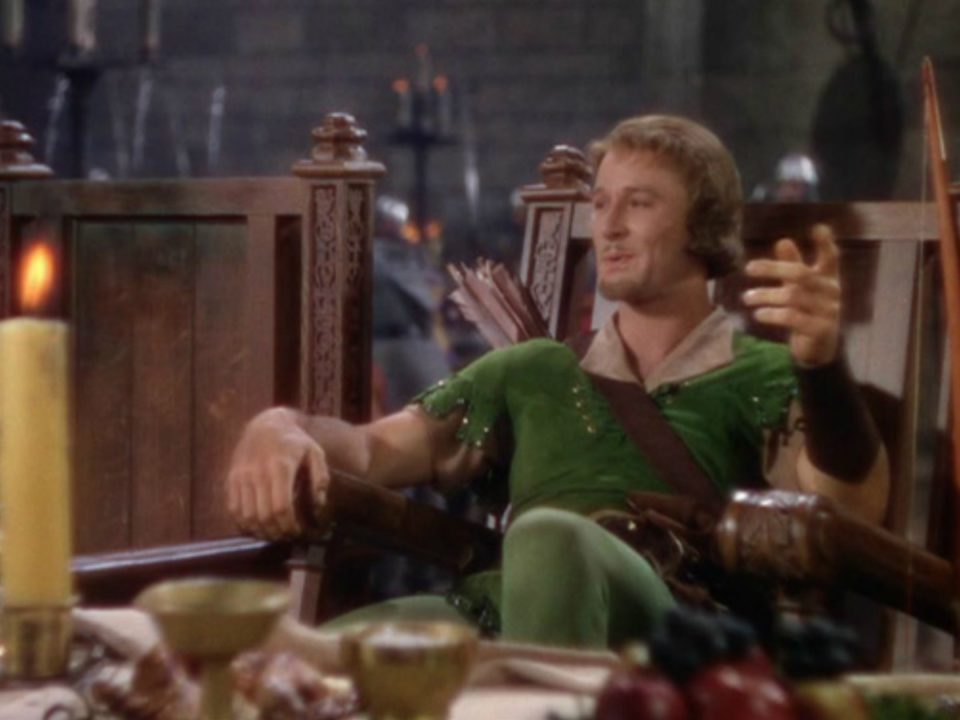 I'd guess the average amount of times I've viewed the films that make it into a My Favorite movies feature is probably around ten. Along with Dazed and Confused, The Adventures of Robin Hood is one of the main reasons the number is so high.  It is a film that so completely encapsulates the magic of classic Hollywood film making that it really should have been considered for inclusion on the Voyager space probe as a pinnacle of human achievement.  Sound like hyperbole?  Maybe, but it' s undeniably quite goddamn good.
I don't mean to take anything away from Dwan's silent version, a fantastic film in its own right.  But, as capable a swashbuckler as Fairbanks was, he pales in comparison to Errol Flynn.  Flynn plays Robin Hood with all the gusto of a Douglas Fairbanks who has finally grown out of his pre-teen "must climb everything in sight" phase and has discovered girls.  Flynn's Robin Hood is as suave as James Bond, as good a sword fighter as Iron Maiden's Bruce Dickenson, as good with the ladies as Ryan Gosling and he can still out-climb Douglas Fairbanks.  No one but Errol Flynn could do an entire movie in tights and still look like a total badass.
This is not to suggest that Flynn is the only reason to watch The Adventures of Robin Hood.  Far from it.  Every one of the supporting actors is just as good.  Claude Rains' effete Prince John (source of the inspiration for Christopher Guest's Count Rugen in The Princess Bride), Basil Rathbone's menacing Guy of Gisborne and Oliva de Haviland's innocently sexy Maid Marion all nearly threaten to steal the show.
The film is also a visual spectacle.  There is something about the old three strip technicolor films that just can't be duplicated in modern films.  The colors were so blindingly intense they ended up adding to the surreal mythological spectacle of the film.  Even the browns seemed to want to jump off the screen (as seen in the picture above).
Though journeyman director William Keighley started the production, he was replaced by Michael "Casablanca" Curtiz halfway through.  And by all accounts, Curtiz whipped the film into its final airtight shape.  The many action scenes are all edge of your seat exciting while never once feeling overdone and the script expertly juggles a complex series of loves scenes, action set pieces and exposition without breaking a sweat.  And to this day I can't think about this film without getting the magnificent soundtrack stuck in my head for days afterwards.
If anyone wants to see just what has been lost in the modern action movie, The Adventures of Robin Hood is a good place to start.  It is the Platonic Form of pure magical Hollywood entertainment and once seen it is never forgotten.