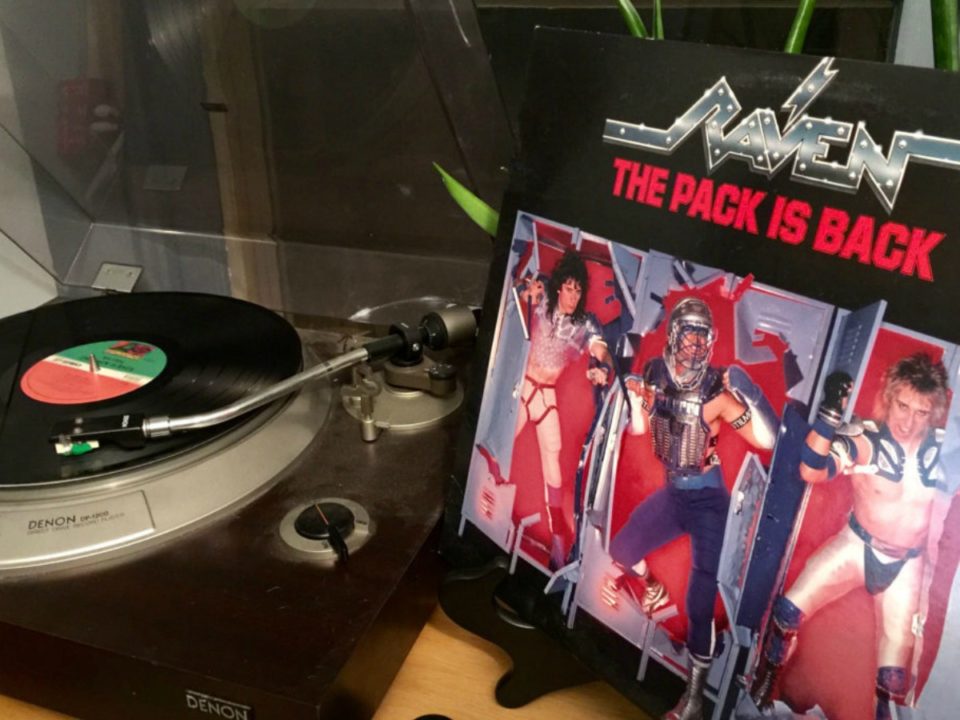 Before one is fully able to appreciate heavy metal as a genre, one must first come to terms with the ridiculous imagery that is an integral part of the metal experience.  Through some strange alchemical process, a heady mixture of skulls, big hair, Tolkien, moose knuckles, Satan, "retarded sexuality, and bad poetry" fuses together to create metal's certain unmistakeable je ne sais quois.  The heavy metal album cover is the listener's first exposure to this unique atmosphere, and a truly great album cover will add layers of juvenile titillation to the overall experience of listening to the album.  Some covers are great, some are failures, and some, are are in a class of their own.
Today, we take a look at Raven's infamous "you thought we sold out already, you ain't heard nothing yet!" nadir, The Pack is Back.
General impressions?
Alright, let's take a look at this thing, shall we?
As I said, Raven, had already begun the selling out process (and the ridiculous cover process) with their 1985 release Stay Hard, but 1986's The Pack is Back completes the transformation with all the grace, subtlety, and finality of a shart in an elevator.  Though, to be fair, Raven had been describing themselves as "athletic rock" at least as far back as their 1982 classic Wiped Out.  Also, with  Def Leppard's sell-out success calling out to every self respecting NWOBHM band out there like the fucking One Ring, today's cover should at least make SOME sense.  But goddamnit, what the fuck Raven?
I mean, considering the cover to their debut, obviously Raven has a sense of humor, but this sails right past humor through the realm of bad (albeit, still humorous) ideas and lands fully in land of worse (ok, fine, but still humorous) ideas.  Even Spinal Tap didn't go so far as to wear their fucking underwear on the outside of their pants.  And, lets be honest, abs aside, I question whether these guys have ever once been inside a locker room.  Though, if I'm picking up on the cover's possible subconscious attempt to deal with childhood trauma correctly, they might have been put inside a locker or two in their time.  All I really want to know, however, is whether or not they ACTUALLY thought those poses looked tough.  I mean, surely not…but…maybe?
How about some details?
Up first, we have bassist and vocalist John Gallagher:
Based on the seriousness of his expression, I can only assume he was trying his hardest to go for some kind of "badass" vibe with this pose.  As far as that goes, on the "less-than-badass" side, we have: more product than hair, a cut-off silver mesh shirt, a safety harness (in case he falls out of the locker?), and a surprisingly tasteful amount of eyeliner.  On the "actually badass" side we have: his ability to bend a very small piece of metal, and a questionably frightening "kitten claw" hand gesture.  So, really, I guess that maybe there isn't an "actually badass" side after all.
Next is drummer Rob "Wacko!" Hunter:
Wacko!, actually, comes off the best in this whole train wreck.  You see, he'd already worn his outfit on the last album, he even loved that helmet so much that he would actually play live with it on.  So, despite his strange combo of weight belt, chrome spray-painted motorcycle (?) pads, luchador mask makeup, and full on hockey (?) gear, Wacko! (and his somewhat badass looking lazy eye) ends up taking home the dubious honor of being the "butchest member of Raven" despite nailing a perfect ANTM booty tooch™ with his pose.
Finally we have Mark Gallagher:
A soccer mom haircut and less than tasteful amount of eyeliner do nothing to complement that bizarre scream and even more bizarre outer jock strap thing.  Still, I guess it's reasonably badass that he was able to punch all the way up through the locker door like that.
So what's on the back?
Sadly, the back is just a shot of empty (pre-"coming out") lockers with the band's gear hanging in them:
Confusingly, only about half the items seem to be the ones the band wears in the photos, though it does appear that at least part of Joe's outfit is some kind of dirt bike gear.  We do also find out that it is apparently producer Tony Incigeri that we have to thank for the cover concept.
Yeah, but does the music suck?
A few stupid, yet, moderately catchy "rockers" like the opening title track, "Rock Hard" and "All I Need" are thoroughly ruined by a sterile production and a horn section that just keeps coming back and bricking all over what little metal cred Raven had left by this album.  The offputtingly syncopated "Hyperactive" is the easy album (and, probably, career) low point, though, it might be the only completely unredeemable track on that album.  There are even a few, if not shining, at least "less shit smeared than the rest of it" moments with songs like the fairly metal "Nightmare Ride"…which is not necessarily "good", but not necessarily "bad" either.  "Young Blood" sounds promising at first until the syncopation and horns come in to upper-decker it into sell-out oblivion.  Listen here if you DARE:
Though, all that hate aside, I must admit that I've listened to this album more than plenty of other deserving albums.  I don't know how many times I've said to myself, "ok, I can't remember, how bad WAS this again?"  The fact that it actually ISN'T the worst album in the world helps, but, after spending an entire post making fun of the cover, I have to admit that without that cover, I wouldn't have given this album a second listen.  So, I guess, point Raven. Or, goal Raven…or whatever they call it in whatever sport the pads they are wearing belong to.