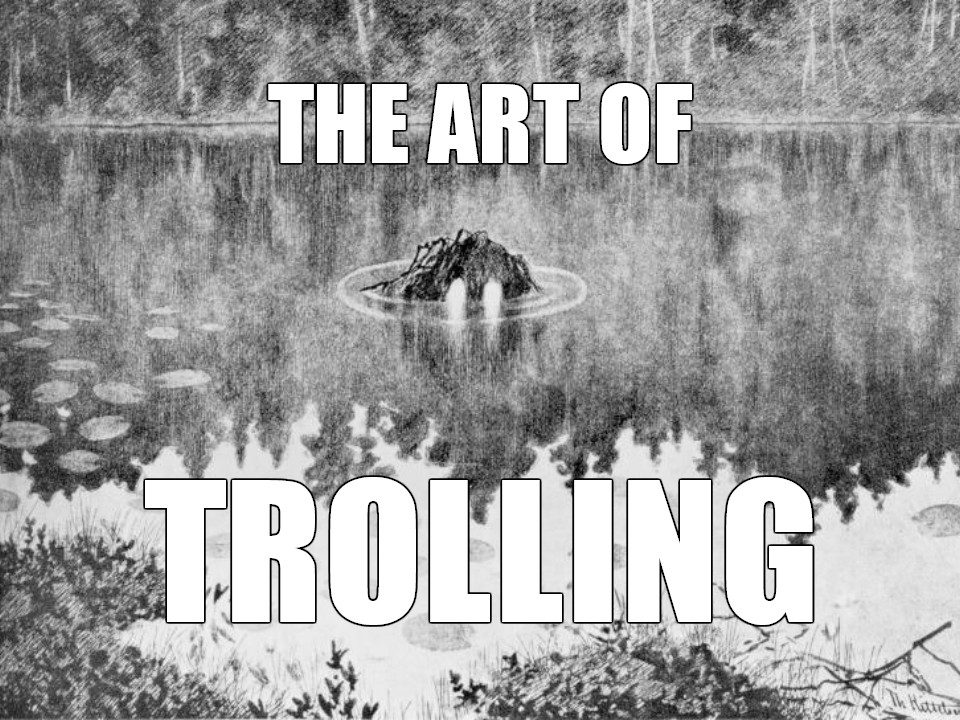 Welcome to the start of a brand new www.isleyunruh.com  series, "The Art of Trolling." Here, in this semi-regular examination into the sordid world of online trolling, I will attempt to pass on the knowledge that I have gained from years of acting like a dick on the internet.
I will warn you, these dark waters are not for mariners of faint constitutions.  Like a physical altercation, if your foray into trolling does not end with you feeling bad for your victim, you haven't done it correctly.  "Trolling" is really just a nice word for "acting like a sociopath," so I can take no responsibility for what you do with the knowledge you gain from this series.
In this first installment, I will discuss the various ways in which my troll of a bunch of "horrorcore" rappers was both a success and a failure.
"Getting your ass trolled hard" can be triggered in all kinds of different ways, but by far the most common way to end up on the receiving end of a good trolling is to simply "have a public online outburst." This signals to any potential trolls lurking in the area that you are a candidate who is already ripe for committing that most cardinal of all online sins, the first of all web fuck-ups: ARGUING ON THE INTERNET.
Never do this.  I repeat, NEVER argue on the internet.  This is rule number 1. By showing that you care enough about something to argue about it, you have instantly entered into a no-win situation. Why no-win? Because arguing with a troll is not a real argument.  There is no winner.  Trolls don't care about anything except for your raising blood pressure.
To illustrate this point (and as an example of a few common pitfalls for the troll themselves), I will look at an example that started with a blog post written by Jessica of ABiaT fame back in 2009.  Here is the original post:
"Nobody saw what would come next."

Christ, cnn.com, are you even pretending to be a real news source anymore? "But it must have been totally awesome, I bet, in a really bad way, I mean, of course. God bless us all. Nancy Grace speculates on how much blood was on the walls, tonight at 8!"

I bet Phrozen Body Boy is really fucking pumped about all this free publicity though, you know?

And "Jesus told me to do it." Man, that stinky rascal's kind of hilarious. I mean, he obviously doesn't believe that, and probably isn't even smart enough to be saying it to lay the groundwork for an insanity plea or anything – he's just a little 15-year-old horrorcore rapper trying to stick it to Jesus. But now this tiny little Virginia city has brought in an "occult specialist" to reassure everyone that, no, that wasn't Jesus, must have been Satan, and now suddenly every poor goth in that high school is EFFED. They're going to be finding "hit lists" in their lockers for months. Poor bastards.

Actually, "Poor House Road" is a really great name for a street, too. Man, whoever writes the true crime novel about this is going to have a field day.
As you can see, Jessica is merely trying to make a point about the sensationalized coverage of a murder by CNN.  Of course, not everyone saw it this way, especially not "Phrozen Body Boy," who quickly commented on her post (after googling himself in connection with the murder apparently) in order to make his displeasure clear about Jessica's quick joke about his ridiculous name:
How dare you accuse me of being "really fucking pumped about all this free publicity" as you put it!! You don't know me so don't start making assumptions over a situation or a person you don't know shit about! If I wanted publicity I would've done every interview that came my way and I haven't done a single one! This is the closest thing to a response to any of the situation! Emma was a close and dear friend to me and I'm still heartbroken! I was fortunate enough to meet Mel once and she was an amazing girl! I didn't even release my tribute track emma on myspace. Why? Because I didn't want anyone to every accuse me of "just wanting free promo". So how did you come up with the idea I was "fucking pumped" about any of this? I wasn't ever listed as an act on the bill from any news source until a couple days ago and I was fucking shocked at that! Quit making assumptions on shit over people you don't know!
-Phr0zen-
Needless to say, my troll sense was immediately tingling–if tingling is a word that could be used to describe giant flashing lights and sirens. Now, first, some might object to me taunting a man who had just claimed to be grieving (and waiting to release his tribute track for a not "too soon" date).  But, in addition to being dumb enough to take a throwaway joke at the expense of his very silly name way too seriously, let's be honest here.  The dude sings about stuff like this murder ALL THE TIME, so fucking nut up and own that shit Phrozen.  Maybe you are a nice sweet guy in real life, but if you sing about stuff like this, no fair getting pissed when some random person on the internet insinuates that you might be a bit callous about death.  With my rationalization for my urge to capitalize on someone's suffering out of the way, I replied with this comment:
Yo, I don't no Phr0zen personal, but my boy Strangulator does and he said he heard Phr0zen talkin mad shit this weekend and saying shit like how now that Syco sacked up all us up and comers was gonna get PAID.

Well, Phr0, I hear u talkin a big game, but u ain't shit and u no u r trying to make some bank off diss just like the rest of us. And it makes more sense when u think bout how Phr0zen is just happening to play at the upcoming Deathfest III…RIGHT WHEN all this shit has just gone down.

Horrorcore 4 lyfe bitchez and let that punk ass Phr0zen talk his stank pussy shit, we all know a real playa like Syco when we c 1 and I bet Phr0zen is such a poser he wouldn't know a crepitating bowel erosion from a chainsaw gutsfuck that punk ass BITCH!
Ok, so lets talk about what's going on here.  First rule of trolling, do your research! Nothing will sell your attempt to escalate a situation better than actually having some plausible information (like the dates and lineup of Deathfest III) to back up your troll.  Second, come up with a good hook! In this case, it is the idea that there is an up and coming horrorcore rapper named Strangulator out there talking mad shit on Phrozen.  Third, careful with your use of vernacular, it can either sell your troll, or make your troll very obvious, and I'm pushing it with this post as it is.
So, let's see if it worked:
Direct hit!  For you novice trolls out there, don't worry about that "I'm not commenting on this shit anymore" stuff, they never mean it.  In this case, Phrozen merely forwarded the link to his friends to pick up the commenting for him. Here's red33:
red33
WHOA! yall back up off of Phrozen! you all do not know him. He is an awesome guy and does not do anything fer publicity. this was a devestating tragedy to all of us. the whole underground jus went numb. we never thought in a million years anyone who do anything like this. but as fer "publicity" we dont want that, hence we are "underground"
And here is T. Gomez:
T. Gomez
I am gettng REALLY tired of people such as Necroluva up there posting complete nonsense and false accusations all over the net about this tragedy. You do not even know Phrozen nor do you know his intentions! Phrozen is a close personal friend and I have sat here night after night speaking about how deeply this incident has effected us as well as all of our close friends. He has NEVER once spoke of this as a "money making situation" NOR is he looking for promotion in any way from this. I cannot believe how disrespectful people are being here. WE ARE IN MOURNING over this terrible lose. No one is here to make money! Especially Phrozen… he is a wonderful caring person and is taking this incident very hard along with the rest of us that knew the victims. Necroluva your a complete idiot! YOU are the one here looking to get a rise out of people and draw attention to yourself NOT Phrozen! Get you facts straight! Your lack of respect for all the people involved in this tragedy is disgusting!
As you can see, this comment section was rapidly turning into a Roman-style orgy of troll targets.  However, before continuing my troll it was time to establish a new character, one I like to call the "Straight Man." It is the Straight Man's job to respond to the allegations of your more ridiculous characters in a reasoned and sensible manner, albeit a manner designed to further provoke your targets.  This is important for two reasons.  One, you will have a mouthpiece to steer the conversation in the direction you want it to go, and two, you will have a fall-back character in case one of your identities goes too far and gets outed as a troll.  So, meet my Straight Man, Cory Mays (named after the worst person to have ever lived at Stephenson Scholarship Hall):
Cory Mays