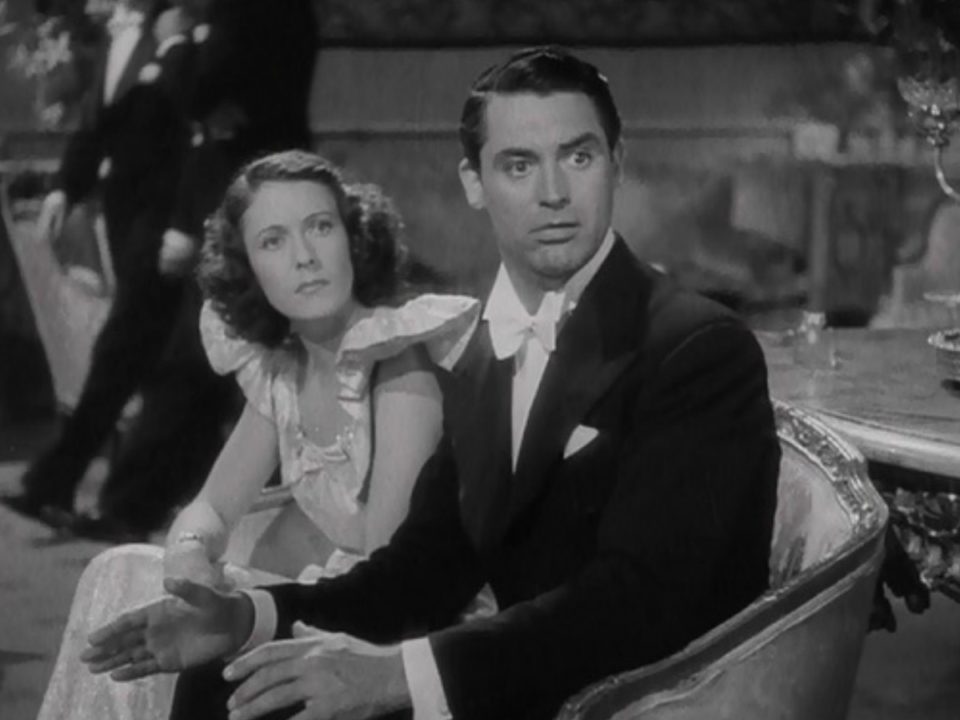 Screwball comedies were a popular film genre from the 30's and 40's. The name "screwball comedy" is a pretty apt descriptor, the situations the leads found themselves in were most often quite "screwy" "wacky" "zany" etc etc.
The storylines were designed to provide a bit of escapism for depression era audiences. Often the entire cast would seem to be independently wealthy without a thought in the world about money troubles. Or they showed how being poor wasn't so bad after all by having some poor person stumble upon wealth with all its "drawbacks", or some rich person find themselves living a poor life with all its "charms".
Against this setting there was invariably some sort of troubled romance, usually with a misunderstanding causing the two lovers to be kept apart (and occupied by screwy, wacky and zany situations) until their reconciliation at the end of the movie.
Yet though such movies could easily have turned silly and formulaic, many of the greatest American movies were screwball comedies. The thirties and forties were a time when Hollywood directors were operating at the top of their game and many of the best chose to work in the screwball comedy genre.
There were many great screwball comedies. His Girl Friday may be the best film Howard Hawks ever made, and take my word for it, that guy made some superlative films. Capra's It Happened One Night can most accurately be described as irresistible, and The Lady Eve was just one of an amazing string of brilliant movies made by Preston Sturges. The screwball comedy is one of the great American contributions to the world (along with the Western and Death Metal).
With so many great screwball comedies out there why am I picking The Awful Truth as the screwball comedy I'm going to write about here? For lack of better words, it may just be the most purely enjoyable movie in a purely enjoyable genre of movies. Not only that but I've seen it at least four times this year alone and am sorely tempted to watch it again as I write this.
All the elements are there. The cast is top notch with Cary Grant in one of his star making roles showing just how good he really was, Irene Dunne proving herself as one of the great female comedy actresses, and Ralph Bellamy being (as usual) the most awesome doofus ever.
Pretty much everyone in this movie acts like they have never worked a day in their life and they get all their money from trees. Yet that just adds to the charm, they make you feel like everyone back then had it that good.
The romantic conflict is there too. Cary Grant and his wife Irene Dunne get in a fight and divorce in the beginning causing them to spend the rest of the movie acting jealous and setting up wacky situations. Do they get back together in the end? Will Irene Dunn instead marry the hickster doofus Ralph "ah shucks" Bellamy? If you don't know the answer to those questions you should probably watch more screwball comedies.
But back to why The Awful Truth is such a standout. Howard Hawks once said that a good movie was "three great scenes, no bad ones". Well, The Awful Truth is ALL great scenes. There is no waiting for the good parts, it is all good parts (though I suppose the part where Irene pretends to be drunk is my personal favorite, or when Cary finally figures out the hat mix-up, or when Ralph sings home on the range with Irene…actually, I guess I'm back to "all good parts"). Apparently much of the comedy was improvised as well, (which always adds a certain vitality to a comedy). And yet the director Leo McCarey keeps the whole thing barreling along at a brisk pace never letting it become "just" a collection of great scenes, but rather a unified whole.
Finally, the chemistry/romance aspects are rather sweet. Aside from some rather dubious off-screen actions on Cary Grant's character's part prior to the movie (which get their own blog post), there is a very real sense of "you fools, can't you see you need to get back together??" Each side gets to play the pursuer and pursued opening up the comedic possibilities a bit too. And of course the final scene really does have a nice buildup of sexual tension as well.
So go check it out! You might just find yourself wistfully thinking "they sure don't make em like that anymore!"