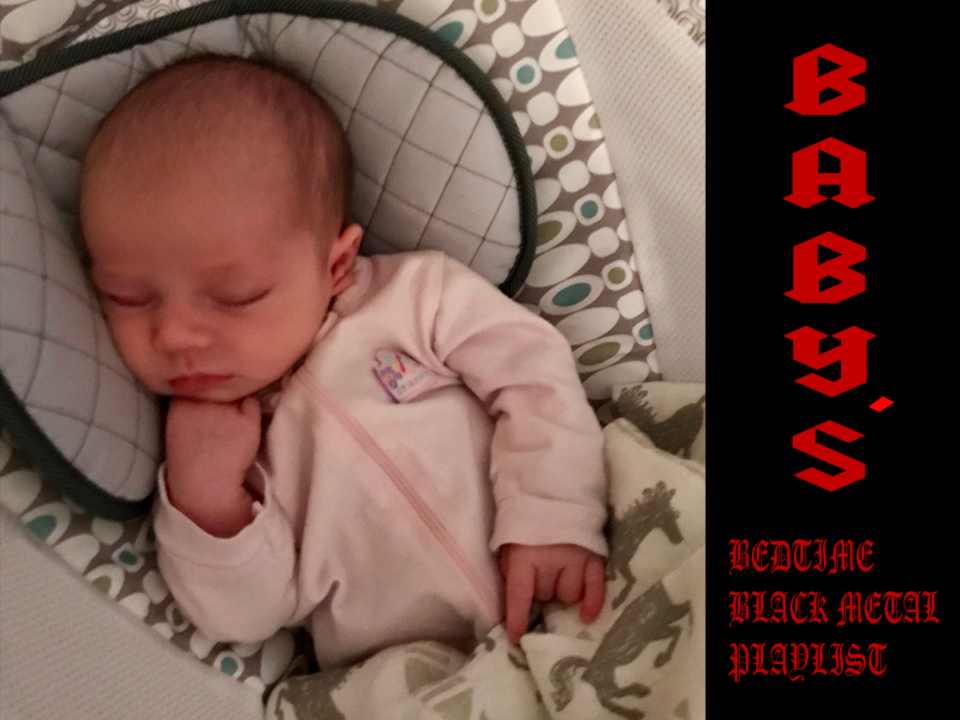 As any new parent will tell you, getting your baby to sleep regularly is priority number one.  However, even when your child doesn't need to eat, burp, or have a shit filled diaper removed, their sensitive little ears WILL hear you trying to sneak out of their bedroom after laying them down in their crib.  Thus, getting some kind of noise machine can be a big help.  I had never actually used a noise machine before, and as the following cartoon illustrates, it wasn't long after Laura showed it to me that I realized this new noise machine might just be my ticket to kvlting my new baby to sleep:
You see, the type of black metal I love the most can often sound indistinguishable from a vacuum cleaner (or a noise machine), and thus, at first, it sounded like the noise machine just happened to be playing my favorite track from Vlad Tepes' Morte Lune.  Which gave me an idea…if we were playing static white noise for our baby to help her sleep, then, surely I could come up with the perfect black metal playlist that would also work just as well to help my baby sleep without distractions!
I set a few rules for myself to make sure this list stayed both as kvlt AND as sleepable as possible:
Vocals should not be too discernible.  I mean, babies don't really understand "scary sounding," but the high-pitched screeching can take away from the soothing effect of the white noise.
Drums should be buried in the mix as much as possible–some muted thumping is ok, but drum-heavy mixes, overall, also tend to be a little tough to sleep through.
Guitars should sound as much like a vacuum cleaner as possible, with a minimum of discernible rhythmic elements.
NO hipster bullshit.  It turns out black metal hipsters love "atmospheric" productions, but luckily you can usually filter these out from the GOOD atmospheric productions by their shameful use of major keys.
With these rules in place, I quickly assembled the perfect bedtime black metal playlist for all parents looking to up their kvlt game beyond mainstream noise machine bullshit.  Click play to quickly lull your baby into a deep and restful slumber!*
Unfortunately, despite joking about all my bands sounding like vacuum cleaners, there really aren't many bands that capture that perfect combination of lo-fi droning that I wanted for this list.  Even classic "bad production" examples like Darkthrone's Transilvanian Hunger [sic] sound positively polished next to the type of music I envisioned here.  Thus, here are a few notes on the bands I picked:
1. Paysage D'Hiver – "Tiefe"
Paysage D'Hiver was the first band that I thought of for this list.  The Swiss one-man project of "Wintherr,", Paysage D'hiver is known for their long songs, impenetrable productions, and staggeringly beautiful and forlorn melodic sensibilities.  Often I can't even tell if they have a drummer as the long, droning, abstract songs float by on a sea of rather soothing white noise.  Sure, some in the hipster community have adopted them, but there's no arguing with quality, so I'm claiming them as "still kvlt" and thus not a violation of rule 4.
However, as "bad" as Paysage D'Hiver's production is, it is nothing compared to the production on their Kerker album.  This has to be the absolute worst black metal production I've ever heard (for all my joking, this one actually does kind of just sound like a vacuum cleaner), and yet, if you let yourself get drawn into the song and get your bearings on picking out some of the individual sounds, you will find that it actually works quite well.  Such is the brilliance of Paysage D'Hiver, this supremely epic and melancholy song kicks ass despite (or, more likely, because of) the production.
2. Nordlicht – "Herbstrot"
This band is the solo project of "Nimosh," co-label-runner for Paysage D'Hiver's label Kunsthall Productions.  Nordlicht hasn't released much, just a collection of mostly high quality demo tracks (Nebelmeer), and then a recent brilliant split with Paysage D'Hiver.  The songs on Nebelmeer are kind of all over the place, but Nimosh still knows what he is doing, and "Herbstrot" is one of the better offerings from that early output.  The production is a little clean, but it still seems pretty sleepable.
3. Maléfices – "Loups de Fer"
This Québécois one-man black metal project of "Serpenoire" released a trio of demos in 2012-2013 which were recently rereleased (on a couple of sketchy labels).  It is all great stuff, atmosphere heavy, but with songwriting to back it up, I'm not sure if the "Black Serpent" will be able to match the charm of these demos going forward, but they are definitely worth a listen.
4. Branikald – "By the Breath of the Murder"
Blazebirth Hall is a collection of Russian Bands (with some really problematic views on immigration) that basically started the black metal scene in Russia.  Though, technically, Blazebirth Hall isn't a collection of separate bands so much as the many side projects of Kaldrad Branislav (along with a few of his friends from the same provincial small town).  Branikald is perhaps the first Russian black metal band, and their (his) prolific output is of uniformly high quality and definitely worth checking out.  This song from an early 1995 demo is perfect for this playlist despite having a slight rhythmic background as it works a nice folky melody into the murky production.
5. Endlichkeit – "III"
There isn't much known about Endlichkeit, though rumor has it, it is a project between the Czech Trist and Lonesummer from the United States.  I just can't get into the shoegaze elements of Lonesummer (or any of the so-called "blackgaze" hipster bands), but Endlichkeit is much more traditional black metal.  It's actually very good stuff, and, despite a pretty clean production, it definitely fits the strictures of this playlist…despite being a possible violation of rule 4 if the hipsters find out the Lonesummer guy is in this.
6. Black Cilice – "On the Verge of Madness"
Black Cilice is a band I actually always thought kind of sucked.  Sure they had a really nicely impenetrable production on their first three full length albums, but when you listened closely it was pretty obvious there wasn't much substance under all the noise to back it up.  Their new one this year, Banished From Time, actually has some good songwriting under all the noise.  Anyway, I was pleasantly surprised and even decided they would make the cut here today.
7. Forest – "By the Roar of Hammers' Call"
Blazebirth Hall co-founder "Dagorath" (sole member of Rundagor) founded this band along with Kaldrad, and the sound is similar to Branikald–though the folkier elements are slightly downplayed for a more droning ambience.  The vocals are slightly too high in the mix for my purposes on this epic song from their second full length, but, as underground metal fans will tell you, Forest is still quite capable of putting you to sleep…(I, for one, think they are just great, I don't care what they say).
8. Wold – "Tending thy Grounds"
Wold is really more of a noise band than a black metal band.  The majority of their output is definitely in the "what kind of abrasive sounds can we make" realm, rather than any kind of real black metal.  However, even at their noisiest, there is a lot of thought put into the music (even if it's not something I'd usually listen to).  Their debut full length L.O.T.M.P. really has a lot of nice black metal experimentation, I especially like their more melodic tracks like the title track and this one.  The vocals are pretty high in the mix, but this has such a hypnotic and dreamlike quality to the discordant melodic noodlings that I figured I'd leave it on anyway.
9. Trist – "Hin"
Trist (the German one), solo project of Lunar Aurora co-founder Tristan, is mostly just an "ambient" band, which means most of their stuff is just Tristan forlornly dinking around with a synth to varying degrees of success (like most ambient bands in the black metal underground).  However, he does add black metal elements to his music, most successfully in the hour long song "Hin" of which I have included a 20 minute excerpt here.  Sure, that three note descending, then ascending synth melody that eventually comes in is the ultimate in simplicity, but goddamn is it powerful over that backbone of white noise tremolo picking.
I actually did try this one out on Wren, and she was asleep in 3 minutes on my lap.  I, however, remained engrossed the entire time, this is powerful, impressive stuff, I might even need to reevaluate his other, non-black metal influenced ambient work.
*WARNING: Do not actually attempt to put your child to bed with this mix.  It sounds way too scary and there are way too many ideological pit traps in the problematic imagery (both aural and otherwise) to even begin to sort through the implications of playing this to anyone under the age of 30 or so.