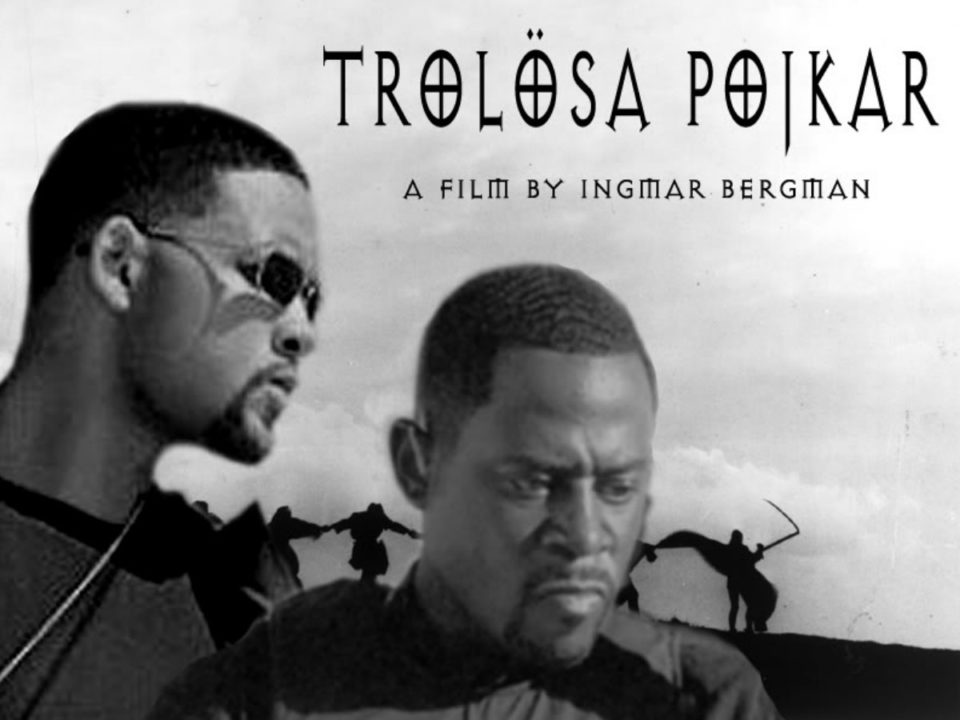 The world film community was rocked this year when pieces of three alternate movie scripts for Bad Boys 2 surfaced. It seems the producers, in an attempt to cash in on the "indie movie" craze, had sought out 3 of the most respected European art house directors to rewrite Michael Bay's original script. Small sections of the finished screenplays have resurfaced now, years after the decision to just stick with the original script, and here, for the first time they are published on the internet!
Each section here covers the "Marcus' Erection Problem" scene from the original movie, and it is amazing to see how each one of these auteurs has left their indelible stamp upon the scene while staying true to the original's brilliant juxtaposition of heartfelt character development with a mistaken meaning comedy of errors
And now, here are the interpretations of this wonderful scene from Ingmar Bergman, Eric Rohmer and Werner Herzog!
"TROlÖSA POJKAR."
(THE FAITHLESS BOYS.)
By Ingmar Bergman
INT – CHURCH – MIDDLE AGES – DAY
Brothers Mikkel and Magnus have returned to the town of their childhood after long years away upon the news of their father's death. Their youth gone, faces scarred, none recognize them.
They stand in the center of the old wooden church whose foreboding image had rested heavy upon their thoughts long after they had left its cold stern benches in the past.
They speak in expressionless voices with Magnus facing the camera while Mikkel is in profile directly behind him.
MIKKEL
Father is gone and yet I feel the same emptiness inside. Are not these beams still constructed of the same dead wood that held this roof up when he was alive?
MAGNUS
(staring at the cross)
I share your emptiness. It has been so long since he has spoken to me.
As Magnus utters these words the young Parson, new to this village, and clinging to the fragile vestiges of his faith enters at the back of the chapel. He hides behind the altar and whispers to himself:
PARSON
What is this? Am I not the only one who must endure His silence? Is He absent from this man's life too?
MIKKEL
Your words have truth Magnus. Our father is dead. What cruel trick is it that his silence is no less pronounced.
MAGNUS
Yet this silence is more profound it seems to me. It is not merely the absence of his words, but now truly I can no longer feel his presence.
The parson clutches his breast, short of breath and pale.
PARSON
These strangers words tear into my soul. I too know His silence only too well. Could He simply not be there? It is too much to bear!
MIKKEL
We killed him you know.
The parson stifles a shriek of horror.
MAGNUS
Yes, even the most base creature might wither into nothingness through lack of love.
MIKKEL
And yet how could we be expected to love such a thing? Is it not too much to ask for love when those you ask it of are shown none of your own.
MAGNUS
Is it? What of Abraham? Did he feel God's love when he set to slaughter his own son? Perhaps it is too much to ask that we experience love back from those we would give it to.
MIKKEL
Nay, a thousand times nay. That is a twisted love that I will have none of.
MAGNUS
Perhaps you are right, but I don't wish to speak of it here any longer. This place is a great weight upon my soul in his absence.
The two brothers leave, thoughts of their dead father and loveless childhood heavy upon their minds. Creeping from behind the altar the parson emerges. Hands shaking he reaches up and wrenches the cross from its mount and dashes it upon the ground.
PARSON
You two strangers need Jesu as much as I do. But I will reach out to a God who covers his ears no longer. I have seen the light, and it is infused with an ineffable darkness. Would that I were able to continue on in ignorance instead of this agonizing emptiness that I now feel!
FADE OUT.
"LES VACANCES MAUVAISES DE MICHEL ET DE MARCEL."
(THE MISBEHAVED HOLIDAYS OF MIKE AND MARCUS.)
By Eric Rohmer
Michel and Marcel have met a pair of friends, Pauline and Maude, while on holiday in Southern France. Initially Michel and Pauline had been seeing each other while Marcel and Maude had spent the most of their time together. But Michel has begun to realize that he too likes Maude and is morally conflicted about attempting to make his move.
Unbeknownst to him, Maude has a boyfriend back in Paris and is feeling conflicted herself about dating anyone. Pauline on the other hand has found herself falling for Michel, which Michel has begun to suspect, thus complicating his situation further.
Michel has just told Marcel of his feelings for Maude at the end of the previous night's party and Marcel stormed out. Today they have met for lunch to discuss this for the first time.
SOUTHERN COAST OF FRANCE – OUTDOOR CAFE – DAY
A waiter sets a plate of cheese and fruit before the two friends. Marcel still seems upset, but is containing his irritation.
MICHEL
I'm glad we are talking about this at least Marcel.
MARCEL
It's just that I was so shocked when you said that you knew she was the girl for you last night.
Unbeknownst to the two friends, Michel's girl Pauline, who he has recently decided to abandon for Maude has entered the café and overheard Marcel's statement thinking it applied to her.
MICHEL
I knew it would be a shock to you. I've never wanted to do something like this before. But are you familiar with Pascal?
MARCEL
Yes, of course, to some degree, I read a bit during my philosophy studies in school.
MICHEL
So you are familiar with his wager?
MARCEL
Yes, but how does it apply here?
Pauline continues to eavesdrop and think that Michel is talking about her and not Maude while Michel and Marcel have a conversation about Pascal (see attached 30 page script addendum) where Michel explains that when the rewards are so high, he would have been a fool not to take that chance.
MARCEL
That may be true, but I want her as well. It seems that our rewards are at odds here.
Pauline's mistaken assumption that now Marcel likes her as well startles her.
MICHEL
Perhaps in such a case we should let the reward determine its own recipient my friend.
MARCEL
Very well, let us go ask her this right now! I think you'll find you have wagered upon a weak hand in this case!
Turning to leave, they see Pauline sitting within earshot! Marcel, thinking she has heard of Michel's disinterest in her flags a taxi to get to Maude's leaving Marcel to explain himself. Marcel, thinking she has heard of his disinterest in her leaves the diner on foot, unable to deal with discussing the situation with her at that time. Pauline, misinterpreting both men's reactions as embarrassment for declaring their feelings for her, rushes to call Maude and tell her the bad news.
"DIE SCHLECHTE MÄNNER DER DUNKELHEIT UND DER EINSAMKEIT."
(THE BAD MEN OF DARKNESS AND SOLITUDE.)
By Werner Herzog.
JUNGLE RIVER – GOLDEN HOUR
Micheal and Markus face each other from opposite banks of the jungle tributary, each clutching a squirming chicken in his hands. The base, hostile screams of the forest are overpowered only by the roar of the all consuming rapids between the two men.
The tattered seat of Markus' pants is covered with the dried blood of the previous days beak wounds.
They stare into each other's empty eyes, unable to speak in the face of the natural cacophony around them. Is it hatred or love that roots these men to this spot? The tribesmen that watch from behind stinging nettles and poisonous vines can not tell which.
Michael and Markus simultaneously throw their chickens into the center of the raging river
CUT TO:
RIVER RAPIDS – CLOSE UP
The water surges and foams, a great primeval force of chaos and darkness. The screams of the drowning chickens fade as the camera lingers on the violence of the water (HOLD SHOT 10 MINUTES).