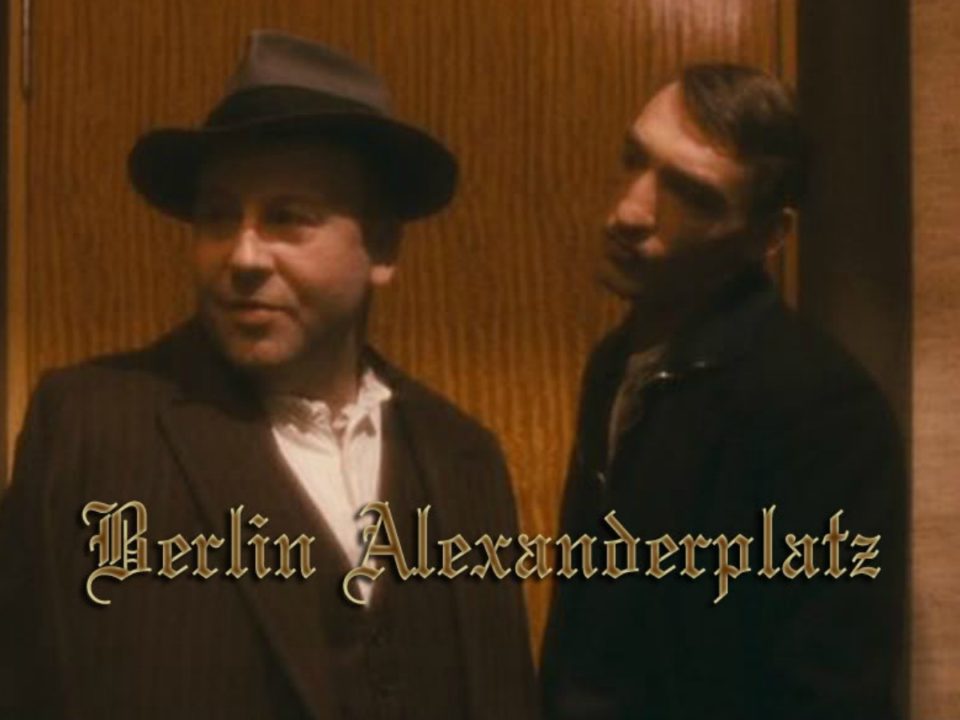 Rainer Werner Fassbinder is one of the greatest film directors the world has ever known. He directed his first feature at 24, and by the time of his death at 37 he had directed over 40 films. I've seen a little more than half of these and have yet to see a poor film. Some are better than others, many more are masterpieces, but each and every Fassbinder film is an example of a film director working above his peers with a perfect mastery of his craft.
A common theme in Fassbinder's work is that of a person being crushed by the world around them. His protagonists can not live up to the expectations of society, and find their only recourse is a descent into depression, madness or suicide (often all three). It is not entirely the fault of "the cruel world" in a Fassbinder film however. If one looks deeper at a Fassbinder character it becomes clear that their own personal weakness and poor decisions have contributed just as much to their downfall.
So when I finally got a chance to see Fassbinder's epic 15 and half hour film Berlin Alexanderplatz (a film based on Alexander Doblin's novel that Fassbinder cites as the single most influential work of art in his life) it ended up being incredibly similar to his other films despite being an adaptation. Fassbinder himself said that he went back and reviewed all of his films before making Berlin Alexanderplatz, and in doing so realized how similar they all were to the central themes in Doblin's novel, more than he had even meant for them to be. I can't imagine any other director being able to tell this story as effectively since Fassbinder had pretty much been making films based on the book his entire life in preparation for this one film.
Aside from a somewhat perplexing final two hour dream sequence full of blue screen work, angels and anachronistic music (from Janis Joplin, Leonard Cohen, and most effectively, Kraftwerk's Radio-Activity), Fassbinder plays it pretty straight. He films in such a simple and effective way that the story of Franz Biberkopf, a former teamster and pimp who is released from prison in the opening scene and soon vows to go straight, never seems to drag despite the nearly16 hour running time.
Franz Biberkopf is a beast of a man. He was imprisoned for murdering his girlfriend with a wooden egg beater in a fit of rage; he is a sadist, a womanizer, a thief, a pimp and a drunkard. And yet he is the hero of the story and despite every unforgivable personality flaw you get the idea he might be a decent human under it all.
This is a common Fassbinder character (though Franz seems a bit more "beastly" than many Fassbinder "heroes" who tend to veer more into "pathetic") and it helps to understand the movie to know that Fassbinder saw himself as this type of person, someone who would inevitably be crushed by the world through his own weakness. For all his brilliance Fassbinder's life was a long sequence of self-destructive actions, manipulation and guilt.
Each of the 13 episodes of Berlin Alexanderplatz tell of how Franz's attempt to go straight becomes increasingly impossible due just as much to his own personal failings as to the unforgiving world and betrayals of those around him. In a typical Fassbinder move, Franz's love for others and the repeated betrayals by those people are his ultimate undoing.
It is an interesting idea, the fact that Franz is undone by his trust and love for others. At times his mistake is placing such love in the wrong places, but can we help who we love? This is a central Fassbinder theme, the insidious manipulative nature of human love and relationships and perhaps that is why on some level we all root for Franz despite his often abhorrent actions. It is his desire to love and be loved that destroys him and yet redeems him at the same time.