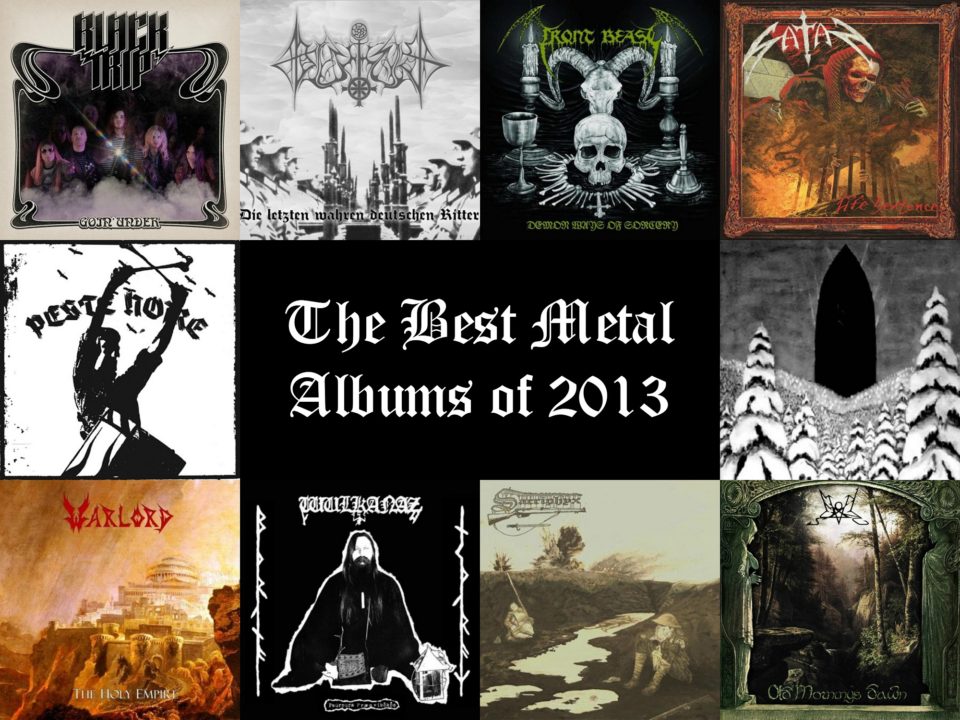 I've never been one for new albums.  Partly because  my taste tends to run "old school," and partly because there is so much older stuff that has withstood the test of time that I still haven't heard.  Still, I thought I might try my hand at making a top ten list for metal releases from this year–I am a sucker for lists after all!  And, as I was pleasantly surprised to find out, there were a lot of great metal albums released this year!
One thing I quickly accepted was that this was going to have to be a list of the best 2013 metal albums that I have actually had a chance to listen to.  At the rate the underground is putting out new material, there is no way anyone could ever do an actual exhaustive list (well, I'm sure plenty do, but I ain't got time for that!)
Another thing I decided was that just because I love a certain band, that does not mean their new album deserves a place on this list.  The biggest offender with classic band new releases is the album that sounds exactly like the previous 20 albums from that band.  Sure, I might like the style, but if you don't do something different, chances are you are going to be missing that certain spark that made your first few albums so great.
Not to say you can't release something in the same mold that stands out, but it is a rare occurrence.  That said, Autopsy, Carcass, Immolation, Darkthrone, Sodom, Inquisition and plenty others released albums this year that were perfectly fine.  But, at the end of the day, I doubt I'll listen to any of their releases around this time next year, while I would like to think that I will still be listening to the bands that actually made my top ten list for longer than the few months at the end of the year in which they were released.  Better luck next year guys!
Also, it quickly became clear to me while making this list that I like two types of metal and only two types of metal: Really shitty sounding black metal, and old school sounding heavy metal.  And Summoning I guess, but considering their subject matter, that is probably to be expected.
With all that said, let's get on to my list of the top 10 metal albums that appealed to my questionable taste more than the rest of this year's releases (that I actually listened to):
10. Front Beast – Demon Ways of Sorcery
Front Beast is a band I'd always kind of written off as something I assumed I wouldn't like.  I had no reason to do so, but as it turns out, I was missing out.  They play a very cool almost folky (but, importantly, not TOO folky) style of black metal that isn't afraid to get creative with the riffs.  This album came out of nowhere for me, but was quite the breath of fresh air and should probably be ranked a bit higher on this list!
Just check out "Bearer of Satan's Flame" to see how cool this stuff is…they even work in a bit of syncopation at one point and I still don't lose my shit!
9. Warlord – The Holy Empire (heavy epic power metal)

Warlord's And the Cannons of Destruction Have Begun… is one of the greatest heavy metal albums on the 80s, and one of the earliest examples of epic power/heavy metal done right.  Then they came back in 2002 and put out another great album, and now here they are in 2013 with their third full length in 30 years.
Well, I'm happy to report that these songs STILL mostly kick ass.  Laid back dark romantic metal that only occasionally descends into eye rolling territory. What I am less happy to report is that Warlord founder and songwriter William J Tsamis' penchant for bible thumping (that we all tried to ignore with suspicious song titles like "Deliver us…from evil"–to say nothing of his Lordian Guard band) has finally crept into Warlord's music in no uncertain terms.  Still, if I can listen to the rest of the ideologically abhorrent bands on this list, I can deal with some excellently written songs about killing Muslims and sending them to HELL like you will find with "Night of the Fury":
8. Summoning – Old Mornings Dawn (epic synth black metal)
I've kind of been shitting on Summoning's recent output, saying stuff like "they haven't had a new idea since the Dol Guldor sessions," and "too much brass."  And, while this latest release sounds exactly like what you would expect it would sound like, I'm pleased to report that the songwriting actually feels surprisingly fresh!  Maybe it's the excellent guitar tone, maybe it's the way they downplayed the brass, or maybe it's just the awesome epic melodies, but I've listened to this album quite a bit this year and haven't gotten tired of it yet.  Hell, they even managed to make me proud of my prominently displayed Summoning patch on my black  metal vest–no mean feat.
If I have a complaint, it is that this stuff is way too polished and pleasant sounding for those vocals to really compliment it.  Raw vocals work on Blutkult's "Paradise Lost" (which has a real Old Mornings Dawn vibe), but honestly, they've become more and more distracting as Summoning moves further and further away from their black metal roots.
Bottom line, Old Morning's Dawn doesn't exactly rewrite the book on epic Tolkien inspired synth heavy black metal, but it was at least a step in the right direction for a band that has been sounding a bit stale.  "Flamifer" is a good example of the strong songwriting and improved sound on this album:
7. Paysage d'Hiver – Das Tor (ambient black metal)

I know I just spent the intro bitching about bands that put out the same album over and over again.  And considering that this is Swiss band Paysage d'Hiver's 10th "demo" (can you really still call them demos?) in 15 years with little change in their core sound, this would seem to be a prime offender in the "making the same album until every last spark of soul has been sucked out of the original" category.
However, considering that Paysage d'Hiver is probably my favorite black metal discovery of the last decade, and that I identify with their sound more than any other black metal band currently working today, I suppose I have to give them a pass for "pulling the same shit yet again."
And this really is a great album even if a good 20+ minutes of it is just the sound of winter wind.  These songs have something to say.  It might be done in the same style as previous albums, but it is a triumph of cold melancholy winter atmosphere nonetheless.  Also, importantly, the real secret weapon of Paysage d'Hiver is the HORRIBLE production.  White noise has so much possibility for imagined complexity that you can always find something new in a typical 3 note Paysage d'Hiver song.
Check out the slow and stately "Ewig Leuchten die Sterne."  It is a song that even manages to work in a solo that borders dangerously close to that "post black metal" shit I loathe.  Thankfully, it stays on the right side of "soaring guitar line" and ends the song on a high point:

6. Sacriphyx – The Western Front (greek style black death metal)
Considering how much I love Greek black metal, it's no surprise that this slab of Rotting Christ/Varathron worship from Australia's Sacriphyx ended up on my year end list.  Thoughtful lyrics about war, excellent melodies, and a great production make Sacriphyx one of the most exciting bands to watch in the metal underground.
This is all right down my alley of course, but the album is not without its flaws.  For one, I think their self-titled compilation cd of their early 7″ and split albums (also released this year) is actually a stronger piece of music.  And I really don't get into their doomy stuff like "Without a Trace" or the intro.  Still, doom "filler" aside (and the one so-so acoustic song), The Western Front is an excellent album, and songs like "Buried Behind the Lines" can stand toe to toe with anything released this year:

5. Blutkult – Die Letzten Wahren Deutschen Ritter (black folk punk metal)

Die Letzten Wahren Deutschen Ritter is the newer German band Blutkult's first real full length album, and is one of the most polished examples of RAC style NSBM (ie, folky/punky/racist black metal for those not in the know) that I've yet heard.  Not to say that it's overproduced by  any means, it just sounds like all the pieces finally gelled for Blutkult into an extremely competent package that might even win over those who would typically turn up their noses at this kind of stuff.
The songs are mostly simple three chord affairs, but they really create a powerful atmosphere of epic  and anthemic sorrowful longing tempered with some excellent hateful vocals.  Great stuff, and if they keep progressing at this rate, I wouldn't be surprised to see Blutkult turn up on another one of my end of year lists down the road!
If you are new to this style of music, the melancholy "Swarze Sonne", with its simplistic folk/punk structure and laughably rudimentary solo, is the kind of thing you'll either immediately love or immediately shrug your shoulders and say "that's it?"  I happen to love it:
4. Black Trip –Goin' Under (heavy metal)

This kind of heavy metal revival stuff is getting more popular now, and considering my much relaxed standards for brVtalness in the last five years or so, I'm all for it.  This is Sweden's Black Trip's first full length, and it is almost High Spirits good (which is high praise indeed).  The primary strength of the album is the unending string of catchy hooks that make the songs so immediately memorable.
Maybe it's a bit bare bones, but Black Trip doesn't see any need to jump through any hoops to deliver the TR00 essence of heavy metal on Goin' Under.  You'll catch yourself humming along to songs like "Voodoo Queen" long after they are over:

3. Wulkanaz – Paúrpura Fræovíbôkôs (black folk punk metal)
I've been rather enamored of Sweden's Wulkanaz since their first demo, but too often their releases were uneven and too full of filler.  After a disappointing debut album, here they are with their second full length, the unpronounceably titled Paúrpura Fræovíbôkôs (hell, I don't even know what language that is), and they finally got it right.
Sounding kind of like a folkier Ildjarn, or a more shittily produced Peste Noire, Paúrpura Fræovíbôkôs is an supremely ugly blast of folk punk masquerading as black metal.  It would probably be even higher on this list if it were just a bit more fully fleshed out.
Once again, from the opening track "Haifstjan Dauri Diupiþa," I immediately knew that this was an album for me.  As much as I love this, I wouldn't be surprised if Wulkanaz at least had some problematic views on immigration:

2. Peste Noir – Self Titled (black folk metal)
France's Peste Noire is a band I wasn't super familiar with, but based on this album, I really should have been paying a lot more attention to them over the years.  While what I used to say about them is probably still true (mostly that this guy isn't so much an "insane genius" as much as he just likes to dick around with tubas and accordions), this is still a very creative and mostly brilliant album.
It's amazing I like this as much as I do considering how much is going on here (he jumps from style to style like he's John Zorn), but there is a lot of astonishingly good songwriting on display despite all the dicking around.  Additionally, the production is really brilliantly filthy, which helped sell me on everything.  The dude even raps and somehow makes it work.  Also, it was surprisingly effective to hear the usual nationalist spoken rants in a language other than german.
"La Bêche et l'Epée – Contre l'Usurier" is one of the many standout songs on an exhausting, but brilliant album from a band that I really need to listen to much more than I do:

1. Satan – Life Sentence (NWOBH metal)

In 1983, British band Satan recorded one of the greatest New Wave of British Heavy Metal (NWOBHM) albums of all time with Court in the Act.  4 years later, the almost equally great follow-up Suspended Sentence proved they were here to stick around.  Or at least so everyone thought, because for 26 years there was silence–until they dropped Life Sentence out of nowhere earlier this year!
I can't say how surprised I was to witness a band take a quarter century break and then pop out an album that was just as good as their old stuff.  Had they been working on the songs this whole time? Whatever the reason, this is one classic band that if I saw them live I wouldn't wince to hear "and now here's one from the new album." Honestly, the only negative point in the entire album is that shitty smooth jazz solo in "Incantations."
This whole album is full of the kind and quality of music that I frankly didn't think they made anymore.  No good way to pick one song, but the darkly melodic "Tears of Blood," despite (because of) being a simpler number, was a standout to my ears (in part because it sounded like a Warlord song if I must admit):

Near Misses
These albums weren't quite good enough to make the list for one reason or another, but they are all worth a listen (album titles are youtube links).  Listed in rough order of preference from best down to least best:
Bilskirnir – Wotan Redivivus (There might not be a lot of depth to the music, the riffs might go on a tad too long, but goddamn if they aren't writing the riffs I want to hear, and putting them in the order I'd like to hear them.)
Beastmilk – Climax (fucking awesome album, but it's technically death rock/post-punk, so didn't really fit on the metal list)
Manilla Road – Mysterium (very nearly made my list, but there were a few too many uninspired verse riffs to quite make the cut)
Ogdru Jahad – I (AWESOME Blasphemy worship, but there's still only so much you can do with Blasphemy worship)
Caladan Brood – Echoes of Battle (really well done Summoning worship, but I still didn't think this quite matched the real thing)
Condor – Self Titled (Condor is a new Norwegian black/thrash band that has been getting a lot of buzz lately.  And their debut self titled full length did not disappoint.  If there's one thing Condor brings to the table, it's TEH RIFFZ.  At this point they aren't really all that black, mostly just straight up old school thrash, of the down and dirty variety.  Visceral, in your face, and as energetic as a barrel full of hydrogen bombs, Condor is definitely a band to look out for down the road.)
Zemial – Nykta (a bit too proggy in places for my taste, but plenty of the old Zemial charm)
Ravenmoon Sanctuary – Winter Desolation Of Death (standard black metal, but so atmospheric and well done that they really bear mentioning too)
Plaga – Magia Gwiezdnej Entropii (quite enjoyable melodic and MGLA sounding black metal)
Burzum – Sol Austan, Mani Vestan (surprisingly good ambient album, it would be even better if it were half as long)
Nekrokrist SS – Der Todesking (straight ahead black metal, but dirty enough for me to enjoy it quite a bit)
EPs and Split Albums
It didn't seem fair to throw these into the running with bands that had to come up with a whole album's worth of material, but here's the best of the short run time stuff (again listed in rough order of preference from best down to least best):
High Spirits – 2013 (If this were a full length it would probably be my number one choice for the year)
Black Magic SS – Panzerwitch (This is more black 'n roll than metal, but damn if it was a breath of fresh/fetid air to hear rock organs put to such great/evil use)
House of Atreus – Into the Brazen Bull (This normally wouldn't be my thing, but then again, neither would Arghoslent, but, like Arghoslent, I've gotta admit this EP is pretty great anyway)
Ostots – Arantzen Putzuan (Extreme underground Spanish raw black metal favorite.  Their split with Ødelegger was also great this year)
Bolzer – Aura (melodic death metal to watch out for, I've got high hopes for their debut)
Dwell – Plunging into Ash Tombs (Inquisition worship, but done right…much better than the new Inquisition)
Der Sturmer/Wehrhammer – Split [no youtube clips] (if you liked stuff like Blutkult, you'll love this split!)
Arnaut Pavle – S/T (awesome straight ahead nasty black metal demo, I'll be watching for these guys)
What's that you say? Where's all the death metal?  Haven't you heard? I don't listen to that stuff anymore…
Finally, here is this year's top ten in convenient playlist form: