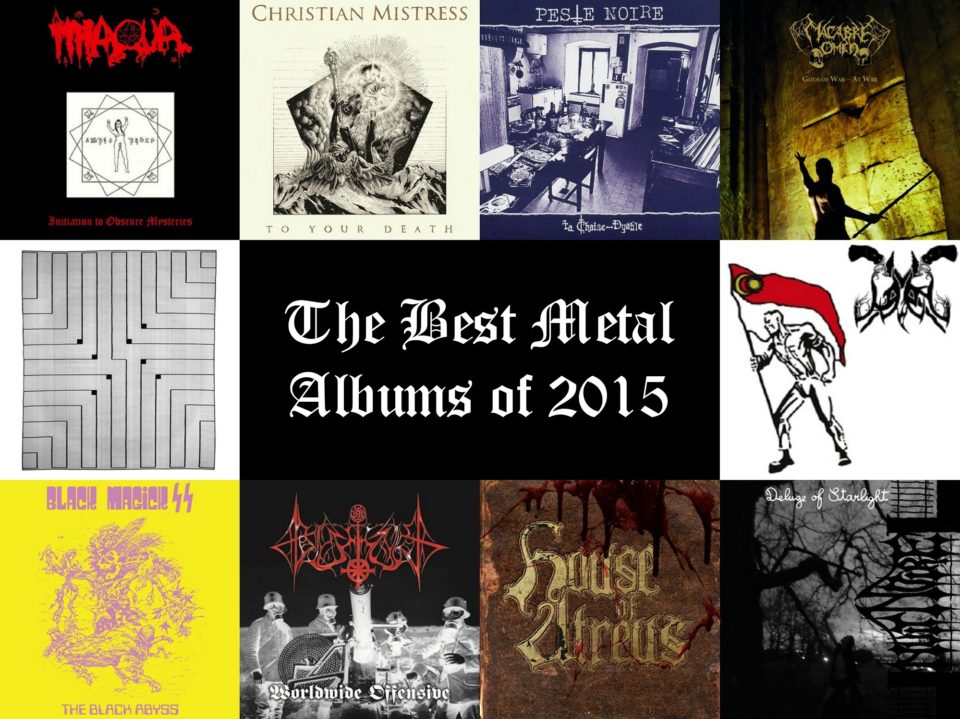 The more I do these end of year lists, the more I realize that most new metal (like most other new music) is pretty heavily indebted to the "old stuff."   And, while it's rare to find those truly unique bands like Peste Noire, I have to admit that a well done "homage/rip-off" can be almost as fun as the real thing.  That admission, along with the simple fact that my taste has narrowed to a pretty specific style of black metal rooted in shitty punk/folk is my only explanation for this year's picks.
So, here, in as close of an order as I can get them (the exact order and even albums will undoubtedly change over the next few weeks as I get more time to listen), are the ten best (mostly) underground metal albums of 2015:
10. Jugra – Jugra
Ok, let's get this out of the way first.  This album kind of sucks.  It's third rate Absurd (a band that is already pretty much a third rate band in relation to any of the genres they were attempting to play) worship that coughs and stumbles its way through its short playtime.  And yet, I love Absurd, and deficiencies aside, I'm pretty sure I'll end up listening to this album more than just about any other album on this list.  Of course, maybe that's just because I have it on CD and I can listen in my car.
Malaysian RAC is an odd proposition, but this really works far better than it has any right to work.  The production is actually pretty good (especially the drums), the vocals are on point (both clean and "Donald Duck"), and the songs have that catchy quality that the best 3 chord punk manages to tap into.  Not nearly as shitty as it seems at first glance, this track, "Patriotik Metal" is a good example of the kind of energetic stuff you will find on this album:
9. Slaegt – Ildsvanger
Slaegt kind of sounds like a raw cross between Immortal and Gorgoroth, which, normally wouldn't really be my thing, but the rawness of the production really pushes the already pretty interesting music to a new level for me.  Though, they have cleaned up their sound quite a bit for their newest ep (also released this year)–and I don't like it nearly as much–so it makes me wonder just how good they were in the first place.
Either way, there's a lot to like here, and if I'm going to listen to norsecore inspired black metal, it's going to sound something like Sleagt. Here's the opener "Der er Kraft I Det Onde":
8. Blutkult – Worldwide Offensive
Though it was in the bottom half of my 2013 list, Blutkult's debut was probably my most listened-to new album of the last 2 years, and this, their follow up, follows along in the same RAC influenced folky black metal footsteps.  Unfortunately, this was also more of a lateral step than a step forwards.  Everything is pretty much exactly where they left it on the last album, right down to the overly loud vocals.  Which leaves us with an album that unfortunately fails to really wow me the way I'd hoped it would.  Still, I foresee a lot of listens to this one anyway as RAC/black/folk metal is kind of my jam, and this is well done stuff. Here's one of their most socially acceptable offerings, "Bloodcult":
7. House of Atreus – The Spear and the Ichor that Follows
For those waiting (most likely in vain) for the next Arghoslent, House of Atreus is a decent substitute.  They might not have that certain "je ne sais quoi" that Arghoslent would never use to describe what they have, but there are more than enough examples of excellent riffing on this album to keep the listener grinning in appreciation.
If anything, the most impressive thing about this album (and Arghoslent's work in general) is that it makes a die-hard "necro" (read, shitty) black metal fan like myself appreciate what is essentially a melodeath album.  Like most of my list this year, this isn't the most original bit of worship I've ever heard, but it's pretty damn good anyway.
6. Nuit Noire – Deluge of Starlight
Yes, "Still a better band than Nuit Noire" has kind of become the black metal equivalent of "Still a better love story than Twilight." And yes, the singer carries a sword while dressing exclusively in cape, boots, and tighty whities. And yes, his singing voice sounds like he's choking a hipster cat with a fair trade dildo.
However, in addition to being really quite original in a field where most bands are decidedly NOT so, Nuit Noire has also been quietly cranking out some of my favorite riffs in black metal for the past decade. Just this awesome combination of lo-fi folk and blackened punk that is unlike just about anything else I've ever heard (though, it has, admittedly, not progressed a great deal from album to album). I love the standard Nuit Noire style of riffing so much that I'd forgive just about anything–even those vocals. Hell, I'd even forgive that spoken word section on track 5.
Youtube only had one of the songs from this album (I couldn't figure out how to steal the audio from their bandcamp), and it's not my favorite, but it's still pretty damn good (the actual song kicks in after 30 seconds or so). Here is "A Letter to Humans":
5. Macabre Omen – Gods of War – At War
The hype wasn't wrong, Macabre Omen put out one hell of an album from out of nowhere this year: a massive slab of Hammerheart era Bathory worship that plays for over an hour without wearing out its welcome.  Very epic stuff, and with enough variation to maintain interest over a long playing time, there is a lot to love here.  And yet, maybe because it's so obviously indebted to Quorthon, or maybe just because it isn't quite as impressive as all the bombastic and epic melodies would suggest, but I just don't see this one having the same staying power as others on this list.
Though, for now, epic stuff like "Hellenes Do Not Fight Like Heroes, Heroes Fight Like Hellenes!" continue to prove to be better than their song titles suggest, so I guess we'll see!
4. Ithaqua – Initiation to Obscure Mysteries
These are the same guys as Caedes Cruenta, and, honestly, their sound is essentially the same here too (maybe a little more stripped down production wise), so I'm not sure why they felt the need to form a "new" band.  And, as far as wearing their influences on their sleeve, Ithaqua are about as brazen as it gets in their copying of the early 90's second wave Greek sound, right down to the production.
Still, that happens to be one of my all time favorite black metal sounds, and Ithaqua copy it so perfectly that I find it hard to fault them for their lack of originality. It's always nice to have an option for those times where you want to hear some unreleased B-sides for Thy Mighty Contract. Songs like "Summoning the Incarnations of the Worm" fit the bill nicely:
3. Peste Noire – La Chaise Dyable
No black metal band is more original than Peste Noire, and with their latest album they have once again wiggled their way to the upper regions of my end of the year list.  Sure, I always have reservations about some of the silliness, but goddamn is this one hell of an album.
Like all Peste Noire, it's not quite consistent enough to grab the top spot, but songs like the brilliant "Le Dernier Putsch" with its deliciously primitive arpeggiated tremolo picking make all other black metal bands' arpeggiated tremolo picking seem primitive in comparison:
2. Black Magick SS – The Black Abyss
Black Magick SS has spent the last few years releasing EP after EP, so it was nice to have a collection of all their short releases in one place.  And, due to the fact that 7 of these songs were released for the first time this year, I say this counts as a new album rather than a compilation.  Which, I was pretty sure a Black Magick SS full length was going to be near the top of any year's best of list, and this did not disappoint.
Just imagine a really evil and dark sounding version of The Doors and you have an idea the kind of sound Black Magick SS is working with.  It's inspiring, unique stuff, and, so far, they have yet to let me down.  New material like the title track "The Black Abyss" shows that this band has plenty more inspired, organ-heavy Black 'n Roll left to give:
1. Christian Mistress – To Your Death
As is becoming a tradition in my end of year lists, I save the number one spot for a legitimately GREAT album.  Christian Mistress has gotten better with each release, and this latest one might just be my favorite–which is impressive considering how commercial sounding it is.  Hell, some of this stuff could even get radio airplay!
Bottom line, this is a brilliant slab of accessible heavy metal from start to finish with some of the best vocals in the business.  I don't even remember the last time I heard  a collection of choruses this catchy, and the album's "single" "Open Road," is only the beginning of the charms of this instant classic album:
 Near Misses
The following albums were just ALMOST there this year, but lost out to the in no way shitty and formulaic albums that actually made the list:
Iron Maiden – Book of Souls: Ok, fine, this was a pretty damn good album.  But come one, in what world would I listen to this over any of their classics? Which, could maybe be said for all my style apers on this list, but I also legitimately see myself going to them before I go to this album in 10 years.  If it makes everyone feel better, after a year of retrospect, Judas Priest's similarly good not great album last year will probably be taken off my list too.
Hic Iacet – The Cosmic Trance into the Void: Some really crushing tracks, but just doesn't quite have the consistency to compete.
Gnosis – The Third Eye Gate: Some really crushing tracks, but just doesn't quite have the consistency to compete.
MGLA – Exercises in Futility: Some amazing stuff on here, but damn, they are just so mid-paced that it tends to suck the energy right out of the room.
Арийско Изкуство- Хармония – Вечност – Вселена: Awesome album, but like most of their stuff, the melodies are just a little too one dimensional to really carry the songs.  Or maybe I just didn't want to have to write their English name.
Ostets – Hil Argi: Very solid, but nothing really exceptional to make it stand out.
Genocide Shrines – Manipura Imperial Deathevokovil–Scriptures of Reversed Puraana Dharmurder: Very impressive caverncore, but I'd probably have to spend more time with it than I wanted to see if it was more than just atmosphere.
Black trip – Shadowline: Good stuff, but too hard rocky for my taste this time around.
Akitsa – Grands tyrans: Great album, just too bad each song only had about one idea.
Finally, here is this year's top ten in convenient playlist form: