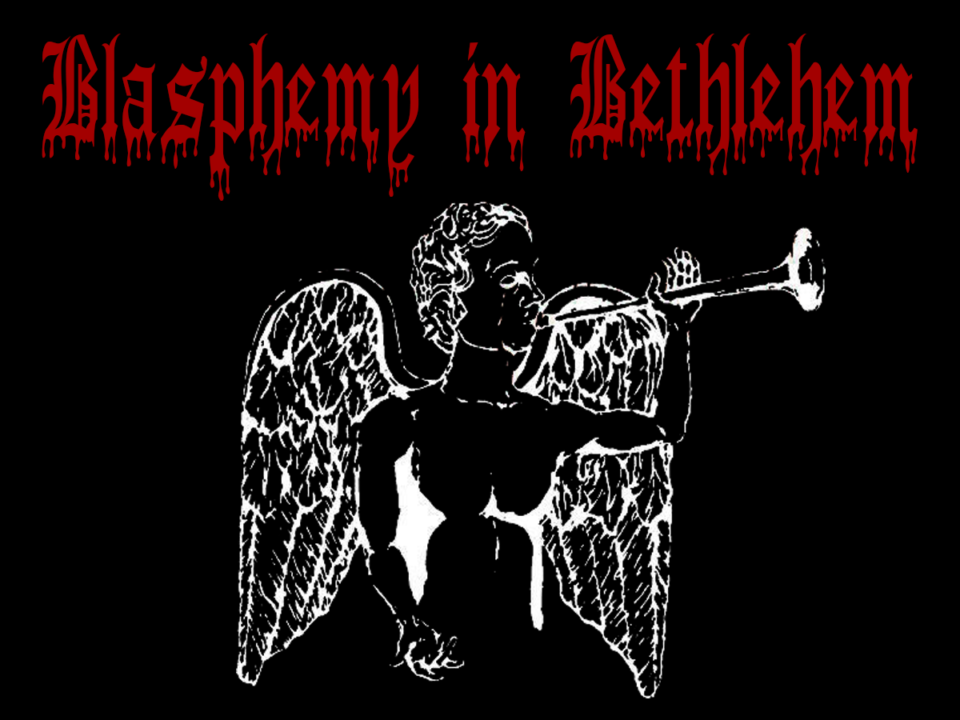 Christmas has always been my favorite holiday. I don't even care about all the Jesus stuff, there's just a special feeling in the air no matter how lame and preachy the second verse of God Rest You Merry Gentlemen is. Still, in an effort to balance things out, I thought I'd try a little change of pace from my past Jesus-heavy Christmas playlists and see if I can't work on taking the Christ out of Christmas a bit.  So, today, for the first time, I have pulled together an ALL METAL Christmas playlist!
However, I didn't want to take the easy way out and just fill this list full of metal Christmas staples like Torture's "Slay Ride," Dio's excellent rendition of "God Rest Ye Merry Gentlemen," and that King Diamond one.  Instead, I decided to focus only on songs that actually dealt with The Nativity itself, and, as an added restriction, I made sure to only use the most evil and disgustingly filthy sounding black/death bands of all time.  I really wanted to include songs like Nocturnus' "Destroying the Manger," but all those space sounds and actual musical chops just didn't fit in with all the primitive cavern-core black death grunting on this playlist. I also did my best to veer away from the literally thousands of metal songs dealing with sexual violence against the Virgin Mary, because, #notallmetalheads.
So, without further ado, here is the most disgustingly filthy and evil playlist of songs about the Nativity that I could come up with. It might not get you in the Christmas spirit, but if all the Jesus stuff is starting to get you down, a quick blast of this playlist will get you back on the right (left) path in no time!  (Quick notes on the bands featured can be found below this playlist!)
1. Blasphemy – Blood Upon the Altar Intro
For anyone with even a passing interest in metal, Blasphemy needs no introduction–from their jaw droppingly ferocious first demo in 1989 they completely changed what was thought possible with extreme metal.  With this short demo, and two short follow-up albums, Blasphemy inspired a legion of imitators (many of which are found on this playlist) with their relentless energy and unholy production values.
This song is just an intro from their groundbreaking 1989 Blood Upon the Altar demo and doesn't really have much to do with Christmas, but no playlist full of Blasphemy clones would be complete without at least something from the original masters.
2. Havohej – Weeping in Heaven
Paul Ledney founded both Incantation and Profanatica, two of the most respected bands in the death metal underground before moving on to Havohej (Jehovah spelled backwards).  Havohej is a continuation of the Profanatica sound, taking things in a blacker direction and establishing itself (along with Demoncy) as the gold standard for early American extreme black metal (aside from the platinum standard, Grand Belial's Key).
"Weeping in Heaven" from their first full length, 1993's Dethrone the Son of God, is their best known (and possibly best) song…metalheads have been playing that opening "I Vomit on God's Child" line to scare believers for longer than I've been listening to metal.  Its relation to the Nativity is dubious, but I've always interpreted the "child" that gets vomited on to refer to baby Jesus (as opposed to grown up Jesus), so, still counts.
3. Archgoat – Jesus Spawn
Archgoat established their scene cred by releasing two demos and an EP in the early 90s before disappearing for the next decade.  Upon their reformation in 2004 they have pretty steadily released a stream of quality "caveman" black-death metal.  The question of how much Archgoat stole from Blasphemy is up for debate, but for stupid grunting evil noise, it doesn't get much better than Archgoat.
Your guess is as good as mine as to what the lyrics of "Jesus Spawn," from their 1993 EP Angelcunt, are about, but calling the baby Jesus a "Jesus Spawn" is rather amusingly blasphemous.
4. Crucifier – Apocryphal Nativity
This fairly obscure black-death band was founded in the early 90s by Grand Belial Key's infamous drummer/vocalist Cazz Grant (AKA The Black Lourde of Crucifixion).  Crucifier is a bit more straight ahead old school death metal, but its quality stuff that should have gotten more attention.
Today's track is from their excellent 1992 Crown of Thorns demo.  The song isn't all that blasphemous (beyond pointing out the obvious apocryphal nature of the whole Nativity story) by the standards of this list, but it's still an excellent slab of evil Christmas themed death metal.
5. Necros Christos – Christ was not of Goatborn Blood
Necros Christos is hands down the best death metal band active today.  I could maybe understand the argument that they are a bit samey, but their combination of brilliant old school death metal songwriting, FLAWLESS production values (seriously, they really know what they are doing in the studio), and excellent use of short Middle Eastern intros between songs is pretty hard to beat.
The hilariously titled "Christ was not of Goatborn Blood" is from their 2007 classic Triune Impurity Rites (AKA Trivne Impvrity Rites).  It is a bit of an oddly polished duck on this play list full of cavernous barking war metal, but the evil atmosphere more than fits (even though I've always wondered if maybe Necros Christos was a stealth Christian band all along, after all, they say he's NOT of goatborn blood…
6. Angelcunt – Jesus the Uterine Cancer
This is one of the Totale Vernichtung guy's many bands, in this case, it's straight up Blasphemy (or Archgoat if the band name is any clue) worship, with Antimessiah's usual high register black metal twist.  It's excellent stuff, even if its treading in familiar waters.
This song, from the 2012 Demonic Proclamation demo, is one of the few (surprisingly) metal songs about an in-utero Jesus, and is a clever take on the concept with the whole uterine cancer angle.
7. Von – Lamb
Von is a band that put out one 20 minute demo in 1992 that was probably a joke.  However, metalheads have never been great at taking a joke and inadvertently based an entire genre (black metal) around Von's ridiculous demo full of one riff songs.  I'm being facetious here, but only slightly, and, like all who are misguided enough to think lo-fi black metal is actually worth listening to, I also actually think Von produced a work of real genius, accidental or not.
This song, from their 1992 Satanic Blood demo, has something to do with a lamb, so it totally fits our nativity themed playlist today.  Also, it's evil as fuck.
8. Abhorer – Hymeneal Altar of Messianic Salacitation
Singapore's Abhorer is one of the few bands on here who can legitimately deny a Blasphemy influence, as their instant black/death classic Rumpus of the Undead demo was released in 1989.  Their first full length seven years later was an unqualified masterpiece, cementing Abhorer reputation as a bad that has been making classic blasting filth for longer than just about every other band on this list.
This song is from their 1996 album Zygotical Sabbatory Anabapt, and shares a similarly lexically confusing song title.  I have no idea what the lyrics are, but I assume the song has something to do with Mary's vagina being a lusty shrine to our lord and savior: Baby Jesus.
9. Profanatica – Mary Conceived with Sin
Profanatica formed when a VERY early version of Incantation split off because, I assume, Incantation wasn't evil enough for them.  Which, if you know Incantation, you know how fucking ridiculous that sounds.  Profanatica basically just turned into Havohej, thus meaning I'm kind of cheating with the "one song per band" thing here, but Profanatica is so sweet, I figured I'd go ahead and throw them in here anyway.
I see no comma, so I assume this song from an unreleased 1992 studio session means that Mary conceived Baby Jesus in a sinful encounter with the man upstairs himself.  Which, as far as references to Mary go in death metal song titles, is positively wholesome (and, also unusually, doesn't even mention her asshole).
10. Incantation – Christening the Afterbirth
Let's not give Paul Ledney from Profanatica/Havohej too much credit for Incantation.  He left the band after their first rehearsal, making all the Incantation vile blackness to follow entirely the fault of John McEntee (with an assist from Craig Pillard's disgusting vocal abilities).  I've gone on and on about Blasphemy's influence on the nastier side of the death metal underground, but, honestly, Incantation's cavernously evil sound has had a far more lasting influence (and they produced far more than a measly 50 minutes of original material in their time).
This song, from Incantation's epic 1992 debut Onward to Golgotha, doesn't necessarily refer to the Nativity itself, but, I've always thought traditional Nativity Scenes needed more placentas, so this is a fitting capper to this Christmas playlist!