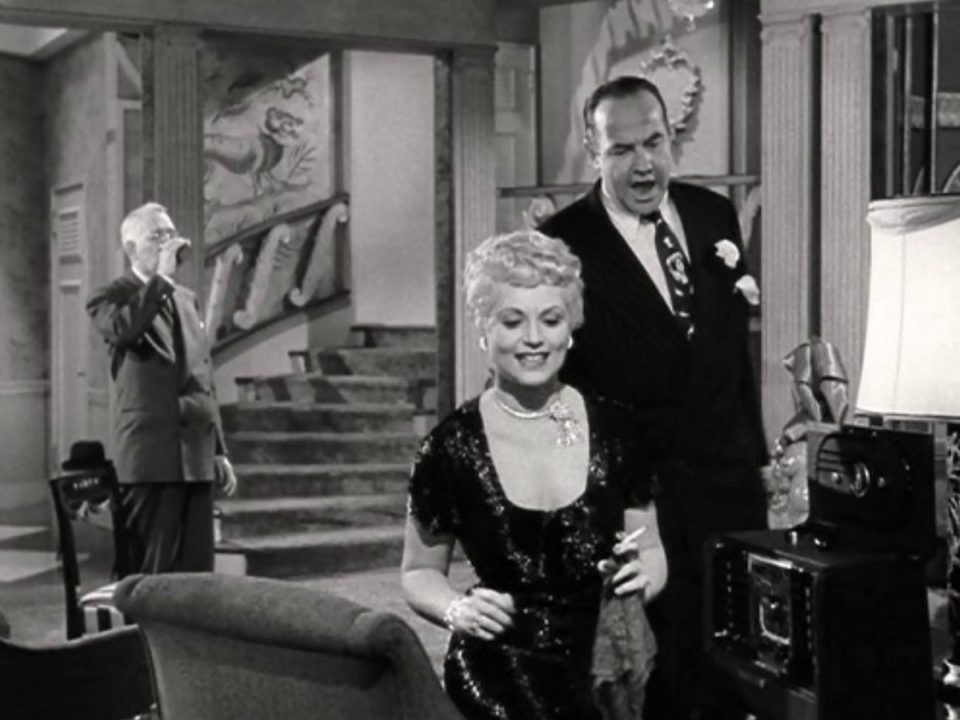 George Cukor was always known as a "woman's" director.  I was never quite sure whether he was called that just because he directed The Women, because he chose screenplays that attempted to address issues of gender in a more forward thinking manner than his contemporaries, or because his homosexuality was all but out of the closet in a time when such a sexual orientation would definitely keep him from being a "man's director." Either way, Born Yesterday is undoubtedly a "woman's film"–in the sense that it is entirely about a woman learning to own her shit.
The story is simple, almost to a fault.  Dumb blond gets herself some book learning (thanks, of course, to a just the right side of patronizing man) and realizes she can do better than the cruel oaf she's currently with.  In the process she learns some just the wrong side of heavy-handed lessons about how great democracy is until the obligatory final wedding to the nice guy (spoiler alert).  But anyone that tells you romantic comedy stories have to be full of layers of nuanced depth has no right to be talking about what makes a good romantic comedy.  In this case, the sparkling script, masterful filmmaking, and superb performances do more for the film than any kind of more complex story could have.
Judy Holliday really steals the show here.  Everyone always bitches about her getting the best actress Oscar over Bette Davis and Gloria Swanson, but just because her performance is for a romantic comedy, it's just as good as Davis and Swanson in either of the other more "serious" movies.  Holliday has that certain something that only rare actresses like Marilyn Monroe had.  There is a genuineness to her performance that is utterly disarming–even the simplest of glances from her carries more authentic weight than any other actress of her day.  It was no surprise to find out that in real life Holliday was incredibly smart–and her intelligence shines through in her performance, giving her dumb blond character much greater depth than any other actress could have brought to the role.
I really shouldn't shit on the storyline too much either.  While the ra-ra-America stuff can get a little eye rolling in places, the premise is a classic. Two unlikely lovers are forced to spend time together (in this case, Holliday and Holden's "smart guy writer" that has been hired to give her some class) and slowly end up falling in love.  With a lesser director at the helm and a lesser script this would have merely been an enjoyable movie with a brilliant central performance.  Instead, Born Yesterday raises the bar for romantic comedies to the ceiling, and is easily the best film about an uncultured dame falling for a nerd since Ball of Fire (and is, thankfully, nowhere near as creepy as Pygmalion et al).