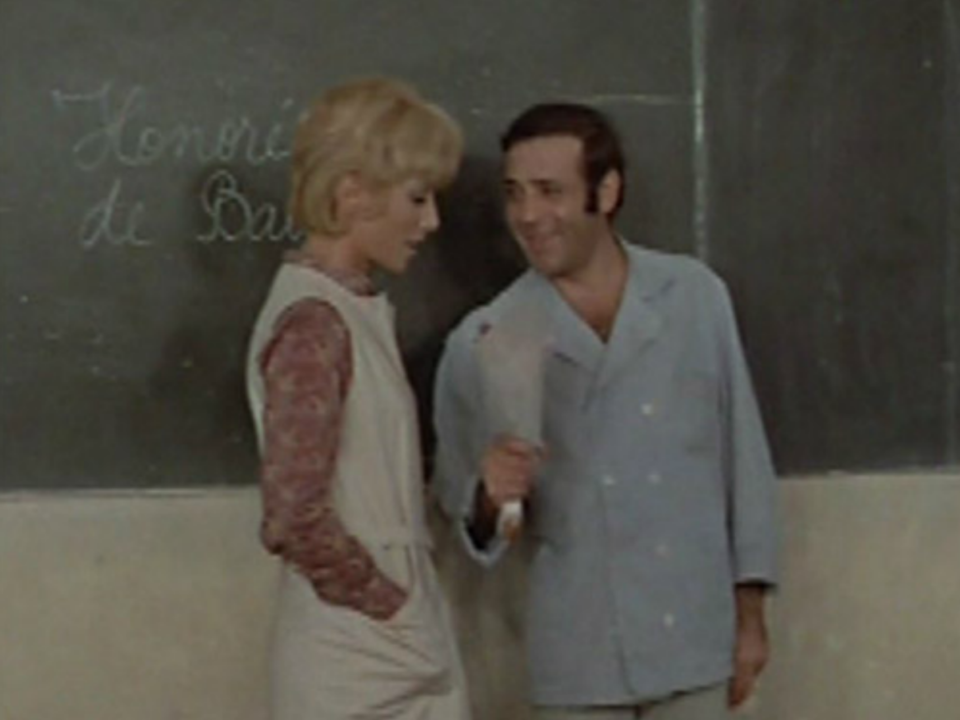 Claude Chabrol, one of the central figures in the French New Wave movement passed away yesterday at the age of 80.  Thus, like my Altman, Bergman, Antonioni and Rohmer memorial posts, I thought I would discuss my favorite Chabrol movie.  Though, first, I must admit that I have actually never been a huge Chabrol fan.  Misanthropic pessimism is fine (I'm a huge Clouzot fan after all) but Chabrol's films too often just feel mean spirited–and I suspect were a significant influence on the "New French Extremity" movement that I find equally distasteful.  However, I have always felt that his film "Le Boucher" is as fine a film as any director could hope to make and single-handedly raises my opinion of his work enough to make me want to write this post in the first place.  Also, I should point out that having only seen 4 Chabrol movies, I realize it's a bit presumptuous of me to call "Le Boucher" the "masterpiece" in the oeuvre of a director as prolific as Chabrol.  Still, no matter how many masterpieces he might have made, "Le Boucher" must be counted among them, and I'd like to take a look at what makes it work so well for me.
Note – there will be a few spoilers here…so if you like restrained European suspense films and have never seen a Chabrol movie check out "Le Boucher" before reading further.  You won't be disappointed!
For myself, "Le Boucher" is probably the only film about a serial killer that I would want to watch more than once.  Sure, there have been plenty of great serial killer movies like Peeping Tom, but it's just a theme that I find very unpleasant and, along with most prison movies and all holocaust movies, is something I just try to stay away from in my movie watching.  Of course, Le Boucher is no ordinary serial killer movie.
Yes, the titular butcher is a serial killer, and yes, a series of women are murdered over the course of the film (though, importantly, the murders are never shown and often only mentioned by the townsfolk after the fact), but the butcher is played as a pretty normal dude.  Granted, a normal dude who has been left with the suffocating need to murder after experiencing over a decade of war, but otherwise a normal dude.
Unlike most serial killer movies, "Le Boucher" doesn't treat him as an insect whose motivations for killing are to be dissected under the viewer's magnifying glass, but rather like a man whose motivations in life and love are no different from our own.  It is his love for the town's school teacher, and his all too normal frustrations as he deals with his feelings that dominate the movie.  "Le Boucher" is a love story where the lovers are kept apart not by differences in social status or a wacky misunderstanding, but rather by the murderous proclivities of the title character.  The butcher loves the school teacher, but as a sane and rational individual he knows that his compulsion will eventually ruin what could be.  Yet, he allows himself to hope, and perhaps, even look for redemption in his love of the school teacher.
The butcher is not the sole focus of the film; the school teacher is an equally compelling character.  Early on she suspects the butcher is the murderer, and yet she hides evidence and does not turn him in.  She justifies it to herself that it is because she can't be sure, but deep down she knows it must be him.  Eventually she comes to realize it must be him, but even then she discovers that she can not turn her back on him.  Just as the butcher agonizes over what he knows is a doomed relationship, the teacher is tormented by the horror she feels for someone that she can not help but love anyway.
The film works because the relationship is believable.  Chabrol fills his film with wonderful scenes of their relationship interactions (like the mushroom hunting scene) that would have made Rohmer proud.  The teacher is urbane and sophisticated, and while the butcher does a fine job of matching in kind, you can see the rough unsophisticated man beneath the surface.  Not a mean-spirited man, just a man who is ill at ease with a woman he feels might be a bit out of his league.  And, of course, the teacher loves him for his rough edges.  You believe in their love because Chabrol takes the time to make their relationship the focus of his film.
"Le Boucher" is a tragic story of a love that could not be.  By using the butcher's murderous compulsion as a romantic MacGuffin, Chabrol creates a very unusual and complex relationship drama.  Those fascinated with the mind of a serial killer may be disappointed, but those fascinated with the intricacies of human interaction are sure to find quite a lot to think about in this masterfully constructed story of a doomed love affair.